Every view in Google Analytics comes with a default "My Dashboard". Learn how to customise your dashboards and widgets for the best account overview. Dashboards contain one or more widgets (up to 12 per dashboard) that give you an overview of the KPI's that you care about most.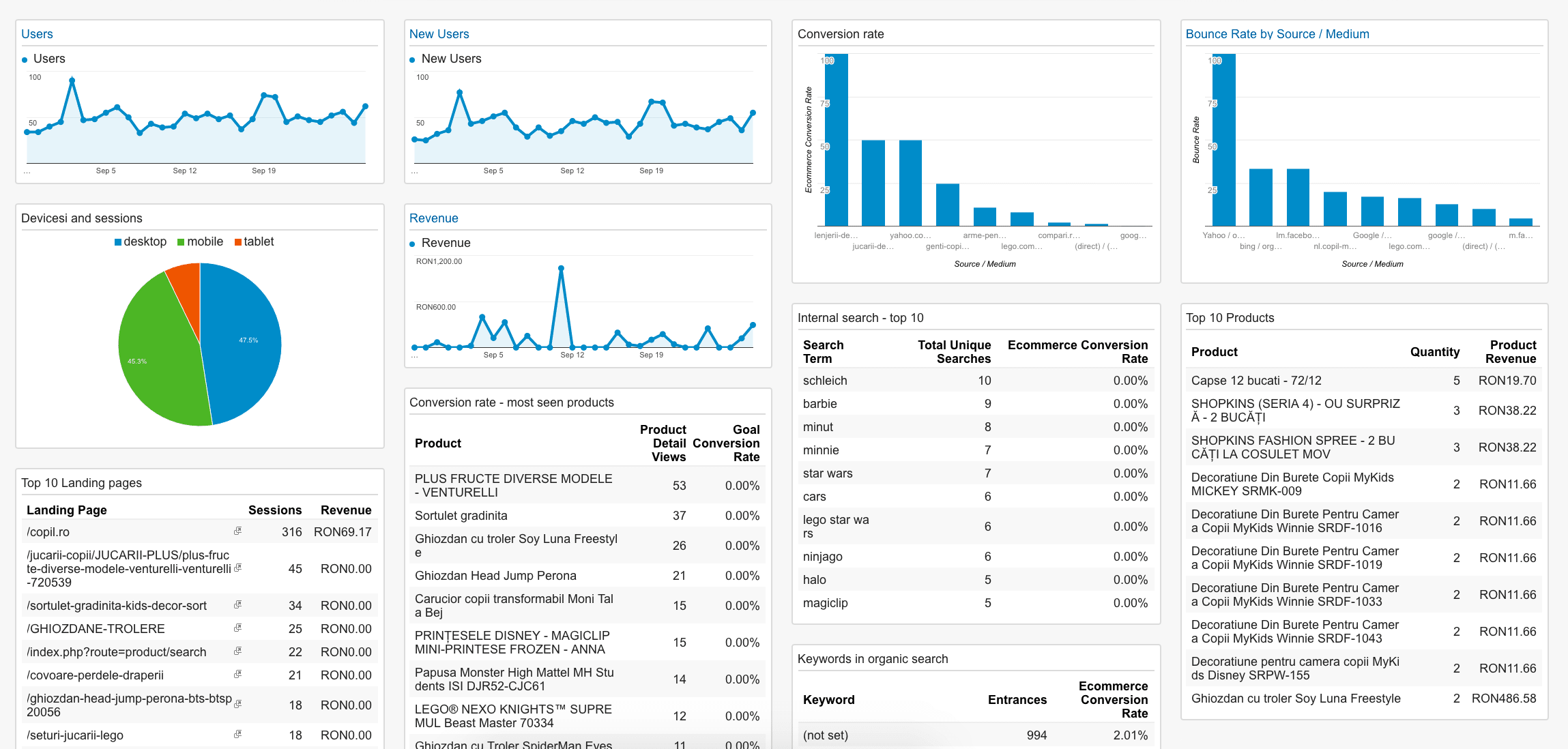 Create your dashboard
To create a dashboard, navigate to your view, then:
Go to reporting tab.
Click dashboards.
Select + new dashboard.
In the create dashboard pop-up select blank canvas (no widgets) or starter dashboard (default set of widgets). You can also import dashboard configurations from the solutions gallery, where is most likely that someone thought about some of the KPI's you are interested and already build a dashboard.
Give your dashboard a title, then click create dashboard.
Add widgets to your dashboard
A dashboard can have up to 12 instances of the following kinds of widgets <piece of information>:
Metric—displays a simple numeric representation of a single selected metric.
Timeline—displays a graph of the selected metric over time. You can compare this to a secondary metric.
Geomap—displays a map of the selected region, with the specified metric plotted on the map. Hover over the map to see the actual metric values.
Table—displays up to 2 metrics describing the selected dimension, laid out in a tabular format.
Pie—displays a pie chart of the selected metric grouped by a dimension. Mouse over a slice to see the specific metric values.
Bar—displays a bar chart of the selected metric grouped by up to 2 dimensions. Mouse over a slice to see the specific metric values.
Difference between standard vs. real-time widgets
Some of the available widgets can display their data in real-time. These widgets update the metrics automatically (standard widgets, by comparison, update when you load or refresh the dashboard).
Real-time widgets can display only the active users or pageviews metrics, depending on the widget. The following widget types are available as real-time widgets:
Counter—displays a count of the active users on your site. You can optionally group these users by a selected dimension.
Timeline—displays a timeline graph of pageviews on your site for the past 30 to 60 minutes.
Geomap—displays a map showing where your active users are coming from.
Table—plots a table of your active users against up to 3 selected dimensions.
How to add a widget to a dashboard:
Create a new dashboard and select blank canvas, or click + add widget on an existing dashboard to open the widget editor.
Select the type of widget.
Configure the widget's dimensions, metrics and other options. These vary depending on the type of widget. Scroll or use the search box to locate the specific metric or dimension you want.
You can limit the data shown by the widget by clicking add a filter. Filters let you include or exclude data in the specified dimension that match your filter criteria. You can add multiple rows to your filter definition. All conditions must be met for the filter to work.
Report and dashboard filters are not the same as view filters. View filters permanently change your data, while report and dashboard filters only limit the data displayed in the report or dashboard. Dashboard filters are specific to the dashboard in which you define them.
You can link the widget to a report or a URL. Doing so makes the widget title a link, taking you to the specified report or web page. To link to a report, begin typing a report name. Google Analytics will autocomplete your entry, trying to match it to an existing report. Alternatively, you can copy and paste the report's URL into this field.
Enter a widget title or accept the suggested title.
Click save.
Add a linked report directly to your dashboard
Another way to link a report to your dashboard is to add it directly from the Google Analytics reporting tool.
Locate or create the report you want to see in your dashboard.
Click add to dashboard below the report title.
Select an existing dashboard, or create a new one by clicking new dashboard.
Select the check boxes for the dashboard widgets you want to include (e.g., table, pie chart, timeline). You can add up to 2 widgets per report to your dashboard. You can change the widget titles using the click to edit links.
Click add to dashboard.
Your new linked report widget opens on the dashboard you selected. Use the widget title link to open the underlying report.
Linked report limitations
Linked reports can't have metric filters or secondary dimensions. If you try to add a report with a metric filter or secondary dimension, you will see a warning icon. Hover over the icon to see the warning message. You can still add the report, but it will not include the filter or secondary dimension.
You can only embed the data view of a report in your dashboard. If you try to add a report that uses another view of the table (e.g., percentage, performance, comparison or pivot), you will see a warning icon. Mouse over the icon to see the warning message. You can still add the report, but it will display only the data view.
Linked reports display only the first two metric columns from your reports. If your report contains more than two metrics, additional metrics will not be displayed in the dashboard.
Edit a widget
To modify an existing widget, mouse over the widget title, then click the edit (pencil) icon. To delete an individual widget, mouse over the widget title, then click the close (X) icon.
Clone a widget
You can create an exact copy of a widget using the clone widget link. This is convenient when you want to use one widget as a base for another.
Add segments to your dashboard
In the Google Analytics reports, you can add segments to your dashboard, allowing you to compare and contrast metrics generated by different session or user groupings.
To edit an existing segment, click the segment label at the top of your dashboard. To add a segment, click the empty + add segment label. You can learn more about segments.
Share your dashboard with other users
Dashboards are private to you until you share them. If you develop a dashboard that you think is useful to other users in your account, or to other Google Analytics users in general, you have several options for sharing it. You can also send a snapshot of your dashboard data via email or generate a PDF file you can distribute however you please.
Share dashboards with the current view
Once you have your private dashboard working the way you like, you can create a copy of it to share with other users. When you do this, anyone with access to this view can see the dashboard's data and add to or edit any widgets contained in the dashboard. There's no way to make dashboards read-only; however, changes to the shared dashboard won't affect your private version of that dashboard.
You must have edit permission to share dashboards and data with the current view. If you have only read-only permission, you can still share your private dashboard by sending it as a template link or by adding it to the solutions gallery. See below for more information.
To share a dashboard with the current view:
View the dashboard you want to share.
Click share > share object
A copy of the current dashboard will now be available to all other users in that view, located in the shared dashboards section of the reports panel.
Note: to unshare the dashboard you must delete it.
Share dashboard templates with other views and accounts
The share > share template link option generates a URL you can copy and send to other users, embed in a document or host on a website.
When you share a dashboard via a template, you share only the settings for the dashboard – you do not share any data. You can send the link to anyone with a Google Analytics account, and that person can then import the settings.
Learn more about sharing customizations via templates.
Share dashboards in the solutions gallery
The solutions gallery lets you share and import custom reporting tools and assets, like dashboards and segments, into your Google Analytics accounts.
When you share a dashboard using the share > share in solutions gallery, only the dashboard's configuration is shared. Your personal information and Google Analytics data stay private in your account.
Learn more about the solutions gallery.
Send dashboards via email
If you need to distribute a snapshot of your dashboard data to people who might not have access to your Google Analytics account, the share > email option is for you. You can send them a customised email with an attached PDF file showing your dashboard to any valid email account.
Scheduling dashboard emails
Dashboard emails can be sent as "one-offs", or you can schedule them on a recurring basis.
Use the frequency controls to select the timing of the email.
By default, recurring emails will be sent for 6 months. The advanced options let you adjust this from 1 month to 1 year. After this period expires, you'll need to set up the recurring email schedule again.
Tip: If there are any previously scheduled emails, you'll see a link allowing you to add to an existing email. This lets you send out multiple dashboards or reports using the same distribution and timing.
Manage all your scheduled emails by navigating to admin > views > select your view > personal tools & assets > scheduled emails.
Export dashboards to PDF
The export > PDF option saves a copy of your current dashboard exactly as it appears on screen to a PDF file. You can then embed or distribute this exported view in other documents as needed.
Get Social! Follow us on LinkedIn, Twitter, and Facebook to keep up-to-date with Google Analytics.
Further reading: