Google Tag Manager has recently had quite a revamp to its interface. Not to mention the addition of much talked about workspaces feature.
Google Tag Manager (GTM) is a great tool that saves the development and implementation time, and the new drastic changes in any of Google's tools can be quite a shock when you're used to one way of workflow. The latest changes to the interface are radical but as with everything else, it just takes a short while to get used to.
GTM still works the same, though. There's no change to how your tags, triggers and variables are set up.
So let's see what's changed!
Overlays on top of overlays
This is the biggest change in the interface!
Whether you're creating a new tag or changing an existing one, you'll be making your updates in overlays that slide in from the right hand side of the screen.
Whilst this may be confusing initially, this is a great improvement on the previous workflow. Before you had to create your variables before the tag, or if creating the tag, save the progress, then create the variable separately, and then return to the tag to add in your variable. Too many steps!
The new overlay doesn't cover the whole screen and instead, leaves a bit of space on the left so you can see where you started from.
Now that I've embraced the workspaces, I've realised how great it is to be able to do changes and updates without navigating elsewhere.
Icons replace colours
Previously, when viewing a list of tags all the triggers were colour coded so you could quickly see types of triggers used.
Now, they're all grey with icons at the beginning.
I've previously found the colour coding very handy in quickly determining where the tags have been set to work. I'm not convinced that the icons will do as great of a job, but like with all of the changes – just embrace them and move on.
List of variables
They've lost the 'enabled built-in variables' section at the top. It used to have checkboxes so you could quickly enable or disable select variables. Now you have a list of built-in variables and for any changes, you have to click 'configure' button and then select which ones you want or not.
And of course, you'll have to do these changes in the overlay that slides over.
The variables you've created previously will be in a separate list when you scroll down the page.
If you want to view the details of the variable, then you'll have to click on the variable and see its setup in the new overlay.
Remember, remember…
Do you tend to forget to specify your container's name and description?
Now you get reminded to do so when you click to 'publish' your container and haven't set the details.
Timestamps
I love it when a small change can make a big difference! This is that kind of change.
When hovering over any relative timestamps in the triggers, overview or other sections, you will see the exact date and time of the latest change.
What are workspaces?
Workspaces are multiple containers that teams and users can work on without worrying about publishing someone else's updates that may not be ready to go live.
For someone working within a number of teams, like we do, this is a very welcomed update. After using it for a few weeks, I've already seen improvements in the speed of publishing updates. Now, fewer people have been blocked from progressing on their tags, which is really great!
So now you can make your additions or amendments in a separate space and publish them when they're ready. What really happens when you publish is that anything new in your workspace gets added to the default workspace. This may include any updates to tags, triggers, variables, and any notes you may have added.
If you can, stick to making smaller sets of changes within workspaces so you have a more robust version history, allowing you to trace updates and roll back to previous versions more quickly.
You'll get 3 workspaces in total so 1 default one + 2 custom workspaces, whilst 360 accounts get unlimited workspaces.
Here's how they work.
To create a separate workspace click on the 'Default Workspace' in the left panel.
In the new overlay click on the + icon in the top right corner.
Now enter the name and description for the workspace so when you choose a workspace you can quickly see what's being worked on in there, or what the purpose of the workspace is. You can always refer to these for information on what was worked on or published as part of this workspace.
A new workspace will always be created based on the latest GTM version and include the latest tags, triggers, and variables.
If you're publishing a workspace that has conflicting updates with another workspace, then GTM will let you know and give you the option to resolve conflicts in their very easy to use conflict resolution tool.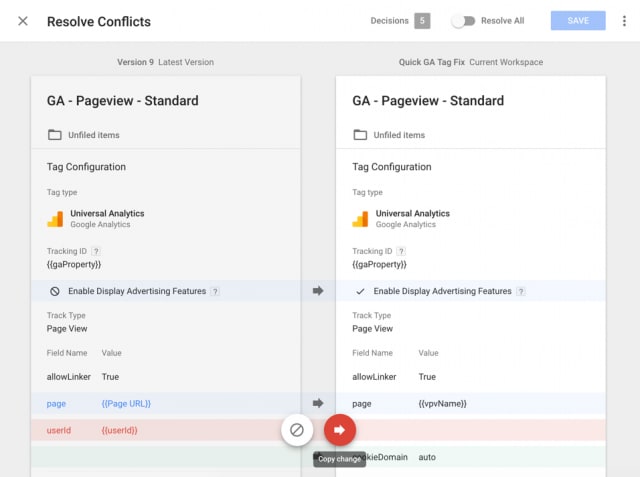 Once you publish the non-default workspace, it will be automatically removed.
Better tag management
You know how GTM has a number of tag templates for the most typical tracking needs, for example, AdWords and DoubleClick. These templates are very useful for creating and maintaining tags without codes, allowing to insert only required data, and making the whole process less error-prone.
Well, they've expanded their selection with additional templates from vendors such as Bing, Twitter, Hotjar, Nielsen, Yieldify and many many more. I've been setting up a number of tags from the new vendors so I'm glad to see they've finally caught up with this.
Here's a full list of supported tags is available in Tag Manager's Help section.
So these are some of the most notable changes. My favourite ones are overlays, timestamps and workspaces for reasons I mentioned above. The overlays don't seem to have got much love when they were first launched, but it's definitely a step up on the previous workflow. Got strong feelings about any of the latest updates? Let me know what you love or hate in the comments below.
Get Social! Follow us on LinkedIn, Twitter, and Facebook and keep up-to-date with our Google Analytics insights.
Image credit: screenshot of 'conflict resolution tool' courtesy of Google Analytics Blog