According to W3Techs, Google Analytics is being used by 52.9 percent of all websites on the internet, more than 10 times the next most popular analytics option, Yandex Metrics. But how do we really use the information in Google Analytics so we can increase our revenue?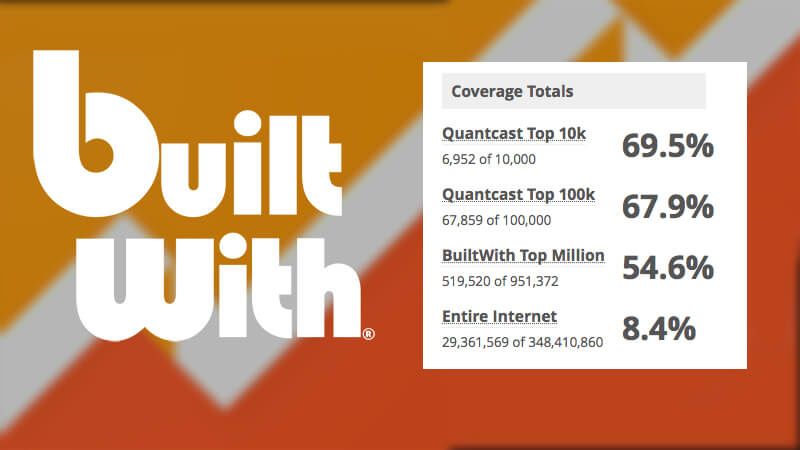 BuiltWith says that 69.5 percent of Quantcast's Top 10,000 sites (based on traffic) are using Google Analytics, and 54.6 percent of the top million websites are those that it tracks. Most of the large websites use the information in Google Analytics to make strategic decisions about the product or information posted online.
Ecommerce websites, in particular, have the possibility to improve their performance looking at ecommerce data available in Google Analytics. The Enhanced ecommerce tracking from Google Analytics is a complete revamp of the traditional ecommerce tracking in the sense that, it provides many more ways to collect and analyse ecommerce data. Enhanced e-commerce provides deep insight into e-commerce engagement of your users. You can read more on Google Support about what is possible with Enhance Ecommerce data.
We will try to show you how you can optimise product listings using Enhance Ecommerce – the non-technical way. We assume that you already have the full ecommerce setup for Analytics in place and you already have access to data like this in your account: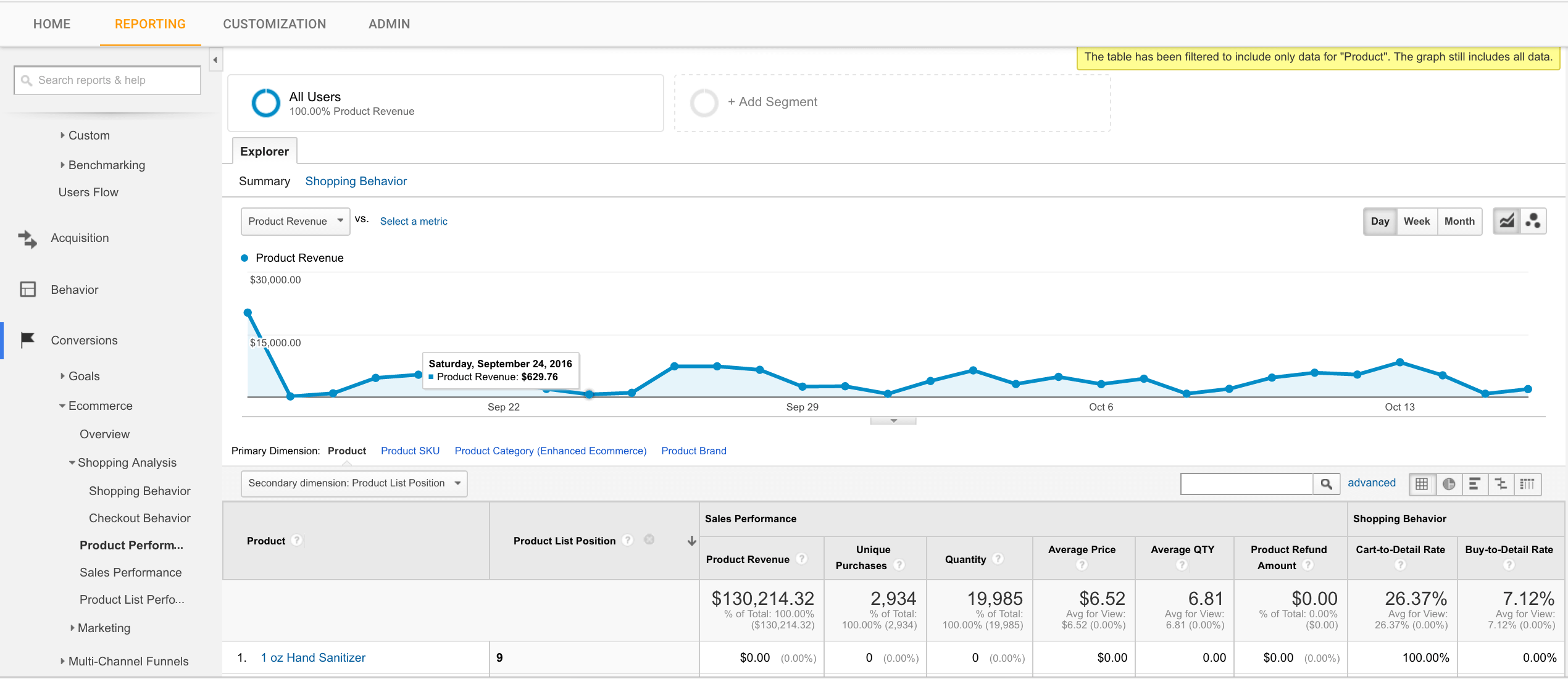 If you don't, it's worth going through this blog post: Set up Ecommerce tracking with Google Tag Manager. Also, before moving forward, you should generate the product listing performance reports based on the first part of this blog post: Use Enhanced Ecommerce to optimise product listings.
As you've seen in the blog post mentioned above, having enhanced ecommerce data, gives you unlimited ways to react to the customer's behaviour.
Starting with this graphic above, let's make a strategy to improve product listing and increase the website conversion rate.
We have 3 situations
First, we have the non-starters product category. These products never get clicked on within the list. Either there are incorrectly categorised, or the thumbnail / title doesn't appeal to the audience. They need to be amended or removed.
Second, we have the lucky products: quick sellers: these had an excellent add-to-cart rate, but did not get enough list clicks. Many of them were 'upsell items', and should be promoted as 'you may also like this'.
And last, poor converters: these had high click-through rates, but did not get added to cart. Either the product imaging, description or features need adjusting.
We will focus on the non-starters and poor converters ones and give you a list of things to do.
Non-starters
As we mentioned before these products are never clicked. For these kinds of products, you should check and improve the following.
Are they in the correct category? If not put adjust them!
Does this product have the correct position on the category page? If is a product is important to you, don't leave it at the end of the category listing on page 100.
Does this product have a picture? If yes, change it as it is clearly not performing.
Is this product easy to find in the category when filters are applied?
Is this product easy to find using the internal search of the website?
Is this product part of an upsell or cross-sell strategy?
Poor Convertors
Are the pictures of this product clear and from all relevant angles?
If this product is an expensive one, does it have a video showing the benefits?
On this product page are there sufficient details about the product, their benefits, age limit, and so on?
If this is an assembled type of product do you have the assembly e-book or mention that they will receive it with the package? Do you mention, on a scale, how hard it is to assemble this product?
Do you have reviews from previous customers that describe this product?
Do you make all the costs of this product clear, including VAT, shipping, and other taxes?
Is your add-to-cart button on this page working?
Is the flow from add-to-cart to check out a smooth one, with no errors, and no "out of stock" notice?
Do you use retargeting if the client sees a product multiple times but doesn't seem to add it to the basket?
If you have other suggestions for the list above fell free to send us your ideas and we will update it.
If you are interested in setting up Enhanced Ecommerce to get this kind of data or need help with marketing analytics then please get in touch!
Get Social! Follow us on LinkedIn, Twitter, and Facebook and keep up-to-date with our Google Analytics insights.