Selecting time ranges for comparison in Google Analytics can trip you up. We find comparing 28-day or 7-day (one week) periods the most reliable method.
Gotcha 1: Last 4 days with previous 4 days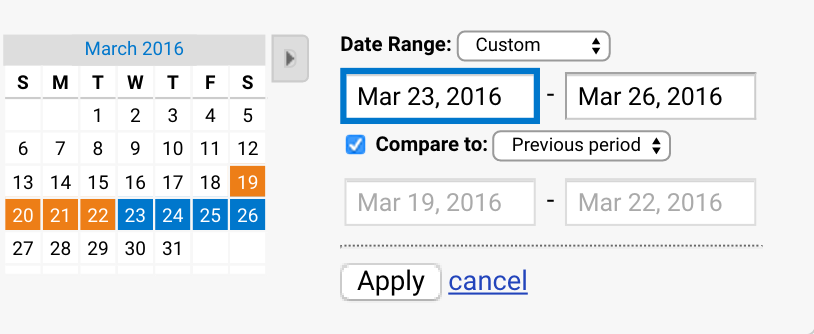 This is comparing the same time periods (4 days) so shouldn't they be comparable?
No! Most websites show a strong weekly cycle of visits (either stronger or weaker on the weekend), so the previous four days may be a very different stage of the week.
Gotcha 2: Last month compared with the previous month


Easy – we can see traffic has gone up by 5% in March.
No! March has 11% more viewing time (3 extra days) than February. So the average traffic per day in March has actually dropped by 5.5%.

Gotcha 3: Last week compared with the previous week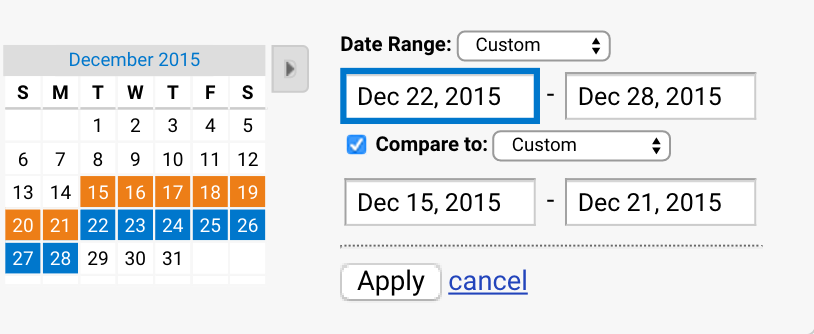 You can see what's coming this time… Certain weeks of the year are always abnormal, and the Christmas period is one of them. But most business / educational sites it is a very quiet period.

The best comparison would be with the same week last year.
Have any questions? Let us know by commenting below or get in touch with our lovely experts!
Get Social! Follow us on LinkedIn, Twitter, and Facebook and keep up-to-date with our Google Analytics insights.