I knew Black Friday had reached 'late adopter' stage this week when a company I'd bought fencing panels from – fencing panels – emailed me their holiday season promotions. But the real question is whether all these promotions serve to drive customer loyalty or just attract bargain hunters?

At Littledata we looked at aggregate data from 143 retailers who participated most in 2016 Black Friday, versus 143 retailers who did not. For the first 23 days of November 2017 – before Black Friday – the median year-on-year increase in sales was 13% for those pushing discounts the previous year, versus only 1% growth for those avoiding Black Friday discounting *.
Our conclusion is that retailers who discounted most heavily on Black Friday 2016 saw a lasting benefit in extra sales a year after the sales period. However, we don't know whether these extra sales were profitable enough to pay for the seasonal promotions.
Another possible explanation is that higher-growth retailers are more active in marketing Black Friday, but in either event the discount season has done them no harm over the following year.
In a follow up post next week we'll compare the peak discount trading – and see if on average these same stores increased their participation this year or reigned it back.
Looking at 2016, it seems Black Friday was bigger than the year before for our cohort of 270 UK retailers – but at the expense of sales later in the season.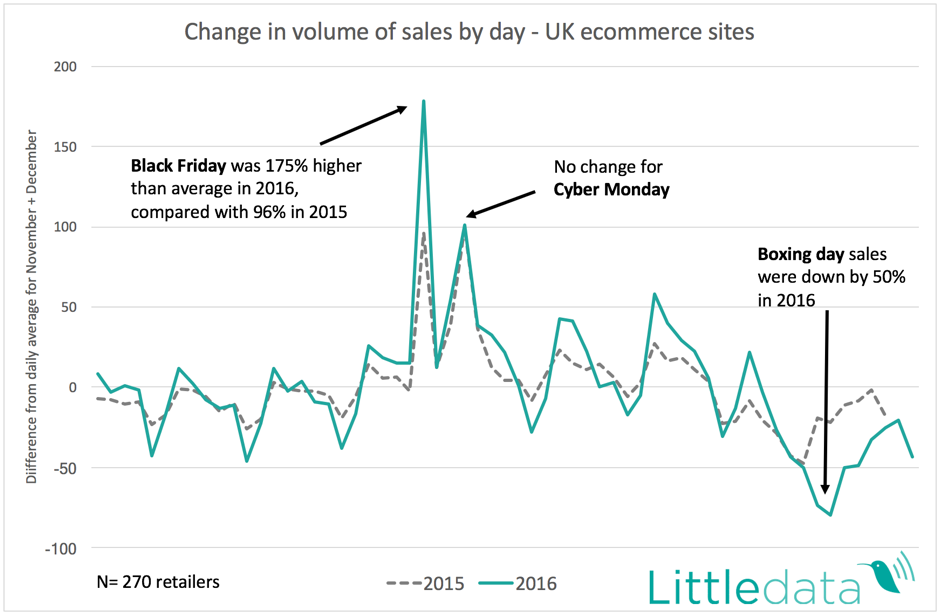 Yet in the UK we are not close to US-levels of hysteria yet, where a much greater proportion of the last quarter's sales are done on that weekend.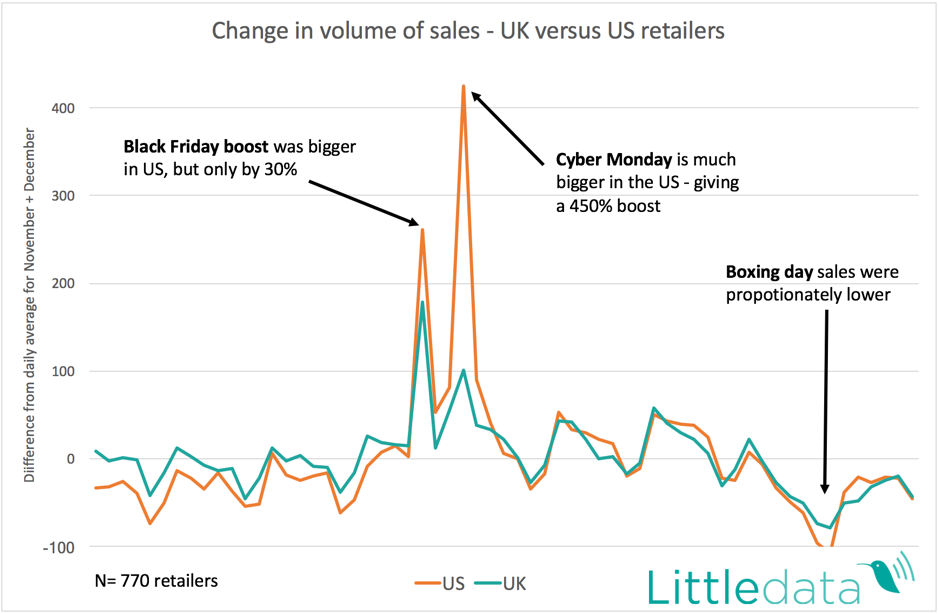 The other interesting question is what sectors does Black Friday affect?
Reflecting back on my 2016 post, it may be a surprise that the biggest boost of over 100% average increase in sales comes for Health & Beauty stores; whereas technology and computer stores on average saw a boost of 40% for the week. (The graph shows the difference with the average sales volumes in November & December, by sector, for 3 selected weeks.)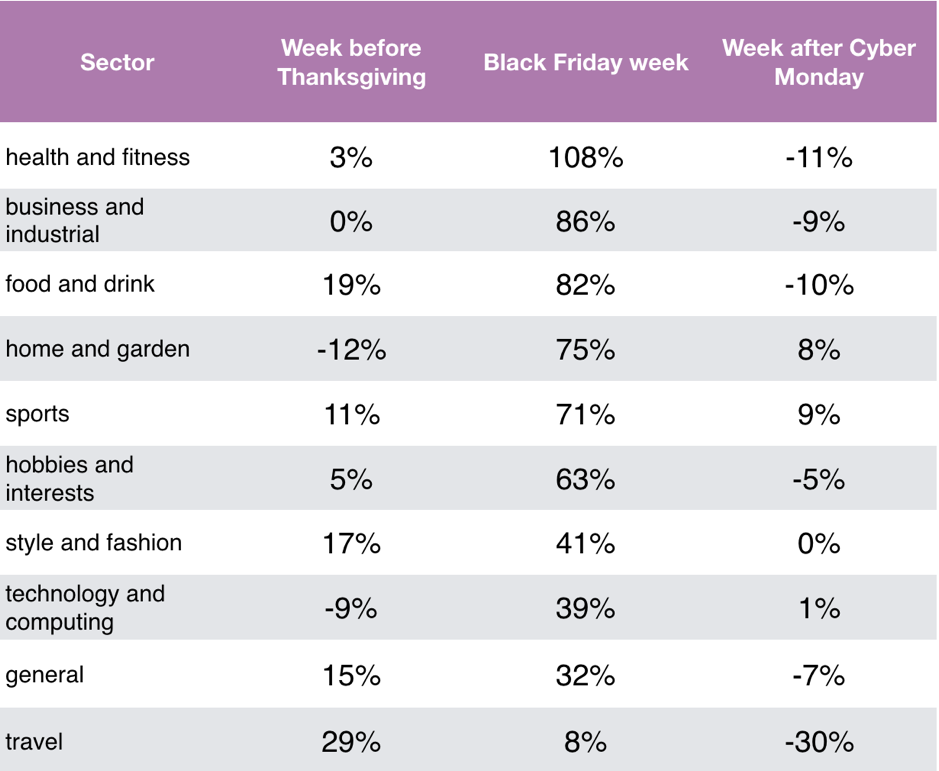 And perhaps I shouldn't have been surprised by those fencing panels: business and industrial sites saw a big boost too!
Interested in tracking online sales activity for your own site this holiday shopping season? Littledata's ecommerce analytics software provides accurate data and automated reporting to help you track promotions and drive conversions and customer loyalty.
Try Littledata free for 14 days
* The statistical detail
I took a group of 573 retailers we have tracked for at least 2 years, and looked at the ratio of Black Friday weekend sales (Friday, Saturday, Sunday, Monday) to the 2 month average for November and December. Those in the top quartile (trading 2.6 times above average during the Black Friday season) were deemed to have participated; those in the bottom quartile, showing a dip in trading over that weekend were deemed not to have participated.
I then looked at the year-on-year growth in revenue between November 2016 (first 23 days) and the same period in November 2017, for the discount versus non-discount group. A t-test between the groups found a 18% probability that the two groups had the same mean, not allowing us to dismiss the null hypothesis.