The whole purpose of having Google Analytics tracking on your site is to find out how your website is performing and to use this data to improve your digital efforts. Yet many businesses miss the mark when it comes to taking action at the level of product listings, despite the fact that this can lead to huge revenue gains!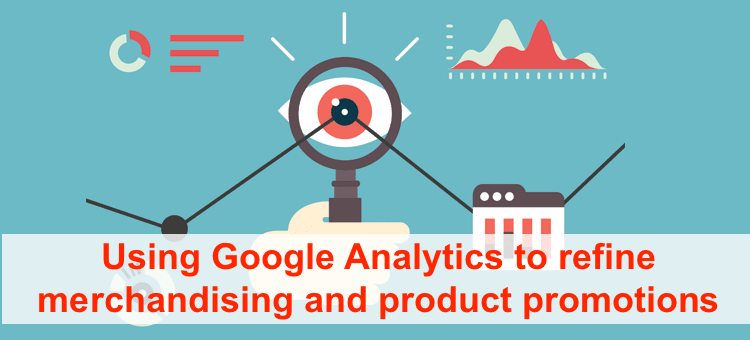 Why do they miss the mark? Two reasons: inaccurate tracking and unclear reporting. The Littledata app helps to fix these issues automatically, providing users with a reliable data stream and automated reporting based on Google Analytics data, but it's still useful to drill down into Google Analytics itself to understand all of the details.
In this post I break down how to use Google Analytics to refine merchandising, product promotions and product listings in a way that can have a direct effect on both short-term and long-term revenue for your ecommerce site.
For this to work, you'll need to have Enhanced Ecommerce set up on your website. You'll also need some spreadsheet software (Excel, Google Sheets, etc.) so we can play with extracted data and drill down deep.
Try Littledata free for 30 days
Banners and creatives: getting users to see what we want them to see
A full enhanced ecommerce setup will enable you the power to see how much money each of the creatives on your site is bringing you. If your website is like most ecommerce sites, you have several creatives displayed, such as:
Homepage carousel
Homepage pods
Category main banner
Choosing which creative should get on your homepage might feel like just a preference, but it doesn't have to be that way. You can use the 'Internal Promotion' menu in Google Analytics (Marketing > Internal Promotions) to make data-driven decisions about your homepage creatives.
Imagine an online store that sells scooters and accessories:
We have banners for categories like Helmets, Accessories, Mini Micro and Maxi Micro (different sizes of scooters).
We have 2 banners on the homepage with these two creatives: Safety (the first one) and Built for Adults (the second one).
We want to change one of the creatives on the carousel. Let's analyze what is the best strategy here.
The first banner on the carousel was seen 24,404 times. It has a 5.01% click thru rate (CTR) and a £3.90 value per click.
The second banner on the carousel was seen 17,109 times. It has a 5.52% CTR a £2.02 value per click.
Now we can make a decision.
What to discard and what to keep
Even though we have a higher CTR on the second banner and this is an indicator that the message is more appealing, the reality is that the revenue that comes with that click is not even half of the revenue we get from a click on the first banner. If you want to make a 100% correct decision here you can analyze the margins on the product promoted by each of the banners. If you have double the margin for the products in the second banner you can get rid of the Safety banner and make the second banner primary. If your margin is the same for both categories then the best decision here is to replace the second banner with the first one.
How to populate the carousel
We already decided to keep the first banner, but now we need a replacement for the second one. So we need to find a creative in the website that had performed at least the same as the second banner. Based on the example above if we search by CTR higher than 5.52% we can see that we have a banner for Maxi Micro with 20% CTR and a value per click of £5.32. The action here is to replace the second slot of the carousel with this creative. After 1-2 weeks we can retake this process all over again and we may decide to reverse the creatives (Banner 1 will be Banner 2 and Banner 2 will be Banner 1 in the carousel).
This is not a one-time job. The analysis should be made every time you add a new creative or make a new promotion.–or even as a weekly task. Many Littledata clients run this type of analysis on a regular basis, whether or not they've launched a new promotion, to make sure they are optimizing sales and conversions. You should pay attention to the average click thru rate (CTR) based on creatives category, and also you should know what is your standard deviation for each category so that you can quickly spot which are over- or under-performing.
Based on the example above, the average CTR for a carousel banner on the site is 5.26% and the standard deviation is 0.25%. So I know that if I see a banner that has a CTR less than 5.01%, there is room to improve.
As per above for the category pages, we have an average of 10.92% CTR with a standard deviation of 6.28. This means that everything under 4.63% should be replaced ASAP and everything above 17.20% should be promoted.
List views: how to arrange products for ultimate engagement
One of the best Enhanced Ecommerce features in Google Analytics is the Product List Performance Report (Conversions > Ecommerce > Product List Performance). This report shows you how many views each list gets. Why does this matter? Because if you have a high margin on some products from a specific category, you should find out if that list (category) is being sufficiently promoted on your site.
From these reports, we can find out things like:
Most viewed categories (sort by Product List Views)
The category that has the biggest engagement (sort by Product List CTR)
The list that is bringing you the most money per view (Product Revenue divided by Product List Views)
Which categories are performing best — and which are most profitable?
Let's say I have three categories in my store: categories 1, 2 and 3. And my margin for products in category 3 is three times the margin for those in category 1.
In the report above, we see that we don't have a click thru for Category 2. This could mean:
The tracking is not working on that page
Users have issues clicking on the products
There is no call to action (CTA) on that page
So we can assume that Category 2 is not working. Moving forward we should analyze the performance of Category 1 vs Category 3.
| | | | | | | | |
| --- | --- | --- | --- | --- | --- | --- | --- |
| | Views | Clicks | CTR | Revenue | Revenue / click | Margin at each $1 sold | Margin at 1000 clicks |
| Category 1 | 1,701,660 | 57,038 | 3.35% | $329,799.67 | $5.78 | 0.23 | $1,329.88 |
| Category 3 | 46,895 | 3,175 | 6.77% | $23,881.37 | $7.52 | 0.69 | $5,189.97 |
We can see that even though we have a fraction of the views for Category 3, this category is for us almost 3 times more profitable per 1000 clicks. At this point, we should investigate how much marketing we're doing around Category 3 to see if there are options to push harder on this highly profitable category, alongside whatever's already working for promoting Category 1.
Order matters
The Product List Performance Report can also help us find out how customers progress from viewing a product in a list to clicking through for more information.
Let's analyze the data in the above report. The table is sorted by Product List Views for Mobile devices. We know that the alignment for this website is one product under the other and for a product view to be sent the user needs to see it for at least one second. So we can draw these conclusions:
Position 2 and 3 are normally visually scanned by users. The fourth product in a list is seen in more detail but has a lower CTR than the second or third product in the list. We know that each page has 10 products so the average Product List CTR rate for page 1 is 1.36% and the standard deviation is 0.42. From this, we can see that position 2 has a good CTR and we need to change the photo and text of the listing to attract more attention — products placed in the second position in a product listing on this site tend to convert well. Position 4 gets attention but has low performance so we could try changing the photo and title of products in this position in order to increase the CTR.
If we are looking at this report as aggregate data then we can conclude that if we want to make a push for particular products, we should place them in position 1 or 4 for maximum visibility, or position 1 or 2 for maximum CTR.
How to monetize product list positions
We can take this analysis further by examining how list slots relate to product revenue, whether on your site or via affiliate programs. Looking at the report in aggregate and extracting the data, we can give a monetary value to each slot in the product listings.
| | | | |
| --- | --- | --- | --- |
| Product List Position | Product List Views | Product Revenue | Revenue/view per slot |
| 1 | 2,290,505 | £183,207.00 | £0.08 |
| 4 | 2,279,917 | £99,830.00 | £0.04 |
| 3 | 2,246,164 | £117,096.00 | £0.05 |
| 2 | 2,239,943 | £157,605.00 | £0.07 |
| 6 | 2,062,271 | £73,183.00 | £0.04 |
| 5 | 2,053,534 | £94,889.00 | £0.05 |
| 8 | 1,788,080 | £58,585.00 | £0.03 |
| 7 | 1,775,762 | £60,603.00 | £0.03 |
| 9 | 1,750,248 | £52,366.00 | £0.03 |
| 10 | 1,606,599 | £50,913.00 | £0.03 |
From the above example, we can see that each of the slots in the listing has a value per view. And the value is decreasing with the position. Using the known margin for a specific product in a list, you can improve your ROI just by positioning it in a slot with a higher CTR based on the model above.
Which photos should you show first in a listing?
If you offer a product in multiple colors, you should use an image and a default (primary) product selection in the most popular color. But how do you figure that out?
Product variants are too often left behind in analysis. The Product Variant field captures the specific variation of a product, e.g., XS, S, M, L for size; or Red, Blue, Green, Black for color. It is an Enhanced Ecommerce feature that can give you powerful insights into your users' searches, interests and preferences. Paying attention to variant performance can have a big effect on shopping behavior and sales.
In the example above, we're looking closely at the Product Variant dimension to figure out which color is most popular. We have a product with 4 colors: Black, Grey, Midnight Black and Persian Grey. There isn't enough transaction data to make a decision based on purchases, but we can calculate the most popular variant (in this case, the most popular color) based on how often users have added items in each color to their shopping carts (Adds To Cart). For Black, we have a View to Add To Cart rate of 0.6% and for Grey 0.8%.
So in this case we should use the main Grey color for advertisements and main photos in listings pages. We might also try using the Persian Grey variant.
Note that in this example we can calculate for each product view because we've listed each color as a different product. If you're listing only one product and you show variants on the product page, then you'll need to divide the Adds To Cart for each variant by the total Product List Views.
What to do next
If you need help with Enhanced Ecommerce reporting, our analysts are ready to come to the rescue. You can either request a consultation or just sign up for a free Google Analytics audit and contact us directly from the app.
How are you using Enhanced Ecommerce reports in Google Analytics? Drop us a note below.