Conversion Optimisation is rarely a one-off job. You know that you should improve your landing page conversion rate, but where should you start?
Whatever you decide to optimise to improve conversions, the process will take time and patience – whether you're optimising through design changes, A/B testing, or copywriting. In this post, I cover a range of landing page optimisation strategies, including CTAs and trust signals.
There is always room for improvement on the website pages used for campaigns, especially when generic pages are used or visitors are sent to the home page. In an earlier post, we shared some best practices to reduce this friction.
And there are multiple elements to test on a landing page, including the headline, images, use of testimonials, offers, and CTA. When optimizing for conversions, never test all those things at the same time because it will be hard to identify what worked, not to mention be very overwhelming. Below are suggestions of items to test that can have a big impact.
Try Littledata free for 30 days
1) The right landing page headline
Ideally, the headlines on our landing pages have a unique campaign proposition to get people to take the next step. When this is missing or unclear, there is no continuity from the traffic source that leads people to the page and results in the friction referenced above.
Test variations on your campaign landing pages headlines as well as subject lines for emails and the titles for posts and articles. Different subject lines or headlines with the same content can have a big impact.
2) Trust signals
Address customer concerns with trust signals, whether it is a product guarantee, testimonials, or a privacy policy. If you do not have brand recognition, you need these signals to make people comfortable with you.
First trust signal: Use HTTPS
Tech-savvy visitors may look for the https before your web address rather than http. As you can see below, the https indicates it is a secure connection, which protects sensitive information that may be submitted.

Second trust signal: Justify form fields
Give a reason for why you need information on website forms. If you do not have a good reason for requesting information, you should not make it required. It can turn away prospective customers who are not ready to provide that much information.
3) Remove words
Look at copy critically. What can be removed from the page without changing the message?
4) Test alignment
Test left aligned text and headlines compared to center aligned to see the different in performance. There are a lot of references on this topic but with testing, you can determine what works for your website. If the copy alignment makes it tough to read, visitors will not be around long enough to convert.
5) Use white space
Create landing pages that are easy on the eyes with grouped content and white space. If you discovered words that can be removed – as mentioned above – this becomes easier to do as space is created from omitted content.
6) Group by color
Group by color to show which things are related to each other on the page. The below dashboard shows items in green to indicate performance above the benchmark. Yellow indicates some room for improvement.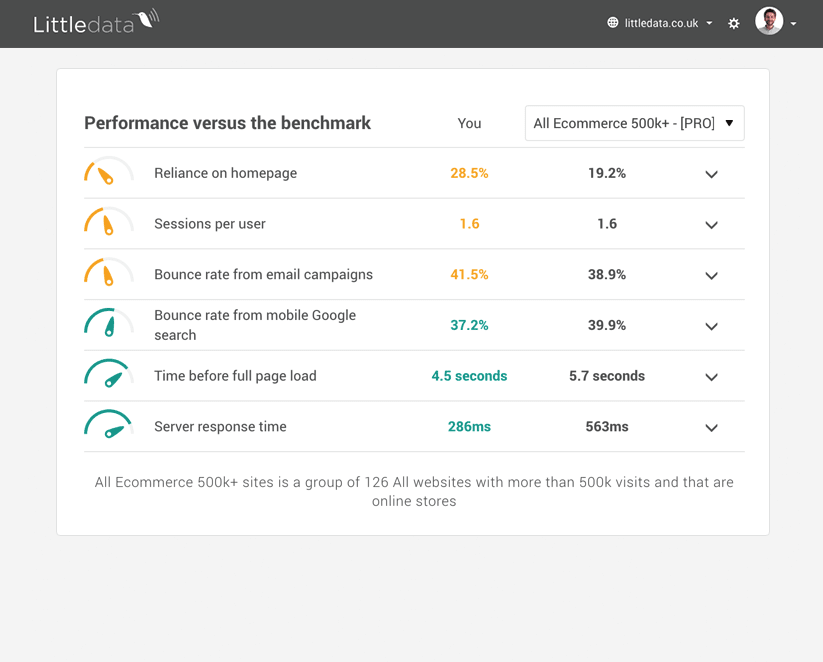 There are different tools available to check the color contrast on your landing pages.
7) KISS (Keep It Simple, Stupid)
Determining the offer on your landing page should never be difficult for site visitors. People should be able to see what it is within a couple seconds. If they have to read too much to figure out your offer or it is confusing, they may leave.
8) Reduce steps
I received an email this week for a company that needs to reduce their steps. It asked me to click to confirm an appointment I made. When I clicked, it brought me to the homepage of the site with a prompt to log in with a username and password I did not remember. I did not look up my login info so I guess the appointment is not confirmed. (I will deal with it later!) Are there steps in your conversion process that can be eliminated?
9) Test CTAs
Finally – and perhaps most importantly – you need a clear and measurable CTA.
Ideally, your CTA is right next to the offer, rather than in a different section of the page. It can be a barrier if those elements are not close to each other.
Note too if the CTA reflects where people are in the funnel. If I am being introduced to a product, I will respond to learn more. If I am ready to make a decision among several options, the CTA might say help me choose.
Remember there are big actions and small actions. The macro action of help me choose puts money in the bank, but if that is my only option, I may not take any action since I am need to first learn more.
Similarly, you can answer multiple web visitor questions, such as How much does it cost? and Where do I go to try your app?, with a CTA that says simply Start free trial.
As you test the CTA on your landing page, and begin to collect performance data, you can learn how the response varies by segments. Search terms from ad campaigns or with site search can also indicate where people are in the funnel.
Ok..but does the CTA really matter?
Yes, the CTA really matters!
I know small tests on a site can make a big difference, there is still the occasional example that blows my mind, like the Obama campaign donation button experiment results. It makes a case for why the choice of language in your CTA and segmenting your audience has an impact on conversions.
In this example, the design features for the button were the same for all segments – a rectangular red button with white copy. But notice the difference in response rates based on the segment and copy on the button.
Convinced that A/B testing for the small things matters? This test was done with variations in the CTA. The desired action was still a donation. Had they measured only the performance by CTA copy, they would have missed out on useful information about the segments. But had this experiment also included different colors, styles, and font, it would have been difficult to determine what resulted in a difference for each group.
When optimizing for conversions, remember there are multiple areas to test but to never test everything at once. Make small incremental changes and continue to optimize based on performance.
Littledata's benchmarks are an easy way to keep track of where to improve, and there's also a ton of additional content on the Littledata blog about conversions. We encourage you to look critically at areas to improve on your website pages, and then to take action!
Want to know more? Get in touch with Tina's agency, 360 Internet Strategy, and follow her on LinkedIn.