The number one reason for shopping cart abandonment is that online shoppers are simply not ready to complete the purchase yet.
As a marketer, that's something you don't have much control over. However, there is one thing you can control: the smart use of abandoned cart email flows.
The average rate for documented shopping cart abandonment in 2017 is as high as 69.23%. But adjusting for technical performance and improving the checkout funnel can increase conversions for 35.26%. That's $260B worth of recoverable profit with through check-out optimization and better follow-up emails!
No ecommerce owner wants to face cart abandonment. The customer has been so close to making a purchase, yet for some reason, your chance for profit slipped through your fingers. Don't worry though, the loss isn't final yet, because with the help of sales recovery tactics using email marketing automation software, you can win your customers back.
SaleCycle reports that around 31% clicked abandoned cart emails proceed to finish their purchases. The series of emails after cart abandonment is substantial because some clients leave their carts unintentionally. Reasons like site time-out, complicated check-out, or a website crash may have interrupted their purchase.
Here are the top three email strategies to win back abandoned carts!
1. Set up the right abandoned cart email sequence
The right email sequence triggered at just the right time makes a tremendous amount of difference. Marketo recommends a series of three emails scheduled as follows. I've included some actual email examples to help illustrate the points.
Send the first email within an hour of cart abandonment
You have to drive your clients to continue with the purchase before they leave their computers.
The first email aims to address technical glitches. Don't sound pushy, just aim to help the client just in case the abandonment is not intentional. Below is an example of a gentle reminder for the first email.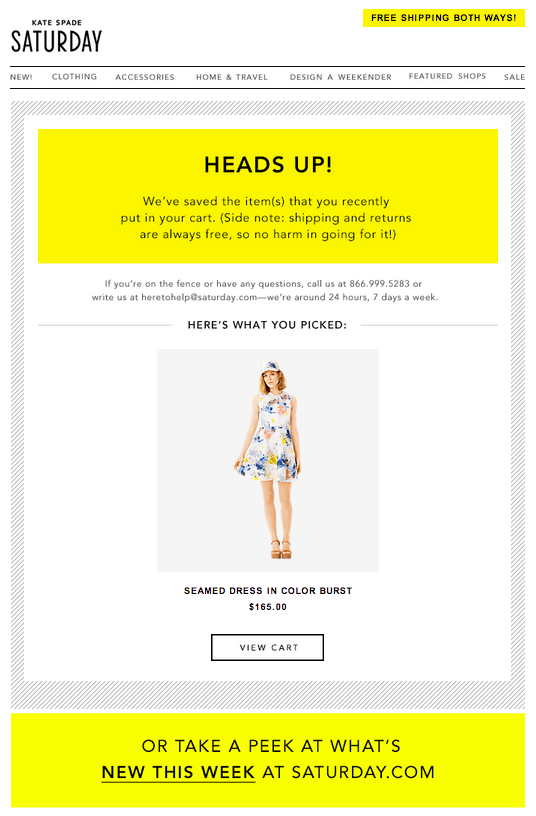 Send the second email after one day
This time, you have to create a sense of urgency. The cart abandonment email below by Grove informs the client that the cart will expire soon. You may also talk about fleeting discounts or stock availability.
And send the final email after 48 hours
This is your last chance to win your client back so give it your best shot. You can give incentives like free shipping, bonus items or an additional discount.
Here's an example of a final abandoned shopping cart email that works extremely well. It comes from the ecommerce site for Aéropostale.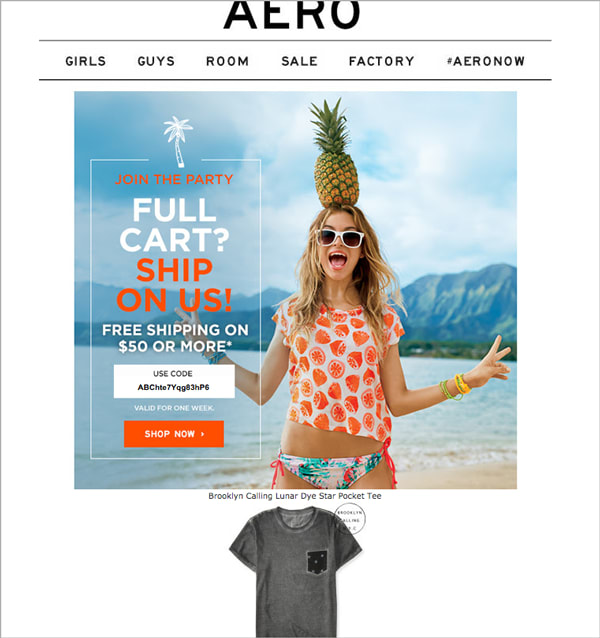 2. Use catchy, personable email copy
Your success in re-directing your clients to the shopping cart starts at a smart subject line. It will dictate if your client clicks on your email. So, craft subject lines that drive receivers to click on.
One example is this email subject line by Helm Boots:
These will look great on you
The words strike empathy and curiosity. It gives a sense of compliment which will compel the receiver to click on. Not so different from what a friend would tell you in real life while actually shopping in a store!
Appeal to your clients through creative wordings and graphics. It helps to know your buyer personas so that your copy will be more fitting. Use words that your clients can easily relate too. Humor is also a great way to spice up your content.
The email below by Chubbies is clever, cool, and compelling. The visuals and wordings charm their target customers who are carefree and adventurous.
3. Use multiple, eye-catching buttons and links
The email above by Chubbies also aced this up. It has three active links that direct the client back to the cart. The title, the main image, and the CTA button at the end of the copy are all clickable.
Notice also that all the clickable elements stand-out from the rest of the copy. This makes it easier for your client to notice and click on your CTAs. The button below is cleverly worded. It has a distinct color and size you can't miss.
The copy further explains which elements are clickable in a friendly way. The CTA button is already clear but the added explanation guides the clients on the next steps and avoids confusion.
Conclusion:
Even before you start these top three tactics to get your customers back, you need the data to know which of your customers have abandoned their carts. Data analytics and triggers do this for you. They provide the information as to whom and when abandoned carts happen.
The first step in solving your marketing problems is to identify what the problems are. Data analytics and triggers help you identify these glitches so you'll know what to do next. After you have accurate data about who's abandoned their carts, set up an email marketing automation software to automatically send your email series through behavioral triggers like shopping cart abandonment. Then drill down into analytics about every ecommerce checkout step to see where you can improve.
With the correct data, effective automation software, perfectly timed emails, topnotch copy, and striking CTAs, you can leverage your losses into profits. You can gain back a part of the $260 Billion worth of recoverable earnings – and start to increase your add-to-cart rate too!
Try Littledata free for 30 days
This is a guest post by Kimberly Maceda, a Content Writer for ActiveTrail. Kimberly writes for some top online marketing sites and blogging advice on email marketing and marketing automation. Activetrail is a leading provider of professional-grade email marketing and automation software for growing businesses.