Average order value (AOV) is a bona fide north star metric for Shopify stores, and ecommerce companies more broadly. Increasing AOV is a priority goal for ecommerce teams as it directly boosts revenue (and profits, if you're doing things right).
Growing revenue often requires retailers to acquire more traffic, but with AOV you can increase sales simply by convincing shoppers to spend that little bit more.
AOV can be improved by adopting a number of proven optimisation techniques. Many of these have their roots in offline retail, where price, promotion, placement and merchandising all play a part in persuading customers to buy additional – or more expensive – items.
We'll get onto these tactics soon enough, but for now let's start at the beginning.
What is average order value?
AOV is the average amount spent by customers when they place an order.
To calculate AOV you divide total sales by the total number of orders (typically over a certain period of time).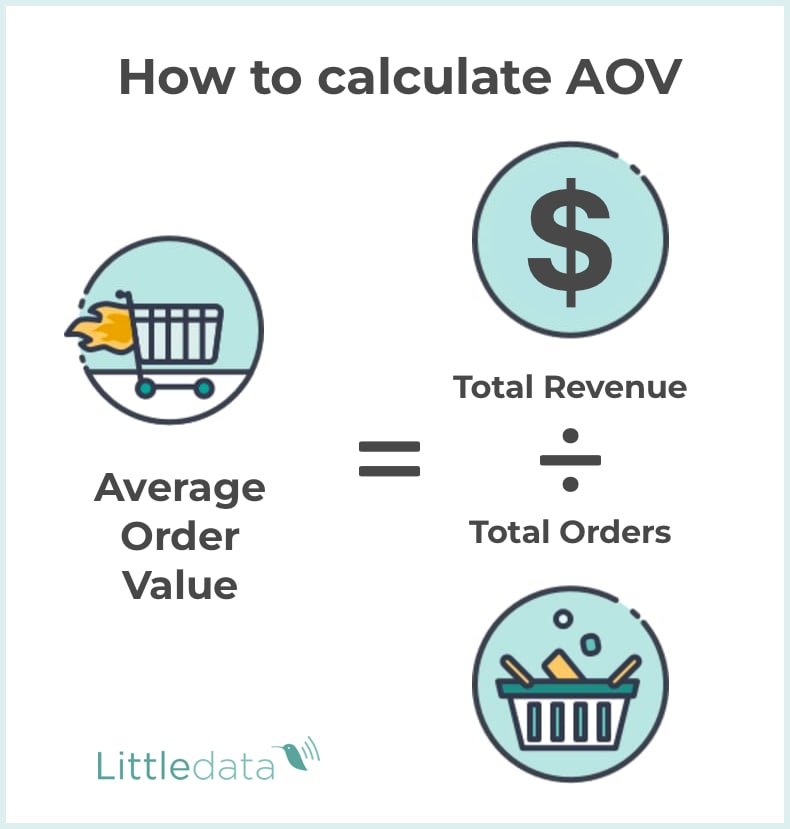 You can monitor AOV via Google Analytics. If you're using Littledata then you'll see it on your dashboard and in ecommerce report packs.
Why is average order value important?
AOV is one of the primary KPIs in ecommerce. It is a measure of sales trends and reflects customer behaviour and buying preferences. This insight can be used to optimise your website, pricing strategy, and guide decisions on what you choose to sell.
It is also a good indicator of your ability to optimise ROI, as your marketing budget will go that much further if you increase AOV.
It is worth investing time and money into moving the AOV needle, as it will create universal uplift. Implement the right kind of tactics – and technology – and we are sure that you will see some positive results, especially if this is an activity you haven't yet spent too much time on.
The results? New and existing customers are likely to spend more with you whenever they buy. Better sales numbers, bigger profits, and various additional benefits.
Just like the other ecommerce KPIs, it is best not to view AOV in isolation. Related metrics include customer lifetime value (CLV) and customer acquisition cost (CAC), particularly for ecommerce subscription businesses.
How do I know if my average order value is in good shape?
Littledata has robust benchmarking data from a sample of 12,000 ecommerce sites. You can drill down by category and revenue to see how you compare vs your peers.
For example, we analysed AOV across 379 medium-sized ecommerce sites in September and found that $123 is the typical amount spent. But average is relative – it very much depends on the sector.
Start a free Littledata trial to see your AOV alongside the benchmark for your sector (we will show you some other juicy metrics and benchmarks too). It will look like this:
Pretty cool, huh? If you happen to be underperforming in any area then our app will suggest some proven optimisation ideas to help you improve your store.
Other stores have used our ecommerce benchmarks to grow sales, and we're confident that you will experience similar results.
What affects average order value?
Lots of things influence how much people spend when they buy from your site.
Consider the last time you bought a higher priced item, such as a TV, laptop or mobile phone. More often than not there are upsells and cross-sells as you progress down the purchase path.
You end up buying related items (mobile phone cases), upgrading your initial choice (256MB memory vs 64MB), purchasing add-ons (extended warranty), or clicking on a compelling product bundle (phone + case + warranty = 15% off).
This kind of buying behaviour helps ecommerce teams to sleep soundly at night. It is to be encouraged.
A real world example
Apple is an absolute master of maximising AOV. Let's take a quick walkthrough of one of its purchase pathways.
First, we'll select a Macbook Pro and will then see the following page, which invites us to customise our order.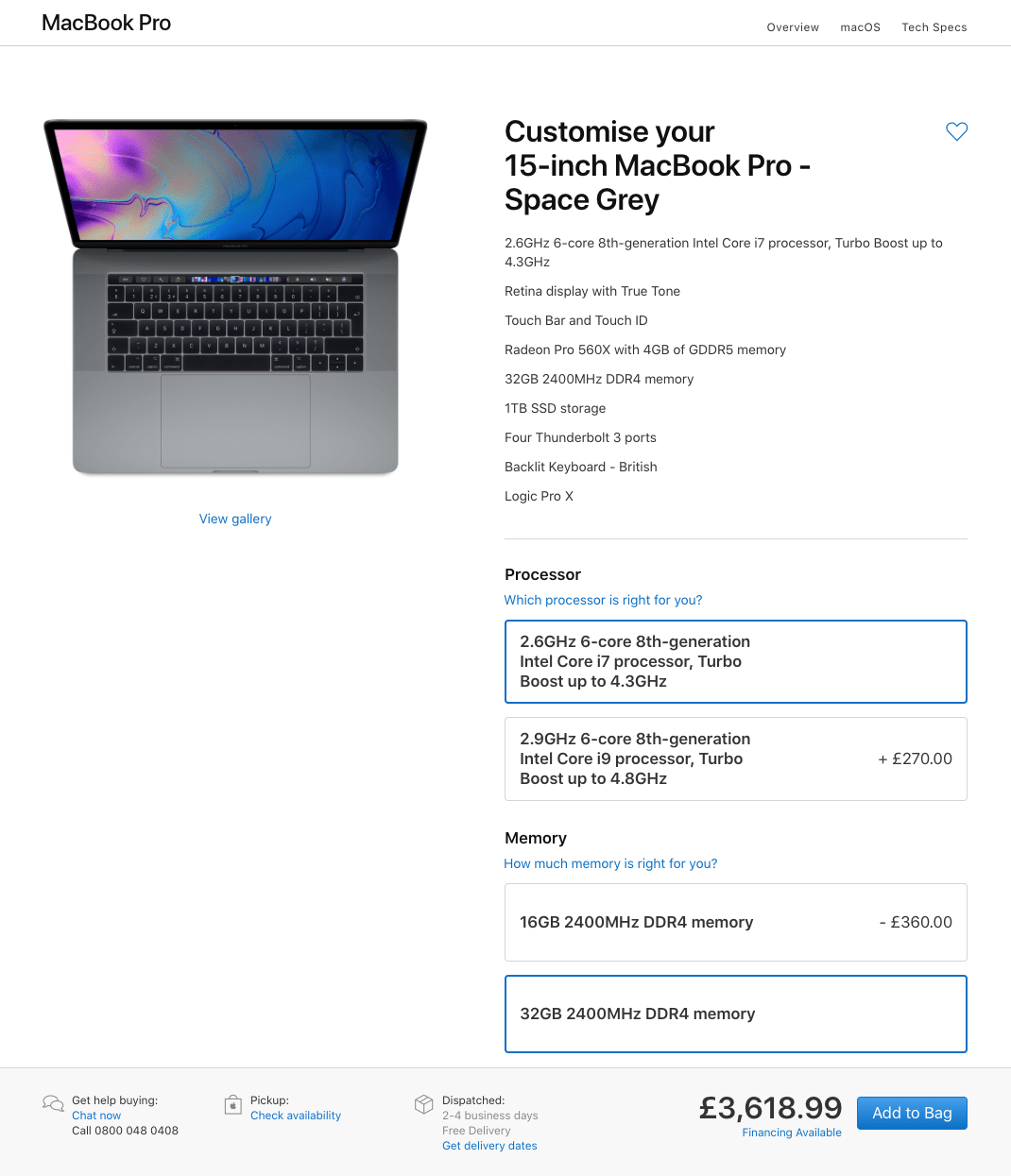 Add a little more memory and one item of software, and the order value increases by about 30%. Boom.
Now let's click the 'Add to Bag' button. We'll progress to an 'Essentials' page. Yet more ideas to help us spend extra money.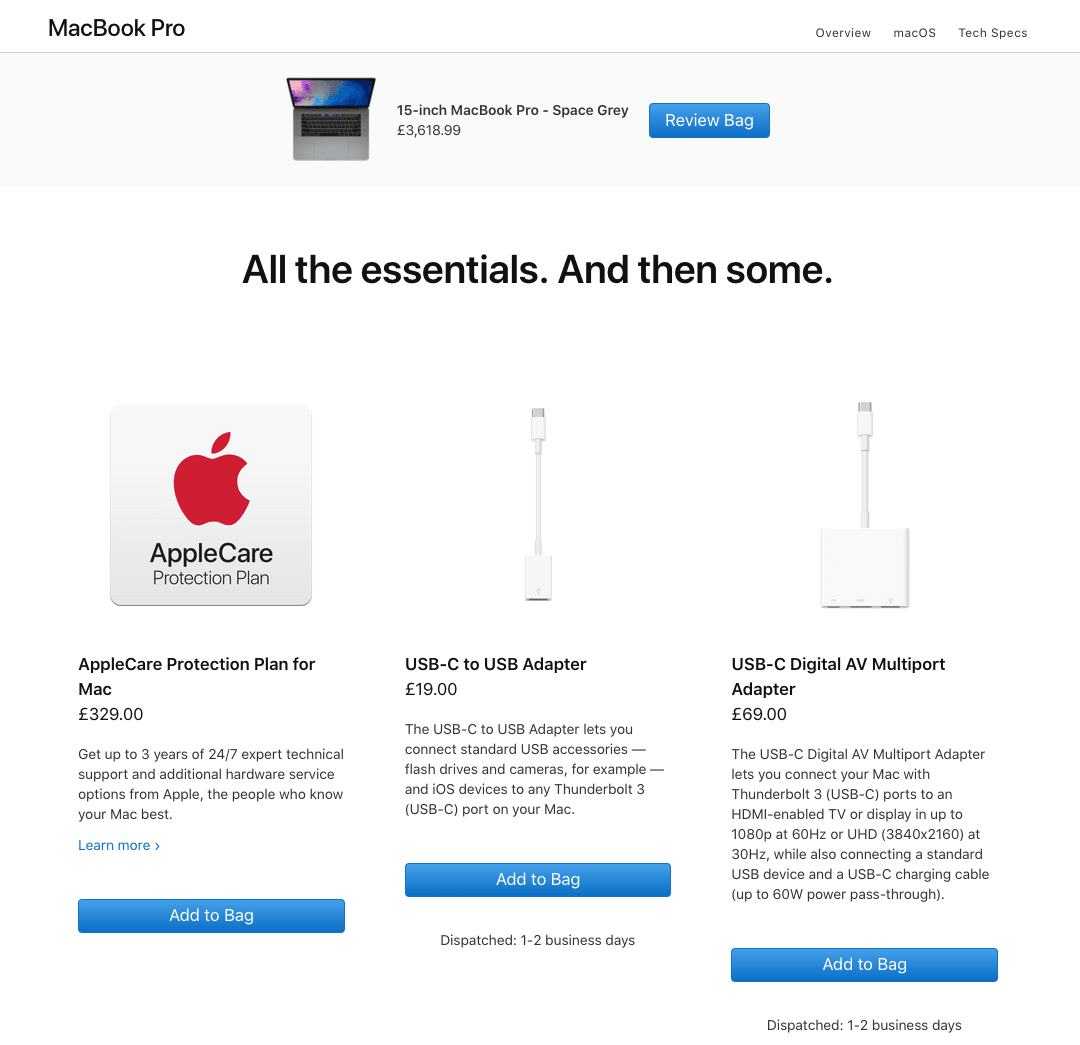 Think we're all done? Not so fast. Click on 'Review Bag' and you'll enter the checkout. Note the 'Related Products' that appear underneath the basket summary.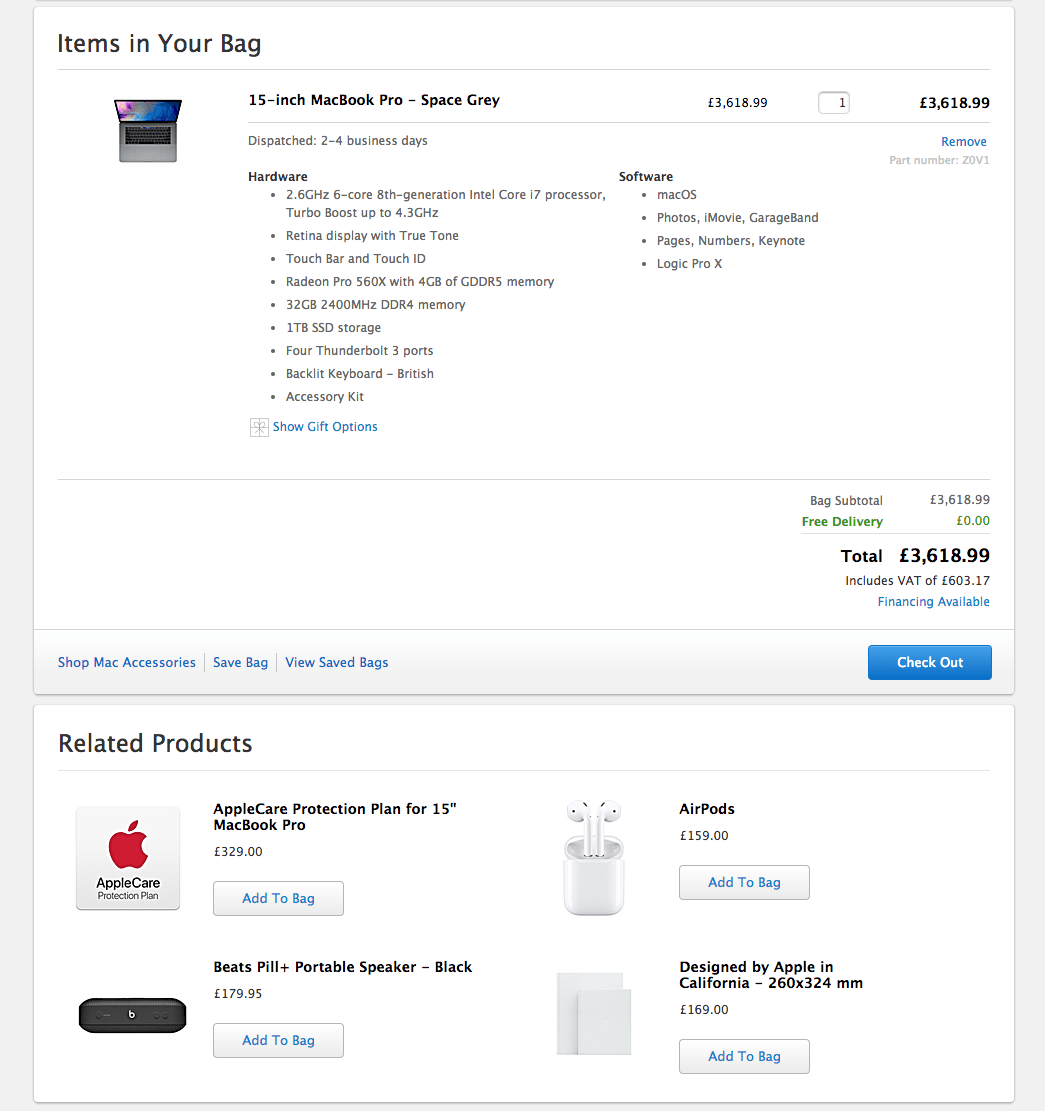 Is it any wonder that Apple is valued at more than one trillion dollars?
How can I increase my average order value?
The million dollar question (or maybe a few billions, in the case of Apple).
The researchers for our newest product feature – called Missions – have discovered plenty of ideas for you to try out. Littledata Missions provide step-by-step guides to help ecommerce teams optimise performance, and AOV was one of the very first metrics we wanted to explore.
The following ideas are taken from our Average Order Value Fundamentals mission. There are a bunch of others in there to try too.
Missions automatically generate based on your ecommerce benchmark data in the Littledata app (try Missions for free today).
I'll wager that at least one of the following will help you to grow AOV. And a super combo might seriously move the dial.
Once you've optimised AOV – and there might be a ceiling – you can work on increasing purchase frequency, customer referrals, and then scale up your customer acquisition efforts.
So then, here are 12 ideas to help you start to grow average order value…
1. Provide free shipping for orders above a certain amount
Betterware grew AOV by 20% after introducing free shipping for orders above £30. M&S also provides free standard delivery for orders that exceed £30, as seen in the screenshot.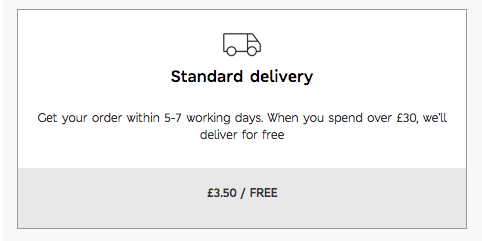 A study by UPS found that 58% of consumers would add extra items to their cart in order to qualify for free delivery. As such this is a great way of increasing average order value.
Free delivery is an expectation these days, so if you're late to the party – and concerned about margins – then a minimum threshold is worth testing.
2. Offer minimum spend discounts
Much like introducing a free shipping threshold, you can provide a discount if the customer spends a certain amount on your site.
Although it might seem to go against the goal of increasing average order value, setting offers such as this can tempt visitors into spending whatever is necessary to achieve the discount, because it appears like a deal.
There are a number of ecommerce plugins to help with this. A lot of happy Shopify stores use the Product Discount app.
3. Make the most of up-selling
Up-selling is the art of convincing prospective customers to increase their spend, typically by buying a more expensive item to the thing they're looking at.
For example, in the screenshot below we can see how Amazon shows higher priced TVs to the one initially selected. By listing out the features side by side it may be enough to convince the prospective buyer that the next model up is a more attractive option.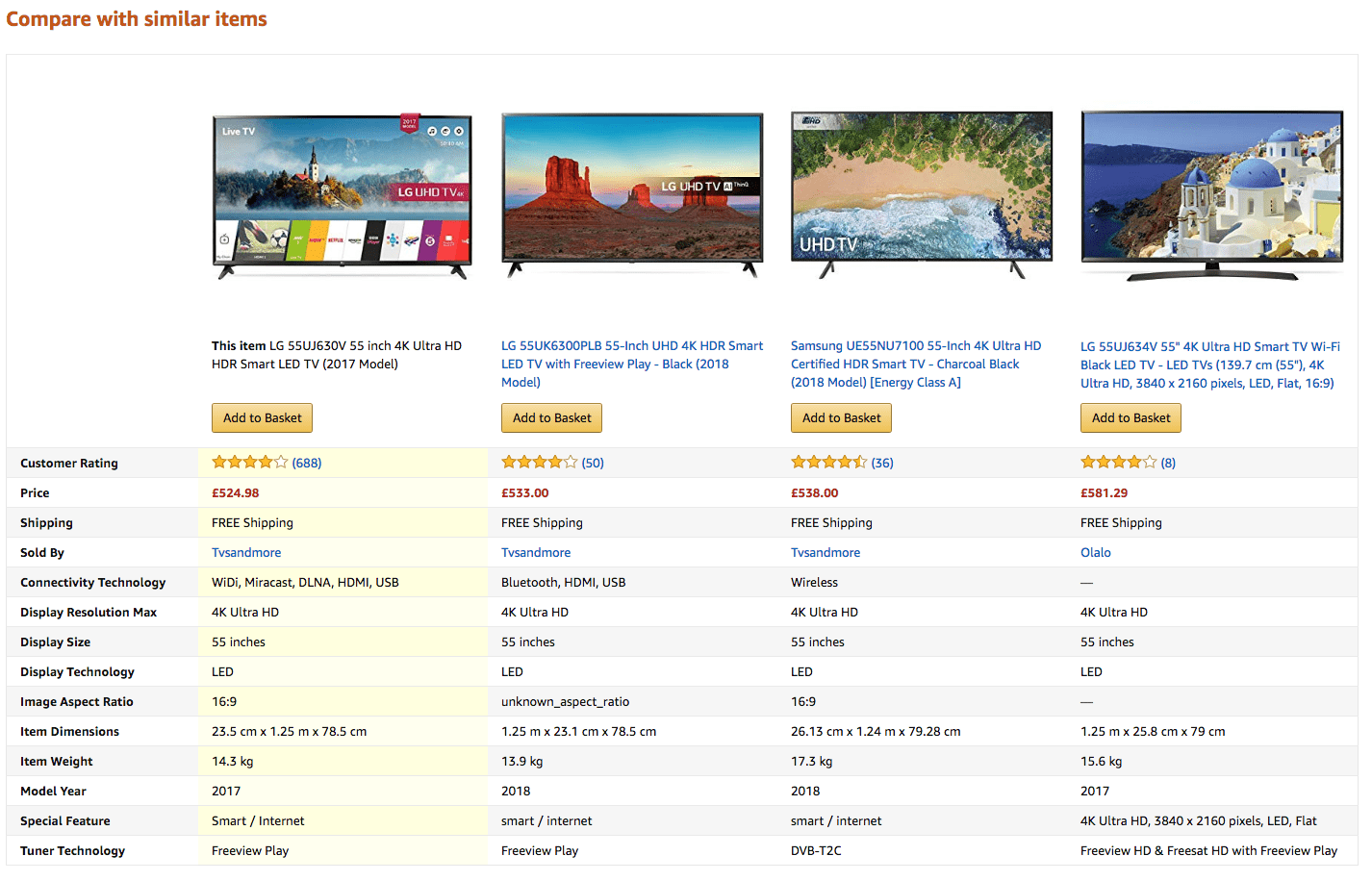 This is a sure-fire way to increase average order value, though it's not without its risks as you'll need to change the shopper's mind about something ("You don't really want that, you want this."). So be careful when experimenting with up-selling techniques.
4. Embrace cross-selling
Amazon has attributed around 35% of its revenue to cross-selling. Not exactly small change. As such it is crucial to find a cross-selling strategy that works for your website.
Cross-selling is the science of persuading customers to buy additional products related to the thing they're about to purchase. For example, buy a camera and you might see recommendations for camera cases, bigger memory cards, battery chargers, etc.
Adding items to the basket in this way is highly likely to increase average order value.
However, it is important to specify which customers receive cross-sell offers. You should certainly think twice before cross-sells to customers who regularly return items.
5. Allow customers to use live chat
A Forrester study found that there is a 10% increase in order value from customers who used the live chat function.
The study also discovered that live chat helps to increase revenue by 48% per chat hour, and increased conversion rate by 40%. The business case for live chat would appear to be strong.
Why is this? Mainly because customers like the immediacy – and familiarity – of chat. It has been reported that 73% of consumers who have used live chat were pleased with the experience.
So, live chat is good for AOV, sales, conversion rates and customer satisfaction. What's not to like?
Try Littledata free for 30 days
6. Show how others have enjoyed the product
Average order value is 6% higher among shoppers who read reviews, compared with those who don't bother, according to a Bazaarvoice study.
Positive social proof is incredibly powerful. It goes a long way towards encouraging people to progress to the checkout.
Social proof comes in many forms, from reviews and ratings to testimonials and buyer videos. Make it highly visible at key points in the buyer journey, to build trust and reinforce the decision to buy.
7. Offer financing for high-ticket items
Analysis by Divido has shown that sales can increase by 40% when high-ticket items are offered in monthly instalments.
Your most expensive items are the ones which can be heavily responsible for driving up your average order value. If you offer customers the option to pay in instalments it can help you sell more of these higher valued products.
For example, Goldsmiths offers shoppers 0% interest-free credit on purchases which total more than £750. This may appeal to people looking at items in the £500+ range – they might end up being tempted to spend more once they see the financing available.
8. Offer volume-based discounts
Office supplies company Paperstone generated a 19% average order increase when a bulk discount deal was offered.
As well as helping to grow AOV, strategic discounting can be great for clearing out excess inventory.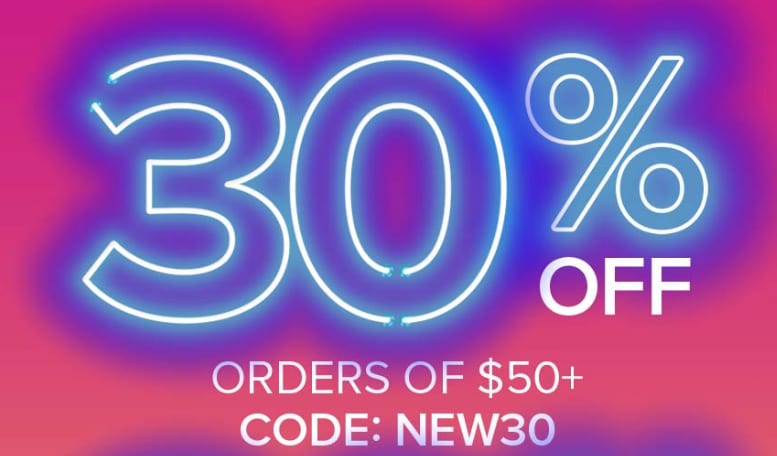 However, remember that it is important to calculate bulk discounts very carefully. You need to offer deals that attract customers, but which do not hurt your profit margins.
9. Use dynamic retargeting to increase average order value
Stella & Dot increased AOV by 17% after experimenting with dynamic retargeting, which allows ecommerce firms to show shoppers the right kind of ads during the shopping journey (such as product recommendation ads, based on their browsing behaviour or purchase history).
This technology also recaptures lost sales from visitors who leave websites, by showing them personalised offers to re-engage them.
10. Send personalised emails
OneSpot found that average order value increased by 5% upon the personalisation of emails.
Simply put, customers are more likely to feel valued by your site if you provide them with messages that are relevant to their specific interests.
Personalisation often starts at the customer's name ('Dear sir' won't cut it), but extends to the content of the email. If this is based on prior browsing and purchase history then you're more likely to engage the shopper, to reinforce – or complete – the purchase.
11. Offer a gift card or loyalty scheme
By offering customers rewards for shopping with you, you're likely to see an increase in orders, as well as an increase in the size of those orders.
It has been shown that offering rewards for purchases 15-20% above average order size can increase the amount people are willing to spend. Encouraging big spenders to buy more frequently will also have the effect of increasing AOV.
A study by BigDoor found that loyal customers make up 70% of total sales in some cases, so it is important to give something back to those customers once in a while.
12. Create product packages
A case study into BaubleBar, a jewellery site, showed that average order value increased significantly when product bundling was offered. One pair of its earrings costs $30, but a bundle of three is just $48. This bundle screams "deal" to a customer. BaubleBar saw its average order increase by $22 in a matter of days.
Bundling reduces cognitive load. If you can help shoppers avoid thinking too much then you're onto a good thing. Bundles can be viewed by visitors as a valuable deal, especially if they contain products which supplement the one they are already interested in.
Packaging up items this way can be incredibly persuasive, particularly when you're offering a discounted price. They can also save the shopper time – no need to browse for add ons.
Start the AOV mission today
In summary, trying to increase average order value is worth the effort, and will be a gift that keeps on giving once you move the dial in the right direction.
You can launch the Average Order Value mission directly from your Littledata dashboard. Our app will track your progress as you test ideas to discover what works best for your site.
People trust Littledata to audit, fix and automate reporting. They use our benchmarks to check and compare their performance, relative to their peers. And now, with Missions, digital teams can actively set about increasing ecommerce revenue.