We're excited to announce a new Facebook Ads connection in the Littledata app! The integration automatically pulls ad costs and campaign data into Google Analytics, and the open beta release is free to try for all users.
How do you know if you're getting the highest possible ROI on your Facebook Ads? For ecommerce sites, it's a difficult question.
By their very nature, PPC platforms can provide only a limited amount of reporting, tied to their own network and performance data. Ecommerce sites need an outside view of marketing channels, and a way to connect that ad performance with shopping behaviour and product performance. But where should you start?
You can trudge through Facebook's limited reporting, make endless spreadsheets and play guessing games. Or you can take advantage of the latest data tech for automated reporting and comparative attribution models.
New Facebook connection
We built a robust Facebook integration to automate everything so you can get back to business.Our goal is to show you the real ROI on your Facebook Ads. And to do so as painlessly as possible.
It's an easy connection in the Littledata app, with numerous core benefits:
Fix your campaign tracking
Automatically pull ad cost data into Google Analytics
Enterprise-level reporting on marketing channels and product performance
Complete view of how your ad spend contributes to product and subscription revenue
In addition to the automated reporting in your Littledata dashboard, which includes reports on social referrals, checkout funnels and recurring billing, this new Facebook connection gives you unlimited access to accurate Facebook campaign data directly in Google Analytics. Data geeks can drill down into PPC details and build models of their own as well.
Try Littledata free for 30 days
Fix your campaign tracking
The Facebook Ads connection has its own succinct set of audit checks to make sure you're tracking things correctly. It's a natural extension of our popular analytics audit tool.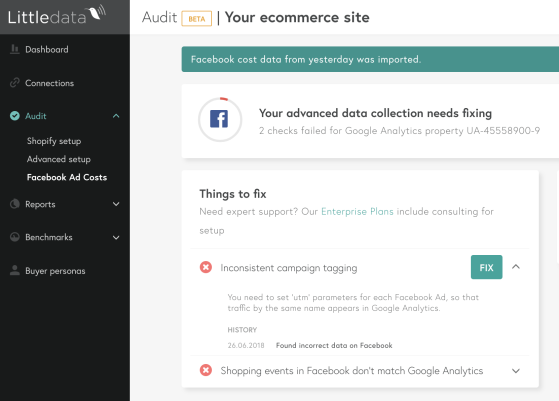 Once you connect your Facebook Business account, the app automatically checks for accurate campaign tagging and ecommerce event tracking. Sites change and new campaigns are added or adjusted on a regular basis, so our app takes care of the busy work to monitor your campaigns and keep everything up to date.
Focus on the most important metrics
Littledata offers a range of AI-based reporting directly in the app, from dashboard visualisations to ecommerce benchmarks. The Facebook Ads connection extends your reporting capabilities to reveal essential metrics such as:
Google Ads vs Facebook Ads conversion rates and revenue share
Multi-channel attribution
Top products sold from your Facebook Ads, including subscription products
Landing page performance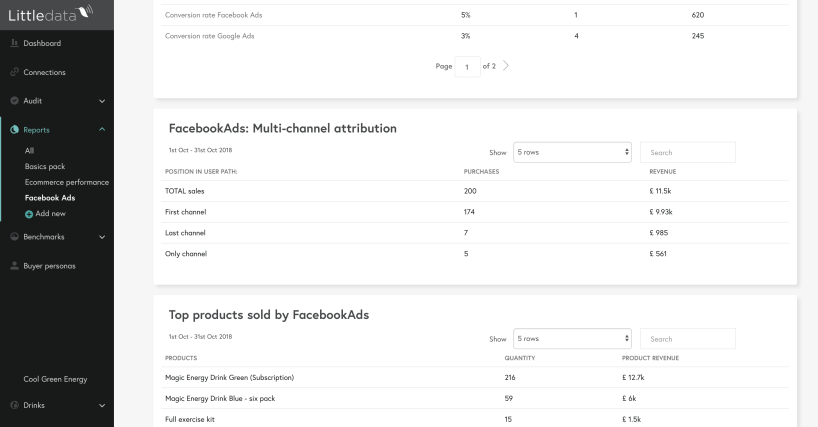 No need to wade through data in GA. With report packs, it's easy to get useful analysis with just a couple of clicks. Top report packs for Facebook Ads connection users include:
Social traffic pack, with reports on social channel referrals from sites like Instagram, Pinterest, Twitter and Facebook, including untagged social traffic and top campaigns
Ecommerce performance pack, with reports on average order value (AOV), days to transaction, sessions to transaction, and details like product subcategory performance
A dedicated Facebook Ads pack, with reports on revenue contribution, Google vs Facebook PPC stats, landing page performance, multi-channel attribution and more!
Not a Littledata user yet? Find the plan that's right for you, whether you're on Shopify, BigCommerce, Magento or any other platform. Every subscription plan includes at least two free report packs, and enterprise plans include custom tracking and reporting. Plus, integrations like ReCharge, CartHook and Shopify are included at no extra cost.
Try the new Facebook Ads connection today and let us know what you think! We're confident that this powerful new integration will help you get a higher ROI on your ad spend, with more sales from your best types of customers.