Over the past few months we've been working on a new feature for Littledata users. Our new Missions feature is a data-driven recommendation engine for ecommerce optimisation.
The Missions concept is simple, yet powerful. First, you connect Google Analytics in order to see how your site is performing relative to the benchmarks in your sector. Then, if you are underperforming in any given area, the app will suggest some specific optimisation missions.
Now, you might think that in 2018 the vast majority of ecommerce websites are serious conversion machines, but that's simply not the case. Most websites remain woefully under-optimised and are leaving way too much money on the table. Checkouts are abandoned, users bounce before pages load, forms are left uncompleted, and so on.
This is becoming a big problem, given the competitive landscape in many sectors. Acquiring new customers is increasingly expensive. A surefire way to make your marketing budget go further is to optimise your website, but where should you start?
This is precisely where Missions comes into play: you launch individual missions and work your way through the suggested tasks to improve ecommerce performance, metric by metric.
Missions: website optimisation made simple
We've spent a lot of time researching optimisation techniques that have been shown to work for other companies. That's not to say that they'll definitely work for you, but proven ideas are usually well worth testing.
We now have hundreds of actionable ideas, which have been clustered together into launchable 'missions'.
Missions are aligned to key ecommerce goals, such as increasing average order value, product list CTR, add to cart rate, checkout completion rate and conversion rate.
Individual missions cover areas such as persuasion, merchandising, user experience, copywriting, pricing, CTAs, findability and trust.
And since Littledata is good at measuring the little data, you'll be able to see the results of your efforts within the app.
Who should use Missions?
Missions is for anybody that wants to optimise a website. It can be used by large digital organisations, SMBs and micro businesses. It is particularly useful for agencies with multiple clients, especially where there are recurring optimisation tasks over multiple websites.
The ideas in each mission include guidance on who should be involved in implementation. Roles include ecommerce manager, web developer, copywriter, marketing strategist, and UX designer.
Try Littledata free for 30 days
How to launch a mission
Start by connecting Google Analytics, so we can help you measure success and prove ROI.
Once connected we'll run a quick check to make sure your analytics setup is in good shape (the app will suggest fixes, if anything is awry).
You can then compare your performance against your peers, to identify areas that are ripe for improvement. We'll show you this at the top of your dashboard:

By drilling down into each of the above categories you'll be able to see the detail. As an example, let's look at the main metrics in the ecommerce category. You'll see your own data alongside ecommerce benchmarks from your sector (based on data from more than 12,000 websites). This makes it easy to compare and contrast performance. It looks like this: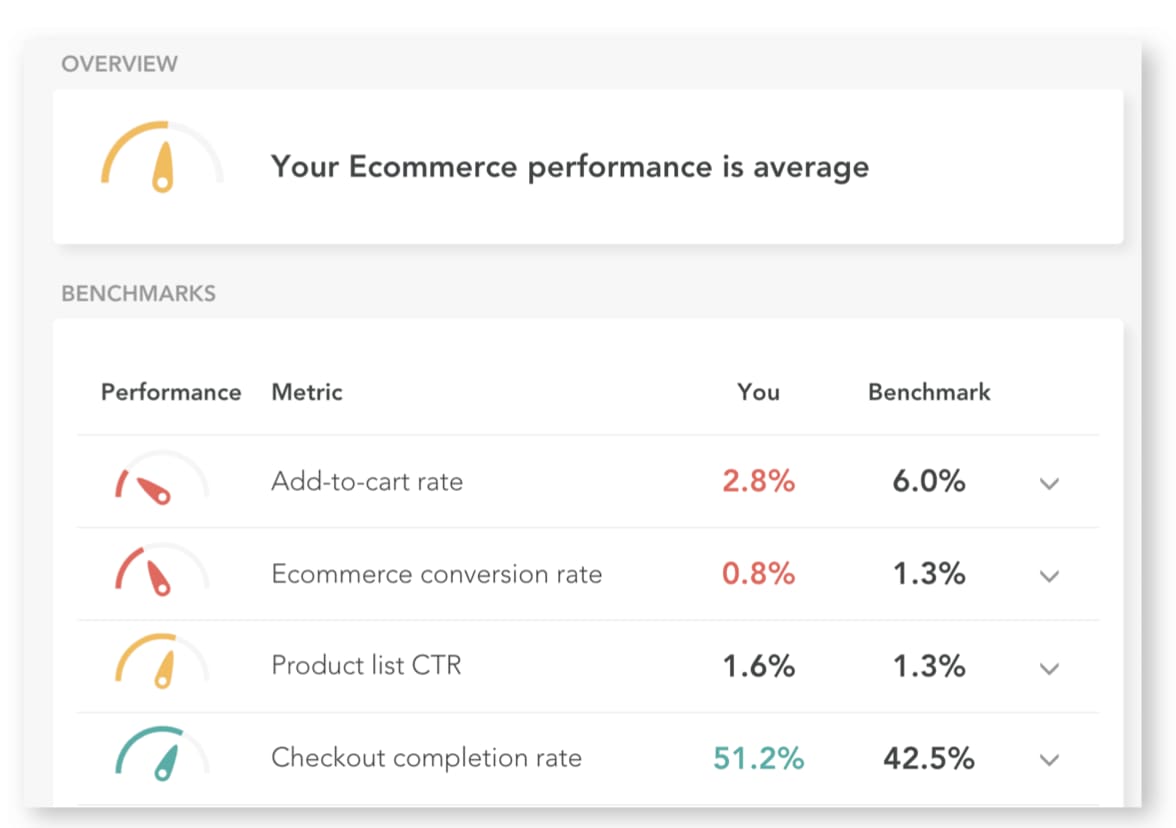 In the above example you can see that 'add to cart rate' and 'conversion rate' are both considerably lower than the norm. Both of these areas are ripe for improvement.
Another metric in the ecommerce category is average order value. For this particular sector the average is $28, and while this particular website is doing reasonably well, it isn't yet a top performer. Increasing AOV is one of the quickest ways of growing revenue, so we can launch the following mission: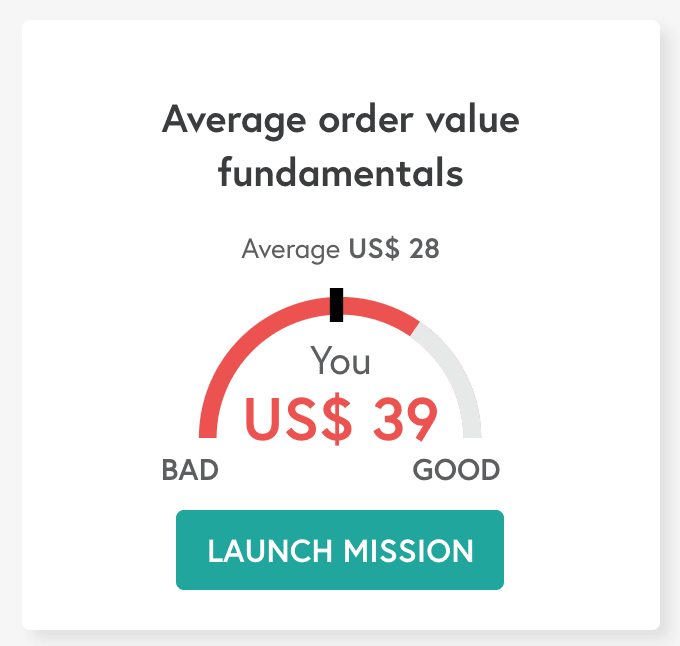 So, this first mission – 'Average order value fundamentals' – will help you to incrementally increase AOV. It includes ideas in areas such as product bundling, cross-sells, up-sells, wishlists, pricing strategies, personalisation, social proof, and so on.
Here's what the mission looks like – note that each tip can be expanded to reveal more information: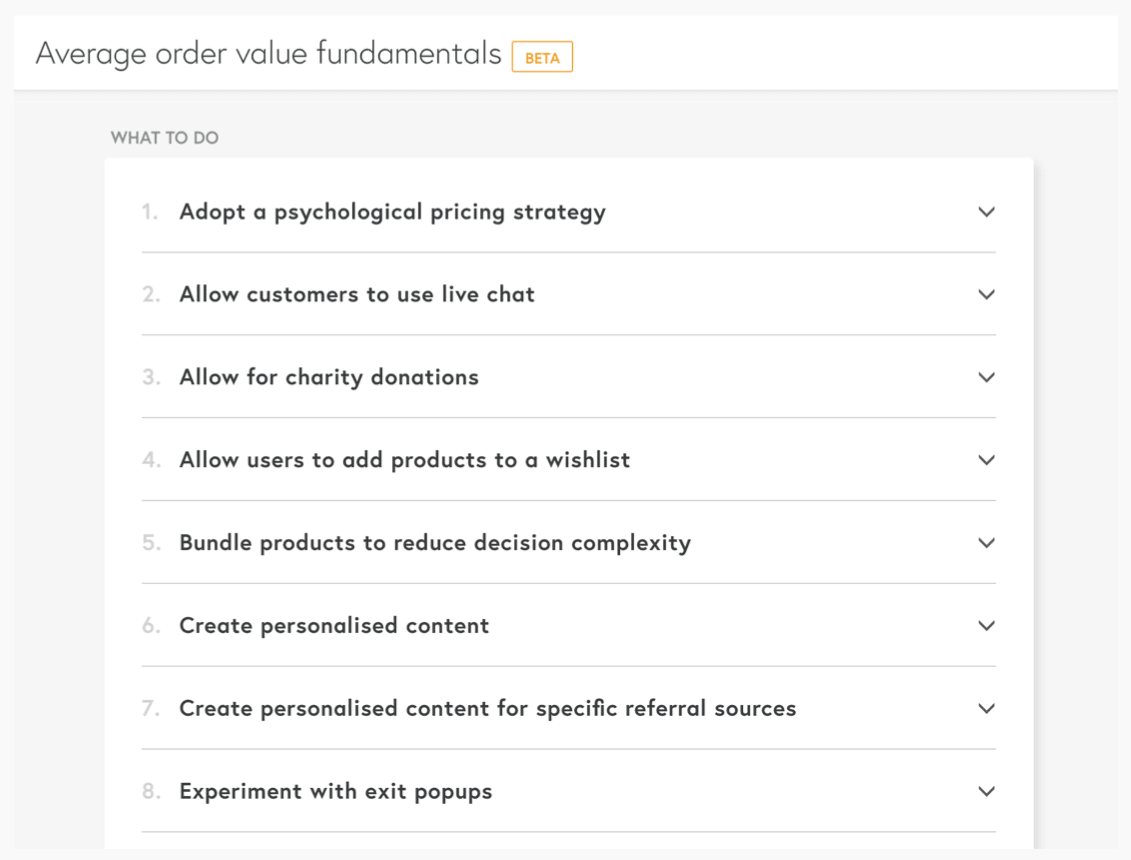 You can work your way through the mission and implement (or skip) the ideas. Press the 'mark as complete' button to start tracking performance.
Once you have done that we will start monitoring performance: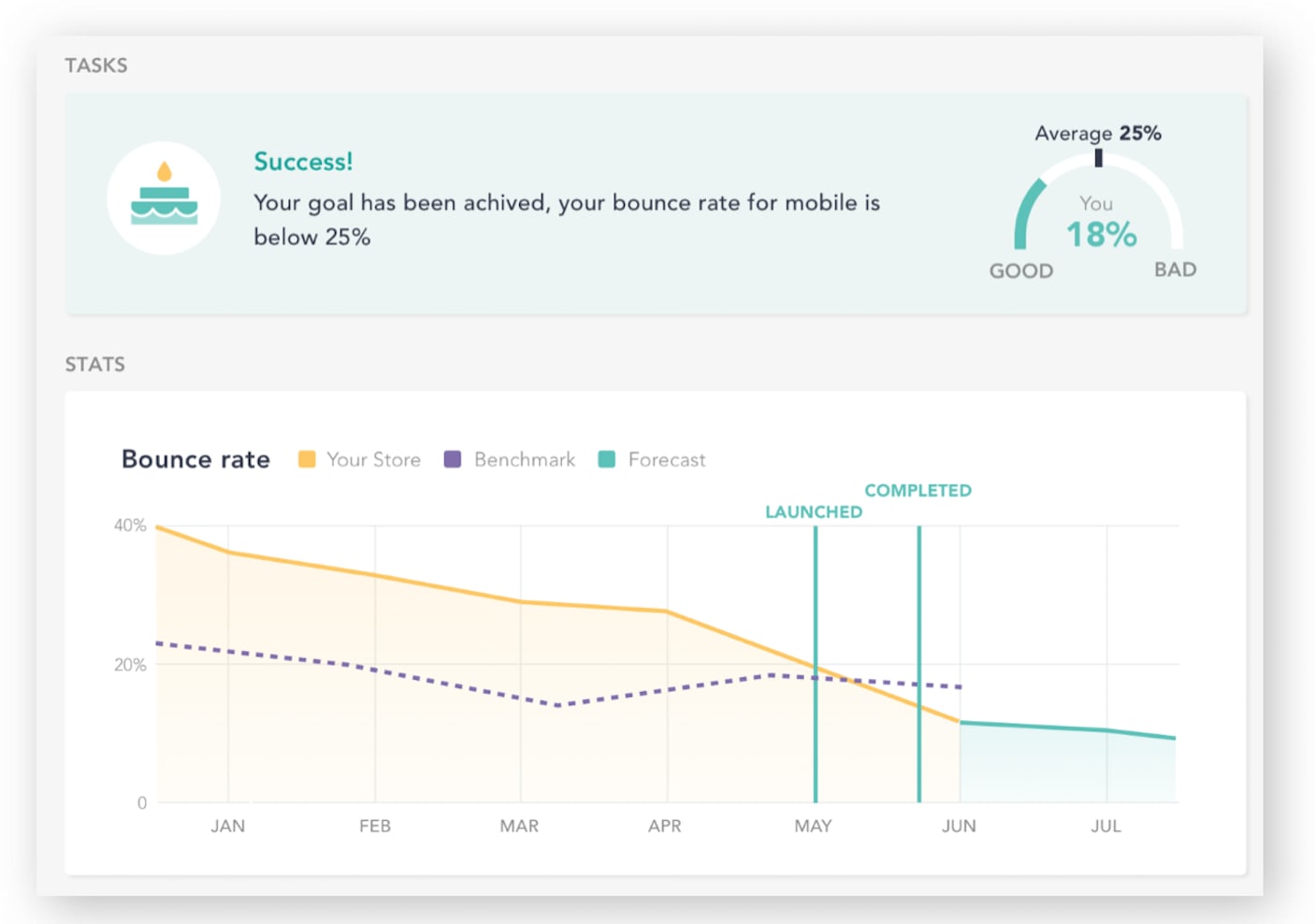 Reach your goals, faster
Missions should generate considerable – and provable – ROI for the SMBs, corporates and agencies that use it. Work your way through the missions to improve the customer experience, and remove the friction from the buying process.
The first iteration of Missions is natural next step for Littledata. Our long-term goal is to develop Missions into an AI-driven optimisation engine for ecommerce teams. We hope you'll join us for the ride.
People trust Littledata to audit, fix and automate reporting. They also use our benchmarks to check and compare their performance, relative to their peers. And now, with Missions, digital teams can set about actively increasing ecommerce revenue.

We hope that Littledata Missions will help you to fast-track your goals and KPIs. Give Missions a try today and shoot for the moon.