Shopify is a terrific, industry-leading platform that continues to see success with its variety of in-app features and integrations for merchants.
One of the ways it hasn't been successful? It's native reporting platform.
In a recent post about popular brands using the Segment app for their Shopify store, we outlined what the Segment platform is, and why top brands are choosing to use Shopify and Segment together.
In this post, we'll run down the three best benefits for merchants using Shopify and Segment in tandem. First, let's start with the problem:
What's wrong with Shopify reporting?
Shopify's native reporting is simplistic and incomplete, missing key steps in the customer journey. This makes it difficult for Shopify merchants to get accurate data on sales and marketing efforts for their store.
The situation is even worse if you want to push that data to Segment, as previously this had to be done manually (i.e. you'd need to hire a developer and a consultant just for the setup).
The good news: Littledata's new Segment connection (available in the Shopify app store) fixes this automatically.
Use your store as a Segment source
How does the Segment connection work?
Once the data is tracked within your Shopify store, it's then sent to Segment. By adding Shopify to your Segment sources, it's easier to push your Shopify dataset to Segment destinations so you can report and act on ecommerce behavior.
Plus, our app fixes the tracking automatically – so you can make data-driven decisions with peace of mind, knowing that the Shopify data is accurate when you push it to Segment destinations.
Tracking for Shopify & Shopify Plus
To recap from our post a few weeks ago, Littledata's Segment connection sends the following events from your Shopify or Shopify Plus store to Segment.
These events will show up as tables in your warehouse, and as regular events in your other destinations like Google Analytics, Amplitude, Mixpanel, Kissmetrics, Heap and more. Among all Shopify apps, the Segment connection offers benefits unique to Shopify partners.
Check out our help center for additional questions on the Segment integration.
3 benefits of connecting Segment with Shopify
1) Capture every customer touchpoint
Our Segment connection lets you use Shopify as Segment source. In other words, merchants can now automatically track every ecommerce touchpoint on your Shopify store, including:
User/browsing behaviour
Checkout steps
Sales & refunds
Customer lifetime value (CLV)
Marketing metrics like customer acquisition cost (CAC)
When merchants integrate Segment with Shopify, no touchpoint in the customer journey will go untracked. This includes multiple checkout steps, sales conversion data and customer lifetime value (CLV), one of the most crucial metrics for any store owner to track.
2) Server-side tracking for 100% accuracy
Speaking of tracking, Littledata's server-side tracking approach within Google Analytics beats out Shopify's native reporting, which is riddled with inaccurate numbers.
Server-side tracking ensures each data metric is 100% reliable, empowering merchants to make better, data-driven decisions for their store.
3) Set up in minutes for any Shopify store
Quick integrations should never be undervalued. Within minutes, Shopify merchants can have their stores armed with a steady data flow.
Sound too good to be true? That's the power of next-gen tracking and reporting.
Which events are tracked?
Littledata's Shopify app for Segment users automatically tracks key events in the ecommerce journey. These currently include: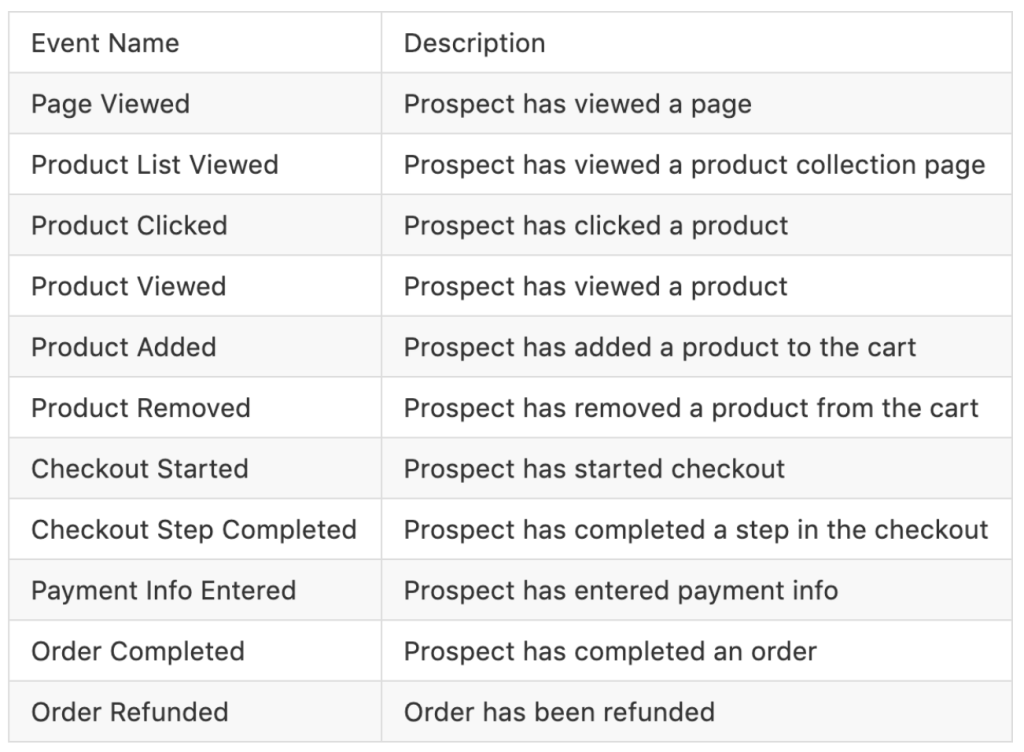 From your Segment workspace, you can then push this data to hundreds of Segment destinations, such as:
Reporting and visualization tools like Mixpanel and Google Analytics
Sales and marketing apps like Hubspot and Salesforce
Email marketing like Drip and Klaviyo
And the list goes on and on…check out this master list of Segment destinations.
Enterprise plans for Shopify Plus stores
The Segment integration for Shopify captures every stage in the customer journey, empowering you to do more for your store with an accurate dataset.
The best way to get started? Littledata enterprise plans are a popular option for Shopify Plus merchants and other stores set on major growth. Enterprise plans offer reliable customer support, a dedicated account manager, help from our Google Analytics consultants, data analytics experts and ecommerce growth hackers.