Marketers understand why it's critical to target customers with the right message at the right time. 
For product marketers and ecommerce managers, SMS is an increasingly essential part of multi-channel marketing — especially with a mobile-first online retail market.
In this article, we'll summarize 6 benefits you may not know about SMS marketing. We'll also outline how to use SMS effectively for better lead acquisition, closing rates and customer loyalty for your Shopify or Shopify Plus store. 
By the end, we hope you're ready to integrate SMS marketing right away! 
1) SMS is one of the most immediate channels available
SMS (a.k.a. text message marketing) is perhaps the most direct route to customers when it comes to D2C marketing. With a 98% open rate and a 5x click rate compared to other channels (such as email marketing), SMS is a more casual and less threatening channel for customers. 
Not only do standalone SMS campaigns have a high success rate and proven ROI for Shopify merchants, but they also enhance and support other marketing channels like email and social marketing. As mobile shopping activity continues to rise, shoppers expect to receive offers, discounts, consultations and other promos through mobile messaging.
2) SMS can help you recover lost sales
Merchants not utilizing SMS as part of a mobile marketing strategy are missing out on building direct relationships with customers. As a result, this could mean sacrificing sales. 
Littledata found that, on average, nearly 60% of mobile shoppers abandon their carts before completing checkout.
Try Littledata free for 30 days
Many of these incomplete checkouts may be due to unanswered questions. And while automated messaging may not solve these barriers to purchase, it can certainly reengage shoppers through incentives or simple reminders to complete their checkout. 
3) SMS helps you better understand your customers
You can learn more about the purchasing behavior of your customers by studying back-and-forth conversations. 
For example, SaveMySales is a performance SMS marketing app that offers a dashboard showing customer conversions from which merchants can track trends, like commonly asked questions or concerns preventing them from purchasing. 
This type of insight helps merchants understand the customer journey (and blockers) their customers face, which can lead to better Shopify conversion rates.
4) SMS will increase customer engagement
SMS marketing can help you directly build 1:1 relationships and trust with your customers. 
Shoppers appreciate messages that make them feel valued or special, especially when messages include personalized responses from real humans that solves their barrier to purchase. 
Whether shoppers are casually browsing before a first-time purchase or they are returning for a repeat purchase, shoppers are more likely to buy when they experience a level of brand trust.
5) Full-service SMS marketing for Shopify merchants
SaveMySales is the only human SMS marketing solution that acquires subscribers, sends messages, and replies back to shoppers. 
By combining AI with the world's best live agents, the company has created the most personal marketing channel ever. The platform drives up to 20% increases sales for Shopify stores by answering questions, providing suggestions, offering deals, and up-selling.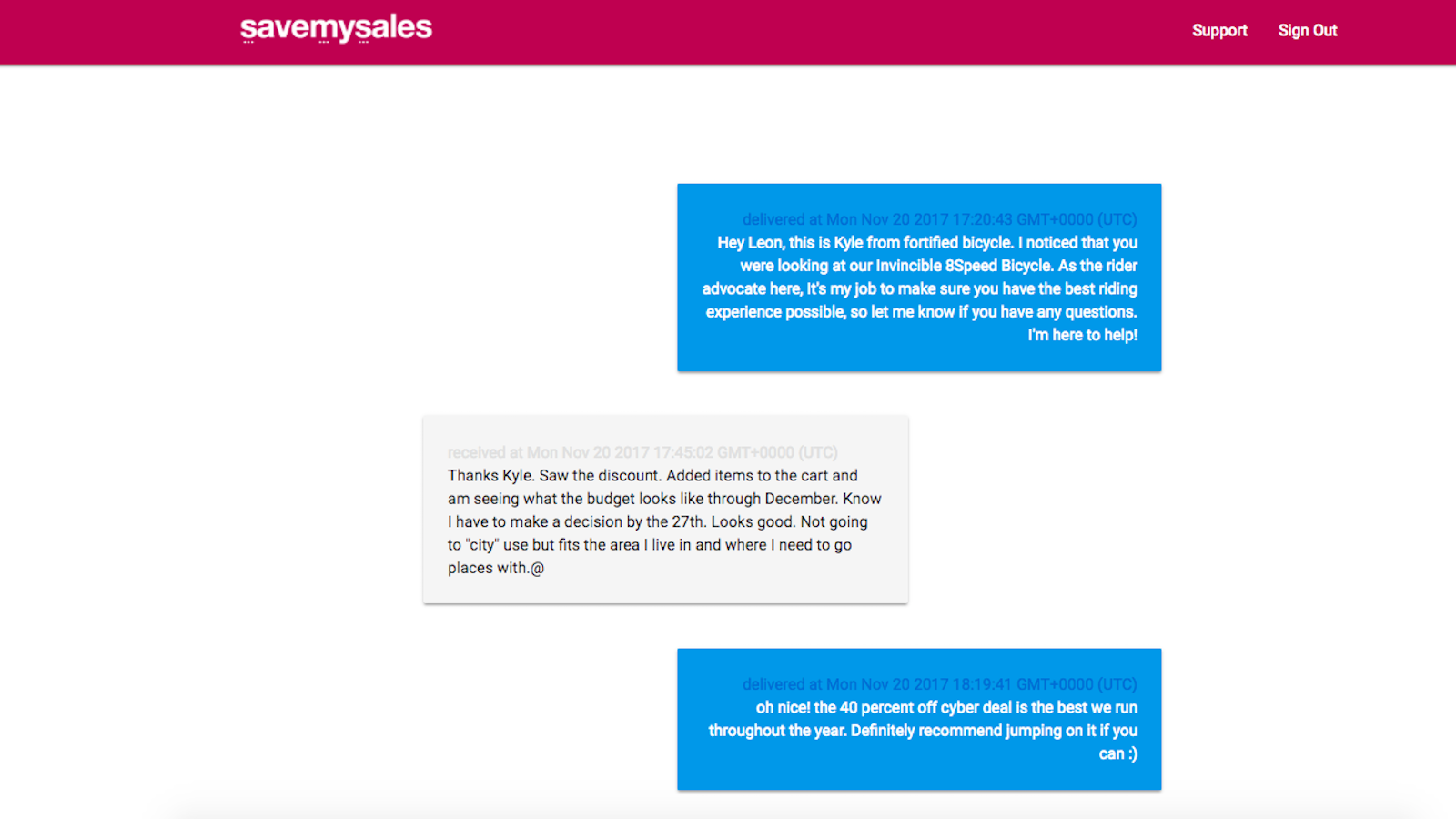 Some of the best features include but are not limited to:
Building SMS marketing lists

– the Opt-In Pop-Up enables brands to quickly acquire SMS subscribers from their website

Abandoned checkout recovery

– brands can recover lost sales by connecting shoppers directly with a live agent that can answer questions and remove barriers to purchasing

Interactive SMS campaigns

– brands can rapidly build a subscriber list and talk to thousands of shoppers at once with beautiful, segmented outreach
We recommend Shopify stores use SaveMySales as part of their ecommerce multichannel strategy for engaging with shoppers at every stage of the purchasing funnel — not only because it's a proven method, but also because it offers the peace of mind shoppers want. 
6) Without proper tracking, it's all for naught
While you're building this high-converting engagement channel for your brand, for Shopify and Shopify Plus merchants, one thing matters just as much as engagement — tracking each step of the customer journey. 
Luckily, Littledata's smart analytics app for Shopify connects your store data to Google Analytics or Segment, and tracks every event, from casual product page clicks to final purchase. It's automatic tracking our merchants can trust.
If you're on Shopify Plus, check out an enterprise plan to get a dedicated account manager to help with data setup, reporting and optimization.
Thinking into the future
SMS marketing is becoming an increasingly essential channel as a direct line of communication to get in front of shoppers, recover lost sales, understand customers, and increase customer engagement. 
SMS can be used as part of a multi-channel strategy for engaging with customers at each stage of the customer funnel to help increase conversions and ROI for your Shopify store. 
We recommend using SaveMySales to build the most personalized SMS marketing strategy that will impress your customers and help them build a relationship with your brand.
This is a guest post by Cindy Le from SaveMySales, a performance SMS marketing app for Shopify and Shopify Plus stores.