If your Shopify store is starting to pick up traction, you've probably wondered if you're better off using Shopify's native analytics platform or Google Analytics, the household name for cross-industry reporting.
Truth is, both Shopify analytics and Google Analytics offer unique benefits and features of their own. The difference, however, is that one of them is inherently incomplete, leaving Shopify merchants without valuable insights to make well-informed decisions for their store.
So, which of them is incomplete? Let's dive in.
Shopify tracking
Shopify's analytics dashboard (available to both basic Shopify stores and Shopify Plus stores) provides a birds-eye view of the "big ticket" metrics, including average order value (AOV), conversion rate, sessions by location, sessions by traffic source, etc.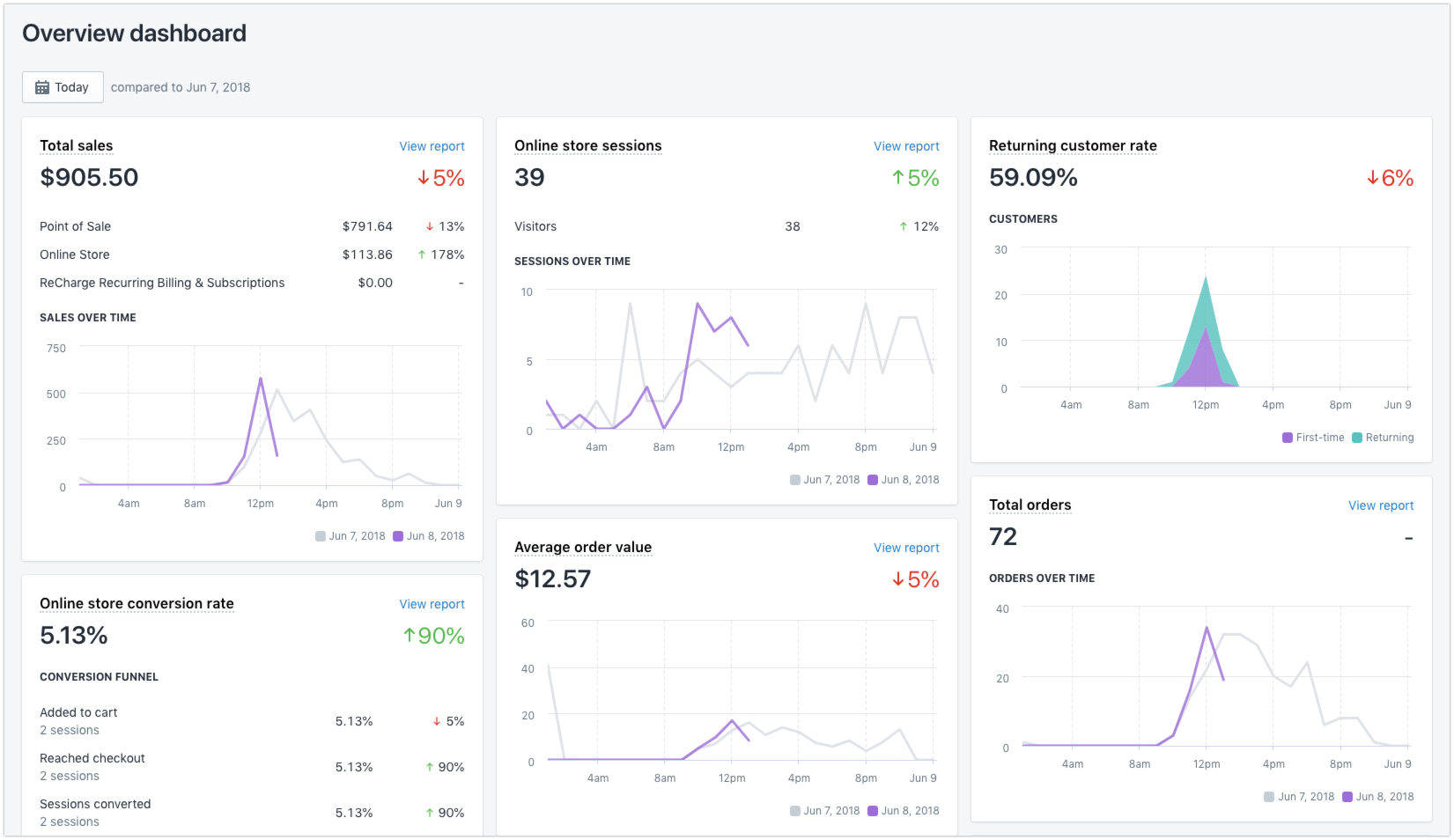 With Shopify analytics, merchants can do the following:
check and compare the value of recent sales by time period
compare sales channels by performance
track average order value
identify store visitors by source (social media channel, location, etc.)
monitor shopper trends over time
Break in the system
However, Shopify analytics offers an incomplete and inaccurate view for merchants, including key metrics like average order value and customer lifetime value (LTV).
How do we know this? Take an example from earlier this year, when our team analyzeddata from 10 Shopify Plus customers to see whether the sales by traffic source report within Shopify analytics could be trusted.
Turns out, the sales by traffic source report was broken. Looking at 180,000 orders for 10 stores in Q4 2018, here are the marketing channels which Shopify Analytics says brought the traffic:
Direct 83.5%
Social 9%
Search 4.5%
Unknown (other websites, not social or search) 3%
Email ~0.1%
Clearly, the Direct channel traffic seems high — what channels was Shopify grouping under Direct? As you can see below, Shopify's data is all wrong.
Here's a comparison of Shopify's attribution to Google Analytics last-click attribution of sales for one of these customers:

Unfortunately for merchants primarily using Shopify analytics, the proof is in the pudding. Shopify users have frequently shown doubts as well — when we googled the keyword shopify analytics, the first Google-generated FAQ was is Shopify Analytics accurate?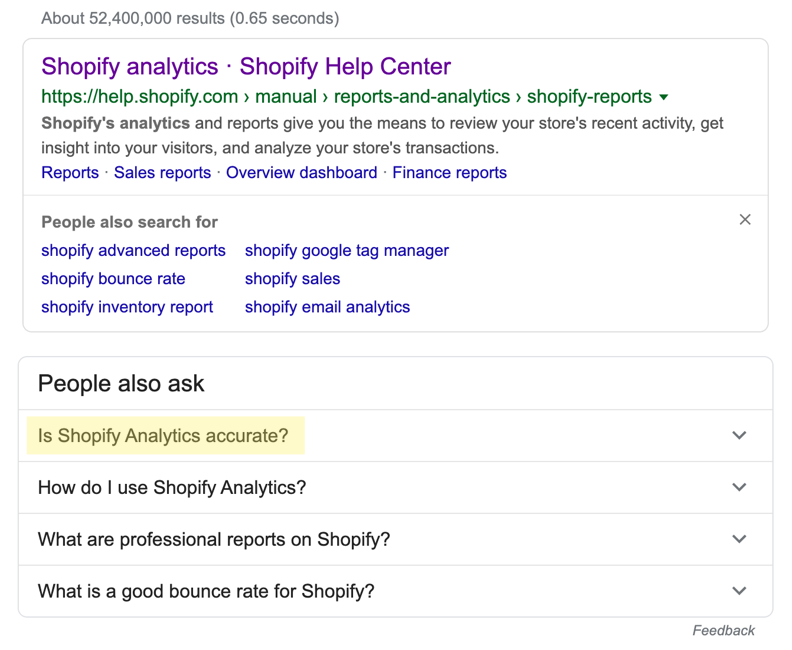 So is Google Analytics any more reliable for Shopify merchants?
Google Analytics tracking
With Google Analytics, merchants can do the following:
Track number of sessions/purchases AND unique sessions/purchases
Calculate accurate customer lifetime value (LTV)
Dive deeper with acquisition reports — analyze campaign performance, referrals, etc.
Segment by user type to evaluate your visitors (and potential ROI of retargeting them)
Run conversion rate optimization (CRO) tests
Analyze checkout funnel drop-offs
Track which landing pages generate the most revenue
Monitor your target keywords and optimize your store messaging accordingly

Use custom segments to see the difference in revenue between search terms
The list goes on. But beyond tracking site visitors, sessions, and other customer behavior on your store, Google Analytics provides a more complete picture of store performance within a more robust dashboard.
Out with the old
Without Enhanced Ecommerce reporting, GA still offers a somewhat limited view of shopper behavior.
The EE plugin provides useful data about customer behavior before a purchase is made, giving you a better picture of the buying journey for your customers. Every stage is tracked — from research to consideration to purchase and even refunds.
Enhanced Ecommerce does a little bit of everything:
Customer behavior before, during, and after a purchase
Detailed reports on:

Average order value
Add to carts
Average order size
Affiliate data records (number of transactions, affiliate revenue, etc.)
Cart abandonment

Track customer turnover — at what stage of the funnel are they walking away?
Shopper engagement, including product views and purchases
Coupon and discount reporting
Even with EE, Google Analytics isn't a perfect platform. There is a problem with the reliability of transaction volumes within GA (luckily, this can be fixed with Littledata's Shopify app).
But using Shopify's reports alone to guide your marketing is ignoring the power that has led Google Analytics to be used by over 80% of large retailers.
GA's Enhanced Ecommerce plugin also offers a big step up from Shopify's basic reporting:
Google Analytics Enhanced Ecommerce
If you're a Shopify merchant using Google Analytics (either as your main reporting tool or in conjunction with Shopify analytics), make sure you enable Enhanced Ecommerce (EE) reporting on your GA dashboard, if you haven't already done so.
EE offers Shopify merchants a gold mine of additional data. But while GA users have EE reporting functionalities by default, the biggest difference is that Shopify's tracker (in this case) does not accurately populate all the reports available with EE enabled.
Bridging the data gap
Littledata's solution comes packaged in a top-rated Shopify app, where you can get a complete picture of your Shopify store performance, all within the familiar Google Analytics dashboard.
With the app, you won't have to worry about switching back and forth between reporting tools or crossing your fingers in hopes that the data you're seeing is accurate. The app offers 100% accurate data from every event (including page views, add to carts, purchases and refunds) that takes place in your Shopify store at every step of the customer journey.
It also guarantees pinpointed marketing attribution, so you can track where your customers are coming from and exactly how they arrived at your store.
Consider your tracking accurate and automated from here on out!
A better question to ask
While Shopify's dashboards give you a simple, daily overview of sales and product data, if you're spending at least a few hundred dollars per month on online advertising or investing in SEO, you need a more robust way to measure success.
So, Shopify analytics vs Google Analytics might be the common search query, but here's a better one: how do I ensure my Shopify tracking is accurate? For that, it's Littledata to the rescue.
Shopify Plus users should stay tuned for Part 2: Do I need a Shopify Plus expert to help with Google Analytics?