Here at Littledata we believe that everyone should have access to professional-level analytics tools for tracking, reporting, and improving sales and engagement. That's why we built the ultimate Shopify app.
Shopify is one of the best ecommerce platforms, but Shopify's native analytics are limited and the platform's standard integration with Google Analytics is incomplete and unreliable.
In contrast, our Shopify connection uses a combination of client-side and server-side tracking to ensure 100% accurate data about your Shopify store in Google Analytics. Littledata automatically integrates with Shopify and Shopify Plus sites to capture every customer touchpoint, including sales, marketing and product performance data.
Below is a table outlining the differences in tracking.
What you can track with the Littledata Shopify app for Google Analytics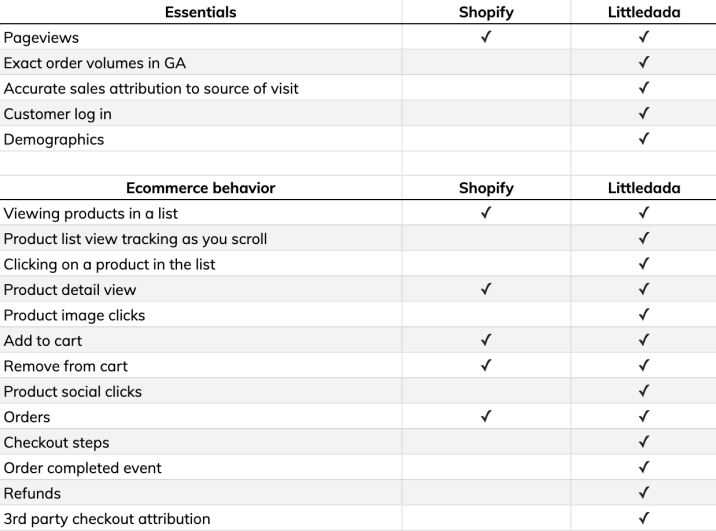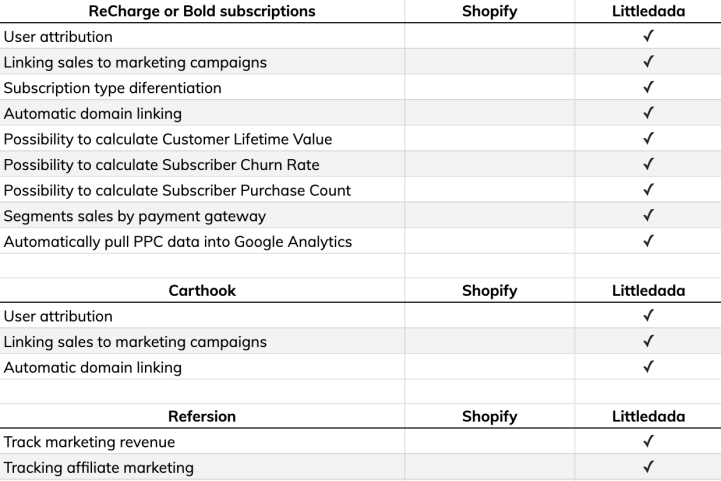 Top Shopify app for Google Analytics
* Orders can be attributed back to a marketing channel or campaign, and linked to multiple previous visits by the customer using multi-channel attribution in Google Analytics
The Littledata app makes all of this remarkably easy. It guides you through the correct Google Analytics setup for your Shopify store, then provides curated reports and analytics to help you make sense of your new stream of reliable data.
In addition to 100% accurate sales tracking, Enhanced Ecommerce events and advanced marketing attribution, our Shopify app includes a ReCharge connection for subscription analytics.
After all, how can you grow a business unless you understand what share of your sales comes from repeat buying versus new customers?
You don't have to be a Google Analytics expert to use Littledata's Shopify app. In fact, the app works best for product and marketing teams that are eager to learn about the big power of little data. We simplify the setup process and streamline the reporting process. It's that simple.
Try it today for free in the reporting section of the Shopify App Store and see for yourself!