Littledata is always improving. Over the last 6 months, we've worked on numerous features to enhance the accuracy and availability of our ecommerce data analysis for Shopify merchants.
Littledata's smart connections make it easy to get accurate data in Google Analytics or Segment.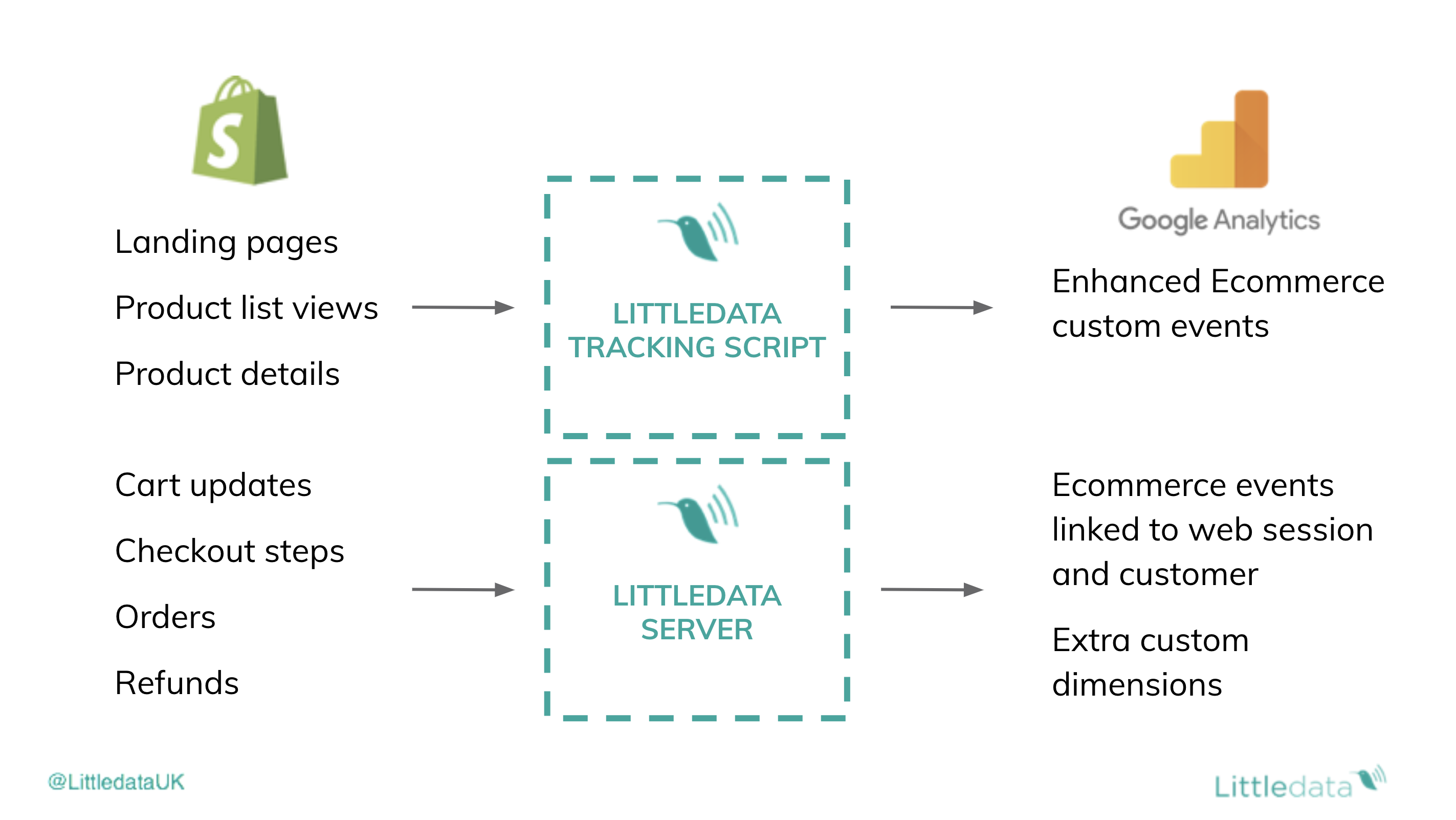 The changes below affect both of our Shopify apps (Segment and Google Analytics for Shopify), marking the biggest major update to our Shopify tracking script and server-side tracking since we released V8 last year.
Attribution for email marketing signups
In order to provide enhanced email attribution, we've linked 'customer created' and 'customer updated' events back to the original source.
Stores building a customer email list can now analyze where those email signups originally came from. By linking customer creation or update events on Shopify's servers to the original campaign or referrer to the store, Littledata customers can now accurately track the source of email signups.
Merchants can now also segment these signup events by whether or not the customer opted into marketing.
Checkout steps
Tracking checkout steps is essential for ecommerce analytics, but Shopify's native tracking is incomplete and inaccurate.
Littledata's Shopify connections solve checkout tracking issues automatically. With recent updates, we've made the tracking of checkout steps even more reliable, coping with situations where a user is already logged in, or abandons the cart and then returns later.
With the help of the full Enhanced Ecommerce specification, you can:
track exactly which products follow in each step
calculate the value of opportunities to improve each step
ReCharge connection, recharged
As subscription ecommerce sites continue to scale, they need even more detailed data about the user journey, especially lifecycle events.
With our new ReCharge v2 connection, subscription stores can now track the full subscription lifecycle including:
subscription updates
cancellations
failed payments
product edits
customer profile / information edits
Geolocation of server-side events
Stores need accurate information on the location of their customers to retarget campaigns around top-performing regions or cities.
The extra events above, plus all the standard order data, are sent from our servers in Virginia, US. But, of course, in your analytics, you want to see them linked to the customers' real location.
We now have a belt-and-braces solution for correctly geolocating customer events, passing on the browser's IP address where known, or else sending the shipping address (default customer address) to Google Analytics as a 'Geographical Criteria ID'.
CartHook and Bold Cashier
We've always supported other checkouts for Shopify, as we know some stores need flexibility with payment, upsell and recurring billing options.
And for the most popular checkout solutions, we're always looking at ways to provide advanced tracking automatically.
So in the past 6 months Littledata has launched more robust integrations with CartHook and Bold Cashier.
New Google Optimize connection
Google Optimize is a powerful A/B testing and personalization platform used within and beyond ecommerce.
Now, we have an out-of-the-box setup for Shopify, including an anti-flicker snippet.
And coming soon…
In Q1 2020, we're working on connections for Iterable's email marketing platform, plus a more consistent way of handling Segment's anonymous ID for stores which don't use Google Analytics.
Is there something you're eager to see in Littledata? We're always happy to hear feature suggestions — get in touch with our team today!