Organizing your ecommerce marketing strategy following the holidays can feel like going to the gym after finishing a marathon. 
You've just survived the craziness of holiday marketing, an extra high volume of orders, and the early January returns and exchanges. Come January, your marketing muscles are still pretty sore. 
However, Q1 is ripe with opportunities to plan new strategies for slower seasons. Here are our top 10 post-holiday marketing strategies for Shopify merchants: 
Take advantage of the "fresh start effect" 
The "fresh start effect" is a phenomenon that suggests people are more likely to take action on their goals during a time that marks the start of something new (i.e. the start of a new workweek or new semester). Of course, it also includes one of the most powerful "fresh starts" of all: the new year.
Encouraging customers as they work toward their goals with renewed gusto is one of the best ways to do this. The key is positioning your products as a way to help customers achieve their goals. 
Here are some examples of how brands have successfully tapped into the fresh start effect:
1) Post-holiday mail marketing by Pact and 100% Pure
Both Pact and 100% Pure used email marketing to encourage customers to work toward their New Year's resolutions. Both brands highlighted how their products can actually help customers more easily achieve their goals.
Take a look at the following subject lines and see if you notice a pattern:

Let's highlight some of the words that appear more than once in these subject lines: 
Using words in your subject lines that are connected to the idea of starting over (a fresh start) is a simple but powerful way to increase the open rate of your emails after the holidays. 
2) Resolution blog posts by Veestro and Thought
Did you make any New Year's resolutions? Even if you didn't, there's an excellent chance many of your customers did. 
Create content related to how to set or maintain resolutions related to your products, and tap into the fresh start effect in a memorable way. In addition, these posts are designed to be shareable, which means more exposure for your brand. 
For inspiration, check out the resolution articles by Thought and Veestro. 
3) Playful social media posts by Pura Vida
Starting over doesn't have to be serious. Pura Vida used their Instagram feed after the holidays to drum up excitement for the new year while managing to keep the tone light: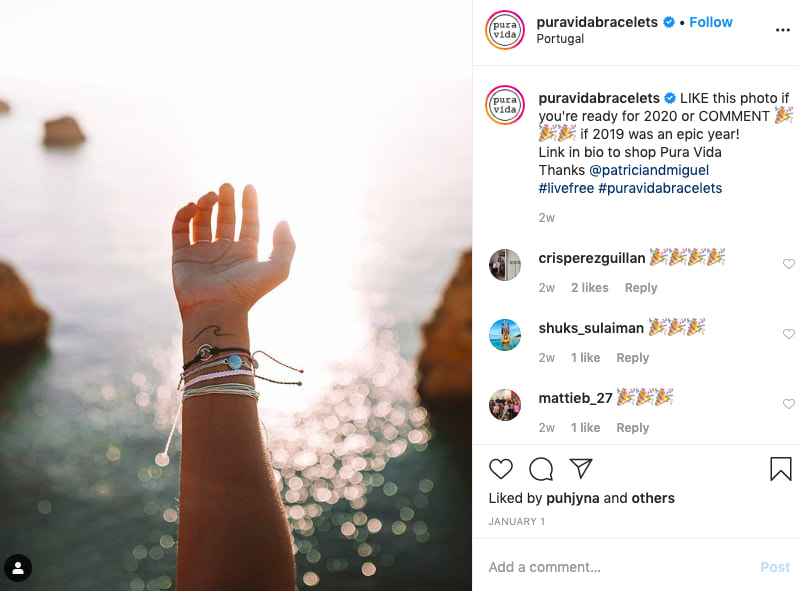 4) Humanize your brand with post-holiday personal content
Personal content, such as an end-of-year reflection, is more expected following the holidays than during other times of the year. 
Personal content reminds customers that your company is made up of real people, just like them. This type of content is especially beneficial for smaller companies, emerging companies, or startups because customers love to support entrepreneurs. 
Sharing something personal can be scary, so steal some courage from the founders and entrepreneurs who've done it before you. 
5) Passion Planner's "Letter from the CEO"
This frank letter to customers shares both the highlights and the "lessons learned," such as "You can't please everyone." And the letter ends with a genuine thank you to all of Passion Planner's loyal fans. 
6) Skully's Beard Oil's Instagram gratitude post
Skully's Beard Oil  is another brand that took the after-holiday opportunity to share something personal with customers. They posted a candid shot of the founders with the following message of gratitude: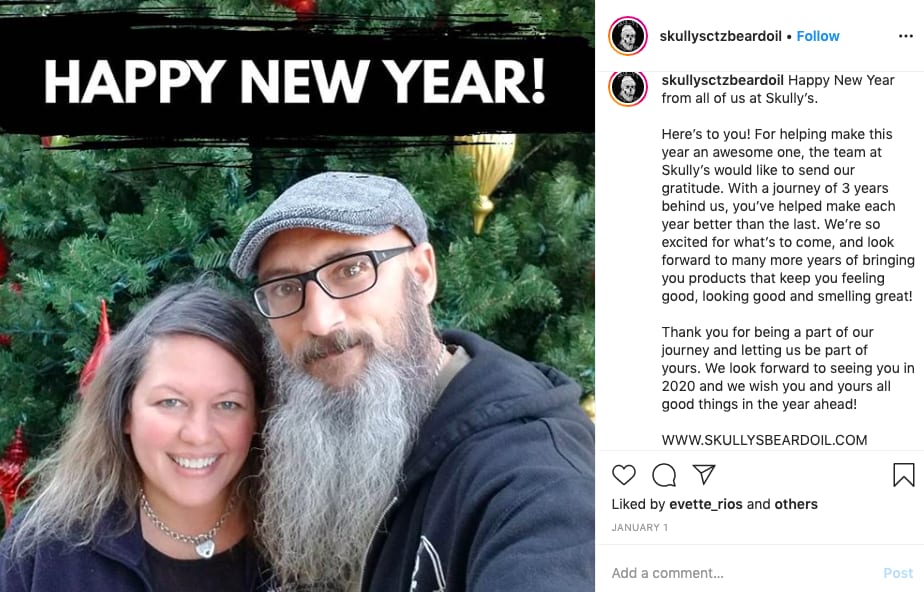 Start marketing for Valentine's Day
Last year, shoppers set a record for Valentine's Day shopping at $20.7 billion spent. While the holidays are probably your real high-traffic days, Valentine's Day is a huge sales period for ecommerce.
Don't wait until the week before the 14th to start marketing for Valentine's Day. Start now! Here are some creative ways to use the post-holiday time to prep your customers for Valentine's Day purchases: 
7) Create a special "Valentines Day" category in your shop
Make it easy for customers to choose a Valentine's Day gift from your store by creating a special product category. This whittles down the choices customers have from your whole store to a single page of items. 
Not only does this reinforce the idea that your products are good Valentine's Day gifts, the reduced number of options paradoxically makes customers more likely to purchase. 
For example, take a look at how Kate Spade has designed its Valentine's Day category. The fashion brand goes a little further to call the category a "gift guide." 
8) Implement a home page Valentine's Day banner
Start reminding website visitors that your products make good Valentine's Day gifts with a home page banner. Hopefully, they'll remember your store when Valentine's Day arrives, or maybe they'll purchase in advance. 
Man Crates has already launched its Valentine's Day home page banner: 

9) Capture Valentine's Day search traffic with Google Ads
You might not be able to compete organically with global brands for high-converting searches like "Valentine's Day gifts for husband," but you can siphon some of that traffic with paid advertising on Google. 
To make your ad dollars count, don't send traffic to your store home page or a product page. Instead, create a specific landing page for your Valentine's Day ad. This way, there's no disconnect between the ad copy and the landing page. 
For example, check out how Minted connected their Google ad to a dedicated, Valentine's-Day-specific landing page. Here's their Google ad: 

And here's their landing page: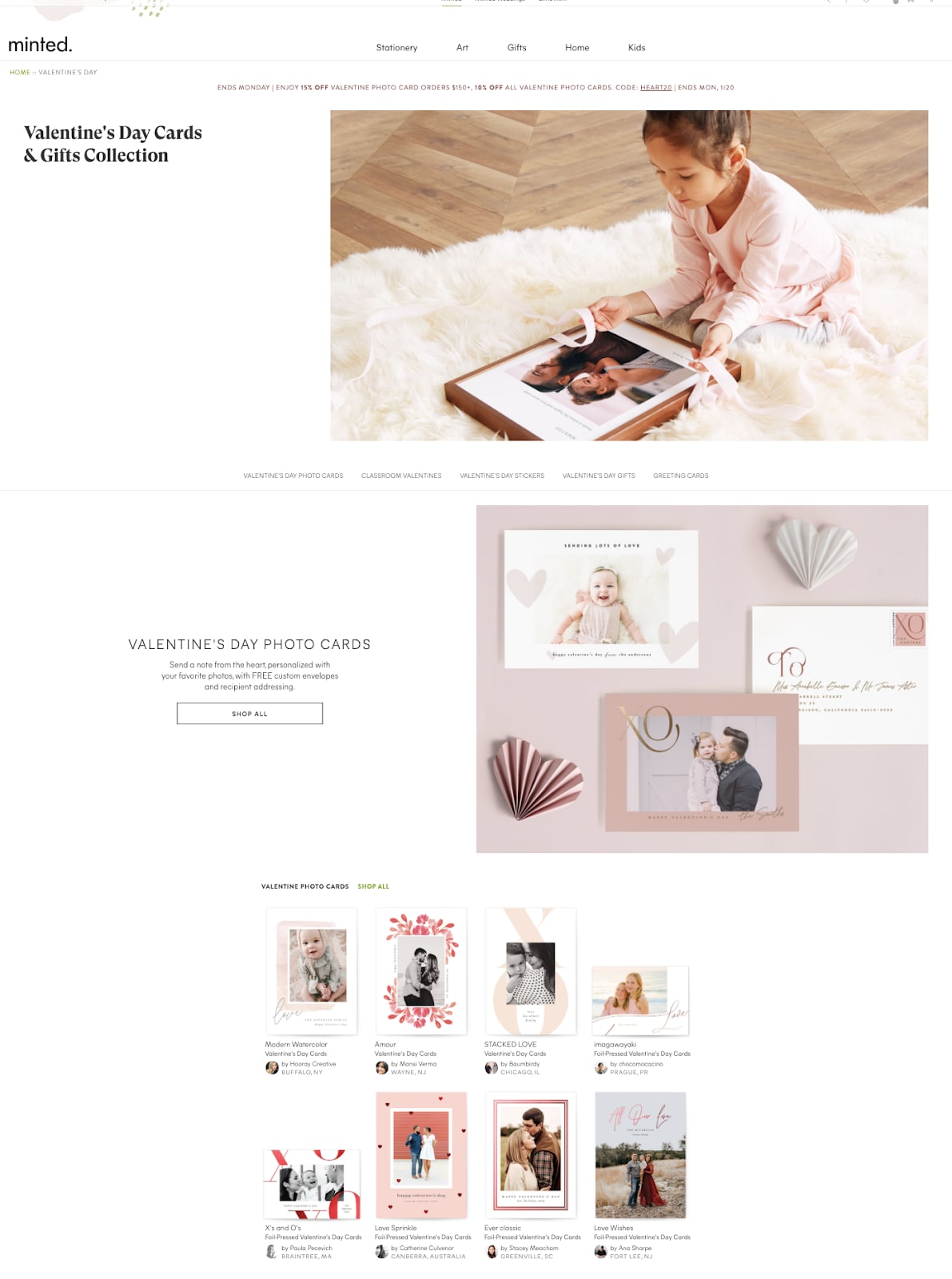 10) Use similar strategies for other Q1 and Q2 holidays
If you find that a strategy was successful for Valentine's Day, try repeating it for other holidays or events that take place in the first half of the year. 
Here are some holidays and events to be thinking about:
The Super Bowl (February 2)

The first day of spring (March 19)

Easter (April 12)

Mother's Day (May 10)

Memorial Day (May 25)

Father's Day (June 21)
You can also review the list of fun "national days" in 2020 to find days that might be hyper-relevant to your brand.
Accurate tracking for marketing attribution
The most effective marketing strategy is one that enables better decision-making for your Shopify storgae – accurate tracking for marketing attribution.
Littledata's Google Analytics app for Shopify allows you to connect your data from Facebook Ads, Google Ads, Google Optimize and Refersion (affiliate marketing) so you can easily and accurately track the source and channel from which your shoppers arrive at your store.
Try Littledata free for 30 days
Wrap up: Plan for the slow season 
As you roll out the immediate post-holiday marketing strategies shared here, we'll leave you with one final way to leverage this time: planning for the slow season. 
For most ecommerce stores, the slowest sales period is during the summer months. People are preoccupied on vacation, customers have more time to shop in brick-and-mortar stores, and the summer doesn't have any major commerce periods like Black Friday Cyber Monday. 
That's why ecommerce merchants should plan ahead, building marketing strategies to boost sales and brand awareness during slower months. 
Fortunately, the post-holiday period is the perfect time to start planning for summer.
This is a guest post by Krista Walsh of Electric Eye. Krista is a copywriter for ecommerce small businesses. Her writing and messaging strategies help her clients speak to their customers' values and emotions for more sales.