As a store owner, you've probably already heard the arguments for engaging returning visitors.
You know that it costs 25 times more to win a new client than to win repeat business.
You know that increasing customer retention by a mere 5% can boost your sales by 25% – 30%. 
And you've also heard that returning visitors are more likely to add products to the cart, complete the purchase, and even spend more than first-time visitors. 
The problem? How do you ensure that it all happens on your site? How do you engage returning visitors and convince them to continue buying from you? 
Try Littledata free for 30 days
In this guide, I'll show you 5 strategies that will help you engage returning visitors and strengthen their connection with your store. 
Before we dive in, let's take a look at how Shopify stores typically engage visitors. 
The state of visitor engagement on Shopify stores 
Close to the end of 2018, we conducted a research study to identify the level of visitor engagement among Shopify stores. 
We were pleasantly surprised that 62% of stores use at least one engagement strategy. Brilliant!
The most popular strategies include popups, live chat, and social proof notifications. 
But we also discovered that the majority of stores do not use these strategies to their full potential. 
For example, 76% of the stores we researched fire off a popup immediately after a visitor lands on their site. At the same time, we know that timing and segmentation can multiply conversion rates and drive more signups. 
Similarly, for many stores, a live chat is nothing but another customer service channel. Yet, those who use it as a sales tool tend to report better results and conversion rates. 
To maximize your potential to convert returning visitors, try out these 5 strategies:
Strategy #1. Acknowledge the returning visitor
This is a simple trick that can drive conversions. When setting up your call to action, acknowledge the person's return visit, and use it to engage them with your brand. 
Medium, although not an ecommerce brand, does this wonderfully. Take a look at the popup example below. Note how candid the company is about its intentions. After all, since the visitor has been on the site before, why not openly ask them to create an account?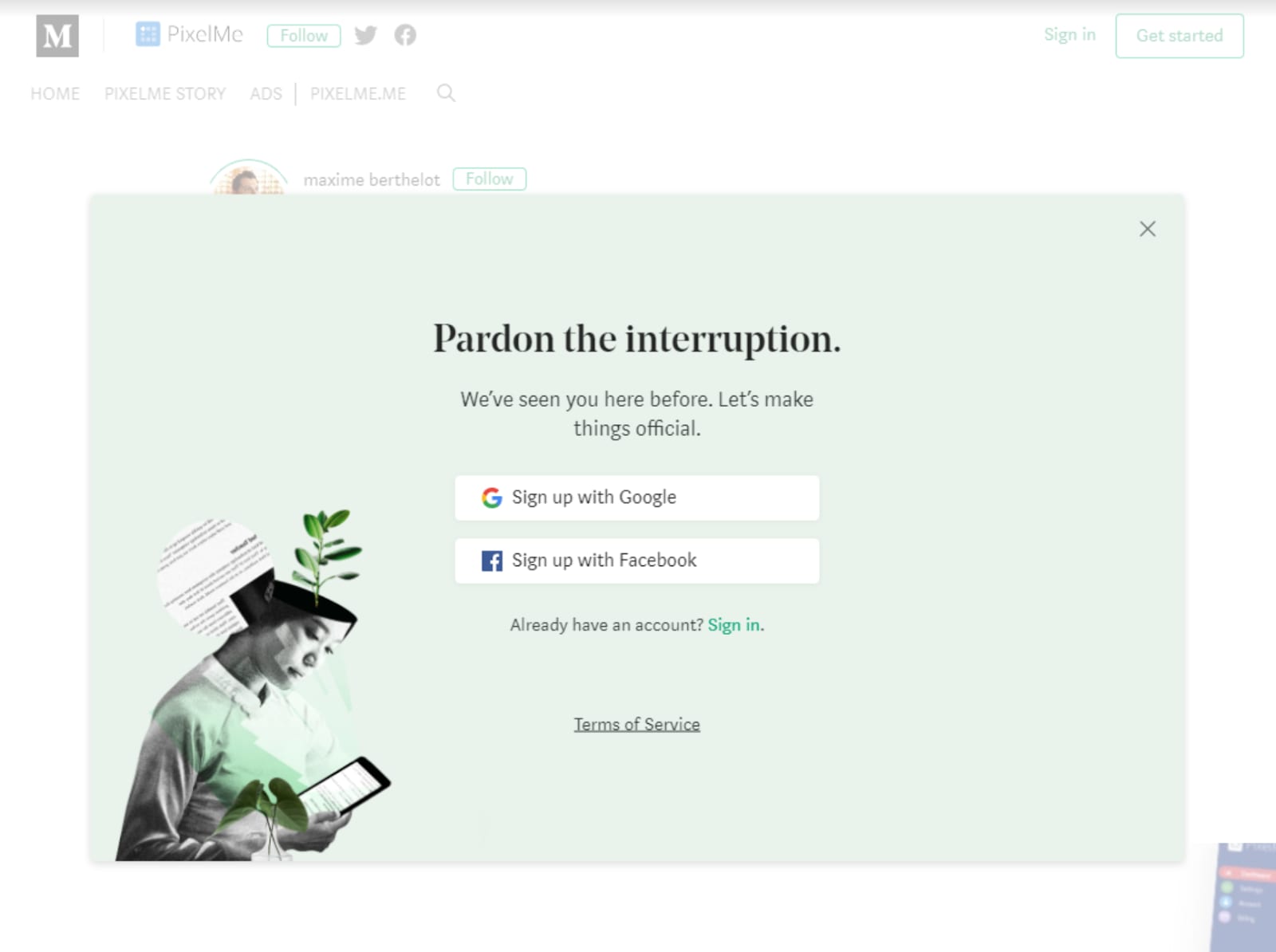 A similar strategy in ecommerce would involve creating a "Welcome back" popup, acknowledging the return visit and offering value to the visitor. 
Strategy #2. Evoke the returning visitor's curiosity
When you think about it; engaging returning visitors is as challenging as ensuring that anyone visiting your site for the first time wants to buy from you. 
Now, it's true; returning visitors don't feel anxious about buying from you anymore. But because they have bought from you before, it's also harder to fire up their interest.
At the same time, it's that same interest that can keep them engaged with your store…
Luckily, there is a way to do it – Evoke the shopper's natural curiosity.
You don't have to do much to achieve it, either. Ask a returning visitor about themselves, for example. This will naturally make the person's antennas go up. They might think whether you're asking because you know something about them they don't know. And that natural curiosity will engage them with your offer. 
(Note, whether they'll convert will rely on the offer, of course. But the curiosity will get them to notice.)
Here's a popup using this strategy to get a visitor to read the rest of the offer.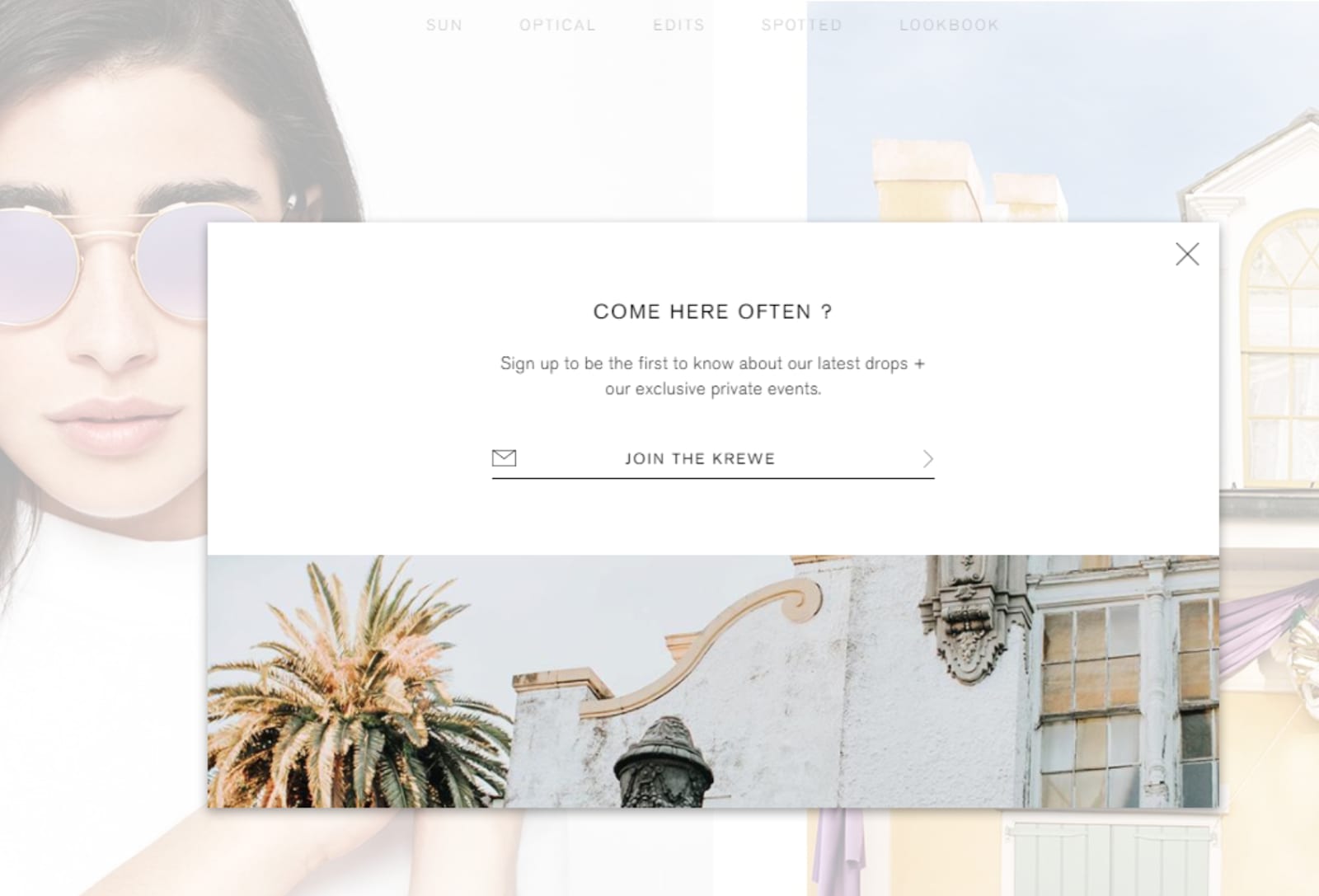 Strategy #3. Create special offers for returning visitors only
Another powerful strategy. This one, however, relies on you showing returning visitors how much you care about them and their repeat business. 
In this strategy, the goal is to engage those visitors by rewarding them for their loyalty. 
How, by creating an offer – a discount, typically – that applies to them only, and rewards them for their subsequent purchase. 
PureCycles, for example, displays a popup offering a hefty 15% discount for the next purchase.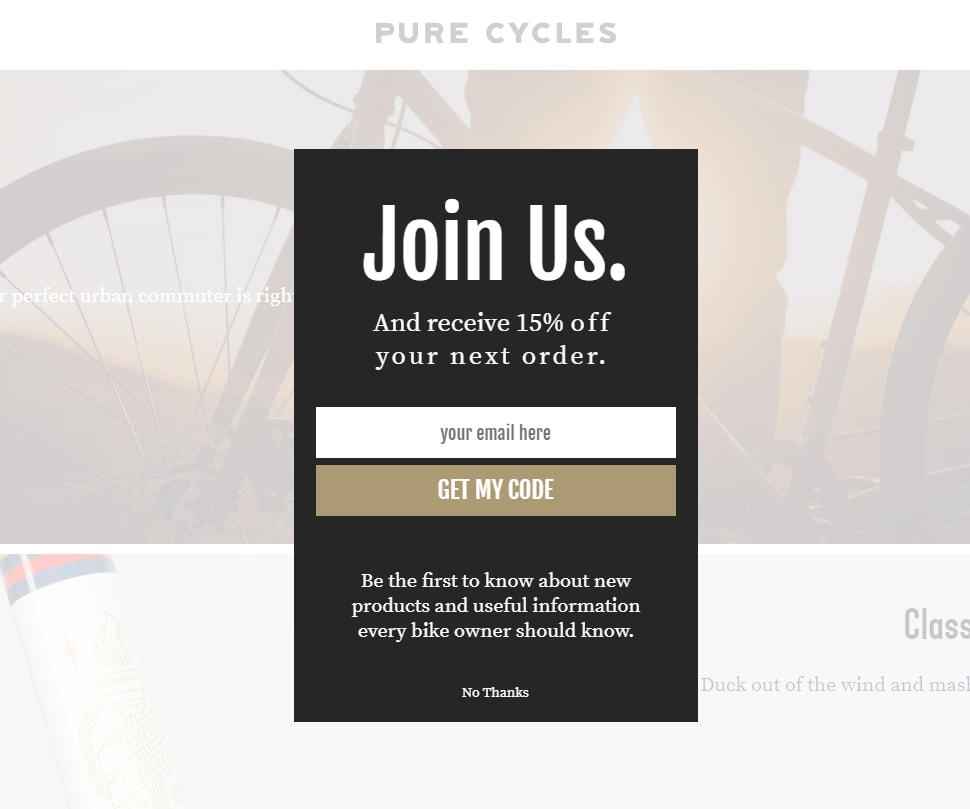 But your offer doesn't have to involve discounts, of course. At Wisepops, we've found offers to attract the highest engagement. Still, you could offer access to exclusive product lines before anyone else is able to purchase those. Or even the ability to purchase products that will never be released to the public store. 
The key is to offer returning visitors something unique for them, something they can't get unless they do come back to the site over and over again. 
Strategy #4. Run a contest aimed at returning visitors
Contests are one of the most popular ways of engaging visitors. They're fun, promise getting something in return, and offer you a chance of your brand going viral. 
But what if you run a contest designed for returning visitors only? What if you advertise it as such, and present it only to people who visit your site for the nth time? 
I'd imagine they'd be quite intrigued by the concept (and engage with it immediately, at that.)
Native, who uses Littledata's Google Analytics connection, ran this time-limited contest on their site, promoted with a clever Shopify popup.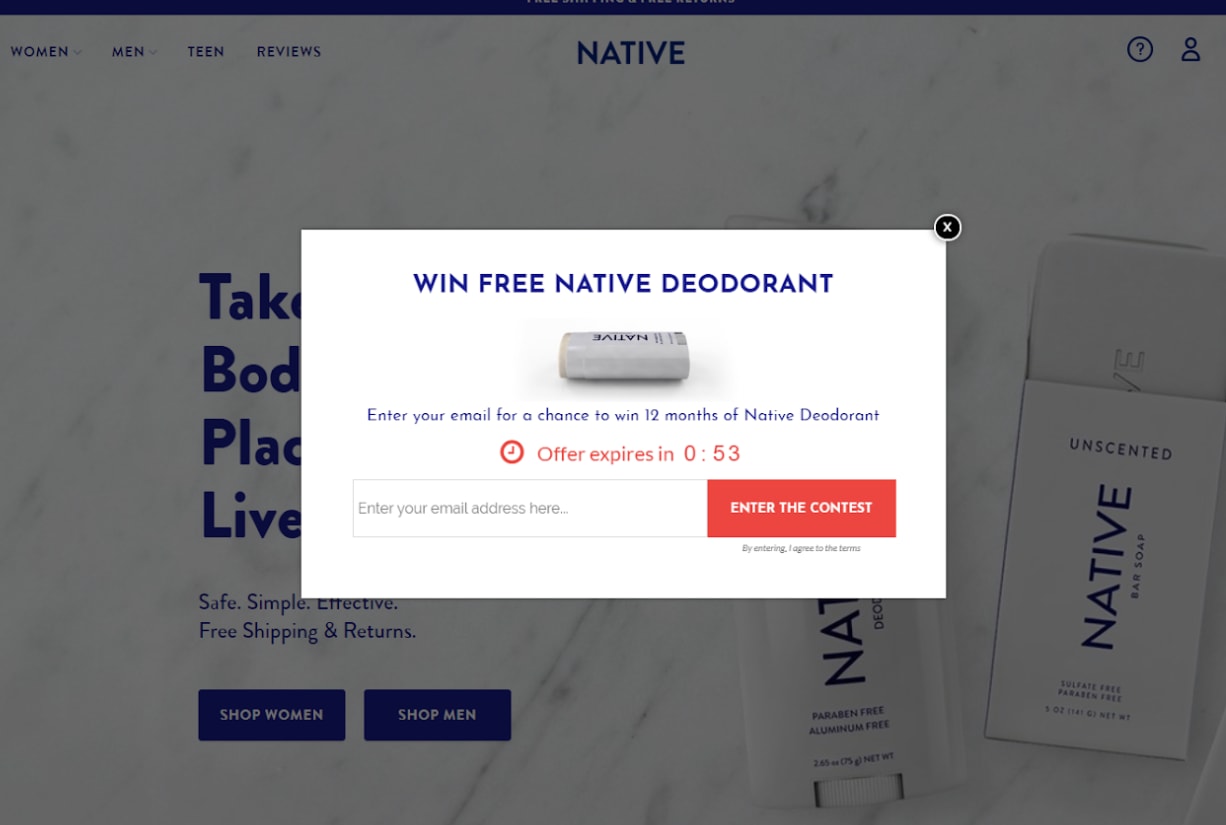 Strategy #5. Show returning visitors the downside of not buying from you
The final strategy works particularly well on visitors who tend to sit on their purchase. Instead of completing it, they add products to the cart, then wander off, contemplating their next action. 
It happens all the time, sadly. 
One way to engage them and gently "push" towards the sale is by showing the downside of not acting now. 
Gaiam, for example, uses a simple scare tactic. The site tells visitors how popular a product is (one the shopper is thinking about buying), and how likely it is to sell out before they get it.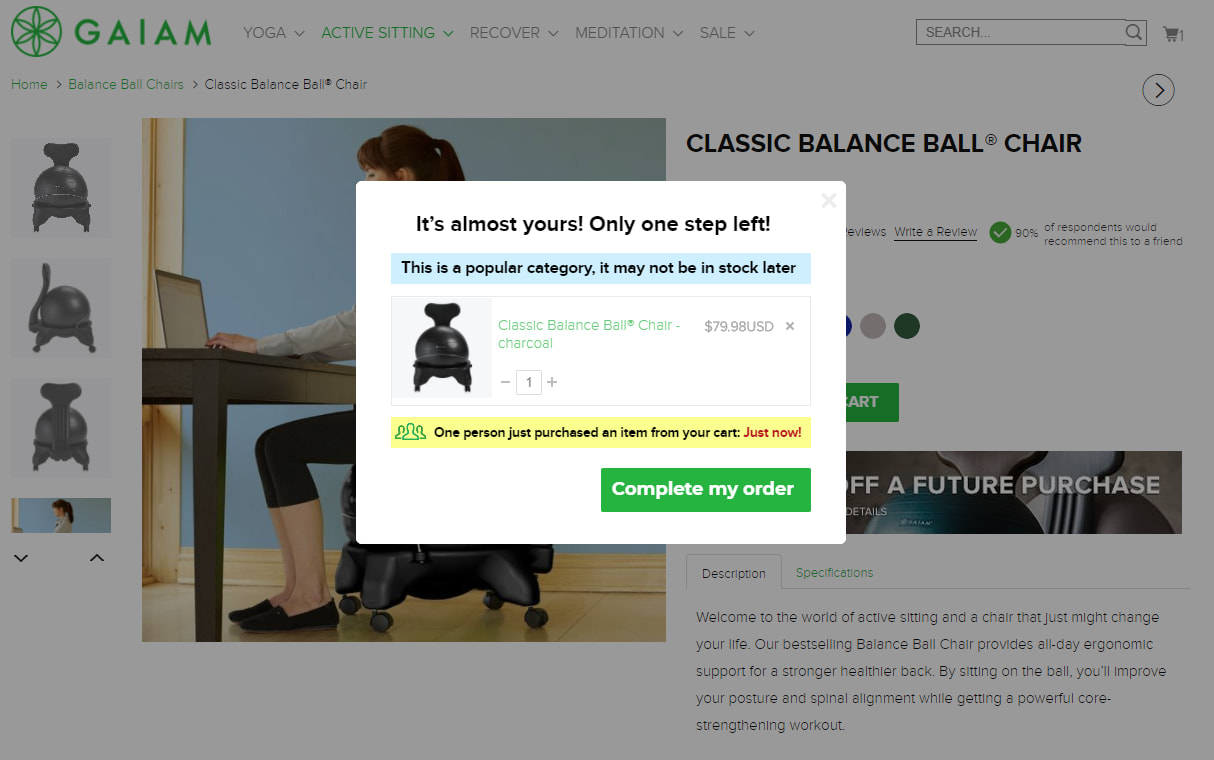 Many hotels and travel sites use a similar strategy to convince visitors to act now in a similar way. They display the current interest in a given property or a room to evoke fear in visitors and push them to act.
Trust your Shopify tracking
This isn't technically in the top 5 strategies, but it's perhaps the most crucial part of the shopper re-engagement process.
Tracking your returning visitors tells you exactly which of your marketing channels are working (and which are not), which campaigns are converting, and the re-engagement methods (email campaigns, etc.) that work best for your store.
Without proper tracking, you're stabbing in the dark. Unfortunately, many Shopify merchants rely on the broken tracking of Shopify's native analytics or the incomplete attribution in Google Analytics.
Have you experienced these data discrepancies between Shopify and GA? They can be extremely frustrating, especially since they have a negative impact on your decision-making.
Luckily, Littledata provides an ideal solution. Their Shopify app, which automatically fixes your tracking. That means accurate data for shopper behavior, marketing attribution and more.
Not to mention, the app offers daily data audits and ecommerce benchmarks, so you can know exactly how your store stacks up against similar products.
Wrapping up
Returning visitors offer an incredible business opportunity. They are far more likely to buy and spend more on their purchases at that.  
However, to increase those repeat purchases, you need to engage returning visitors and keep them close to your brand. 
All that's left is to start implementing the ones you liked the most in your store. 
Good luck!
This is a guest post by Greg d'Aboville, Head of Growth at WisePops, a popup app. Greg has helped major brands like Fender, Nissan, and Skechers maximize lead generation strategies and 10X their results.