Littledata is pleased to announce the acquisition of two Shopify apps focused on Facebook advertising: Facebook Feed and Pixel Perfect.
As customers increasingly turn to Facebook and Instagram for a seamless shopping experience, we're here to help stores give customers what they want: the right product at just the right time, no matter which marketing channel brought them in.
Pixel Perfect automatically sets up an accurate Facebook Pixel for Shopify stores, along with numerous features to support dynamic product ads — including a product catalog feed. If you're only looking to sync the Shopify product catalog, Facebook Feed is a smart product feed that supports unlimited products without timeouts or delays.
Our expert analytics team is already providing customer support for both apps, and our product team is working to improve functionality for Facebook Pixel and Facebook catalog feeds, which are essential parts of running dynamic product ads across the Facebook network — in other words, the keys to automated personalization.
To quote Littledata's CEO, Edward Upton:
"We believe stores investing tens of thousands in Facebook Ads need more reliable tools to target that spend. Littledata is able to improve upon the integration announced with Facebook and Instagram this week, and enable enterprise-scale stores to track their customer journey on Facebook."
Shopify and Facebook Shopping
Facebook and Shopify made major announcements recently about the many ways that customers find (and now purchase) products on Facebook and Instagram. They've emphasized that these new features will help small businesses succeed, and that's definitely a potential benefit. But let's be honest — we all knew this was coming, COVID-19 or otherwise. There's just too much ad spend at stake.
These updates and new features include:
Facebook Shops: a new, complete storefront experience, integrated with Shopify (among other platforms, such as BigCommerce and Woo, Shopify is clearly the most significant: Shopify CEO Tobi Lütke was on the video call with Mark Zuckerberg)
Instagram Checkout: a previously closed beta experience for direct shopping and checkout, now slowly rolling out for everyone
At Littledata we're most excited about Instagram Shopping. It's not just a little experiment. Instagram's Vishal Shah told TechCrunch that almost 1 million stores are already signed up and ready to implement Instagram Checkout, so it's much more than its previous incarnation as a beta test with large brands like Zara and Adidas.
Shopify is deprecating the Facebook Shop channel and will be pushing merchants to create these new Facebook shopping experiences (either ad campaigns or the full FB storefront).
Stores that had product tagging set up through the Instagram channel before the announcement can already access Facebook Shops (the new feature — different from the previous Facebook Shop channel, ahem…this is starting to get confusing).
But like many Shopify announcements of the past, the overall timelines are unclear. And while they have improved the setup for their default Pixel implementation, we still see the same common issues like Product ID and revenue mismatches. Either way, these new features aren't necessarily a great fit for larger DTC brands by default — they'll need something more reliable and customizable.
That said, why not just go direct to the source? Facebook Dynamic Ads are already open to everyone, and they're a proven model for high-ROI retargeting and engagement.
What do you need to run Dynamic Ads on Facebook for a Shopify store? Actually just a few things, which don't take long to set up if you haven't already:
Facebook Business manager account
Facebook Pixel (or SDK) on your site
Product catalog feed
That's where the new apps come in.
Pixel Perfect
Pixel Perfect is a popular Shopify app for automatically configuring a Facebook Pixel on your Shopify store. Facebook Pixel allows you to measure the impact of Facebook Ads on revenue, and calculate Cost Per Acquisition (CPA). It also allows you to build website custom audiences based on what users have seen or added to their shopping carts.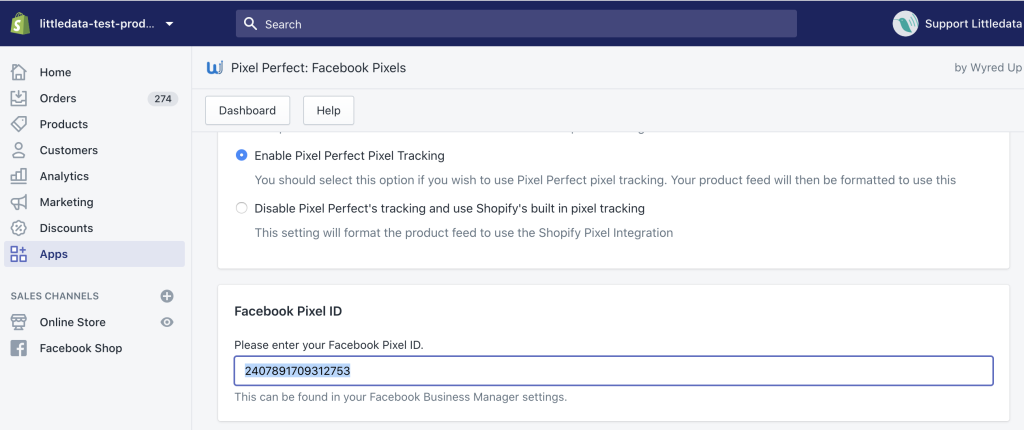 Shopify has a native Facebook Pixel integration, but as noted it has numerous known issues, in areas such as product and revenue matching. Pixel Perfect fixes this automatically.
Key benefits include:
Send data to up to three Pixels (e.g. to use a backup pixel)
Includes a matching catalog feed to serve Facebook Dynamic Ads
'Niche' product tags for building custom Facebook Audiences
Order logs for comparative attribution
Questions about Pixel Perfect features or how Shopify works with Facebook Ads? Read the Facebook Pixel Perfect FAQ in our help center.
Facebook Feed
If you're looking for a free product feed that works automatically with your Shopify product catalog, check out Facebook Feed.
There are a number of Facebook catalog feed apps out there, but we were drawn to Facebook Feed because it is extensible and reliable. The app makes it easy to launch dynamic retargeting ads for Facebook users who engaged with your Shopify store. It works for product ads and catalog ads and it can support huge catalogs for Shopify Plus stores.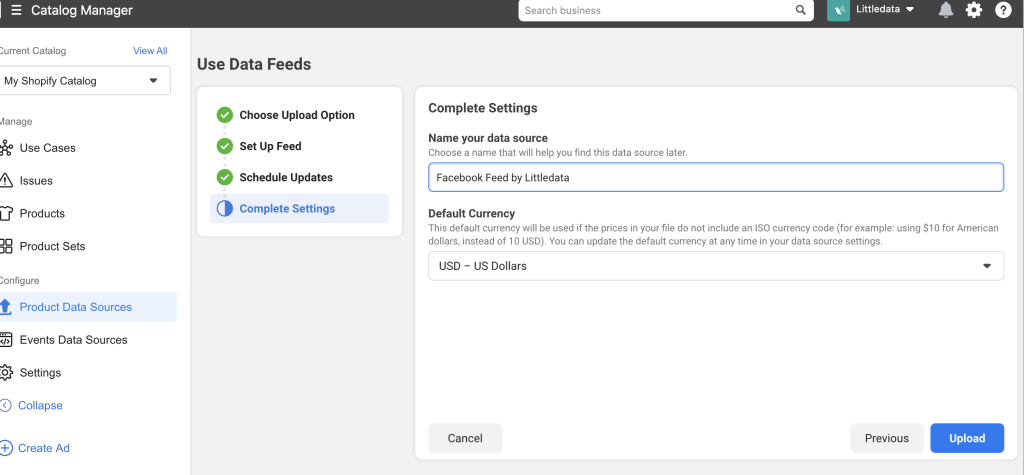 Key benefits include:
Up-to-date XML product catalog in the exact format recognized by Facebook
Unlimited numbers of products and SKUs (no timeouts for large product sets!)
Sync many products with Facebook and avoid pagination
Compatible with Facebook page shops and Instagram Shopping
Questions about setup or features? Read the Facebook Feed FAQ in our help center.
What's next
Littledata purchased Facebook Feed and Pixel Perfect from Tony Redfearn, an entrepreneur based in the UK. Tony is excited to see where we take the apps:
"I am delighted to hand over the reigns to ensure success in this increasingly complex area. Littledata was the natural partner to take this tech to the next level!"
As Littledata's Shopify customer base continues to grow, we are always looking at new connections and integrations.
Our plan has always been to integrate Facebook Ads and Facebook Pixel more deeply into the Littledata ecosystem, and these popular apps turned out to be a great starting point. Our immediate plans are to improve both apps to make them even more powerful and extensible. Over time, we plan to fold this functionality into our core analytics app for Shopify merchants.
For now, we are working closely with a broad range of merchants to understand their needs and how Facebook Pixel and Google Analytics can work in tandem for better ecommerce analytics, segmentation, remarketing and personalization. Audience building is one of our focuses, but we're also looking into the improved shopping experiences announced (ie Instagram Checkout), to see where events from our server-side Shopify tracking might best improve ROAS, AOV and customer LTV on these new channels and checkout experiences.
Is there something you just can't wait to do with Shopify and Facebook? Let us know.