We are pleased to announce a product update for how Littledata tracks unique identifiers for Shopify orders.
Previously Littledata passed orders from Shopify to Google Analytics (or Segment) using only the order number (Order ID). Shopify offers the ability to add a prefix or suffix to this number to create an order name, and we now support Shopify Order Name tracking in addition to Shopify Order ID tracking.
You can now choose between tracking either the Shopify Order ID or Shopify Order Name, and Order Name tracking is the default for new installs. Read on to see what's changed, and why we made the shift.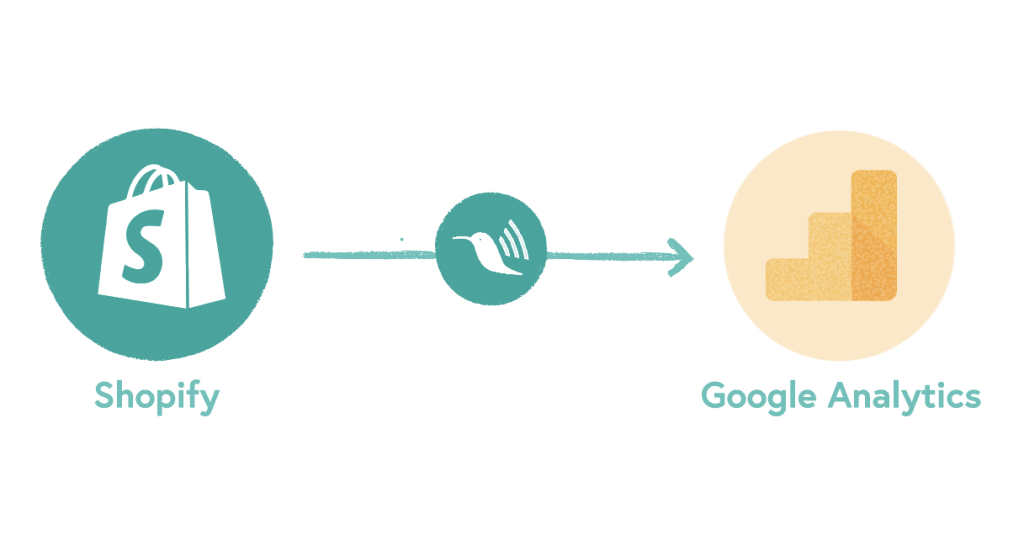 What was the problem with tracking order numbers?
There is nothing wrong with tracking order numbers per se, but for some Shopify stores — especially larger brands on Shopify Plus — it's often more useful to track the complete order name, which includes a particular prefix or suffix.
Brands running multiple Shopify stores in local currencies often want to analyze total sales across geographic operations, while also segmenting by individual stores. This is useful whether or not you are using a rollup property for data analysis.
With only order number tracking, there were two options:
The largest brands, running GA 360, could set up a different web property for each store and then a 'rollup property' for all the stores. This option is expensive.
The brand could send all the web orders to one GA web property, and then create filtered views based on the hostname the order was made on. But this didn't work for non-Shopify checkouts, such as ReCharge, where the hostname did not vary by store.
So Littledata built a third option, order name tracking, which makes it easier to track multi-currency sales in GA and other data destinations, and also ensures no clashes with order numbers from non-Shopify systems.
How to change the order ID format for your Shopify store
Shopify and Shoify Plus merchants can change their Shopify order numbers to include a particular prefix and/or suffix.
If you want to make this change, go to Shopify Admin > Settings > General > Standards and formats. Here you can configure a prefix or a suffix to every order, unique for that store.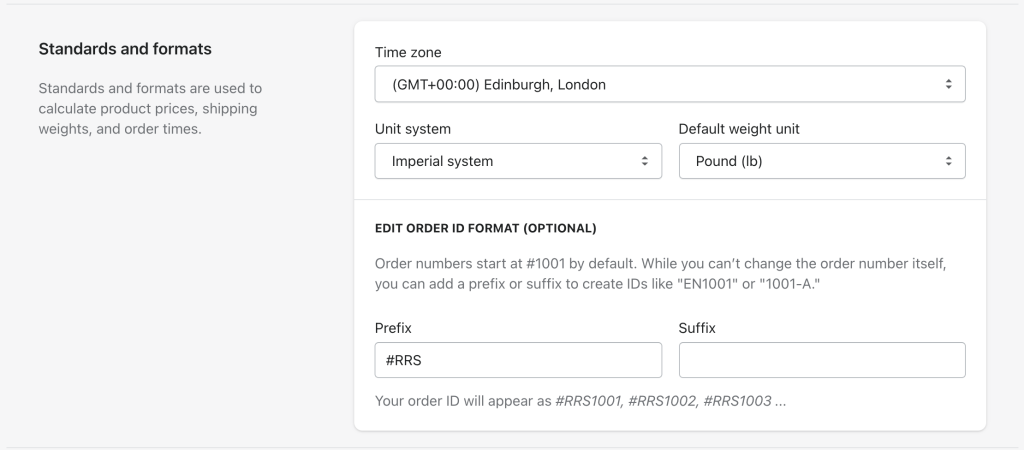 While you can't change the order number itself, you can add this default info to make it easier to see and segment your orders.
For example, if you are selling in the US and the UK, you might want to add country-type prefix to your orders, such as 'US' and 'UK' to those country stores. Then your orders will come through with order names such as 'US1792' and 'UK1793'.
Try Littledata free for 30 days
How to enable Order ID or Order Name tracking in Segment or Google Analytics
Shopify Order Name tracking is now the default. So if you installed Littledata after 19th October 2020, then you will already be using order names. This applies to both our Segment connection and our Google Analytics connection in the Shopify App Store.
Note: If you installed Littledata after 19th October 2020, then we will be tracking the Shopify Order Name by default. You can change this in your Littledata Settings.
If you installed Littledata before 19th October 2020, we will be tracking Shopify Order ID by default.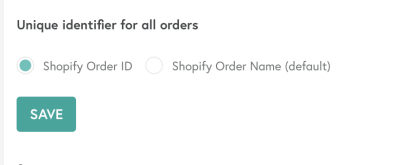 You can check which unique order identifier we're using for your store, and make any necessary changes, directly in the Littledata admin.
Go to Settings > General on the bottom left
Under Unique identifier for all orders, select either "Shopify Order ID" or "Shopify Order Name"
Click Save
We will then pass the order information in your chosen format.
How to use the data in Google Analytics
Order identifiers offer a broad range of reporting and analysis possibilities in Google Analytics and connected analytics dashboards.
Here's the ecommerce Sales Performance report showing orders including the prefix appearing in Google Analytics.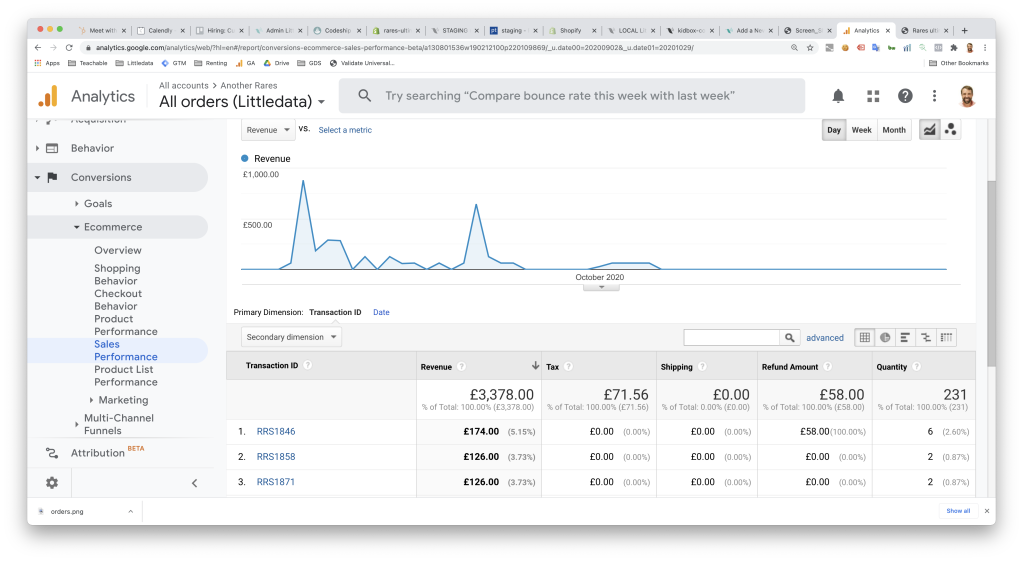 If you are operating multiple country stores and using Littledata for multi-currency tracking, you will see different prefixes here for each currency.
You can also create a segment including only orders with that prefix, by filtering by Transaction ID.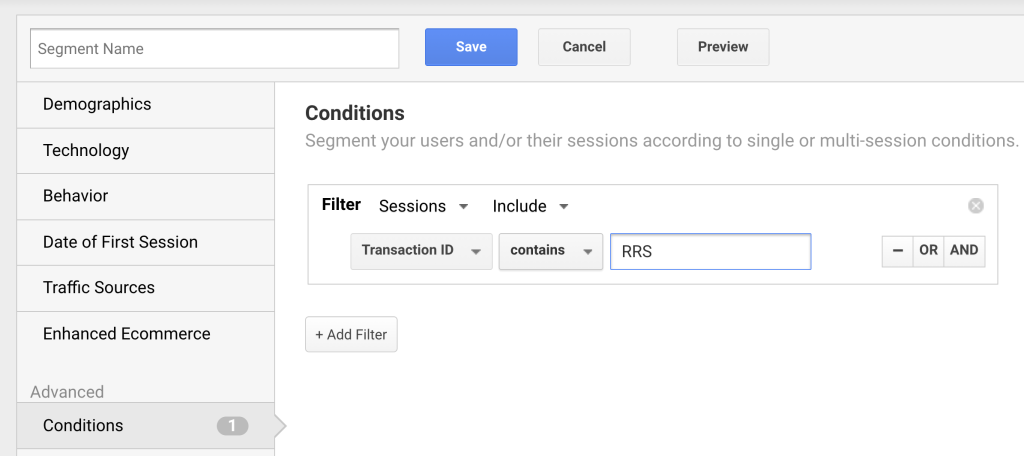 What's next
We are constantly enhancing Littledata's functionality. This year we have introduced a range of general updates and a new version of our Shopify to Segment connection.
If you are setting up a raw data pipeline, we also now offer a Measurement Protocol connection for use with a range of ETLs, data collection platforms (like Snowplow) and data warehouses (like Google BigQuery).
Check out our release notes to stay up to date, and don't forget to browse the complete documentation in our help center.