Google recently released a new version of Google Analytics called GA4. But until things are ironed out with GA4, you might still want to install Universal Analytics (the previous version of Google Analytics, sometimes now referred to as GA3).
For the time being, it's still possible to create a new Universal Analytics property in your GA account. It just takes a couple of extra clicks. This quick guide will show how to to create a UA property.
What is Google Analytics?
At this point, who hasn't heard of Google? Not only does the company have over a 92% share of the search engine market, but they have come to dominate analytics.
Google Analytics is a very popular data tool. Originally designed to track web behavior, including marketing channels and landing pages, Analytics has evolved to offer much more, including advanced functionality like:
Cross-domain tracking to capture every customer touchpoint
Comparative attribution models
Advanced segmentation and audience building (ie LTV cohorts)
Google Analytics is used (or at least installed) by over half of all websites, but over 70% of the top sites use GA, and many use Google Tag Manager as well, for custom tracking to capture details like custom checkouts or Pinterest Ads.
Google Analytics is deceptively simple. In fact, 88% of Shopify stores have Google Analytics set up incorrectly. But if it is set up correctly, either with a data pipeline like Littledata or a manual setup from a developer or agency, and you take the time to learn how to use the data, it can be invaluable to your business growth.
Plus, it's free! Very big stores do need to pay for GA360 once they exceed the data threshold, but as we've noted recently the move to GA4 appears to be part of a larger move away from charging for analytics at all — even for larger brands. This includes data destinations like BigQuery.
We created Littledata to automatically fix ecommerce tracking in Google Analytics, whether you're just looking for accureate sales and marketing data or a more complex data warehouse setup. Our app is currently optimized for Universal Analytics, but our GA4 connection is already in private beta development. We see the event-based tracking and flexibility of GA4 as the wave of the future, but recognize the need for UA in the meantime.
How to install Universal Analytics instead of GA4
When you set up a new Google Analytics property, you can choose between GA4, Universal Analytics, or both.
Go to the Admin Settings in your Google Analytics account (if you don't have a Google Analytics account yet, it's free and easy to create one).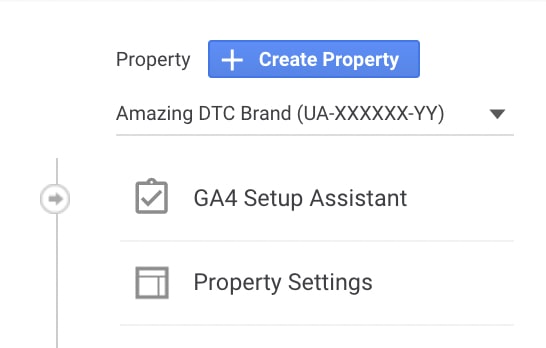 From your Property Settings, click on + Create Property.
Give your property a name.
Then click Show advanced options under Property Setup (this is essential!).
Click the slider on Create a Universal Analytics property. This will allow you to set up a new property in Google Analytics for GA4, Universal Analytics, or both.
Add your Website URL (you can't create a property without a URL).
You now have two options.
Either select Create both a Google Analytics 4 and a Universal Analytics property to create both types of properties (you can play with them later).
Or select Create a Universal Analytics property only if you really only want to create a UA property.
Note: We recommend setting up both a Universal Analytics property and a Google Analytics 4 property, and using them in parallel so you can compare the tracking.
Click Next and fill out the form if desired. Then click Create to finish the setup. That's it! You've now created a new property with the old version of GA.
You can find your new Tracking ID and Tracking Number (or Measurement ID for GA4) in your Google Analytics admin. For UA, go to Property > Tracking Info > Tracking Code.
Note that you can install Littledata's Shopify to Google Analytics connection for any store using Universal Analytics, but our GA4 connection is in private beta. If you are interested in parallel tracking — or just testing GA4 for ecommerce — contact us for info on our beta program.
Try Littledata free for 30 days