We are excited to announce a new Ordergroove connection. Any Shopify store using Ordergroove for subscriptions can now take advantage of Littledata's server-side tracking for advanced analytics.
The new connection lets you automatically track online sales, marketing, and recurring payments in Segment, Google Analytics, or any connected data warehouse or reporting tool. What's more, it is available on all Littledata plans at no additional cost.
Many Shopify stores are finding success with subscriptions, whether that's all or part of their online business. And this year we expect even more brands to move to subscription platforms like Ordergroove rather than trying to build and maintain in-house solutions to manage subscribers. This is especially true for larger DTC brands on Shopify Plus.
Ordergroove integration with Google Analytics
Ordergroove is a popular subscription solution for larger brands on Shopify, Salesforce, Magento and BigCommerce. Ordergroove offers a single checkout experience for Shopify Plus merchants, and brands like Intelligentsia Coffee and 4Ocean use Ordergroove's integrated cart experience to maximize recurring revenue.
Ordergroove's technology partners offer a range of integrations to help you scale. Littledata's new Ordergroove integration offers a seamless data pipeline for any Shopify store using Ordergroove for subscriptions. (Coming soon for BigCommerce too!)
Google Analytics
Google Analytics is extremely powerful once you know how to use it. Littledata has long been a leader in subscription analytics, and GA is our tool of choice. We're also especially excited about GA4 these days.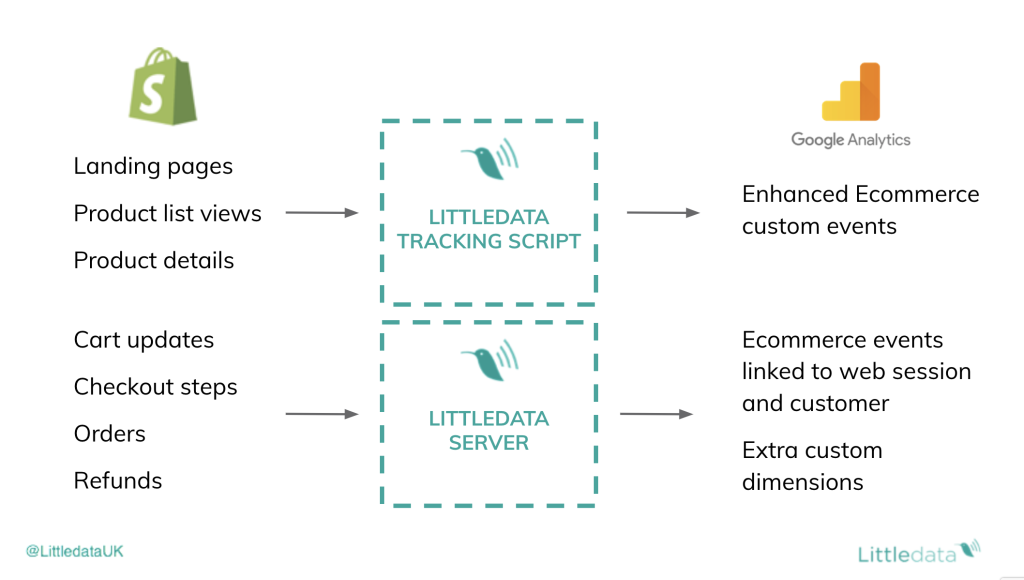 But Google Analytics tracking often goes wrong for Shopify stores, resulting in order throughput of less than 90% (we have a good ebook on this). Common issues include:
Lots of "Direct" traffic (transactions not linked to browsing behavior)
Issues with thank you page tracking (doesn't load completely, too many marketing tags, etc.)
Recurring orders either not tracked at all or look like orphan sessions
Custom themes breaking Shopify's default GA integration
We built Littledata to fix these issues automatically, especially for subscription stores, where seeing details like LTV by channel can make or break a business. Littledata uses a combination of client-side and server-side tracking to give you one source of truth in Google Analytics:
Complete sales data, including subscriptions and refunds
Accurate marketing attribution for all transactions, including recurring orders
Custom dimensions for customer lifetime value (LTV/CLTV)
Payment gateway tracking
And much more!
The Ordergroove integration works automatically with our Shopify/Shopify Plus to Google Analytics connection. You can install the connection directly from the Shopify app store.
After installation, follow this quick guide to our recommended Google Analytics setup, which includes a special View in GA for one-time orders and first-time subscriptions (ie. filtering out recurring payments).
Tip: Eager to track subscription lifecycle events? Sign up for beta access to v2 of our Ordergroove connection
If you are using a headless Shopify setup, please see our guide to headless tracking.
Google Tag Manager
Ordergroove works directly in the Shopify checkout, and Littledata's GTM and Google Analytics data layer makes it easy to track the pre-checkout journey as well as what happens in the checkout funnel.
We add detailed events which you can use to build funnels or trigger other marketing tags in Google Tag Manager (GTM). At the same time, many brands find that our default schema is more than enough to fill their data needs and nothing custom is needed. Either way, our ecommerce tracking is highly scalable and extensible. Book a demo to learn more — we are happy to chat about your data stack and see if Littledata is a good fit!
Ordergroove integration with Segment
Littledata also sends complete ecommerce events to Segment to match their ecommerce spec.
Whether you are just considering Segment implementation or already far along the journey of using Segment for your data warehouse and marketing destinations, let our Shopify source for Segment do the heavy lifting so you can get back to business. Book a demo to learn more.
Try Littledata free for 30 days