If you're using Shopify's default Google Analytics tracking you might have noticed that the revenue in Google Analytics never matches what you see in the Shopify dashboard. This is a big problem: missing orders means orders that can't be attributed to marketing campaigns, whether those channels are paid or organic.
Littledata's improved Google Analytics app for Shopify increases order throughput to Google Analytics from worse than 90% to better than 99.9% — and it works automatically in the data layer.
How big is the problem?
We sampled a set of larger DTC brands on Shopify, together processing 50,000 orders a month through a standard Shopify checkout. Looking at a month of traffic, we compared the paid orders for these Shopify stores with the Thank You pages tracked in Google Analytics.
Remarkably, only 88% of orders were tracked on average, ranging from 78% tracked in the worst store setup to 96% in the best store.
That is a big loss. For every 10,000 orders processed, 1,200 were going missing. Assuming each of those customers cost $50 to acquire, that is $60,000 of marketing spend which can't be attributed to sales.
Whatever the CAC for your ecommerce brand, you can't afford to miss significant data like this about transactions, not to mention the marketing campaigns that led to those sales in the first place!
Revenue aside, what about those 1,200 customers who are likely still being retargeted by abandoned checkout campaigns, even though they did complete the checkout process? There is a good case to be made for remarketing to your best customers for upsells, cross-sells, referrals and more. But remarketing to your new customer base as if they never made a purchase is certainly bad business.
And it gets worse.
When I looked at 10 stores that have non-standard checkout setups, using apps such as ReCharge or CartHook, the percentage of orders tracked (excluding recurring orders) ranged from a pathetic 9% up to a disappointing 70%. Shopify's order tracking relies on customers seeing the Shopify Thank You page, and many other checkouts do not immediately redirect there.
What are the main reasons for missing transactions in Google Analytics?
Littledata has had five years of experience debugging GA tracking, so at this point we've pretty much seen it all. In fact, it's the most common question our sales team hears: why doesn't my data in Shopify match my data in Google Analytics?
The ecommerce ecosystem is constantly evolving, including headless setups and subscriptions in the Shopify checkout. But some things remain the same. The most common problem areas for disappearing orders are:
1. Users not waiting for the Thank You page to load
Many tech-savvy buyers know that your store will email them an order confirmation, so if they're in a hurry – and the thank you page takes a few seconds – why should they wait? This is especially true with payment gateways like PayPal, which have their own payment confirmation page.
2. Thank you page overloaded with marketing tags
Most order tracking relies on a script to fire on the thank you page, and if your store has lots of these scripts then it could take 10+ seconds before the crucial Google Analytics script is run. Customers won't wait 10 seconds to see a page which has no value for them.
3. Draft orders paid at a later date
Does your store create draft orders? This is more common for B2B stores, and means the order is completed well after the customer web session finishes. That means no thank you page, so no way to track the orders in a standard GA implementation.
4. Third-party checkouts
That Thank You page on Shopify may never appear at all if your store uses third-party checkouts.
5. Recurring orders
Like paid draft orders, recurring orders are payments that happen outside of the customer's web session. The user never goes through a checkout or sees the thank you page.
6. Duplicate tracking
Refreshing the order confirmation page, or clicking through on an order confirmation email to view the page again, might cause another transaction event to be fired from the page.
Tip: Get the free ebook about why Shopify doesn't match Google Analytics
How is Littledata's tracking different?
Littledata offers server-side order tracking, hooking into the order creation in Shopify after the payment has been made.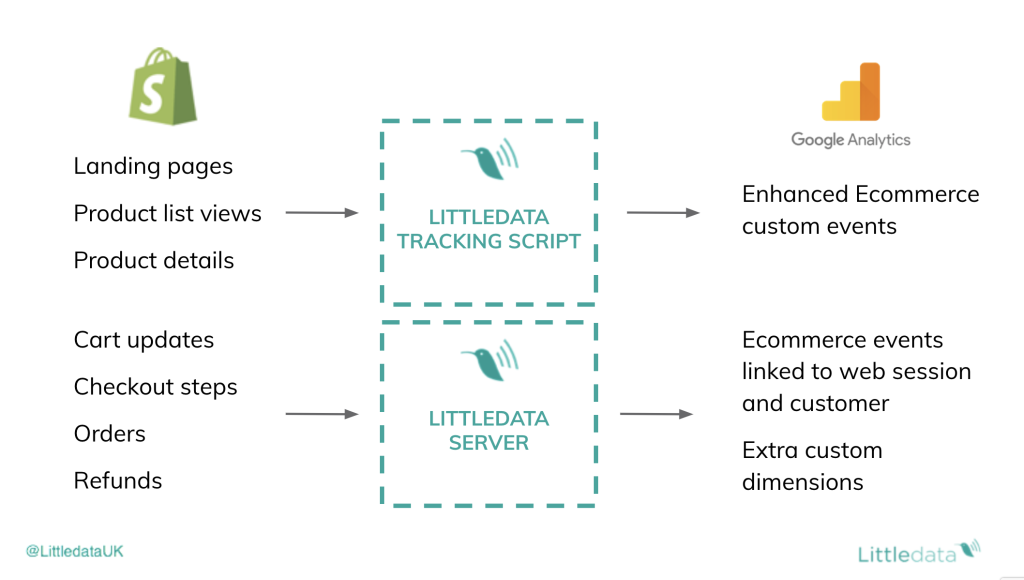 That allows us to track draft orders paid after the event, recurring orders, and orders through channels like Amazon that don't use the Shopify Checkout. It also allows us to add refunds back in real-time, so you can track net sales against marketing channels.
Littledata de-duplicates all orders, so an order is only ever reported once – giving a 100% match with what is in Shopify admin.
If you want to compare like-for-like, as I did for this article, our app also sends a 'Thank you page' event (in the same way the order tracking done in Shopify's standard setup). This event can also be used to trigger Google Tag Manager tags, using the built-in GTM data layer.
Interested in improving your Google Analytics setup? You might be interested in 6 common reasons why GA is not accurate and how Littledata's Google Analytics app works.
Try Littledata free for 30 days