Many of us have a similar idea when picturing the perfect job. A role with opportunities to grow, a stimulating work environment, caring coworkers and, of course, a reliable income that we feel meets our value.
Finding that ideal fit, however, isn't easy. That's true for companies looking to hire the perfect candidate, as well.
In the end, it comes down to a focus on company culture. One where employees lift each other up. Where each team member feels valued and sees how their work adds to the company's overall goals.
Our team at Littledata spans across the globe, but we're still a very tight-knit group. We believe that comes from our commitment to bringing on team members who fit their role both technically and culturally.
Finding that perfect fit is challenging when we're competing against industry giants for our top candidates. There's no denying that there are lots of perks to working at a big tech company like Apple or Google. But working for a successful analytics startup like Littledata has many special perks of its own. Not least of which is that everyone's voice is heard, and every team member contributes key ideas to our product growth and partner community.
"We work toward shared goals at Littledata, and that's been a key to both customer success and employee happiness," says Littledata co-founder Ari Messer, who leads our remote US team.
Any one of our employees could have just as easily joined a bigger company, but chose Littledata instead. And they choose Littledata, again and again, every day.
We asked our team why they decided to work at Littledata and what they love most about being a part of our family. Here are some of the top reasons they gave us, in their own words.
If Littledata sounds like a team you'd like to be a part of, we want to hear from you. We list our open opportunities on our careers page. Don't see the right fit? Stay in touch for future roles; we're scaling quickly and new job opportunities pop up almost weekly.
Great work begins with great values
Our core company values have remained the same since launch and continue to guide our proverbial ship. They weave throughout our day-to-day work, team offsite trips and design sprints, and continue to play a massive role in our success.
Littledata founder and CEO Edward Upton defined these values early on, and they remain an essential part of our work culture.
1) New technologies
Littledata is a next-gen data connector. We develop super-fast analytics apps using the latest web services and tools. Our apps empower top direct-to-consumer (DTC) brands to use modern data stacks without sacrificing speed or flexibility.
2) Happy people
We believe a happy staff translates into happy customers. We employ happy and productive people with flexible working hours, engaged learning plans, and fun outside of work.
3) Collaboration
We believe that true innovation comes from an environment marked by challenge, curiosity, and communication. We emphasize cross-team collaboration and share Key Performance Indicators (KPIs) and Objectives and Key Results (OKRs) across the company.
Working remotely, together
Littledata has had a remote, distributed team since the beginning. When COVID-19 hit, companies all over the world grappled with the sudden transition to working outside the same office. Our team didn't skip a beat because we've been working this way for years.
Most importantly, working remotely allows us to be flexible in more ways than one. We encourage our team to work where they want, when they want, and how they want. In fact, we've found that when done right, remote work is more productive.
Work where you want
Getting the most out of your work comes down to your own productivity and routines. We encourage our team to work wherever they feel the most productive that day—whether that be at home, a coffee shop, a co-working space or a more traditional office.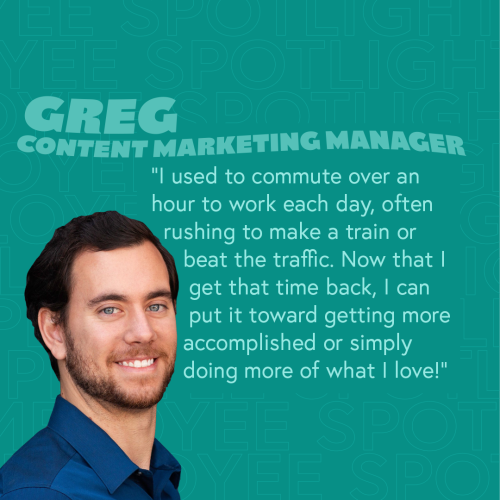 Work when you want
Many of us have families to take care of, errands to run, and outside interests to explore. Our team members live dynamic lives. That's part of what makes them so amazing to be around—inside and outside of the workplace.
Work shouldn't consume your life or dictate how you live each day. Aside from scheduled meetings, at Littledata your time is yours. We encourage our team to work at their own pace, meaning that they can take back ownership of their day-to-day routines.
Time is our most valuable resource, it's best we spend it wisely. Our team works when they feel most productive—which doesn't have to be from 9 to 5.
Work how you want
Keeping a strong work-life balance is essential at Littledata. That's why our remote work culture only helps to promote finding an equilibrium between your work and everything else outside of it.
We encourage our team members to find a balance between their work responsibilities and their responsibilities outside of the "office." We know that life happens, so we give our team the freedom to be present in their personal lives. That's how we build happy employees empowered to do their best work.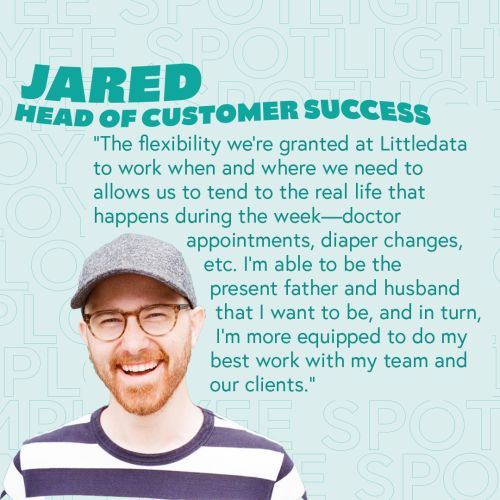 Being remote also means that we can hire the best talent from around the world, not just one specific area. Littledata's international team has members across the U.K., Europe, and the U.S., with hubs in Nashville, New York City, London, Cluj, and Bucharest (plus more cities coming soon!).
Completely remote work isn't for everyone, though. Some people do work best in an office setting with a fixed, "regular" schedule. That's why we support co-working spaces and collaborative offices as needed.
Never stop learning
Each month, our employees receive dedicated "learning days" to further develop their skills. This time helps us explore our areas of interest while building up the skills we need to master our work.
Those learning days have included all kinds of things:
Online courses in Google Analytics, Google Tag Manager, data visualization, data science, and more
Project-based learning around new programming languages and tools like Netlify
Speaking and participation at conferences such as Google I/O, Shopify Unite and Measurecamp (we're looking forward to the return of in-person events!)
By investing in our team's professional development and interests, we're building the best brand ambassadors Littledata could ask for, who are also experts in their craft.
Build something great
All of our greatest ideas, updates, and designs are the product of collaboration. Our team members may call different countries home, but we are constantly working together online.
The Littledata development team builds the backbone of our data platform, and their work helps power hundreds of ecommerce businesses around the world. Their code ensures the successful delivery of hundreds of millions of essential tracking events to our customers' analytics tools and data warehouses.
Through collaboration with our marketing team, customer support team, and operations team, the dev team is able to build off shared ideas to develop cohesive, creative, and innovative solutions. The support, insights, and feedback they receive help them mold Littledata's analytics platform into the best version it can be.
Annual offsite meetings
It's important for us to find time each year to put work aside and connect as a team. Our global team gathers annually for an offsite retreat—typically held in Europe. This provides us a great opportunity to collaborate, catch up, and relax alongside all of our team members.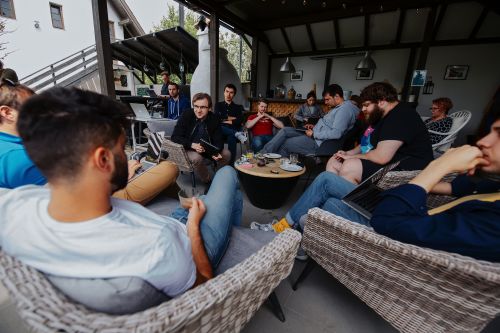 During week-long offsites we find a balance between work and leisure, taking advantage of the great opportunity to collaborate and bond as a team. Throughout the week, we run a design sprint. The process helps to spark innovation and align members under a shared vision. This gives us the chance to work in cross-functional teams, and gain a better understanding of the goals of each department. Some of Littledata's greatest advancements were the result of design sprints, and they've helped place Littledata as the future of ecommerce analytics tools.
Work hard, play hard! We find plenty of time to have fun during our offsites, exploring the city we're visiting, lounging on the beach, and most definitely enjoying the amazing company of our co-workers.
And it doesn't stop there.
During monthly "sprint retrospectives," every team member has a chance to highlight what's been working best and also suggest improvements to company processes, whether that's about how we make feature requests or how we might improve cross-team communications.
At the end of each quarter, we also take time as a company to reflect on the goals we set for the past 3 months, assess our performance, and create specific OKRs for where we want to be and what we want to achieve in the next quarter. Each of these OKRs aligns individual departments toward our overall company objective, guiding our team under common goals and uniting our vision for the future.
Join the Littledata family
While the greatest resource we can give to our employees may very well be time (and freedom over their time), our greatest resource is our team. Our product would be nothing without the people behind it that shape it every day.
Our team is small but mighty, with each member playing an integral part in Littledata's success. They are the backbone of our product, between our incredible support team to our skillful engineers, and everyone in between. Together we're able to build a product that each and every one of us is proud to stand behind.
Since our team collaborates from across the world, it's even more important that we invest our time in building inter-team relationships. Something we value most about Littledata is our camaraderie; we support each other in all of our professional and personal endeavors.
"We always blame the problem, not the person." —David Pascu, Head of Client Services
Here at Littledata, we're surrounded by some of the most uplifting people, who encourage us to work harder every day for the betterment of our team as a whole. As David so wisely put it: "We blame the problem, not the person." We investigate those problems head-on in our design sprints, often solving big problems in a short time. Some days that's a product improvement for the install flow of a particular Shopify analytics connection. Other days, we're crafting the perfect answer to the question "Why Littledata?" or prototyping a tool that visualizes analytics throughputs more succinctly. (Yes, those were real design sprint projects!)
Our can-do attitude makes any challenge seem possible. Our bond as a team makes working together toward solutions and innovation an exciting task.
Work as a team, win as a team
As a startup, we understand that each one of our employees is taking a leap of faith in joining our team. That's also part of what makes our team so strong.
Every member of the Littledata team believes in the work that they do and the service they provide. While joining a startup can be a risky decision, great risks yield great rewards. Our team is 100% to thank for Littledata's growth and success over the years. We're the first to give thanks where it is due; when we hit milestones and reach our goals each quarter and annually, our team are the first ones rewarded.
One of the greatest benefits of being part of a small team like Littledata is the lack of bureaucracy that many encounter in larger corporations. Each of our team members has what we like to call 'flexible' roles—and let's be clear, flexible does not mean multiple. By 'flexible' we mean that we encourage our employees to explore other fields that interest them, but might be out of their "job description."
Allowing our team to follow their passions, interests, and work in areas that they do best in creates a recipe for success.
So, are you in?
We're always looking for motivated and talented team members to become a part of the Littledata family. If you want to be a part of building a market-leading analytics tool while also shaping a truly special team culture, we want to hear from you.
Not passionate about ecommerce analytics yet? Join our team and you will be soon 🙂
Check our careers page for the roles we have open. If you don't see the perfect fit, reach out to us and share your skills and experience. Any of our team members would be happy to hear from you and see if we can make a match.