Want to learn from DTC founders and entrepreneurs shaking up their industries? Check out the other entries in our Lunch with Littledata series.
Lunch with Littledata is back! This time, we sat down with Charlie Bowes-Lyon, co-founder of natural deodorant brand Wild.
Founded by industry veterans, Wild became a Littledata customer early on to supercharge their growth. Through savvy market moves and a strong growth vision, Wild became the biggest brand in the UK natural deodorant market. They've added more than 140,000 customers in just two years after launch, with plans to build on their impressive growth.
In our Q&A below, Charlie shares his thoughts on choosing growth channels, going global, and which data points are crucial for any DTC business to be on top of.
Tip: Learn how to track every order on your subscription store and tie them to your marketing campaigns with our guide to complete ReCharge data in Google Analytics.
LD: Wild has grown a ton since you signed up. When we first talked it was right after you'd closed the funding round.
CBL: Yes, I think it was when we were launching International, right after we'd raised funding. So it was early days last summer.
Back then you just had one country store?
Yeah! It feels like a long time since then… (laughs)
Are you mostly reliant on paid spend for growth strategy overall?
Yes, we're very performance-led as a business. We operate over a variety of different marketing channels and, as a result of those channels, gain brand awareness.
We've also operated a very community-centric and "social first" approach. So, when we initially designed the product we made sure that, at least from our point of view, we were creating something that was very shareable over channels like Instagram. Something that people would really want to talk about and show off to their friends.
And I think we achieved that in quite a good way. We've managed to grow on social pretty quickly. In the space of a year and a couple of months, we're coming up to about 115,000 followers on Instagram.
The other side of that approach is nurturing the community. So we have VIP Facebook groups for people who really want to stay involved and be a part of the decision making. For example, we often have polls on things like what scent we should put out next. I think that's been big in helping people to feel like they're involved in decision making. So, it's not just us guessing what customers actually want. It's based on a more data-led approach.
A lot of our customers at Littledata want to build those communities, but it's hard to get the initial traction. Are your engagements mostly coming from current customers or from new customers too?
It's both. Referrals account for about a third of all of our sales. So, it's about nurturing that community, being very genuine with them, and really involving them in everything we do. Then as a result of that, people are happy to share and recommend us to their family and friends. That's the organic growth side of it.
But at the same time, we're constantly building growth heavily into our CRM. We have landing pages, and we do ads to push that growth along.
Do you offer a gifting option?
We're not big on gifting, to be honest. In our referral program, if you refer a friend, they get a free case.
So it's really an intro offer.
Yes, essentially. Because it can be expensive for people who haven't heard of our brand to pay £12 for a deodorant. So, letting them see what the product's all about and test it first is a good way. Then we rely on the product being high quality and good enough to retain them as customers.
"We rely on the product being high quality and good enough to retain
(free trial users) as customers."
Hopefully the ReCharge tracking add on has been helpful to you.
Yeah! Without it, we can't see anything on Google Analytics or anywhere. So yeah, it's pretty vital.
Who on your team uses the data that Littledata sends to GA?
Well, it's used across a variety of things. Myself and the marketing team use GA for top-line statistics and data on different marketing campaigns and so on.
It's also hooked into our analytics platform, so a lot of the data that they gather obviously comes from GA as well. That's being used for things like measuring LTV, but also looking at the operations side of the business and working out different cogs and margins on products we're selling.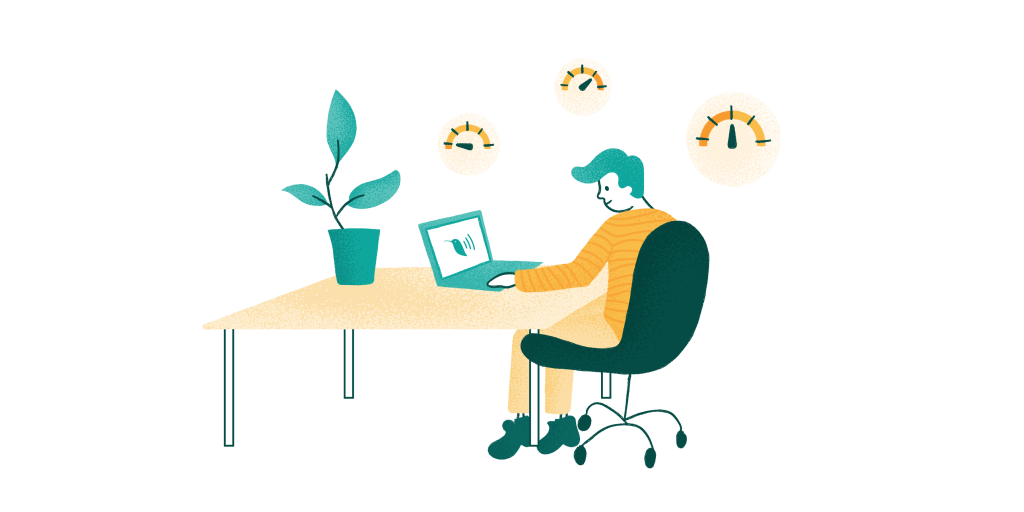 Have you built one core dashboard, or is it more of an ad hoc process where you dive into the data and build reports as needed?
Yeah, there's a couple of different dashboards we use. Generally, we've got pretty good oversight of data. And Littledata definitely connects that bridge between Shopify and ReCharge for us, which when it's off everything goes completely wrong and doesn't work. So it has been quite important for us.
Tip: Learn how to connect ReCharge with Google Analytics for accurate data about your recurring transactions.
Wild has focused on sustainability since the beginning. I've had a lot of talks with founders recently here in the US who feel like they're having a hard time.
Sustainability is definitely a buzzword here, but putting it into practice is a whole different story. Some DTC verticals have caught on, but in a way Europe in general is more progressive in terms of customers backing that commitment up with their purchasing behavior.
Yeah—it's a funny one because I think you're right in terms of sustainability. I think Europe and the UK are ahead and people are a little bit more aware. It's a bigger subject that we're constantly focused on, both in politics and our wider society. There's been a lot of quite good changes that have been made. But likewise, in the US with the likes of Elon Musk and Tesla, for example, there's a lot of companies that are doing some quite good awareness around it.
On the flipside for us, the US has had good natural deodorant companies for four or five years. We were the first one in the UK launching just over a year ago. So the US market is probably a bit more developed when it comes to what natural products are and why they might be better. It's all still pretty new for us over here, so that means we have a lot more education that we have to do for potential customers. Whereas potentially in the US, that piece of education's already been done to some extent.
And was that part of the impetus for choosing this concept as your brand alone?
Yeah, definitely. We saw some successful companies in the US who had done a great job with a fundamentally good product (i.e. natural deodorant that worked). But outside of that, their packaging was very simple and plastic. The brand was pretty bland. We looked at it and thought: "we can add in sustainability and create a better, fun-looking product."
Do you have a community of other brands and founders doing similar things that you personally interact with, or are you more lone wolves?
Yeah, we speak to a lot of different people every week really. Both my co-founder Fred and I are lucky that we have pretty good networks from our previous jobs. We certainly get really good oversight of what other companies are doing and how they're doing it and what's working for them.
Sometimes, though, what works for others won't work for us and vice versa. It's an interesting time at the moment. I think to be honest, we've probably just been through the best year of ecommerce that anyone's going to see for some time. And I imagine that the next year is going to be quite difficult as a result because, you know, everyone's coming out of lockdown, iOS 14 updates on Facebook, all these kind of small things are adding up to make life a little bit more difficult. And people are heading back into traditional stores as well.
So, it'll be interesting to see what happens. But in a way, it's a good thing for us. We see it as hopefully a competitive advantage if things get a bit more tricky and we're able to execute better than others.
Tip: Use Littledata's guide to GDPR cookie banner compliance to ensure your store isn't hit with a non-compliance fine.
Do you expect the business model to change at all, maybe to pull in wholesale?
Yes, we've just gone live about a month ago into retail in the U.K., and we're now Sainsbury's. I think it's been a really good start so far. Potentially that will be a big channel for us.
But really, we're very focused on two things. One is delivering the best natural deodorant we can and always iterating on that. The second is diversifying both our marketing channel mix and our strategy by going properly international. We're already in Europe, but we're dabbling in the US and Australia as well and testing other markets.
I think the danger that's present for ecommerce companies at the moment is that we could see a channel just stop working one day. Something like Facebook, suddenly people's customer acquisition costs could double on Facebook. For example, the UK has had really high adoption of the iOS 14 update from Facebook. I believe it's somewhere around 30 percent of people (in the UK) are opting in for ads, whereas in Europe it's closer to 60 percent of people opting in.
But because we have that diversification of countries we can advertise in, we can immediately move some of our advertising spend to Europe and we'll probably get better customer acquisition costs as a result. Being in Sainsbury's and hopefully other retail outlets in the future just gives us another channel where we can focus, spend on marketing, and diversify. And I think as well, to be honest, once we can, we'll probably do a lot of events and try to get out and get to offline channels. It just gives us another angle of approach.
Is the goal that in-store shopping will be the first touchpoint for new online subscribers?
Not necessarily, no. We're fairly channel-agnostic. So we don't really mind if someone's online buying from us or shopping in brick-and-mortar retail.
"We're fairly channel agnostic. So we don't really mind if someone's online
buying from us or shopping in brick-and-mortar retail."
Wild offers a slightly complex product where some explanation is required to kind of understand who we are and what we're doing. And often if you go into a retail store, you're not really looking for something new. You've basically got a second where you glance at the products on a shelf. So it's hard to know. But I do think that the brand awareness we've created over the last year has massively improved the retail results that we've had today. Plus, they both will just feed off each other. Some people don't like to order online, or they forget about it. They might want to just go into the shop and grab a refill. Likewise, some people might make their first purchase in a shop and then sign up on the website and get an online subscription. I think the key is just giving customers options.
Do you plan to expand globally? And if so, do you plan to hire specific country managers? There are lots of subtle things that can make a difference.
Yeah, massively so. We're barely touching the surface of the potential in Europe. And there's a huge market in the US and Australia for us as well. That said, we plan to choose a couple of markets, focus in on them, and make it work there before trying to do too much at once. We're hiring a German country manager at the moment, so that's going to be our starting point.
Quick links