Nope, we're not talking about mind control here or any other Batman-villain-style plots.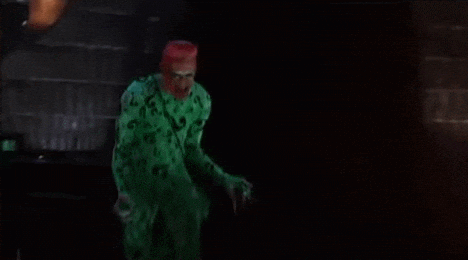 He did have some sick outfits, though.
We won't be talking about the "psychological tricks" that have gained a bad rep in marketing, either.
Using lessons from psychology in your promotion is more about being creative with the sales process — and it can bring fantastic results.
If you show truthful information, use data to present customers with relevant products, add gifts to purchases, or lower prices, you create a hassle-free, win-win situation for you and them.
The techniques described here can impact the way customers think about their purchase and help them decide in your favor.
TL;DR
Use the price anchoring technique to improve price perception
Curb decision fatigue with data-based product recommendations
Create FOMO and feelings of exclusiveness with limited-time and limited-quantity offers
Combine bestsellers and frequently-bought-together items to create good bundles and upsells
Everybody loves free stuff
Now, let's dive into five ways you can take lessons from psychology and apply them to your promotion.
#1 Price Anchoring: put price in perspective
People most often determine whether a product is expensive or cheap by comparing it to something else.
That's exactly what price anchoring does — it gives customers a main price (anchor price) they can reference to decide if they like the specific deal you're offering.
You'll often see this technique used to promote sales — i.e. on a sign saying "$125 NOW $90," that $125 is the anchor price.
Use your anchor price in pricing tiers
Another way to use price anchoring to increase sales is to show pricing tiers. If you have differently-priced versions of your product, you can list them side by side on your pricing page. That way, your customers can easily evaluate prices and features without switching between tabs or pages.
You can see this full page at Littledata.io/plans
Keep in mind: It's best to set the anchor price as the most expensive option. That way, customers will opt for the cheaper offer — the one you originally intended to increase sales for.
Your goal might be to boost sales on cheaper products despite being lower value than the more expensive option (a "you get what you pay for" sort of thing). In that case, people will choose the more expensive one because the perceived value is greater.
Compare your product with competitors
Before buying, customers will usually investigate what else is on the table; there's no way to prevent that. So, why not use that to your advantage?
Take a good look at a competitor's offer and adjust yours accordingly to make a better deal whenever possible.
Create a dedicated comparison page that shows customers what the benefits and features of your product or service look like side by side with your competition. These comparison pages are usually among the resources customers search for most, making them a great opportunity to improve your website's ranking in search engine results.
Be careful not to focus solely on the financial aspect; show feature differences, best use cases for each product, and their actual value.
#2 Eliminate indecisiveness
When facing a difficult decision, some people (including yours truly) just… run away.https://giphy.com/embed/5WkqT5t0V3DCAeBsju
You guess if I'm exaggerating or not.
What causes the inability to decide?
The main culprits could be:
Information overload
Lack of information
Fearing the consequences of the wrong choice
To prevent this, revert to making comparisons and highlighting the exact purpose of items, as suggested above.
Another way to help decision-making is to draw attention to specific products with social proof.
Listing featured products, highlighting customer reviews, and naming items of the day/week/month are all great ways to suggest other buyers loved your product and help the customer in their buying decision.
Utilizing a Recent Sales Notification system adds an element of rush to the buyer's decision.
Speaking of… buying behavior analysis is a must!
Data capturing capabilities are powerful and can be used to make changes to your store that influence purchase decisions. To do so ethically, use legally obtained data to learn customer preferences and design solutions that fit their needs like a glove.
Using this data, you can make tweaks to your store's appearance — like selecting items most likely to be purchased by certain people and showing them in "Recently Viewed" and "Related Items" sections.
Tip: Get inspiration to optimize your store's design from five successful DTC brands succeeding with Shopify Plus.
#3 Fear of Missing Out (FOMO) and exclusivity
Scarcity marketing relies on people's fear that items they desire won't be as cheap (or available at all) if they don't hurry and buy them while the offer lasts.
And it works. It's science, baby! Scarce items are perceived as more valuable and have an aura of exclusiveness. There's something about having what few other people have that gets people going — think designer handbags or rare sneakers.
There are plenty of well-known ways to create FOMO and make products seem more exclusive:
Limited-time offers like "buy X get Y" or free shipping
Built-in timers indicating the amount of time left to act; a Cart Reserved Timer can speed things up even more and is incredibly useful for items that sell like hotcakes
Low stock alerts — i.e. "Selling out fast" or "only X more left"
Don't rely solely on scarcity tactics, though, as they have limits. Always continue to improve your products and build lasting relationships with customers.
Remember to show truthful information only. It's the right thing to do, and Shopify will penalize the store owners caught embellishing or outright lying about products.
#4 Create awesome bundles and upsells
Delve into customers' minds and find out their desires.https://giphy.com/embed/it8307a0XxlVS
Or, try a method that actually works and learn from data; it's simple and feels just as powerful!
Here are some foolproof bundle and upsell ideas:
Offer bundles of products that are often bought together
Combine store-wide best-sellers
Offer luxurious and expensive minis

Sephora creates great sets for people who are too afraid to commit, so they can try multiple high-end brands without breaking the bank. (Screenshot: sephora.com)
Offer an add-on gift-wrapping service to increase the average order value during the holiday season
Allow customers to purchase a money-back guarantee or a warranty for items that rarely require customer complaints or returns
#5 BOGO deals
BOGOs can be summed up with three words: "Hey, free stuff!"
They come in handy when some items in stock just refuse to go away, but you need them to, and fast.
An excellent example for using BOGO would be as a holiday strategy: "buy one, and we'll ship the other one as a gift to your mom/pop/friend/loved one." Then you can charge for shipping and gift wrapping, and the average cart value will grow as well.
While we're on freebies, never forget the power of free shipping!
Setting a free shipping threshold is another easy way to increase customer spending without reinventing the wheel.
Typically shoppers would rather spend more to get perks like free shipping than pay extra fees which can feel like more spending for little return.
Bottom line
Your own store's data reveals what customers want, when they want it, and how they choose to get it. Having a full, accurate picture of that data gives you critical insight into your buyers' psychology.
Using psychology-based marketing means learning about people so you can help them, not exploit them. Customers today are more informed and aware of sneaky tactics than ever before. So, the best course of action is to stay transparent and provide excellent service and products they'll love.
The tactics above tick all the boxes: they make customers happy and bring extra profit.
This is a guest post from Jordie Black. Jordie is a content marketer and strategist specializing in B2B, SaaS, and Influencer Marketing. Jordie is currently building her first DTC e-commerce business.