The checkout is one of the most important steps in the ecommerce buying process for merchants. "Of course," you might say, "it's where I get paid!" But there's a lot more to a good checkout strategy than simply completing transactions, especially if you sell products by subscription.
Many modern DTC brands sell by subscription. Whether offering everyday items such as deodorant or custom monthly offerings such as fashion boxes or craft beverages, ecommerce businesses use a subscription model to increase customer lifetime value (LTV), referrals, and retention.
Shopify noticed this trend and made some major moves this past year to push subscriptions into the native checkout. Most importantly, the change allows Shopify app developers to build tools with greater support for subscription business models.
You probably have a lot of questions about what this means for your business, especially if you are focused on data-driven growth.
We're happy to announce that Littledata now offers plug-and-play solutions for tracking subscriptions in the native Shopify checkout, including for headless builds. Our ecommerce data platform works seamlessly with apps like Recharge, Ordergroove, Skio, Smartrr and Bold and Awtomic, and you can send the data to Segment, Google Analytics (GA), or any connected reporting tool.
In this post, we'll answer common questions about subscriptions in the native Shopify checkout — from what this really means (what is a "unified checkout" anyway?) to what data is available or "exposed" for your ecommerce marketing team.
This post covers:
I. Why Shopify moved to a unified checkout
II. The state of subscription ecommerce
III. Customer Lifetime Value (LTV) in the subscription industry
IV. Tracking subscriptions in the Shopify checkout
V. Subscription apps supported by Littledata
I. Why Shopify moved to a unified checkout
In the past, Shopify merchants who wanted to offer subscription products had to use third-party apps, such as ReCharge or Bold Subscriptions, where payment data can be stored and subscriptions managed.
As a result, customers had to go through a different checkout process for subscriptions versus one-time orders. For example, customers would be redirected away from a Shopify store site to a separate ReCharge checkout, then return to the initial store they were on after completing payment.
Last year, Shopify introduced new subscriptions APIs with the aim of creating a more seamless checkout experience for subscribers. Now, customers can start product subscriptions without leaving the store's website, while the post-purchase management of the subscription is still handled by the subscription app.
These new APIs bring a handful of additional benefits as well:
Complete subscription data is stored by Shopify, allowing for improved reporting and analytics
A faster, more streamlined checkout process for your customers
More flexibility, so you can experiment with new subscription models
Native checkout security provided by Shopify
Shopify's payment gateway does come with some limitations around product sales and region-based availability. If your store sells products that are outlawed in certain major markets (like cannabis) Shopify's payment gateway will not offer support for your store.
Likewise, if your store is not based in one of the countries Shopify lists under their umbrella of coverage, you'll need to use another payment gateway to complete transactions. You can find more information on payment gateways to use by following the directions Shopify provides for stores outside their main regions of coverage.
Note: Make sure to read both Shopify's guide to setting up subscriptions and Littledata's analytics setup guide for subscriptions in the Shopify checkout. There are several steps you need to take in each of a) Shopify's admin, b) the subscription app you installed from the Shopify App Store, and c) Littledata in order to track everything correctly.
II. The state of subscription ecommerce
Not so long ago, ecommerce businesses focused on single transactions to grow their business. But the landscape has changed. Shoppers and brands are now focusing on relationship-driven ecommerce, and subscriptions are at the heart of the change.
Many ecommerce customers now see the benefits of becoming a subscriber. It helps them stay ahead on the latest updates related to their favorite products and services. It also gives them flexibility to set up a steady flow of products when they want them, and the option to pause or swap subscriptions from a customer portal.
Brands obviously see the value in loyal subscribers. Subscription ecommerce has never been growing so fast. Subscription payments app ReCharge analyzed data on more than 9,000 of their subscription customers and found an average of 90% growth in subscribers across all verticals, with an average LTV 
growth of 11%.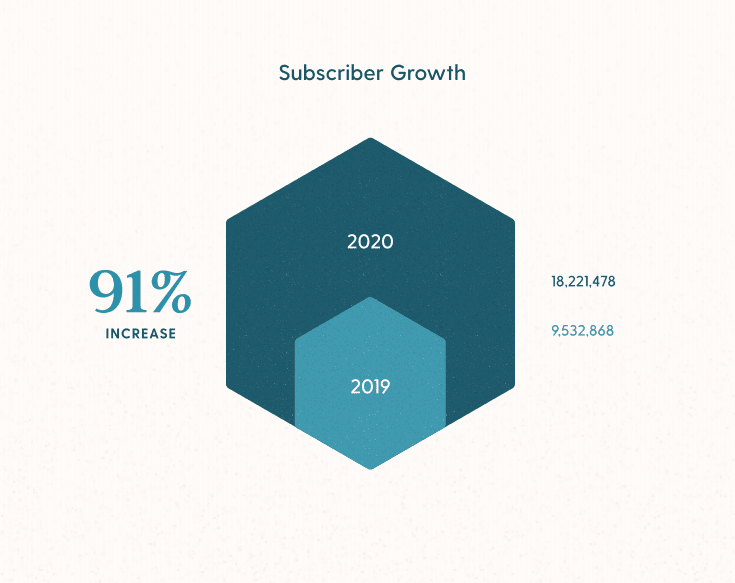 Growth was not limited to one specific vertical, either. In fact, Recharge's report shows that nearly every vertical saw subscription merchant growth double in 2020.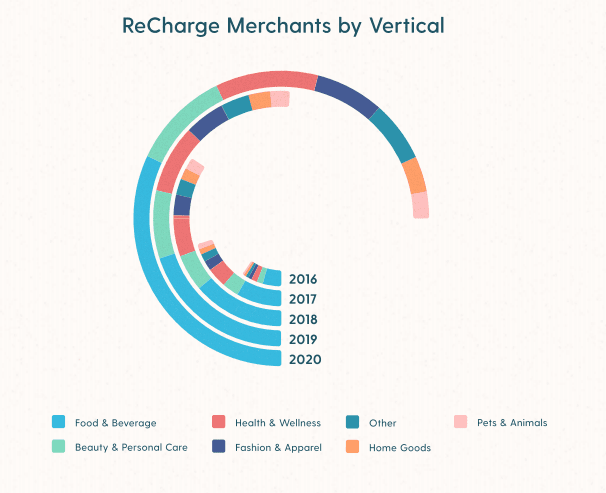 Subscription ecommerce growth isn't simply an effect of buyers worldwide shifting online due to the pandemic, though. A 2019 study from the Subscription Trade Association (SUBTA) found that the ecommerce subscription market experienced annual growth of 17.33% in the last five years. It also predicts three-quarters of DTC brands will offer subscriptions by 2023, while global ecommerce subscriptions will account for 18% of the total market share.
Another recent survey by McKinsey showed that there is a 40% increase in consumers' intent to spend online even after COVID. All this research concludes that the groundwork is set for continual growth in LTV and overall revenue for stores targeting subscription customers instead of maximizing one-time purchases.
And those purchases often start with a discount. In a recent study, Bold Commerce found that discounts on subscriptions actually fuel monthly revenue growth, and smaller discounts (not too big and not too small) see the biggest return over time.
Tip: Follow our free guide to start tracking your store's subscriptions and key subscription metrics with Ordergroove.
With great growth comes greater competition
The rush of new subscription ecommerce merchants in recent years is of course a huge benefit for buyers. It offers greater product diversity and more flexible buying options.
But for sellers both old and new, the increased competition means they have to make smart decisions and truly know their audience to survive. The proven most efficient and powerful way to do that? A promotion strategy founded on accurate data.
That's where crucial metrics like return on ad spend (ROAS), average order value (AOV), and especially customer LTV come into play.
III. Customer Lifetime Value (LTV) in the subscription industry
Customer LTV, or the value a customer contributes to your business over their lifetime, is the holy grail of ecommerce metrics. This stat begins tracking when a new customer first makes a purchase and ends with the "moment of churn," when they decide to no longer buy.
Focusing on LTV can help you define clear marketing goals and sales strategies to reduce acquisition costs, improve retention, and encourage existing customers to spend more over their lifetime with your business.
Subscription customers add more to your store's overall LTV as they make repeat purchases and can be upsold to add more revenue. Leading ecommerce stores know this, and are enjoying higher LTV as a result. The same ReCharge study referenced earlier found stores activated between 2019 and 2020 realized an average LTV growth of 11%.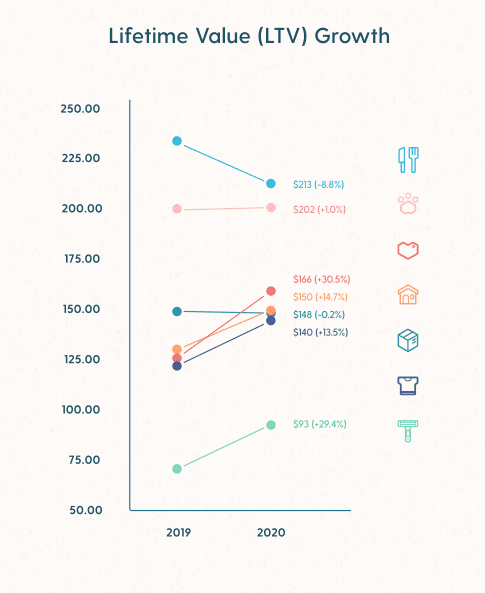 Successful stores know to focus on metrics like LTV because it affords them the ability to deeply understand the needs of their customers. To do this well, though, you need accurate data and high engagement with buyers.
As for calculating LTV for subscription customers, it isn't difficult when using a powerful data tool like Google Analytics. In fact, we have a guide you can follow to calculate customer lifetime value in Google Analytics.
If you're looking for a true deep dive into LTV that covers calculation methods, multiple improvement strategies, and roadmaps for Shopify subscription success, jump into our ultimate Shopify guide to LTV tracking.
III. Tracking subscriptions in the Shopify checkout
Getting accurate data about your customers' behaviour is especially difficult for subscription commerce. If you're using Shopify's default GA tracking, a significant percentage of your orders might be missing. This can lead you to form an incomplete picture of your marketing attribution and sales performance, and a lesser understanding of your customer's behaviour.
After sampling larger merchants on Shopify, we discovered that on average, for every 10,000 orders processed, 1,200 are missing in GA. However, these discrepancies look even worse for recurring orders, with the percentage of orders tracked ranging between 9% and 70%. This happens because recurring orders are processed without the customer interacting with your online store.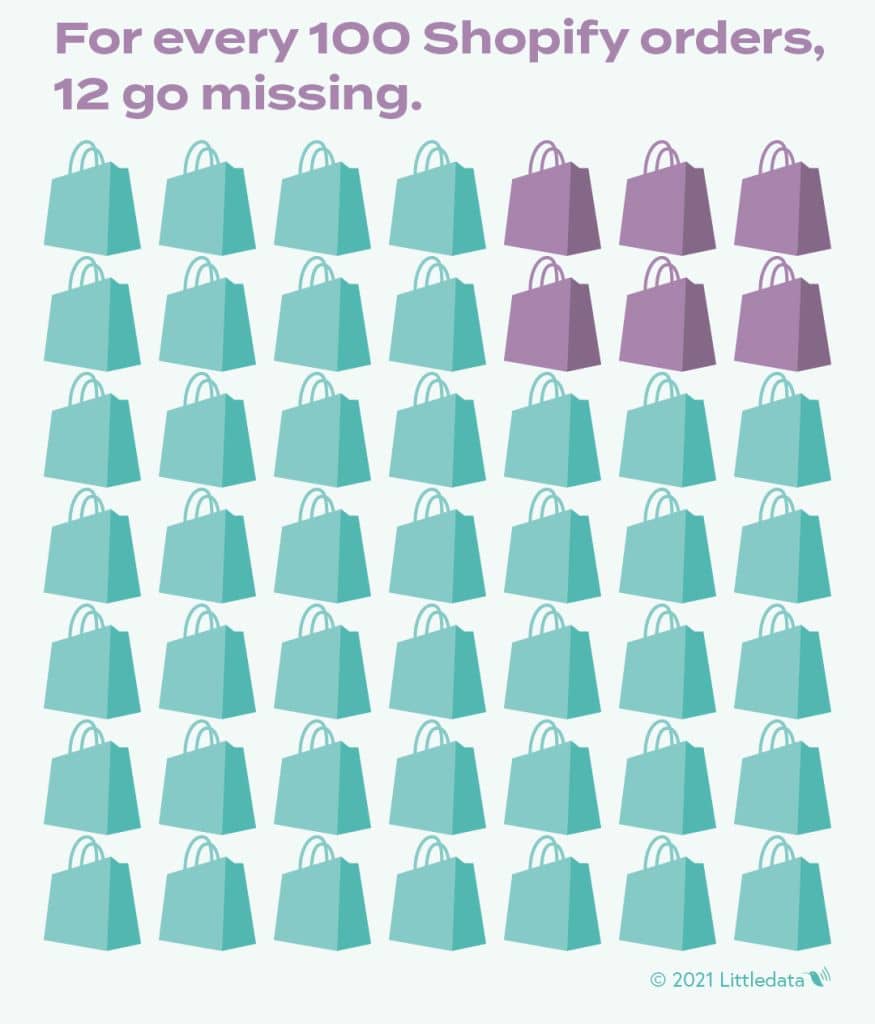 Fortunately, there is a fix for this issue. Littledata's Shopify app can repair these tracking disparities automatically upon install.
It works by first adding a data layer onto your website containing all Enhanced Ecommerce events. Then, it adds a tracking script to capture each event as it happens. Finally, using robust server-side tracking, the app grabs all transactions and ensures 100% accurate ecommerce data.
That allows you to see truly meaningful data that eliminates the worry of making incorrect decisions based on faulty numbers, while giving you the power to make your marketing dollars work better for your store.
Tip:  Try Littledata's script on your store free for 30 days. Get a data audit of your current metrics and see the difference you could be missing on marketing attribution.
IV. Subscription apps supported by Littledata
Stores using subscription apps to manage recurring orders set up in the Shopify checkout can track their recurring orders using Littledata's Google Analytics and Segment apps in the Shopify app store.
In fact, Littledata works automatically with all subscription apps used by Shopify stores, as long as they are doing subscriptions "in the Shopify checkout". It's a powerful solution for subscription analytics. Benefits of our subscription tracking include:
Differentiate one-off purchases from recurring transactions
Accurate marketing attribution for subscription orders, thanks to our unique combination of client-side and server-side tracking
Works with headless setups
GTM data layer makes it easy to customize
Increase customer lifetime value (LTV) with detailed LTV tracking for cohort building and analysis; build better audiences, see subscription LTV by channel, and more!
Littledata's subscription analytics customers are using a range of apps. Here are a few of the most popular subscription apps to consider using for your store. Contact us for more info about your subscription setup, to see if we support it automatically (we probably do!).
ReCharge
Recharge is a subscription management app designed to let your store offer subscription products with a few clicks. In addition, it helps increase LTV by allowing customers to manage their own subscriptions while setting you up with revenue-boosting tools like upsells, SMS and email notifications, and actionable subscription insights.
Recharge was one of our first integrations at Littledata, and we support both "legacy" Recharge subscriptions and Recharge subscriptions in the Shopify checkout. An added bonus with Littledata's Recharge connection is tracking subscription lifecycle events such as Subscription Updated.
Ordergroove
Ordergroove is a tool to help you grow average order value (AOV) and maximize subscriber enrollment through promotions, retention rewards, and the ability to craft a custom subscriber experience. It's a popular solution for larger brands and offers a range of integrations to help you scale.
Smartrr
Smartrr's subscription ecommerce app offers a recurring revenue engine designed to help you offer curated subscriptions to members. That includes through methods like allowing subscribers to manage their recurring orders, gifting options, upsell add-ons, and even product swaps that increase consumer satisfaction.
Bold Subscriptions
Bold Subscriptions aims to help you establish predictable recurring revenue via better customer loyalty using customizable subscription programs. The app is compatible with multiple payment gateways, allows API customization, and features checkout integrations that further enhance your customizability, and in turn, the value you can provide to customers.
Awtomic Subscriptions
Awtomic Subscriptions helps brands sell personalized subscriptions and unique product offerings. Awtomic powers Bundles, Shuffles, and Build-a-box subscription experiences, and is a powerful solution for selling subscriptions in the Shopify checkout.
What's next?
Shopify's new unified checkout has bolstered app developers to create more innovative products. Those apps in turn help you target subscriptions in your store checkout and use enhanced ecommerce metrics to get a full, accurate picture of your subscriber audience, then customize your checkout and promotion methods to reach your most valuable audience.
But how can you scale a subscription store without accurate data? That's where Littledata comes in.
Tip: Take the first step in realizing the true potential of your ecommerce store and get accurate data from Littledata free in our 30-day trial.