Customer retention at its simplest is the ability of a business to keep its customer base loyal.
It's also a vitally important metric — one that businesses rigorously track to see if their customers rebuy the same products, resubscribe to the same services, or continue to engage with their brand one way or another.
But, keeping current customers happy is not easy — just ask an ecommerce store owner! Businesses lose significant revenue every year when customers jump ship to competitors.
Why customer retention is crucial
A good customer retention strategy helps a business create a solid plan for increasing customer value and nurtures the sales funnel.
Focusing on customer retention can yield many benefits. Here are just a handful:
Bigger growth potential – you need customers engaged and interested in your offerings to grow your business, including new products and services.
Lower customer acquisition cost – always remember it costs more to acquire a new customer than to keep your current customers happy and buying.
Higher customer lifetime value – making relentless efforts to retain customers creates an emotional bond that strengthens the buying relationship, which will result in a more engaged customer base.
The "wow" factor – a satisfying customer experience can help boost word-of-mouth marketing, since 87% of customers share their good experiences with others.
Of course, you need a well-planned, long-view strategy to nurture your customers and build strong relationships that achieve these benefits.
Below are 11 highly effective strategies to help you build a customer retention plan that will boost loyalty and drive revenue.
1. Educate customers about your business
One of the best things about ecommerce is that your customers' relationship with your business is almost completely online. So, they'll likely be more receptive to hearing about your products and services via online promotion.
Not every customer, particularly first-time buyers, will be aware of what your business is all about. Likewise, their loyalty will depend on how much they know about — and trust — your brand and products.
Your website, social media pages, and ecommerce store should have accessible, high-quality content that:
Explains how your products are used
Demonstrates their benefits
Answers customers' frequently asked questions
For example, this online mannequin seller went to great lengths in making sure their website is packed with detailed information, including product specifications, reviews, a detailed company history, shipping information, their lowest prices guarantee, bestseller lists, and FAQs.
All their current promotions are displayed strategically, and they even have a "Why Buy From Us" page.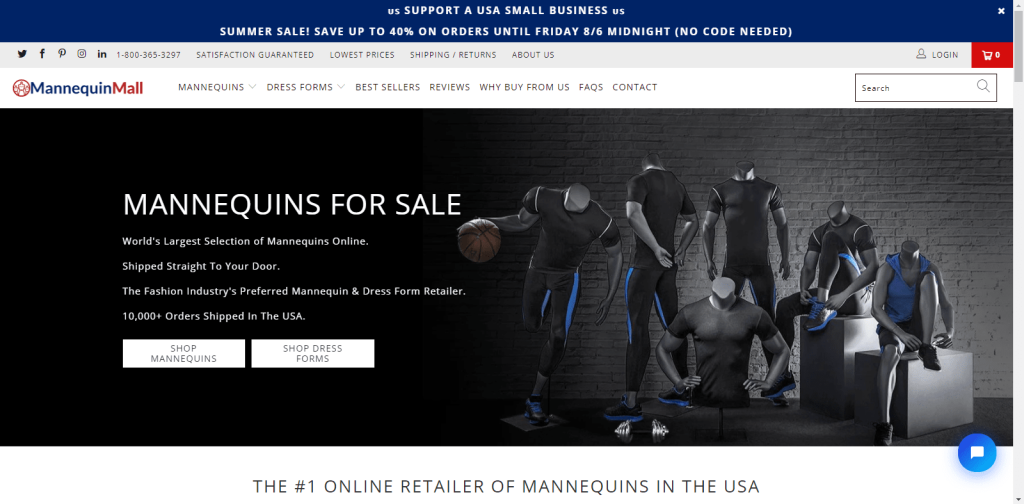 To excel at educating new customers, follow these basics:
Keep it simple by writing your product information so it's easy to understand.
Use unique strategies for your buyer personas which vary in age, preferences, and buying behavior.
Start blogging to provide education and value to customers while also explaining your products and services.
Hold webinars to answer buyer questions, demonstrate how your services work, and gather user feedback to make improvements.
2. Optimize your website for user experience
Now that you've taken steps to boost your content and educate your customers, it's time to enhance their user experience.
This goes beyond basic information — it's all about making your online store user-friendly, easy to navigate, and memorable, which will win customer loyalty.
Using one of the top ecommerce platforms, such as Shopify or BigCommerce, is the best way to achieve this. They're designed for flexibility and offer the plugins you need to optimize your online store.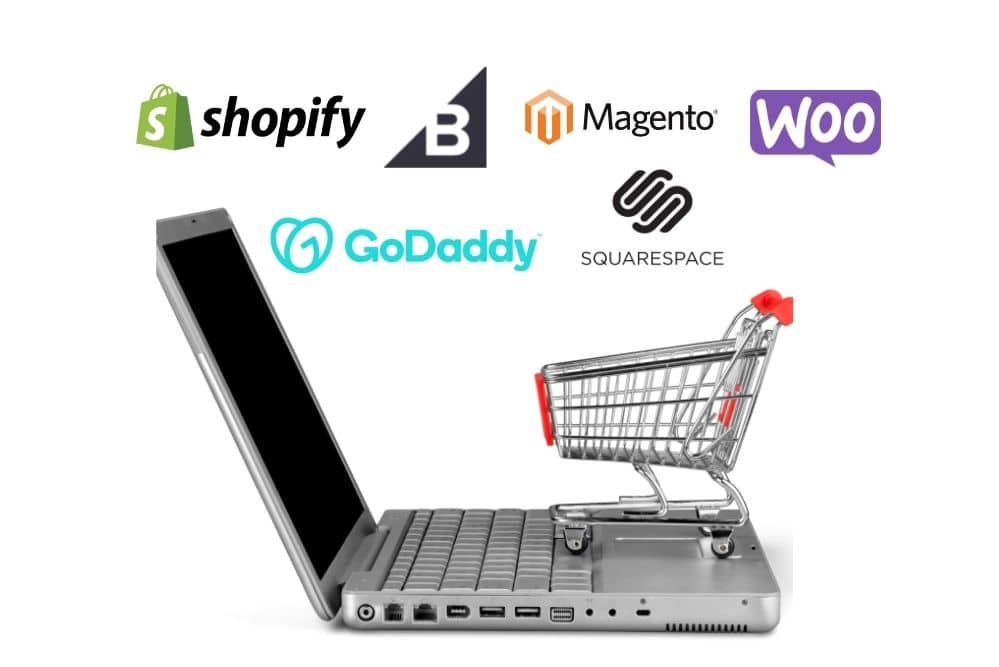 To optimize your store even further, you could enlist the help of expert User Exerience (UX) and User Interface (UI) designers to shape specific elements of your website and improve its navigation. A UX designer is responsible for making sure your website will function the way it should, while a UI designer designs the appearance of your website.
A great user interface and user experience both have a huge impact on any visitor's buying decision. Just how big, you ask?
Consider this:
It only takes about 0.05 seconds for visitors to form an opinion about your website (and whether they'll stay or leave)
88% of visitors are less likely to return to a site after a bad experience
75% of online shoppers admit to making judgments on the credibility of a business based on its website design
The key to making a strong first impression is to always optimize, optimize, optimize. Here are a few extra things you can do to make sure your new and current customers will have a great experience navigating your site:
Minimize pop-ups by only using exit pop-ups to reduce cart abandonment rate.
Simplify your check-out process (this is critical!)
Reduce the steps customers need to take before making a purchase (i.e. use shorter fill-out forms and minimize clicks for completing transactions.)
Ensure your site loads in five seconds or less.
Optimize your site design for mobile devices, as most traffic comes from them.
Highlight pieces of content that are dynamic and of high quality.
3. Build a strong social media strategy
According to a data collected by Statista, almost 92% of US marketers in large companies use social media for marketing purposes. These big companies spend a huge chunk of their marketing budget on paid social media ads.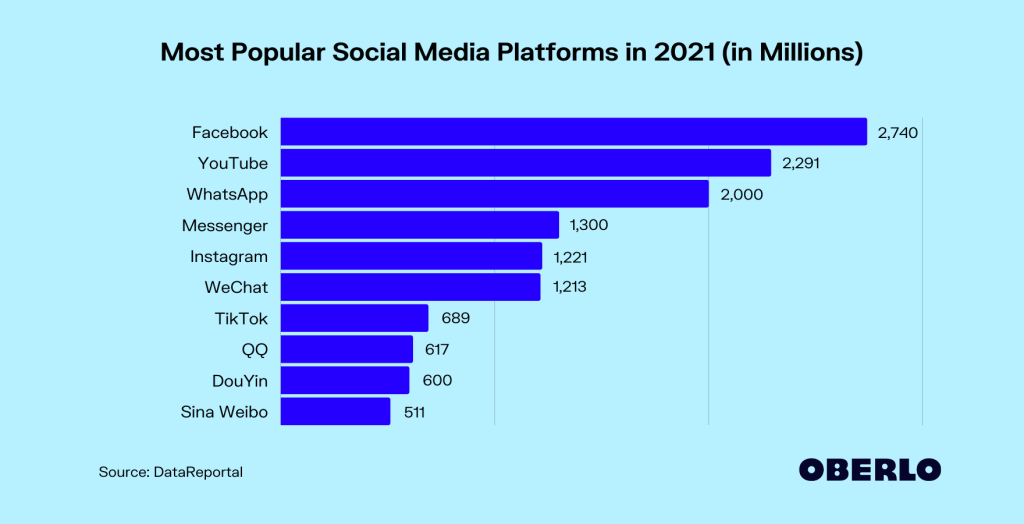 Facebook and YouTube are the two most popular social media platforms in the world right now. On just these two alone, you can share new products and establish a brand culture by engaging in conversations with potential customers.
Whether you're working with a social media marketing agency or running campaigns yourself, keep these strategies in mind to harness the full power of social media:
Showcase your personality. Don't just post content for the sake of it. Build a brand persona that makes it easier for potential customers to remember and recognize you.
Make use of visuals. Captivate your audience by creating engaging videos, images and infographics.
Use hashtags, mentions, and direct comments to monitor your customers. Hashtags serve as "identifiers" associated with your ecommerce store. The ultimate goal is to make your unique hashtags as popular as the brand itself.
Form collaborations. Team up with a social media influencer your audience loves or another brand from your industry that isn't your competitor. Collaborations can expose your store to new audiences and will also strengthen your credibility with loyal customers.
Share content created by your customers. Positive feedback from your satisfied customers acts as social proof for potential buyers. Encourage your happy customers to share pictures and videos featuring your products to their social media, tagging your brand.
Wild, a sustainable deodorant maker in the United Kingdom, regularly shares their customers' Instagram photos featuring the product.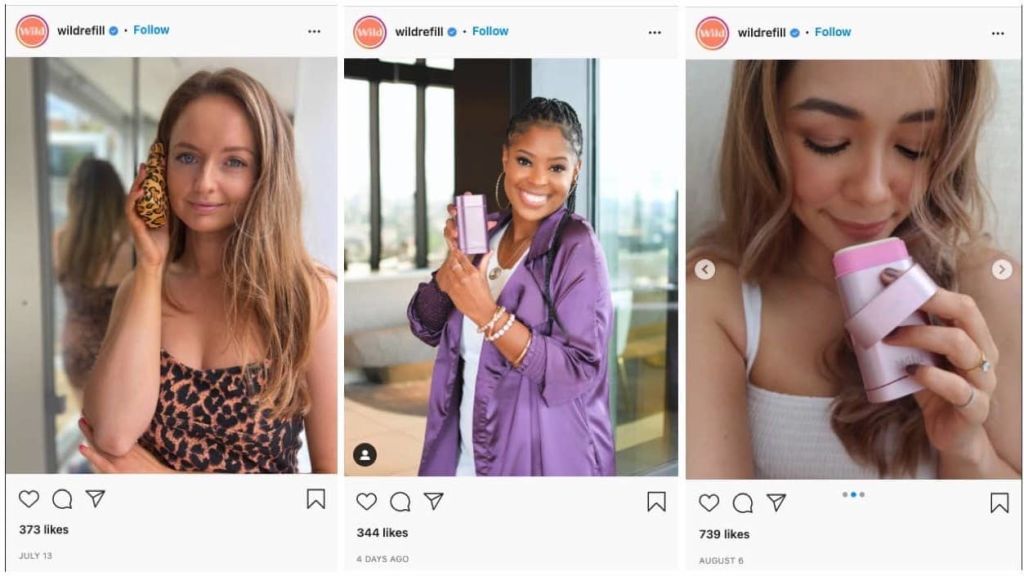 This is a great example of user-generated content marketing. Just make sure you're not violating any social media privacy policies. To be on the safe side, always let the account owner know you're using their content.
4. Provide multiple delivery options
Customers always love more options and convenience — especially when it comes to delivery.
Many ecommerce stores provide same-day or expedited shipping options for customers who want to receive their orders as soon as possible.
For example, this online lingerie store offers free shipping for orders over $80. That's pretty common, right? However, they also offer free international shipping on orders over $150, as well as same-day shipping if you place your order before 4 PM EST (not including holidays).
They even have a discreet shipping option that makes the package safe to ship to home or work. Making these options available will make your customers feel like they're truly cared for.
You can also consider expanding options for returns and payments, as well.
5. Incentivize customer referrals
Putting together a customer referral program brings two benefits with one action; it attracts potential customers and rewards your current customers. In terms of sales potential, referral programs can be significantly more valuable than other strategies.
And they're not that expensive, either! In fact, 54% of businesses say it costs less than other marketing channels.
Take for example this amazing customer referral program by self-showing rental company Showmojo. This is how it works:
They give their customers a referral link
When a new user signs up with that link, they immediately save $50
The customer who originally referred them also gets a $50 credit if the referral stays with ShowMojo for 45 days
The customer gets another $50 credit if the referral stays with ShowMojo for 145 days
Customers can repeat this referral process as many times as they'd like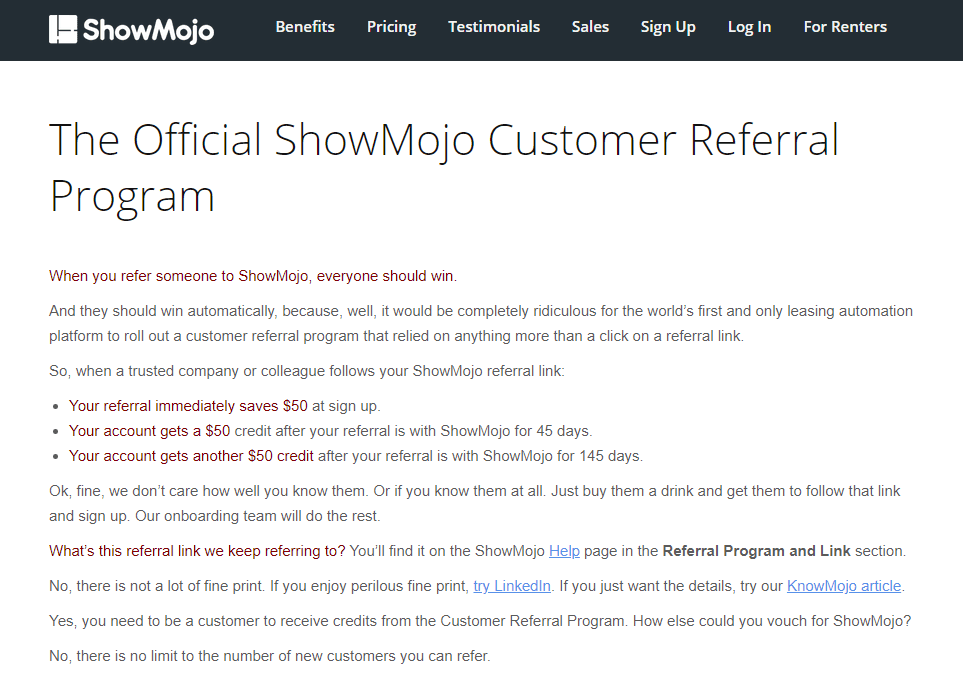 By rewarding both a current and new referral customer, you build a stronger bond with both, thus increasing loyalty.
6. Use targeted and personal marketing campaigns
Personalization has always been one of the strongest marketing tactics, and with good reason — the effects of putting out a more personalized message are long-term.
In fact, 70% of consumers say a company's understanding of their personal needs influences their loyalty.
So, simply using your customer's name or making that extra effort to collect more personal information can make your advertising copy, push notifications, or email campaigns more effective.
Below are simple yet powerful examples of personalized marketing you can try to boost customer retention:
Display personalized offers to returning visitors
Change store navigation based on visitors' preferences
Send personalized emails or notifications based on customers' behavior
Sort recent products by level of interest
Recommend product categories based on browsing behavior
Remind shoppers of recent engagements
Suggest complementary products or show product recommendations
7. Offer excellent customer support
Studies have shown that only 1 out of 26 ecommerce customers will complain if they've received bad customer service. The other 25 will most likely just leave without saying anything.

So, if you want to acquire and retain customers, ensure you offer them the stellar support they need.
What are some of the ways to improve your customer support?
Build a customer care team for inquiries, complaints, and clarification.
Give customers an easy way to reach you, or try using a contact center.
Streamline your order fulfillment processes to reduce common problems.
Actively listen to customers so you can identify issues and create a solution.
8. Start a customer loyalty program
Starting a customer loyalty or reward program is as straightforward as customer retention gets.
Through cashback, discounts, and other perks, you're incentivizing customers to do business with you.
Some of the effective loyalty programs that you can include in your customer retention strategy are:
Exclusive deals to loyal customers
Exclusive lifetime membership
Coupons
Cash-back offers
Welcome gifts to new shoppers
Rewards points for redeemable products or perks
When launching a loyalty program, make sure to only adopt personalized programs that make the customer appreciate your brand.
9. Don't just engage for the sake of it
Engaging with customers becomes more real to them if you show the desire for genuine interaction.
Effective communication is the hallmark of brand loyalty. Communication can be encouraged by sending text messages, surveys, and social media invites to your customers.
You should also provide information on other ways they can reach out to you, but make sure you're willing to answer those messages. Place social media icons and integrate a chatbot on your store website to make this process easier.
10. Learn more about your most loyal customers
To understand more about loyal customers' average spend and frequency of store visits, most marketers use the Recency, Frequency, Monetary (RFM) model.
The metric establishes consumer behavior using those three quantitative measures to determine how customers behave when navigating through a store.
Using the RFM model, you can rank a customer on a scale of 1-5. The most valuable customer is the one with the highest score in each category.
11. Use a subscription model
Following a subscription (or recurring revenue) model is becoming increasingly popular in many industries, not just ecommerce.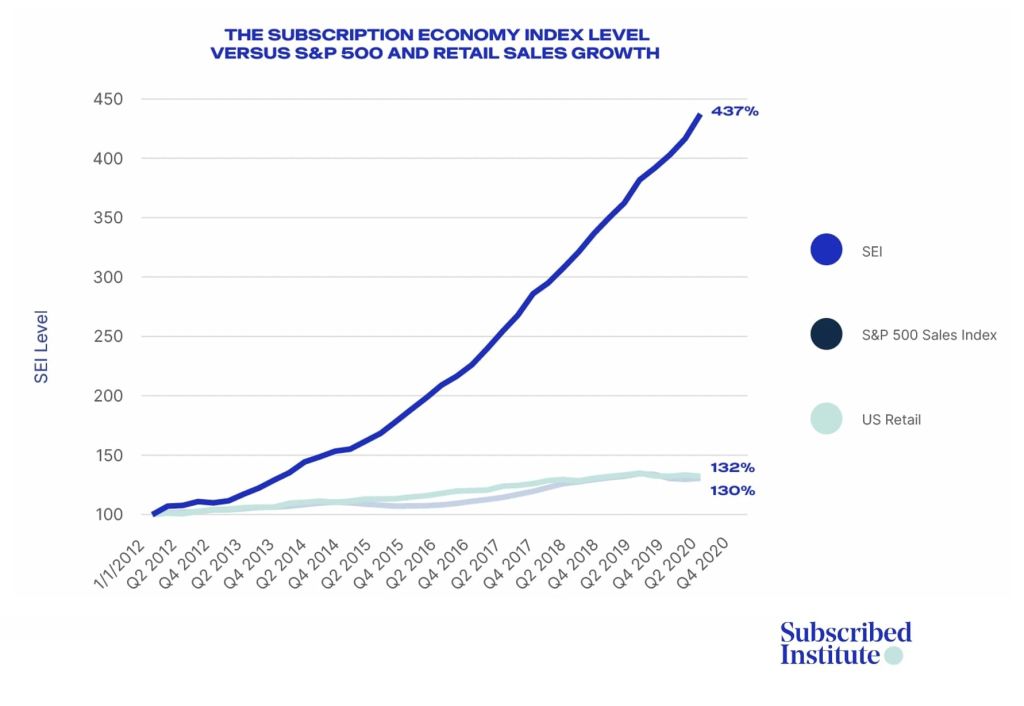 Subscription models can come in many forms, and have gained traction across a wave of industries, from coffee to fashion and beauty.
If you are going to commit to a subscription model, you should prepare to track key touchpoints of your website in a different way so that you maximize the value from your most important subscription metrics.
Conclusion
Retaining your customers boils down to one crucial goal: making your business the obvious choice for customers over anyone else.
That means you should always be willing to try new approaches — as long as they help keep your existing customers coming back. Remember, it's easier to make current customers happy than to look for new ones.
What are the steps you've taken to make sure your customers are loyal to you?
This is a guest post from Burkhard Berger, founder of Novum. You can follow him on his journey from 0 to 100,000 monthly visitors on novumhq.com. His articles include some of the best growth hacking strategies and digital scaling tactics that he has learned from his own successes and failures.