The era of subscriptions is upon us. Subscriptions are the fastest growing sector in the ecommerce industry and show no signs of stopping.
If you're not selling by subscription yet, now is the time to start. If you are selling by subscription, make sure you're using the right tools to get the best return on your efforts.
Recharge is the leading subscription payments solution to help launch and scale your subscription business on major ecommerce platforms like BigCommerce.
Subscriptions help you build meaningful relationships with your customers; Recharge empowers you to make the most of those relationships.
Is now the right time to start selling by subscription?
The short answer? Absolutely.
For a bit more detail why, we can look at a few industry statistics and trends. First, market projections point to the subscription ecommerce industry being worth over $246 billion by 2025 — a greater than 9,400% increase since 2016.
Selling by subscription also provides a highly sought after benefit: consistent, recurring revenue. Having a predictable income source frees up time for your management team to focus on planning promotions, investing in future products, and maintaining inventory, all while more accurately projecting profits.
What if I'm new to subscription selling?
Thanks to the huge amount of growth in the space, there's no time like the present to jump into subscriptions.
In their 2021 State of Subscription Commerce report, Recharge identified that most successful subscription sellers each follow three strategy points: cultivating loyalty, offering flexibility, and choosing the right key integrations.
Incorporate these traits into your store, then carve out your niche in the market. Compete on speed, agility, and innovation and you can challenge existing top brands with new, innovative products that make your store unique.
Boost retention with flexible BigCommerce recurring billing
Customer retention is key to the success of any brand—but for recurring revenue businesses, it's particularly crucial for maximizing the benefits a subscription business model has to offer.
You can increase the lifetime value for your BigCommerce store by reducing churn with Recharge's subscription payments solution.
With Recharge, you can:
Reduce churn by allowing customers to freeze deliveries or edit their delivery schedule
Add special one-time purchases and product swaps so customers get exactly what they need
Employ strategies to improve payment conversions and avoid involuntary churn, such as automatic payment retries and dunning
Create custom workflows with powerful APIs
What kind of subscription experience do you want to create for your customers? Whatever your vision, Recharge's APIs help you make it a reality by allowing you to create workflows to customize your subscriptions as much as you like.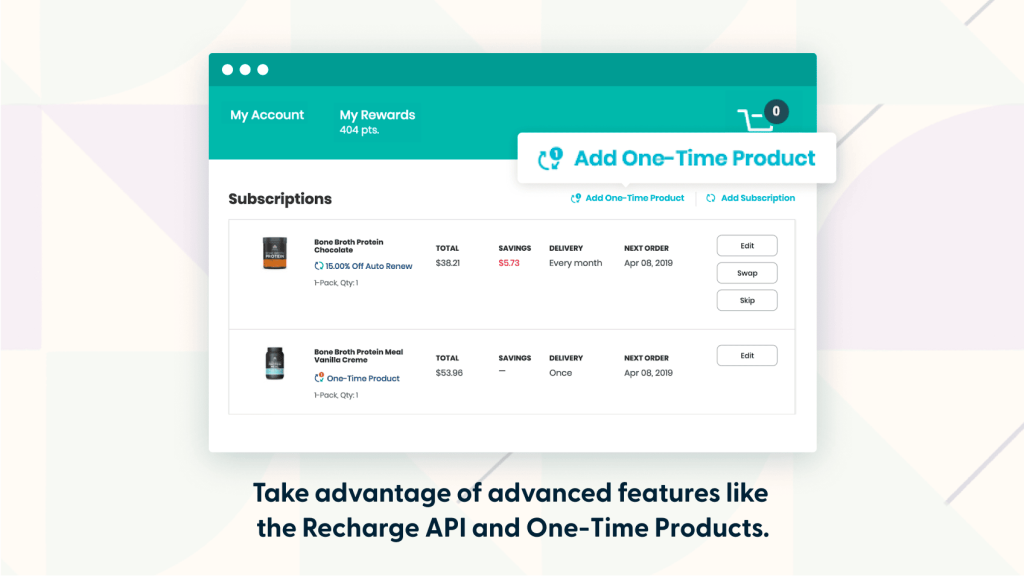 Looking to incentivize shoppers to sign up for a subscription? Create a free trial workflow. Trying to increase AOV? Build a workflow that offers free shipping once customers hit a set minimum purchase amount. You can even customize the perfect customer portal for your online store.
If you're serious about subscription analytics, though, data and reporting will play an essential role in your success.
Measure your performance with data and analytics
Data-driven decisions are the most critical part of any strategy toward scaling and growth. Thriving ecommerce businesses depend on accurate analytics to assess customer acquisition strategies, inventory orders, potential product launches, and everything in between.
Recharge's analytics features give you greater insight into what your subscribers want and need so you can meet them where they are and achieve your goals.
With Recharge's enhanced analytics suite, you can:
Assess the health of your BigCommerce store through key performance indicators like AOV, LTV, and churn rate
Analyze different customer groups using cohort selection capabilities so you can fine-tune your business strategy to better meet customer needs
Build dashboards to track trends in revenue and visualize your performance in new ways
Advanced tracking and reporting in Google Analytics
Littledata's Recharge connection for BigCommerce is an advanced tracking solution for any merchant using GA to get granular data about subscriptions, customer behavior, marketing and customer lifetime value.
Once activated, it unifies data in the background using webhooks from BigCommerce and Recharge. Littledata makes it easy and convenient to do Recharge subscription analysis in Google Analytics by setting up dedicated views for first and recurring subscription orders placed via Recharge checkout.
Plus, it's a flexible data platform. Many Recharge merchants use the data Littledata sends in connected tools such as Glew, Tableau and Data Studio.
The connection is a plug-and-play solution for advanced analytics, letting you:
Automatically track one-off purchases, first-time subscriptions and recurring transactions in Google Analytics
Calculate marketing attribution for subscription revenue
Track browsing behavior and the check-out funnel
Improve marketing attribution with Littledata's unique combination of client-side and server-side tracking
Tip: Learn more about how to take a data-driven approach to subscription commerce in Littledata's Ultimate Guide to Subscription Analytics.
Ready to get started?
With the subscription selling market continuing to surpass growth milestones and consumer demand for subscription products skyrocketing, now is the time to establish your subscription selling channel and claim your share of the market.
With Littledata and Recharge for BigCommerce, you can make that leap with the tools to power success now and in the future. It's easy to install both Littledata for BigCommerce and Recharge for BigCommerce from the BigCommerce Apps Marketplace.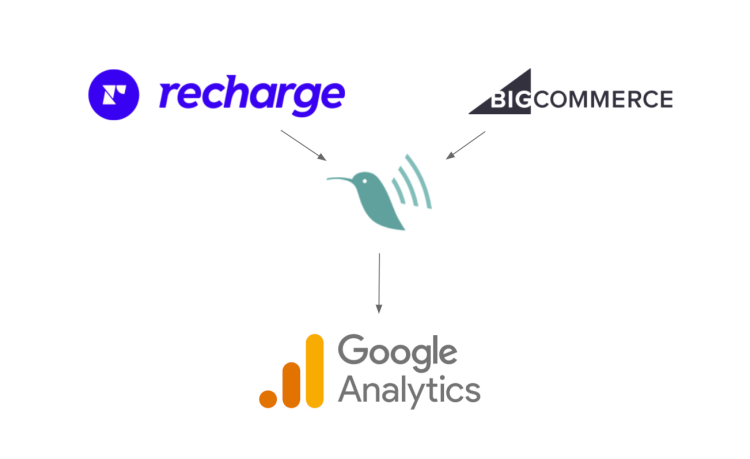 Once installed, Recharge opens within your store (or you can access it via Apps and selecting Recharge Subscriptions). You'll automatically be on Recharge's Standard Plan with the Advantage support plan. Visit the Recharge pricing page to see what's included in your plan, and to learn more about the Recharge Pro Plan or the Enhanced support plan.
This is a guest post from our friends at Recharge.