Choosing between Littledata and Elevar to get deeper insights into the data for your Shopify store?
While both can offer data fixes to help you drive growth, each tool follows a different path to help you get there. Littledata is a no-code solution that works automatically for any Shopify or BigCommerce store.
Elevar vs Littledata: 1,000 foot view

Littledata
Littledata is an ecommerce data platform built for tracking the entire customer lifecycle and unifying these touchpoints in the most popular data destinations.
With Littledata, you can:
Automatically track every critical ecommerce event, including product clicks, refunds, and third-party checkouts via a "plug and play" solution
Use both server-side and client-side tracking to see how customers behave on your Shopify store with 100% accuracy
Get accurate analytics in your preferred data destination (like Google Analytics, including both Universal Analytics and GA4, or Segment)
Collect data from a store built on any theme or a headless setup
Try any plan completely free for 30 days, with support from an analytics expert
Uninstall without losing historic data
Automatically set up tracking for Meta's Facebook Conversion API
Free Data Audit from our experts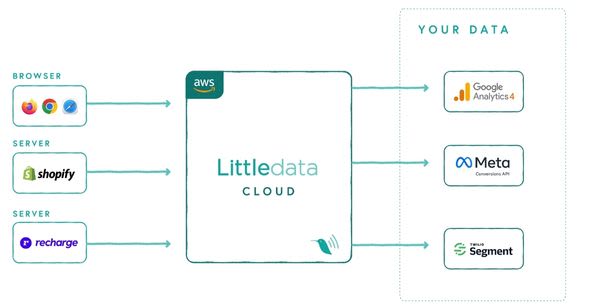 See what you can track with Littledata for Shopify and BigCommerce.
Tip: Did you know? Littledata's smart data layer actually replaces Google Tag Manager for Shopify stores, capturing ecommerce events with granular detail. As an added bonus, all plans include a GTM data layer for reuse with additional marketing tags.
Littledata also includes complete subscription tracking for Shopify and Shopify Plus, with support for all known recurring billing apps (Recharge, Bold, Smartrr, Skio, Rebuy, Ordergroove, etc), and also supports Recharge on BigCommerce.
Elevar
Elevar provides a reliable source of ecommerce data through a Google Tag Manager setup built on top of Elevar's data layer.
With Elevar, you can:
Use a custom-built GTM integration to send data to your chosen marketing channel tag integrations
Send data to Google Analytics via Elevar's Google Tag Manager Suite
Monitor your GTM setup to fix broken conversion tags
Purchase one-time expert onboarding to migrate/setup Elevar's service
The differences between Elevar and Littledata
While both Elevar and Littledata provide reliable ecommerce tracking in GTM, Littledata offers a quicker setup by going directly to Google Analytics, Segment, or your chosen destination — including server-side events.
Littledata is a plug-and-play solution for modern DTC brands that value data accuracy. Littledata's data layer for ecommerce tracking was developed over 5 years of working closely with top brands on Shopify Plus.
When choosing a data platform or tracking solution, it's important to think about what can be tracked automatically versus what requires a custom setup from an agency or developer. In our experience, it's better to start with a complete ecommerce schema than to try to build one yourself.
Here's a quick breakdown of how each service tracks common ecommerce events.
Littledata events Vs Elevar GTM Suite
| | | |
| --- | --- | --- |
| | Littledata | Elevar |
| Pageviews | ✔ | ✔ |
| Product view list | ✔ | ✔ |
| Tracks product list views as you scroll | ✔ | – |
| Product list clicks | ✔ | – |
| Product detail | ✔ | ✔ |
| Add to cart | ✔ | ✔ |
| Remove from cart | ✔ | ✔ |
| Product image clicks | ✔ | – |
| Product social clicks | ✔ | – |
| Orders | ✔ | ✔ |
| Refunds | ✔ | – |
| Checkout steps | ✔ | Shopify plus only |
| 3rd party checkout attribution | ✔ | – |
Plan comparison
Elevar
As detailed on Elevar's pricing page, they offer everything from a $50 plan which includes their data layer, GTM templates, and tag monitoring to a $250 advanced plan with all basic features plus monitoring for broken tags and server-side tracking support, to a $450 plan offering server-side tracking via Google's Cloud server.
Elevar's $150 plan is their most popular, and with good reason as it offers server-side tracking to deliver first-party data. However, this price doesn't include the $750 expert install fee—a critical add-on if you want more than a simple setup wizard to guide you through adding all your tags and integrating their tracking properly. Also if you are looking to have ongoing tagging and support that will start at $500+ per month ongoing.
What's more, using a GTM setup like this means high maintenance of tags to ensure they aren't breaking and losing data. So the cost of that $750 setup fee rises as you spend your own time maintaining tags or paying another $750 on top of setup for Elevar to manage them. Be sure you know what you need before going into pricing your purchase as you may end up needing to budget for more than it appears at first.
Littledata
Littledata's offering starts free for those doing less than 50 orders a month above that pricing starts at $129/month for standard plan that includes:
100% accurate analytics set up to your preferred data destination
Unlimited connections for tracking subscriptions, checkout funnels, refunds, upsells/downsells, and more
Marketing channel tracking for comparative attribution, action, and analysis, including Facebook Ads, Instagram Ads, and Google Ads
Detailed tracking for email marketing tools like Klaviyo and affiliate marketing platforms like Refersion
Plug and play solution that doesn't require setup or maintenance
Server-side tracking to maintain accurate data while complying with privacy regulations and avoiding cookie blocking
Hourly audit checks to ensure no data loss
30-day free trial
For stores processing more than 8,000 orders per month, Littledata offers plus plans that start at $599 per month, which include all Standard benefits plus email support. Of course, if you choose to pay annually Littledata offers a generous 20% off discount.
If you're an enterprise-level store processing tens of thousands of orders per month, Littledata offers an Littledata Plus Plan with unlimited connections and country stores, 72-hour priority expert support, and guaranteed greater than 98% uptime for tracking.
Implementation
Another significant area of difference between Littledata and Elevar is how each tool is implemented on your store.
On Elevar's side, as previously mentioned, you as a user will set up their GTM solution and add the tags you want to track. If you want expert help from their team to set up tags for you, you'll need to upgrade to the most expensive plan.
Littledata, on the other hand, is a plug-and-play integration. On any plan, Littledata's data layer automatically adds to your store and begins fixing your tracking to give you accurate analytics. This saves both time and money, as you and your team could be losing hours of work time setting up Elevar's solution on your own or be required to pay for the setup service.

Server-side tracking
Both Elevar and Littledata provide server-side tracking. The main difference is how they're actually implemented.
As mentioned above, Littledata is a plug-and-play app that adds the server-side tracking events automatically, while Elevar requires extra time to set up server-side GTM or a higher fee for a managed setup service.
Subscription analytics
Both Elevar and Littledata's plans include subscription analytics tracking and enable sending data through services like Recharge to Google Analytics.
However, only Littledata's subscription tracking offers robust, real-time attribution of recurring orders to marketing campaigns. Littledata works automatically with any recurring order app on Shopify, including Recharge, Smartrr, Ordergroove, Skio, and Bold Subscriptions, plus Recharge on BigCommerce. That's why brands like GRIND Coffee go with Littledata for complete Recharge tracking.
Littledata is the top-rated Shopify app for subscription analytics and has become the go-to solution for merchants who want advanced Google Analytics tracking.
Tip: Learn the ins and outs of subscription analytics in our complete guide.
With Littledata, everything is captured automatically:
One-off orders, first-time orders, recurring transactions and post-purchase upsells
Subscription products and product mixes
Multi-currency sales and subscription orders on different country stores
Subscription lifecycle events such as Subscription Updated (Recharge only)
Marketing attribution for subscription payments
LTV data for cohort-building and lookalike audiences
In addition, Littledata allows users to add custom dimensions that help calculate LTV by product, channel, or source. You can also track one-time orders, first-time payments, and recurring transactions while getting accurate attribution for each.
If you use the Recharge connection, you can follow our guide to identifying which marketing channels bring your most profitable customers.
What's more, Littledata's solution works with headless setups and allows users to send subscription data to other sources besides Google Analytics, like Segment, Glew, Google Data Studio, and Tableau.
"Once [we] decided to rebuild [our] website, we were on a timeline. We were looking for services that could cover some of our gaps and maybe put some critical funnel events into place for us without having to spend a lot of internal time and resources doing it. That's really where Littledata's Segment connection came in to help." – Matt McLean, analytics engineer at Rothy's
Use cases for Littledata
Littledata is ideal for stores that need a low-maintenance way to track one-time and recurring orders automatically. It was built specifically to help businesses automate the complex or frustrating parts of ecommerce tracking and reporting.
Depending on the connections and setup you choose, Littledata has many different beneficial use cases. Typically, though, we see stores turn to Littledata for one of three main reasons:
1. Making better business decisions with a single source of truth
In a sample set of larger direct-to-consumer (DTC) Shopify stores not yet using Littledata— together processing over 50,000 orders a month—we found that on average only 88% of their orders were tracked in Google Analytics. Stores with non-standard checkouts (using apps like ReCharge and CartHook) fared even worse, with as few as 9% and only a maximum of 70% of orders being tracked by Shopify.
Missing that amount of orders in your tracking is going to have a serious effect on your decision making, not to mention skews your true revenue. Littledata was built to help stores get their data right, especially for key metrics like marketing attribution and LTV.
Tip: Learn more about why Google Analytics often doesn't match Shopify's data, and how to fix it.
Our app fixes attribution for both Shopify and BigCommerce stores automatically with a combination of server-side and client-side tracking that stitches sessions together to make sure nothing's lost.
The result—you can rely on Google Analytics or Segment (or your preferred data destination) as the single source of truth for both pre-click and post-click data, segmented remarketing, and comparative attribution models. Our script uses a gtag and GTM data layer, and can easily (and automatically) supplement and improve your GTM setup. In fact, many clients find that they no longer need GTM.
2. Accelerating growth using first-party data
New privacy regulations, cookie blockers, and major tracking changes through iOS 14 (and beyond) are removing traditional data collection methods as options for marketers.
The solution to maintaining accurate metrics that drive growth is first-party data. Littledata uses server-side tracking to ensure you get accurate data sent to your chosen destinations without worrying about interruption from these roadblocks.
Plus, Facebook Ads can still be a source of valuable metrics when you use Littledata's Facebook Conversions API (CAPI), which clears up revenue discrepancies and shows who your most valuable customers are so you can retarget them.
3. Sending unified customer data to hundreds of destinations
As brands scale, they often reach a tipping point where they need to set up a data warehouse like Snowflake or Redshift to manage their data, or add more sophisticated tags and triggers in marketing destinations like Klaviyo, Iterable, and Facebook Ads.
Note: Ready to learn more? Book a demo with an analytics expert
Common uses cases with Littledata include:
The Segment CDP unifies funnel events and customer profiles, making it a powerful solution for these growing stores. Littledata's Shopify source for Segment works out of the box, cutting down development and implementation time to days instead of months, ensuring consistent data on an ongoing basis.
Segment also allows you to create personas of your most valuable shoppers, so you can hyper-target your best buyers and drive revenue and conversions. It all starts with a tracking plan consultation with our analytics experts.
Tip: Learn the secrets to data-driven decision-making through a well-built tech stack.
Use cases for Elevar
The most common use cases for Elevar are clients who want a lot of customisation, or the ability to send data to unusual destinations.
If you're looking for a completely custom data collection setup that you control and set up yourself powered through GTM, then you may choose Elevar to build it.
So — Elevar or Littledata?
Littledata provides a more complete view of the customer journey, better subscription analytics tracking, all the data destinations you need to manage social campaigns, ads, data warehouses, and more.
While Elevar and Littledata are very similar when it comes to server-side tracking and overall marketing attribution calculations, the Littledata ecommerce data platform comes as a plug-and-play solution that can be set up in minutes and starts working automatically as soon as you install. This isn't just at the outset or during your free 30-day trial, but ongoing: Littledata handles everything behind the scenes to keep your tracking working, even for headless setups.
Note: Littledata is happy to be a part of the modern data stack for ecommerce, as mentioned often in reviews on G2.
Littledata eliminates the need for spending hours on regular maintenance of marketing tags or paying for an expert to handle this. If you want to customize your tracking, spend your time actually customizing, not trying to recreate a granular ecommerce tracking schema from scratch. That's why Littledata has options for both low-code and no-code solutions, at highly competitive pricing that is 1/10 the cost of service-based solutions.
If you're looking to get truly accurate data across each customer touchpoint that will help you determine your most profitable marketing channels, audiences, and growth strategies, Littledata is the choice to help you reach your goals. See what top DTC brands are saying about Littledata.
Tip: Get a free store audit from Littledata and experience the difference for yourself.