Subscription ecommerce is booming. Sales in the industry are on pace to double since 2019, and Shopify expects the global subscription market to continue to skyrocket to $246 billion in worth by 2025.
In addition to enormous growth, one of the most attractive aspects of subscription selling for merchants is the dependability it provides through recurring revenue. But to win customers, retain them, and secure your piece of that giant subscription sales pie, you need to delight your customers using the right strategies.
In this edition of Lunch with Littledata, we talk about how to do just that with the team that knows best—Smartrr. Founder and CEO Gabriella Yitzhaek Tegen shares the mission behind Smartrr, how to best retain customers, what the future of subscriptions holds, and how stores can leverage data to ride the subscription wave to amazing heights.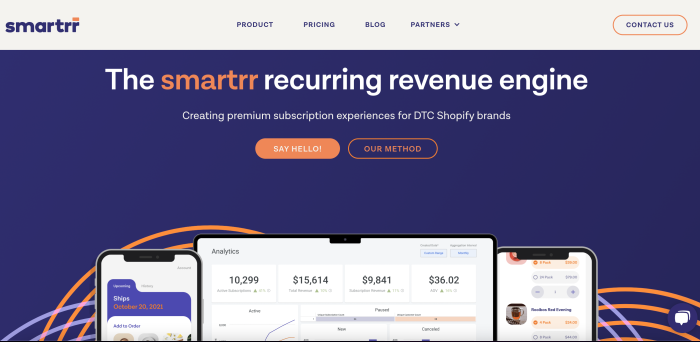 Greg from Littledata: Can you tell us the Smartrr story?
Gabriella from Smartrr: Before Smartrr, I was working at a commercial real estate prop-tech company. Loved it. I scaled the sales org and got to work cross-functionally with product and engineering and marketing. But when COVID hit, it just started to feel slightly unfulfilling, as you can imagine selling commercial real estate data to Fortune 500 companies might.
It felt like I wasn't necessarily appreciating the opportunity that I had to make a difference in the world. Not saying that subscriptions are making a huge difference. But at the foundation (of Smartrr), we wanted to try to help small businesses impacted by COVID. Even just locally, we thought about what shops were being affected, and that kind of pivoted and grew into me interviewing founders to understand what I could learn about Shopify, BigCommerce, and all these ecommerce platforms to try to help those small businesses turn their business online.
But that brought light to a larger issue—subscriptions were really cumbersome, very expensive to launch, challenging to manage, and quite archaic in how they were being processed. As a salesperson, that really intrigued me.
So Smartrr started off with the idea of "Let's try to help the small businesses," and we definitely still try to do that. But we've also realized that we can help really large companies with the same issues. It's kind of crazy that companies of all sizes are facing the same problem. So that's how we started building our solution.
Greg: What has it been like to see the subscription boom that's been happening over the past few years?
Gabriella: I mean, it's happened everywhere. Recurring billing has blown up. B2B, B2C, you even see brick and mortar shops doing a ton of recurring purchases—floral shops, grocery companies, meal delivery companies. I think it's fascinating. It's showing us that people want convenience and they want to be loyal to a brand.
For a while, shopping was about having as many choices as possible, like the "Amazon model" of being able to pick one out of a thousand soaps or one out of a thousand dog foods. But now, people want that singularity. So if we can help strengthen that brand affinity, then that obviously really helps brands overall. It's been interesting to watch, for sure.
Greg: For stores that want to start selling subscriptions, do you have any advice on how they should go about it?
Gabriella: Oh, man, I don't know if we have enough time. I feel like the guides out there now are very one-size-fits-all. That's likely in part due to how limited the tech stack has been pre-Smartrr. Not to toot our own horn here, but a lot of these online resources say to start with things like offering multiple products with a 20 percent discount, then launch and it will grow.
But in reality, we've seen that that's not how it works, right? You really have to be in touch with what your business is. What about it is subscribable? Is it the experience that you provide? Is it convenience? Is it perk-related? Is it community-related? Then build on top of that. So what you'll see is a subscription business model that's successful for a cleaning company is going to be very different than for a caviar company, and you should be aware of that.
"You really have to be in touch with what your business is. What about it is subscribable? Is it the experience that you provide? Is it convenience? Is it perk-related? Is it community-related? Then build on top of that."
But high-level quick tips would be definitely free shipping, which we see converting at a really strong rate. Definitely setting up the engagement with that consumer and letting them have the flexibility to manage their subscription. And definitely rewarding them when they do prove that they have brand affinity, whether it's through referring the product to their friends and family, gifting it, or just being a long-term customer of yours.
Greg: Dovetailing off that a little bit—what are the most successful subscription strategies you've seen besides the high-level ones you just mentioned?
Anything specific brands have done that you've noticed really worked for them?
Gabriella: Yeah, I mean, this one's very simple, but there is a direct correlation between the brands that have really great products and great customer service also having the most successful subscription business. It's not like turning on free shipping is going to magically make you be successful. Because you might convert those customers, but you're giving up AOV by giving a discount, and then not having them retain is actually worse for your business, right? So I would say having a great product is number one.
Having a community is really powerful for brands, too. We work with a lot of women's health and beauty companies, for example, that have this community where people are not only buying the product but then engaging with like-minded women and talking about their health stories or their fertility stories. It's similar with pet products, too. You always want to kind of like have this community of pet owners, so that has been really interesting.
And then gifting has been huge for our brands. This is not really the convenience-oriented companies like cleaning supply companies, for example, but more so jewelry companies or apparel companies or fun products that are now gifting subscriptions. So terminal subscriptions that end after three months or six months have been really powerful.
"There is a direct correlation between the brands that have really great products and great customer service also having the most successful subscription business."
Greg: How important would you say data is for subscription selling and for Smartrr users specifically?
Gabriella: Great question. I think it goes back to brands thinking it's really easy to get customers to set up subscriptions and just forget that they exist, right? Which is kind of again touching on the low bar of expectation that has been set by the existing tech stack.
Now you see companies like Smartrr and like Littledata showing that by understanding your business through both micro and macro levels, you can make for a smarter subscription business…
Greg: (laughs) Nice.
Gabriella: But no, jokes aside, we talk to brands all the time that don't know what products are more successful in their subscription business than others.
So if we talk to, let's just say, a smoothie company or a meal delivery company that has no idea if their Chicken Marsala or their Chicken Parm are liked by their consumers. So other than generic reviews that are just touching on the high-level subscription, they have no idea if it's a successful product for them. They're not looking at margin necessarily or LTV or AOV. They're not looking at churn by product or by subscription type. They don't know if a six-week delivery of product or a four-week frequency is more successful.
So, having that insight into your business can, if anything, just accelerate the rate at which you perfect your subscription model.
Greg: Right. Just going back and looking at your methods, always learning and improving.
Gabriella: Right, but also cutting down on the time. You could say that theoretically, with enough time, anyone can figure out what works for their business. But if we can cut down on that time, that could make or break a business.
Greg: True, that's a great point. Especially for smaller bootstrapped ecommerce businesses, they don't have a lot of time to dedicate to those things.
Gabriella: Exactly, exactly. And you don't have a lot of resources, right? Some of our larger brands have a data manager or an analyst. But a lot of brands, even brands, frankly, that have 10,000 or 20,000 subscribers that are using Smartrr don't have someone internally for that.
So having tools that can also just simplify the data they're getting and make it more accessible for the average user has been really powerful, too.
Greg: Do you see any of your users—maybe your more data-savvy users—leveraging personas at all, maybe by identifying their top buyers and then trying to retarget them?
Gabriella: Yeah, that's interesting. Like you said, it's definitely for the more sophisticated client base. I think even just having basic information, which we provide, such as attribution around subscription is helpful. Knowing that X amount of sales came from Facebook as a channel, or that X amount came from direct traffic allows them to invest more into the channels, not just with spend but with an understanding of something like "OK, 50 percent of our business is coming from gifting."
Converting into subscribers like that is the kind of insight that has been game-changing for brands that might not be at that stage where they have the capability of understanding personas.
Greg: Right, that makes sense. To make personas, you have to know your attribution and which channels are working before you can segment buyers.
Gabriella: Yeah. So most commonly, our users are looking at what their top products are, both from a sales and a retention standpoint. We have a really cool retention matrix that lets them see based on cohort how products—and in general their subscription business—is doing.
They're looking not only at how many subscribers they have at any given moment but also how that trend has grown or not over time.
Another thing our customers look at often that we recently came out with is smart cancellation. It gives brands the ability to ask customers for specific reasons why they want to cancel a subscription. So let's say my product is flavored water, and one of the reasons a customer canceled is that they don't like their flavor. Another might be that they have too much product already. Or maybe they're going on vacation. Now, through the Smartrr dashboard, customers are able to cancel their subscription, but before doing so, it'll ask you select the reason why.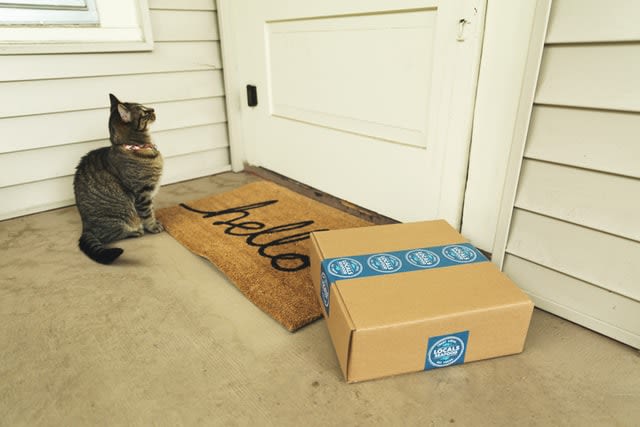 So, for the person receiving too many products, it'll prompt them with the option to skip an order or delay by three months. For the customer who would select that they don't like their flavor, it'll ask them if they want to swap. For the customer going on vacation, it'll ask them if they want to gift their item to a friend or family member. And we now collect data on each of those cases so our brands can see what is causing churn and what exit prompts have actually been successful in retaining customers. That's been really helpful for our users.
One other one I can mention is Smartrr users being able to see what frequency and price are most successful for a subscription. It's almost like A/B testing, but instead of having them both run congruent, you can see in one six-month period versus another six-month period that subscriptions were healthier when you charged three dollars less, for example.
Greg: Do you see any major challenges that subscription merchants are facing right now? Or any that you see on the horizon?
Gabriella: Yeah, I think firstly the transition from the "subscribe and forget" model to what we're trying to do with Smartrr, which is create better engagement with the consumer to better understand who our consumers—both for one-time and subscription purchases— are.
There are other issues that really face all DTC brands but heavily hit the subscription side. One very obvious one is around supply. We have a lot of our clients selling out of products, which sounds like a good issue to have on the surface level. But in actuality, it's stopping their growth. It's cool from a PR perspective, but ultimately, if you can sell product, obviously you prefer to do that. We have one client that we launched with and in a couple of days, they sold over 100,000 units, which was their entire first batch.
It was supposed to last them for months, but they went viral and that was that. So now they have to wait for a new product to be built and made, and they don't know how long that will take.
Greg: That's an interesting one—definitely something that could happen if you grow more quickly than planned or if you're limited by something that's outside your control.
Do you have advice for a business that's put into that situation?
Gabriella: Yeah, that's a great question, actually. Another one of our brands that recently sold out is doing something quite interesting—which we can do for brands across the board—but they're developing a waitlist for their subscription. So they're a subscription-only business, and you can only buy their product with a refill involved.
What they're doing is rather than charging customers now for the full amount, given that they don't have the product, they're going to charge one dollar upfront that locks you in for the refill. Then when the product is back in stock and they start shipping again, that consumer gets charged the full amount and their subscription begins.
So I think creating hype around the lack of supply is good. Then on top of that, making sure that you're not missing out on the hype at the moment because you don't know who's going to remember your brand when you are back in stock. Get them on the hook now for a dollar or samples or a free trial. If you have something else that you can provide them, that's the best idea to follow.
Greg: Right, and just keeping them in the community.
Gabriella: It's just being transparent with your customers. That adds to brand affinity and allows people to be more loyal to these brands initially. They are aware that there's a waitlist and this is a pre-order, but they're so excited and so bought into that brand that they want to stay engaged and the merchant's helping them understand why they don't have a product quite yet.
It's just about being super transparent and helping your customers know that you're going to keep them in the loop about everything to have a more honest relationship.
Greg: Have you seen any significant trends taking over in subscription ecommerce?
Gabriella: We build Smartrr functionality based on what brands are striving for. So just speaking to what we have seen, there are a lot of trends around digital subscriptions. You're seeing physical products come out with an app component.
Another big one is gifting. A terminal subscription can be a good idea for engaging the kind of outlier network of your consumers. For example, Sock Fancy is a brand that we launched where you can gift a subscription directly to your friends and family. So for Valentine's Day, I gifted my husband a subscription to socks. They're beautiful socks, super high quality. It's a great experience.
He received an email that I had put together days ahead but that was sent on Valentine's Day. Then he was able to redeem his gift and loved the surprise. From the brand's perspective, it's interesting because they then collect not just my email address, but my husband's as well. So obviously when that subscription ends, they can target him to buy an auto-renewal subscription. Plus that approach works nicely with the majority of products.
Greg: What's your hiring strategy at Smartrr? Do you focus on recruiting people with previous ecommerce experience?
Gabriella: Hiring is definitely important for us. I would love to have a team of experts, but honestly, I don't think it's required. What we're building at Smartrr and what our community, in general, is built around is something that's very intuitive in my mind: we're all consumers. We all experience what it is to buy something online—what it is to manage something online. We all have subscriptions, right? So that feels like a natural fit, regardless of whether or not someone worked in ecommerce.
My experience was as a real estate director, and I actually worked in fintech before that.
For us, honestly, we want really smart people. I have no doubt that a smart person can learn everything that I learned in the last year or two by diving in.
We've also learned so much through our partners and through events where we've gone to meet partners and form relationships. Everyone is so willing to jump on a call and just chat through different situations. That makes the learning curve so much easier because again, we're hiring motivated individuals and, intrinsically, they are excited to learn more. It really creates a best-case scenario for moving from a different industry into the space.
So I don't necessarily think ecommerce experience is a requirement for us. It's more about finding out—are you smart? Are you driven? Are you fun to work with? We want a good group of people and we've been (knock on wood) really, really fortunate in being able to hire people that fill all of those things for us.
Greg: I've noticed that myself coming from a non-ecommerce background. The industry is so welcoming and people really want to help each other out. As they say, a rising tide lifts all boats.
Gabriella: Yeah, I love that.
Greg: Last question, anything coming down the road for Smartrr that you'd like to share?
Gabriella: Oh, man, we have a lot. We've made some recent vendor portal enhancements to make it easier for our clients to do more with subscriptions for their business. We launched new functionality like full-on gifting and prepaid subscriptions. And we have a couple more surprises coming down, but I won't spoil them quite yet.
Quick links: