Last week, Google formally announced that they will be "sunsetting" Universal Analytics and pushing all users to move to Google Analytics 4 (GA4) by the second half of 2023 interrupting your data stream in your analytics account. Does this mean that you should drop everything now and start fully embracing GA4?
Actually, things are a bit more complicated. Like everything in the world of data, we recommend a methodical approach to the change.
We've already outlined Littledata's approach to GA4 for ecommerce stores. So in this article, we'll take a deeper look at what Google just announced, what this means for your analytics setup, and recommend next steps for merchants using Google Analytics with ecommerce platforms like Shopify and BigCommerce.
What's happening to Universal Analytics?
The summer of 2023 may very well be remembered across the ecommerce industry for the rise of GA4, as Google is officially sunsetting its predecessor, Universal Analytics (aka UA, GA3, or the "old version" of Google Analytics).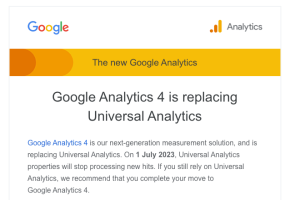 This announcement may have come as a bit of a surprise to some. GA4 has been available for a while but wasn't made a priority before.
Fortunately, moving from UA to GA4 doesn't have to be a headache for your team—as long as you have the right setup in place. Littledata already has a GA4 connection that select customers have been using by setting up their Google Analytics 4 properties (creating a property) and connecting the Littledata app for event tracking and analytics since the news broke.
Google promises GA4 will bring an adjustment to more granular data, giving users more insights and better control over customers' privacy. This includes across multiple devices like websites and apps. That second point is especially important as the industry makes a major shift away from cookies toward embracing first-party data across platforms. Making it harder to track the customer journey without the proper setup.
What we know about GA4
On July 1, 2023, Google will stop standard Universal Analytics properties from processing data. Your Universal Analytics reports will remain visible for a short period after the change (Google hasn't specified how long) but new data will only flow into GA4 properties.
In other words, if you haven't already, you need to create a GA4 property ASAP.
With the switch to GA4, Google promises several significant changes aimed at making its Analytics tool more "consumer-focused" overall.
This, among other features, includes:
A privacy-centric design to maintain key insights despite cookie blockers and privacy regulations
A new UI designed to showcase customer behavior through data collection of key events, and out-of-the-box capability to track those events (without requiring set up through Google Tag Manager)
Machine learning models that automatically identify trends in data, such as churn probability, potential revenue from customer groups, and demand increases
Measurement of cross-platform which means both app and web interactions to snapshot the effectiveness of each of your marketing efforts
Data export to your BigQuery data warehouse
At the heart of GA4, Google says, is your customer—and more specifically how they interact with your business. This marks a move away from the old platform-centric measurement to instead track via User ID.
The change should give a better picture of what actions customers took after discovering your business and track the whole lifecycle from first impression to final sale more effectively.
Potential GA4 user concerns
While there's a lot to be excited about with GA4, the change from UA brings a few uncertainties for longtime users. Early versions of GA4, while positively received, did contain their share of bugs.
As the platform won't be rolling out at 100% perfection, we'll help answer a handful of the most frequently asked questions we've seen around GA4.
Will I be able to import historical data from UA to GA4?
Most likely, the answer here is no. While you can run UA and GA4 in parallel as you make the switch, Google is launching GA4 as a new platform completely separate from UA.
How difficult will it be to use the new interface?
There's no doubt users will experience a learning curve when migrating to GA4's new UI. In essence, it will come down to thinking differently about what data you're looking for and then creating reports around that.
While this was a common concern in the early beta launch of GA4, Google has already added a number of template reports on funnels, user paths, and cohort exploration. We're excited to see what's next!
To help our customers with the transition, we've already begun building our own Monetization and Retention reports in GA4 that will take over from Enhanced Ecommerce reporting in UA.
According to the Google blog,
The new Analytics gives you customer-centric measurement, instead of measurement fragmented by device or by platform. It uses multiple identity spaces, including marketer-provided User IDs and unique Google signals from users opted into ads personalization, to give you a more complete view of how your customers interact with your business.
These improvements, paired with Littledata's tracking, will improve how businesses customize and assign weight to conversion types. Giving marketers and DTC brands better understanding of the customers lifestyle.
Google does provide help documents and introductory courses on using the new interface. However, an easier (and more time-efficient) solution may be to have an analytics expert help set up a GA4 integration directly to your Shopify or BigCommerce store.
Is GA4 going to be a privacy law compliant, long-term solution for my business?
This is one big area where GA4 is not just a solution right now, but in the future as well. Many of the changes made—from the new event-based UI to the learning machine-powered core—are built to adapt and grow alongside the global expansion in privacy laws.
In other words, as you venture into the world of first-party data, GA4 will be your loyal guide along the way.
What you should do now
Our Shopify and Big Commerce stores and agency partners know that when it comes to Google Analytics, you can always count on Littledata as a single source of truth for truly accurate ecommerce data.
This will remain true with GA4, and we're excited about the flexible reporting capabilities in the newest version of Google Analytics.
Our recommendation is to add a GA4 property now, but not to rely on it entirely. Instead, Littledata recommends continuing to use UA and GA4 in parallel until at least early 2023. This means that you will be able to explore GA4 while still having accurate, actionable data in Universal Analytics, including Enhanced Ecommerce reports, lifetime value reporting, and subscription analytics.
All Shopify and Shopify Plus stores are able to activate both UA and GA4 connections directly from their Littledata dashboards. You can learn more about terms and definitions by reading our hand Google Analytics 4 Glossary.