When it's time to think about data, our minds can often turn right to dull spreadsheets, dense reports, and stressful conversations around bottom lines.
In reality, data and analytics have actually become far more approachable—and even exciting—in recent years, thanks in large part to the introduction of more intuitive reporting tools.
From versatile apps like Google Analytics to specific tracking tools like Facebook's Conversions API, being able to add precise tools to our tech stacks empowers the inner data geek in all of us.
With the right setup, we're able to learn far more about our buyers and their journeys—whether that be the channels that referred them or how many times they've come to our site. We can even track actions taken on our stores too and deep dive into what happens at the mighty check out.
Ultimately, all this information helps us evaluate where we can improve the customer experience and understand what we need to do to amplify what's working within our strategies.
How data fuels your store's growth
Today, growth marketing takes many different forms, all with the goal to attract, engage, and delight customers.
At its core, generating growth comes down to constantly monitoring and evaluating digital metrics—taking a pulse on the day-to-day so you know your business goals are being met and your customers are being heard.
This is where Littledata swoops in to become your team's ecommerce data platform and a single source of truth. It's the central piece of your stack that brings everything together, letting you develop and implement sound growth strategies on Shopify and Big Commerce.
Growth marketing can only work at its best with accurate and reliable data.
An example from the real world
Recently, I was chatting with a store owner for a Shopify DTC brand selling baby products. They were doing over $50,000 a month in sales on average in 2021—not a small brand by any means. When I asked about their tech stack and how the company monitors analytics, the owner told me, "(We have) Google Analytics, yes, but I have not learned how to analyze my business. Simple as that."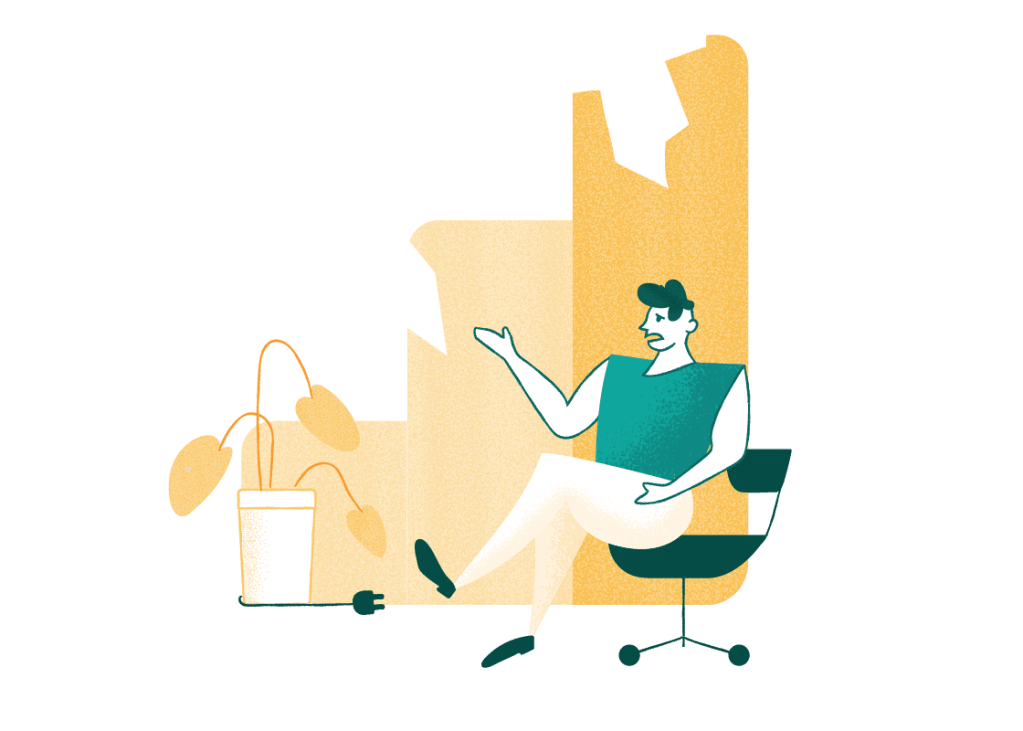 I shared how data is a journey for every store that helps store owners understand what customers are doing and where to spend to engage them. The store owner replied, "Totally, I was just in Google Analytics, and none of my AOVs match up with my channels. Good to know there are tools at least".
We see this every day from all-size brands—companies need to resolve these unhealthy errors in their reporting.
How to fix your analytics
Littledata got its start consulting for brands just like the one I spoke with. In doing so, we discovered a major problem with their reporting and analytics. Since then our mission has been to make it ridiculously easy to connect sales, marketing, and customer data.
Top DTC brands around the world trust Littledata's smart connections for accurate ecommerce analytics. Since launching our first Shopify app in 2017, we have empowered thousands of data-driven brands to make better decisions to accelerate growth. We do this not only through our new integrations, tools, and online resources for stores but also by partnering with notable agencies and tech providers around the globe.
One area where data can be critical is the notorious checkout. Take, for example, a scenario where you notice many store visitors are reaching the checkout but seem to drop off during the actual completion or conversion point. Might it be helpful to know exactly where these folks are dropping off in the checkout flow?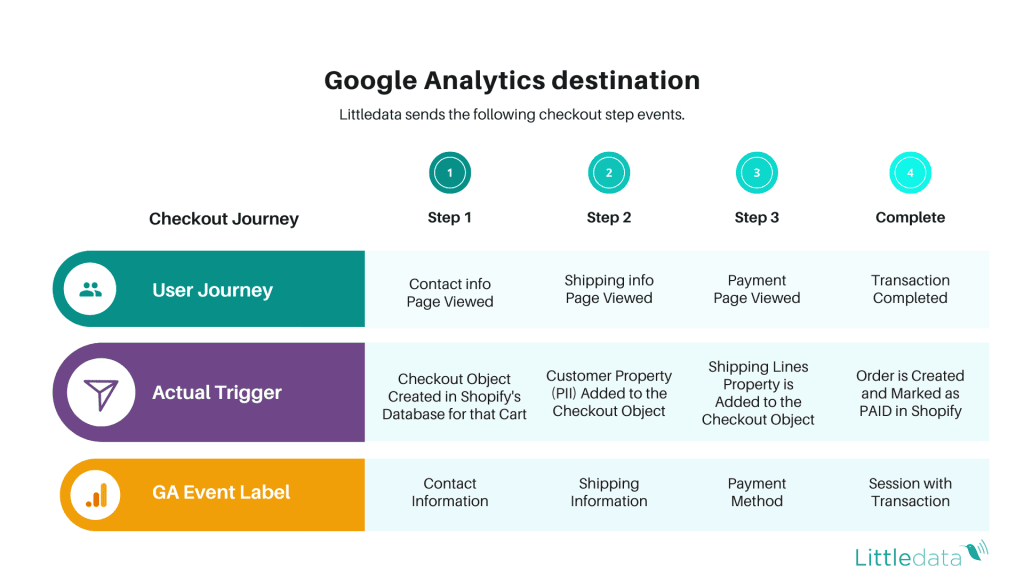 Let's take a look at the user journey above. The checkout journey starts when a user clicks the checkout button and Littledata's connector logs the events and labels them in your Google Analytics Destination. Being able to track these steps can be highly insightful into your customers' behavior, why they drop off, or even for retargeting based on checkout with Adwords.
In the end, all this works to help you make the right moves with your check-out flow for both one-off and recurring orders.
Tip: Did you know 12 out of every 100 Shopify orders go missing in Shopify's own analytics? See how to get them back.
So what are some basics we can do to get started? How can we really grow our business with data? Do you start with AOV, LTV, CAC, or one of the many other ecommerce acronyms that keep us up at night?
Littledata is here to serve you. Just as it did for the store owner I mentioned above, the solution starts with showing you if the data you're using is valid or a dumpster fire.
Here are a few resources to start evaluating and measuring if your data is accurate: