The rise of Google Analytics 4, the newest version of the world's most popular analytics service, is predictably a very big deal in the world of data.
As we move full steam ahead toward a cookie-less future and leave third-party data behind, Google has revamped its Analytics service to give users both a new look and new tools to check on the health of their businesses.
Changes as big as this, though, always come with a learning curve. That's when it helps to have an expert that can smooth the transition.
In this edition of Lunch with Littledata, I spoke with KS Digital founder and former Evangelist for Google Analytics at Google, Krista Seiden about what GA users can expect from GA4, which reports come out of the box and which require more effort to build, and what to do to set yourself up for success starting today.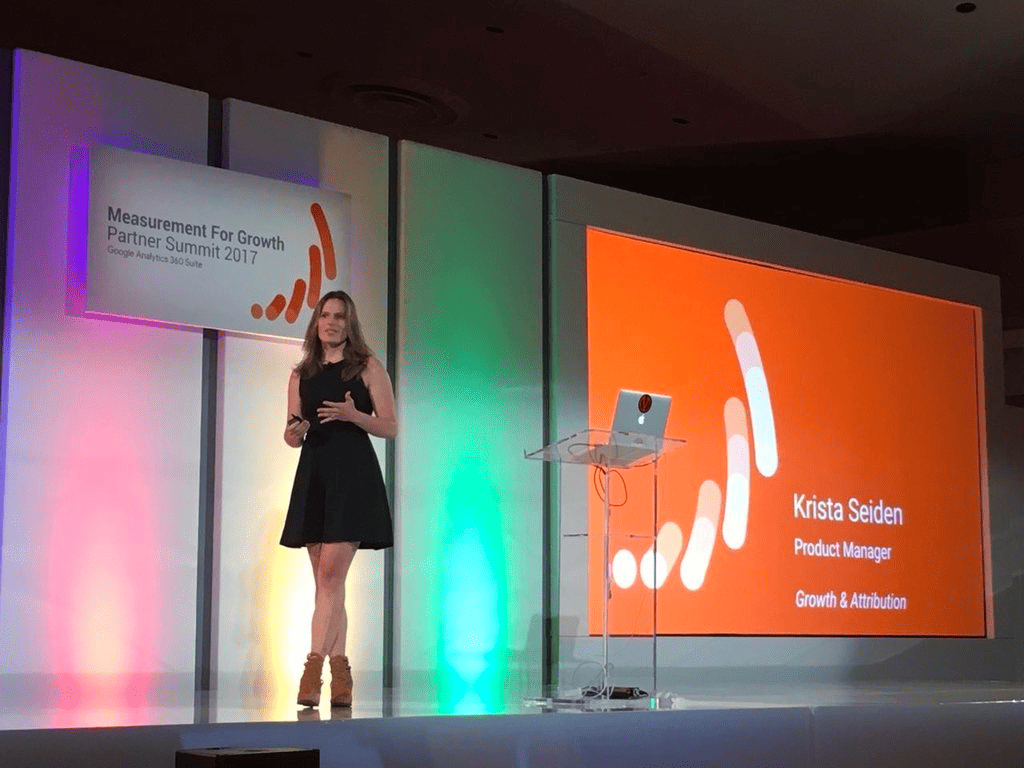 Edward from Littledata: You're obviously a well-known evangelist for Google Analytics (GA). Could you tell me a bit about how you got into the world of analytics?
Krista Seiden: I like to consider my journey into analytics a bit of an accident (laughs). I was working at Adobe Systems way back in 2009 when my happy accident started. One of my responsibilities as a business analyst was to put together a monthly dashboard for the CEO, which included about 30 different metrics from around the business unit.
I had to email probably 30 different people every month to get these metrics and put them together. It was very old school. And I realized that probably about half of the metrics I was collecting every month actually came from Omniture, which was their analytics solution at the time.
I thought, "Well, this is silly. Why am I emailing all these people?" So I went to the web analytics team and said, "Hey, just teach me how to do this." I spent some time with them and I learned how to pull the data myself. That was really helpful. Then Adobe bought Omniture, and all of a sudden all of that training that they had—which is generally really expensive—was available for free.
So I thought, "Sweet. I'm going to learn all of this in more detail so I can be more useful in my current job." And then as time went on, my job evolved and they asked me to just take on Web Analytics full time. So it was, I like to say, a happy accident because it kind of evolved into that new position, but it also just sparked from my interest in trying to make things more efficient and not have to bother everyone.
So I spent some time at Adobe doing analytics, then I went to the Apollo Group and did analytics there using the free version of GA on a site that had millions and millions of users. This was predating even GA premium, so it was awful sampling. It was a horrible experience. I had to figure out all sorts of hacks and ways to try to make the data more usable.
Just as I was onboarding Omniture there, I was tapped by Google to come run analytics and optimization for what's now the Google Cloud Group, what was then the Google Apps Group.
Edward: Speaking of GA, I wanted to talk specifically about GA4 which is just launching. Now that its arrival has been officially announced and it's out of beta, do you think it's ready for a high scale brand to use as their primary analytics tool?
Krista: That's a good question. I think the answer is going to depend on who you ask. If you ask Google, they're going to say yes, it's fully ready. If you ask somebody outside of Google, depending on their love or hate relationship with it, you will get a varying degree of answers.
From where I stand, I think the answer is yes—but I think the answer is yes because Universal Analytics has a deprecation date (July 1, 2023). You don't really have a choice at this point, you need to start migrating (to GA4). For big companies especially, if you're going to need year-over-year data, you need to have GA4 set up and collecting data properly before the end of June 2022.
That being said, there are features that are still missing, especially when it comes to ecommerce. We don't have our item scope custom dimensions yet, which is definitely a big problem for a lot of big ecommerce clients. There are ways that you can use other available dimensions to kind of fill that gap for now. It's not the best, certainly. There are other features that are missing.
But there's also a long roadmap and I'm pretty comfortable with where that roadmap is going in terms of the end product of what GA4 will eventually look like when a lot of that has rolled out. I think it's made a lot of progress in the last six months in particular, and it's a lot more ready now than it was not that long ago.
Edward: I do understand Google's dilemma that they want to sunset UA, but they simply can't launch everything now—there are a lot of features to build out. How are you advising brands go about making the transition to GA4? Is it about double-tracking using UA and GA4 for now?
Krista: I think the narrative for the past year and a half has really been let's dual tag, get GA4 set up, start collecting historical data, and start getting used to it. My business, KS Digital, has stopped doing any sort of UA work. We actually stopped at the beginning of 2022, so we haven't taken on any new UA-specific clients since late last year.
Our offerings now, when people come to us, are around getting them set up with a solution design and implementation for GA4. We'll look at their UA data and maybe do a lightweight audit so that we at least have an understanding of what they're collecting, how they're doing it, and what we may be able to carry forward. But we're not really advising on UA anymore.
That being said, I do still think dual tagging is a good idea if you are a current UA user and I will continue to recommend that all the way through the sunset. I think it's important to have that side by side, although I do also think it leads to a bit too much of a reliance on UA when people do need to start transitioning to GA4. So it's a little bit of a battle there, but I think it's important for data continuity.
Edward: Yes, because the data collection migration has got to happen first, but then people have got to move over the reporting dependence.
Krista: Yep.
Edward: What are the biggest unexpected challenges you've seen with established brands who are transitioning to GA4?
Krista: There are obviously some feature gaps and those have been challenges. But I think the biggest challenge is really just the mindset—getting people used to a brand new tool. GA4 looks and feels very different. You might log in and look at any of the reports that are out of the box and you see this very ugly scatterplot and you're like, "What am I supposed to do with this?"

I think a lot of people don't fully realize what they can do with GA4. So, for example, you can completely customize the UI. You can change the visuals. You can add or remove reports that are important to you. You can organize them any way you want. You could never do that in UA—so you can really make GA4 your own. I think that's going to be really important to help people get more comfortable and want to move over. But I think the biggest hindrance is really just a lack of training, a lack of knowing what to do with the product, and just a bit of fear over that unknown.
Edward: It's deceptive because the UI looks very similar at first glance. But then when you start digging, you realize there's a lot of stuff that's very different.
Krista: (laughs) Yeah.
Edward: As you said earlier, obviously there are some feature gaps, particularly around e-commerce. A lot of the out-of-the-box ecommerce reports are missing. For us, the most obvious gaps are around the shopping behavior funnel and checkout completion funnel. But they also exist around the product level analysis which, as you say, is blocked by the lack of item scope dimensions.
Are you seeing brands able to replicate some of those using the explorations module?
Krista: Yes. So I have several large ecommerce clients that are working on GA4 and we have replicated a lot of those reports within Explorations. The nice thing about that is you actually get to be a lot more specific about what you want in those funnel reports. You can break them down, you can add multiple segments side by side. You can do things like showing the elapsed time between steps or making it an open and closed funnel. So I do think there are actually a lot of benefits to doing that way, but it's more work to set it up out of the box.
"The nice thing about (GA4's Explorations feature) is you actually get to be a lot more specific about what you want in those funnel reports. You can break them down, you can add multiple segments side by side. there are actually a lot of benefits to (creating reports) that way, but it's more work to set it up out of the box."
And because of the way that the Explorations permissions work right now, it's very frustrating. You can't actually share access to a report. You can share the report, but then somebody has to make a copy of it and edit it to make it their own. You can't have a shared report that anybody can, for example, change the date on or add a segment to. I think that that's limiting, so I'm hopeful that those permissions will change and become more friendly over time.
Edward: Yeah, because the other thing that's obviously lacking is any ability to share report templates. As ecommerce specialists, we have to build ecommerce template reports. Can you see Google opening up the template galleries to third parties? Or was their Custom Report Gallery not seen as a success?
Krista: I don't know that they didn't see the Custom Report Gallery as a success. I don't think it was really top of mind for them. I hope that there will be some sort of a template gallery for Explorations. I think that as more and more people move to GA4 and see that they have to do a lot more in Explorations, that demand will bubble up. I guess we'll see, but I'm hopeful that we will see something like that.
Edward: I think it would be a solution because as you say, the problem is not that you can't build analysis reports. The problem is that it just takes some analytics knowledge to build the report.
Krista: And you can't do the same type of funnel visuals within Google Data Studio, for example, where you could ship that template because it doesn't have the same processing due to how data studio gets that data from the API. So it's not easily replicable in a shareable fashion.

Edward: What about GA4's connection with Google Ads? How do you think getting accurate data in GA4 helps brands make the most of Google Ads?
Krista: I think it's similar to how brands are utilizing Universal Analytics with Google ads, right? It's that conversion data—so goals in UA or conversions in GA4. Then with Google Ads, you can link those conversions and optimize your campaigns that way.
I think one of the hidden benefits that maybe isn't very well known within GA4 is that conversion data is now essentially calculated based on data-driven attribution for everyone. So you can actually change that model and choose what you want if you don't want data-driven.
But if you think data-driven is a good model for you, then your ads are now bidding to conversions that are based on that. So that's a difference, but it depends on how impactful that really is for your business. Other than that, I think GA4 operates pretty similarly to UA.
Edward: That's interesting. I see data-driven attribution as one of the big perks of GA4 because it was previously a GA 360-limited feature that is now available for all. So what you're saying is that not only can you run the data-driven attribution within GA4, but you can basically do that within Google ads as well?
Krista: Using your conversions right from GA4, if those conversions are being calculated using data-driven attribution, then that will flow through to Google ads.
Edward: Cynically, one of the problems we come against is brands whose agencies want to see the conversions directly in Google Ads. Because the attribution model is more greedy, and obviously from the agency's point of view, it makes their campaigns look better (laughs).
Krista: Yeah, I've always wanted to say absolutely not. My conversions will be based on GA—but to each their own.
Edward: The other big advantage for GA4—which gets our bigger customers excited—is the BigQuery sync or the "ensemble data export." The question there is, do you think that will be a "free forever" feature? Because that was previously a big plus of upgrading to GA 360.
Krista: I do think it'll be a "free forever" feature. However, in the past couple of months, Google has started to enforce the data limits of the free export. I think that limit is a million per day. So if you go over, then that's probably an upgrading type path for you.
Honestly, if you have that much data, there are probably other reasons why you might want to upgrade as well. But I do think it'll be free forever. That's one of the big value props of GA4, that everybody now has access to this raw end data.
Edward: Yeah. As you say, it's really just that they're just enforcing what was already consistent with regards to volume.
Krista: Mm-hmm. But they have actually released the ability to filter the data that you export into BigQuery. So even if you are going over that limit, you can choose what data you want to export to stay under that limit. I think that's actually a really nice additional feature there that helps to make that BigQuery export continually usable, even for businesses with high volume.
Edward: Are there any other big features we haven't talked about that you think would be beneficial to an e-commerce brand that made the switch?
Krista: Yeah, one feature that I love that's actually beneficial to all types of businesses is enhanced measurement. I love enhanced measurement because out of the box, it's six additional events (well, five if you don't count page views) that are just collected on your behalf if you allow Google to do it, and you can toggle them on or off.
In my opinion, it really helps to democratize data because a lot of businesses were not going to have the resources or the time or effort to be able to go add those types of events. And now they're just going to get them out of the box, which gives them a lot more insight into what's going on on their sites.
"I love enhanced measurement because out of the box, it's six additional events that are just collected on your behalf… it really helps to democratize data because a lot of businesses were not going to have the resources or the time or effort to be able to go add those types of events."
Edward: Back in the day when we were doing Google Tag Manager setups, these metrics used to be on the standard list of stuff that you'd say the brand could invest in for enhanced tracking, but it was all manual steps to do so. So it's nice that it's out of the box.
Krista: Totally.
Edward: Is there anything else you think might be interesting for our audience to know?
Krista: Just one word of wisdom, really a warning to people—you're going to need to figure out how to save your historical data. Google said that at least six months after the deprecation date, views will still be available to look at. But after that point, access to them is going to go away. So you won't have access to that historical data after potentially January 1st, 2024.
That means brands need to think about how they're going to export their data from Universal Analytics and keep that historical data. It is possible, and there are a lot of ways to do it. I think there's a big business opportunity. We're going to see a lot of new businesses going into this space here. We may see some helpful tools from Google as well. Who knows? But I think that's something to just keep in mind as we get closer to that deprecation date.
Edward: I totally agree. I was recently chatting with a customer about the ways to do it. Ultimately it boils down to what analysis you'll want to do with that data. Because using the reporting API, you can't export every historical event. You need to decide ahead of time what you want to compare.
I told the customer that ultimately you're going to want to do some kind of historical analysis, maybe year-on-year type comparisons. What's tricky is, as you say, either businesses have got to take a greedy approach and export as much as possible before the close-off or really decide what they're going to want to compare after it.
Krista: Yeah. I think for most of my customers, I'll probably recommend a simpler route where we narrow down what their key reporting metrics are (or have been) and focus on exporting those.
The sooner you get GA4 set up, the more historical data you'll have there. I've been running GA4 for about three years now. But obviously, not everybody is. If you get it set up before June of this year, though, you'll have your historical data.
Edward: Which for most brands is good enough.
Krista: Right. There are some brands that want more. But realistically, how often are you actually looking back at that data from five years ago? Not very often. If you are, it's looking at very high-level metrics like how many users or sessions or page views you had and what you're at now.
Edward: Most brands I know have changed the tracking implementation multiple times within that five years. So it's not really valid to look back that far.
Krista: Yeah. I think it's more of a shock factor that you're losing access to the data rather than something that people actually need and use all that often.
Edward: To wrap up on something we discussed at the very beginning—as you say, the investment brands need to make in GA4 is more in learning how to use this new tool. Are there other particularly good resources you'd recommend for people to learn about how to build their reports?
Krista: Yeah, I think there are a lot of great blog posts out there from so many different people in the analytics community. Selfishly, I'll say I have some great GA4 courses from KS Digital. My students have been very happy. You get to learn directly from me and they include live Slack access and office hours. So it's not just video learning but direct interaction where I'll answer all your tough GA4 questions.
Google has some resources and there are other great courses out there as well. I've always learned so much just from following blogs and social media on the topic.
Quick links: