The ecommerce data industry is going through unprecedented change. It seems every marketer, data scientist, and store owner has at least heard that privacy regulations like GDPR and major tracking prevention updates like iOS14 have broken the old system of collecting data about customers.
But the most important question is how should you respond to these changes? The good news is there are still methods to collect critical information about your buyers and use it to target your niche and drive revenue. The main solution in a world without third party cookies—first-party data.
Of course it's not enough to just be aware of first-party data. You need to know how to collect it, what insights you can glean from it, and the best methods to set up a first-party data strategy for your store.
To help you with all of that and more, we have the only white paper you need on how to replace third-party cookies in your marketing. It's packed with everything you need to know about first-party data: what it is (and what it isn't), how to collect it, and how to use it to optimize your marketing and make smarter decisions. We'll also give you some helpful resources to set you on the path to success.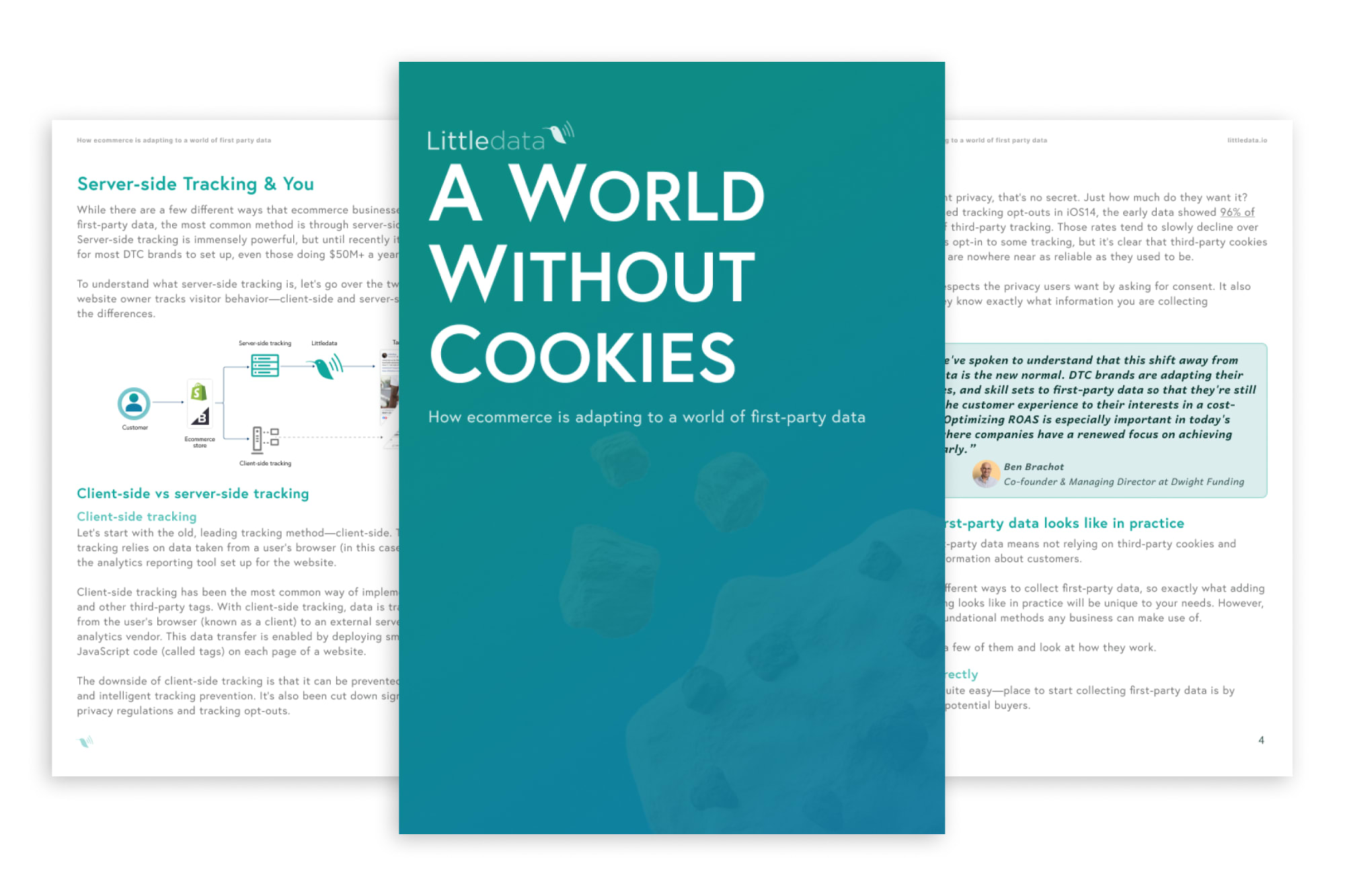 How to replace third-party cookies with first-party data
When it comes down to it, the biggest problem brands need to solve when replacing third-party cookies is preserving the insights they give into customer behavior.
Fortunately there are a handful of ways that can be done with first-party data. In the white paper, we dive into each one, including how to set them up on your store, what insights they provide, and what overall benefits they have over third-party data.
The customer insights you can gather from the methods we discuss in the white paper will make a significant difference when it comes to revenue and decision-making. You'll learn strategies to gather some of the biggest ticket metrics, like:
Return on ad spend
Customer lifetime value
Product engagement
Adds to cart
Highest value customers by demographic
Marketing attribution
Accurate sales data
We also dive into the importance of using the right reporting tools, complete with a section on the newest version of Google Analytics—GA4—and why it matters to start tracking metrics there ASAP.
Get ahead of your competitors by making the switch to first-party data with the insights in our white paper and you'll have the tools you need to drive revenue and secure steady growth.
Try Littledata free for 30 days