Setting up Google Analytics 4 (GA4) on Shopify is easy with the right tools, but there is a lot of confusion in the marketplace right now.
There are apps offering "GA4 setup" that can't actually help you with tracking (getting accurate data into Analytics), and there are agencies offering detailed GTM tag setup guides for GA4 without mentioning that there are automated solutions for GA4 conversion tracking. This is all very exciting…but also not necessary.
The truth is that you don't need custom tagging or reporting, just the right Shopify tracking app for GA4. 
What is GA4? It's Google's answer to the modern data stack, in some ways a complement to it (eg. GA4's BigQuery connection, which used to be reserved for GA 360), and in others a replacement for multiple expensive tools that haven't always worked well together. The move toward GA4 started with Google's interest in offering better cross-device and cross-channel tracking, and has been refined with a focus on user privacy — in other words a world without third-party cookies.
As a result, using the right Shopify and GA4 connection now lets you start capturing data about your Shopify store performance that is by default more complex and dynamic than what you might be currently tracking in Universal Analytics (UA, the current version of GA).  GA4 can save you time and money versus a  complex analytics setup, while offering visibility into the entire customer lifecycle, from organic and paid channels through complex browsing behavior and — essentially — customer lifetime value (LTV) and purchase count. But at the very least you need to start capturing that data.
Google has also built in data-driven models for both comparative attribution reporting and predictive analytics, such as in-app purchase probability and overall purchase probability. But let's not get ahead of ourselves.
First you need to capture the data.
We expect some brands to just ignore GA4 until the last minute (I'm expecting some not-so-fun Memorial Day Weekend parties next year in NYC…), but we've also noticed that the top ecommerce managers and data scientists are all doing the same thing: tracking in parallel today, so they will have at least six months of data before making the full switch to GA4.
Here's a quick guide to help you make the right moves too.
1. Stop procrastinating
Is Google really getting rid of the old version of Google Analytics? The answer is a definitive yes. They are sunsetting the old version of Google Analytics in 2023. You need to be ready, but what does that mean exactly? Is there anything you can do today?
Track in parallel today so you will have at least six months of data before making the full switch to GA4
Google formally announced the shift to a new version of Google Analytics back in November 2020, but many DTC brands are still putting off the shift to GA4.
While moving to a different version of a tool most online marketers use weekly (if not daily) might sound a bit intimidating, there are two points to remember:
Google is one of the most user-friendly companies on the planet and they have already added a bunch of functionality and default reporting templates in GA4
You need to capture data before you can analyze it!
As our agency partner CXL writes in their ultimate guide to GA4: "Unlike previous upgrade iterations, GA4 is a brand-new product. This means starting afresh, with a new learning curve to navigate." But at the same time, as they say, "it promises to be the future of analytics, with cross-platform tracking, AI-driven data, and privacy-centric design."
We couldn't agree more. Littledata's top 10 reasons to switch to GA4 include both custom funnels and predictive insights. This is especially important for ecommerce brands that want to building shopping funnel reports and LTV cohorts in GA4 that fit their particular business model and customer base.
So what should you do today to take advantage of this powerful, free ecommerce reporting? First of all, create a GA4 property!
2. Create a GA4 property
Google will not be allowing anybody to import historical data from UA into GA4, so you need to create a Google Analytics 4 (GA4) property today if you are serious about seeing performance over time. Luckily, adding a GA4 property is surprisingly easy. 
Current GA users (that's most of you) can just head to their Analytics accounts and use the setup assistant.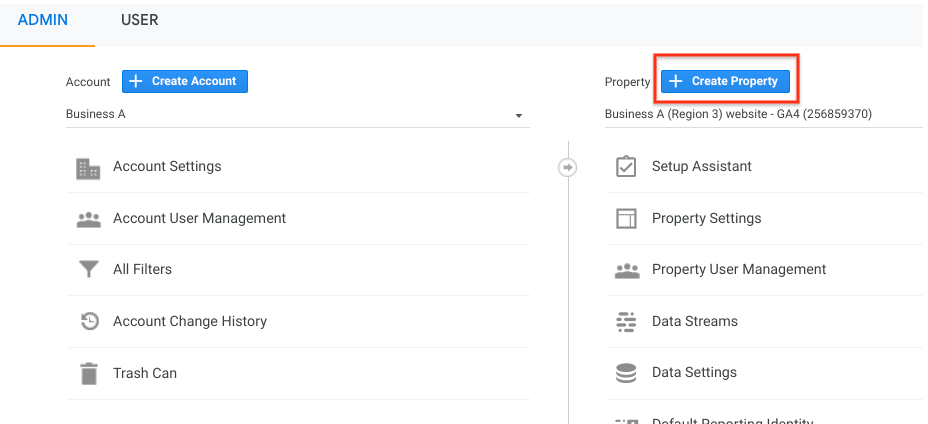 You should add at least one data stream. (Don't worry, you can add more later.) Data Streams in GA4 replace Views in Universal Analytics, but they're a bit different . Data streams can be any website (or blog, microsite, country store, etc) or mobile app (iOS or Android), and they can be viewed in aggregate or individually. Adding a data stream might sound intimidating, but this can be as simple as adding the URL for your website (eg. "littledata.io").
Tip: Whether you're new to Google Analytics or a longtime user, we recommend turning on the Enhanced Measurement settings, which include useful defaults.
When you add a data stream, you will have the option to enabled Enhanced Measurement settings. This is highly recommended. Here's more info on what Littledata lets you track automatically in GA4 — examples include product views, product list views, checkout funnel events and purchases — and which events are tracked with Enhanced Measurement, such as page views, site search and form interactions.
Now that you have set up a GA4 property, it's time to set up your ecommerce tracking.
3. Track in Parallel
Tracking UA and GA4 in parallel means that you can send data to both destinations at the same time. This lets you capture browsing behavior and sales performance in both places, so you can analyze the data, build comparative attribution models and start to get a sense for how Universal Analytics and Google Analytics 4 are different — as well as where they converge.
The most accurate way to do this is to use an ecommerce data platform like Littledata to capture ecommerce events by default, including both sales/conversion tracking and marketing attribution (stitching sessions together). We send data directly to GA4. Because we have a pre-built GTM data layer, you don't need to add tags manually!
Use a pre-built data layer for GA4 so you don't have to add tags manually
Littledata's tracking schema works out of the box to capture both major and minor touch points in the ecommerce journey. When you install Littledata, we instantly start tracking all of the key ecommerce events for you in both UA and GA4, so you'll have the data you need when you're ready to dive into week-on-week and month-on-month analysis.
Here's a quick video on tracking in parallel.
To get something similar to Enhanced Ecommerce reporting, you'll need to build reports yourselves, so we've also put together a few videos on building ecommerce reports in GA4. These reports are more flexible and dynamic than anything available in UA. It's like having Google Data Studio within Google Analytics for complete reporting.
There's even more free content available for subscribers in the app 🙂
Wait, so GA4 is pretty different?
GA4 is based on a different type of tracking called event-based tracking, which is is exactly what it sounds like: a more flexible and comprehensive way of tracking everything so you can build granular reports and predictive models based on the endless flow of events and attached parameters. The UA data model focused on sessions and pageviews. GA4 focuses on events, and sessions are no longer broken by a change in campaign "source" (GA4 continues tracking the same session as well as the change in source).
But those sessions will not be stitched together automatically with purchase data and Shopify customer IDs. And many Google Tag Manager solutions for GA4 are missing out on the basics, like purchase events, revenue and conversion tracking. If you aren't capturing purchases, how are you supposed to know if your marketing is working?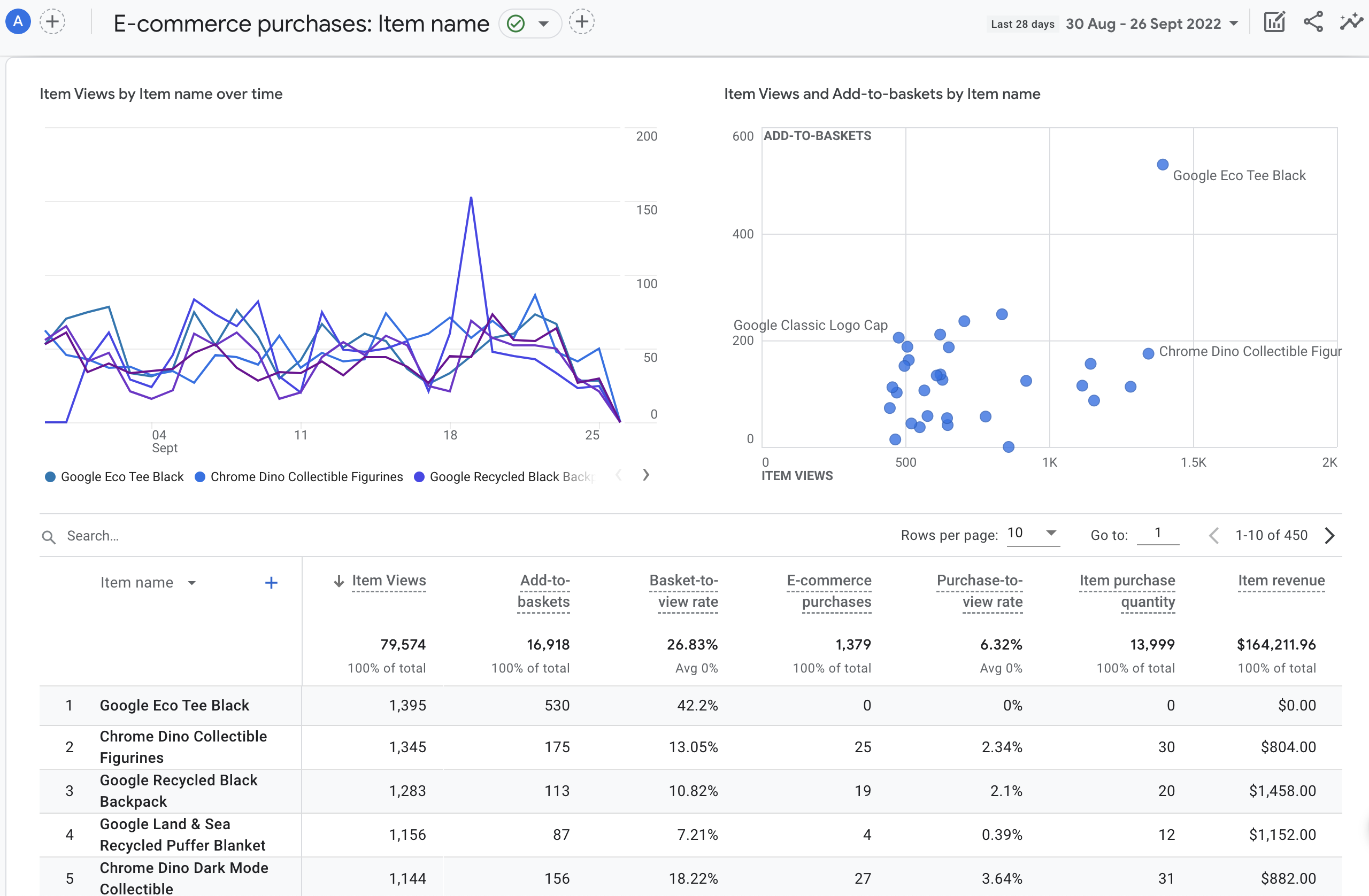 Using Littledata's solution is quick and easy, with both low-code and no-code options. Our ecommerce tracking is deep and comprehensive. When you start a free trial you can choose to send data to both UA and GA4 at no additional cost, with server-side tracking to guarantee accurate data.
Top-rated GA4 tracking for $99 a month
Want to know more? Book a free data audit with one of our Google Analytics experts today!