Black Friday and Cyber Monday are just around the corner. And what better way to get into the Christmas spirit than by shopping for some great gifts?
That's why we've put together Littledata's Holiday Shopping Guide, with some of our favorite merchants from all over the world. These direct-to-consumer (DTC) brands reach thousands of happy customers — some even offer subscriptions for the gift that keeps on giving! Whether you're looking for the perfect present for your significant other, family member or you're just trying to find a work colleague's Secret Santa, we've got you covered.
So take a look at our guide and find the perfect gifts for everyone on your holiday shopping list.
Happy holidays, and happy shopping!
Grind
As a remote-first company, it's no surprise that Grind is at the top of our list! Over the past two years, Grind has quickly grown from a handful of London-based cafes to an international DTC brand, shipping their famous house blends across the globe. This holiday season, learn how Grind skyrocketed its online sales from $10k to $500k monthly in just three months. And be sure to check out our top gift picks from Grind below.
Treat your coffee lover to Grind's Nespresso-compatible Coffee Pods. If they're looking for a new favorite blend, they can explore up to three different flavors and find their new favorite to sample before purchasing in bulk. 
If you're looking for something a little more luxurious, opt for Grind's French Press Gift Set. The set includes Grind's classic tin in silver or pink, the Grind house blend ground coffee, and a limited-edition tote bag, featuring a Shoreditch Grind illustration.
For the aspiring mixologist, be sure to pick up the Espresso Martini Gift Set. A cocktail kit that comes with everything a person needs to make their favorite caffeinated cocktail at home this holiday season. 
Last but not least, we have the ultimate gift for the coffee lover in your life: a subscription to their favorite coffee shop. Give your friends and loved ones the gift of their favorite house blends from the comfort of their homes all year long!
Abbott Lyon
If you're looking for an indulgent & unique gift, then look no further than Abbott Lyon. Their beautiful personalized jewelry is the perfect way to add a little sparkle to your recipient's life this holiday season.
Not only are their products highly personalized, but their site experience is too! By utilizing server-side tracking to capture complete first-party data, Abbott Lyon unlocked opportunities for personalization and identified key areas for improvement in their website to optimize the user journey.
Gifting someone who loves to travel? The Mini Raffia Pearl Resort Bag is the perfect accessory for them. This lavish little bag will add a touch of class to any outfit and can be customized with their initials. 
The Sphere Chain Anklet is a great gift for someone special and is different from the usual gifts you see. The spheres create a delicate and eye-catching design and are available in silver and gold. This charming and budget-friendly anklet is a great way to show your loved ones how much you care. 
Johnnie-O
For all the fashionable guys in your life, Johnnie-O captures the perfect mix of style, function, and high-quality materials.
Shoppers can receive unique offers, including personalized product recommendations, discounts, and loyalty perks by enrolling in Johnnie-o's SMS and email newsletter. By seamlessly sending Shopify data to Segment with Littledata's plug-and-play connection, Johnnie-O opened up endless opportunities for omnichannel engagement and messaging with their customers.
Ready for the ugly Christmas sweater parties? You can't go wrong with Johnnie-O's festive collection! Their use of color and patterns is spot-on, and the quality of their pieces is second to none.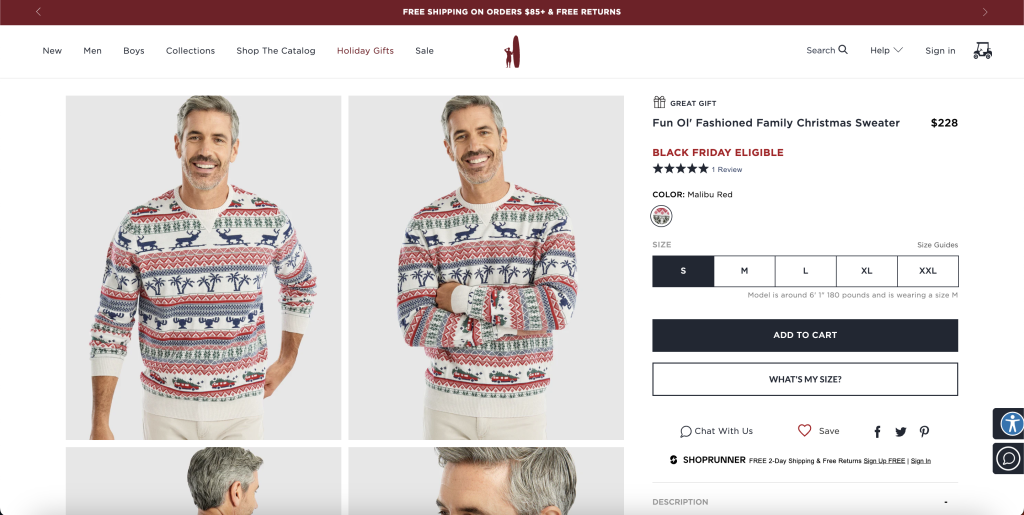 Christmas sweaters are perfect for those who want to show their holiday spirit but sometimes it's a little too much for your recipient and they would be happy with a baseball cap instead. A red baseball cap is a more subtle way to show your holiday spirit and it's also a lot more practical. You can wear it all year round and it won't take up as much space in your closet. 
Joshua Tree Coffee
Gifting subscriptions are on the rise this holiday season, and we can understand why — it's the gift that keeps on giving! Joshua Tree Coffee offers personalized subscription gifts, in which recipients can choose their favorite roasts, frequency, and quantity.
Joshua Tree Coffee isn't alone — subscriptions are the fastest-growing area in ecommerce. Whether you're selling coffee, snacks, or skincare products, you name it, now is the time to launch your subscription service! And with the subscription ecommerce market set to be worth over $478 billion by 2025, what time is better than now to learn the ins and outs of selling by subscription? The sooner you start, the sooner you will perfect your subscription model.
Among our top picks from Joshua Tree Coffee are the Variety Sample Pack and Mug Bundle. Including four different kinds of coffee beans, the coffee lover you're shopping for will be able to sample a quality mixture of light, medium, and dark roasts and discover their new favorite while drinking from their new mug.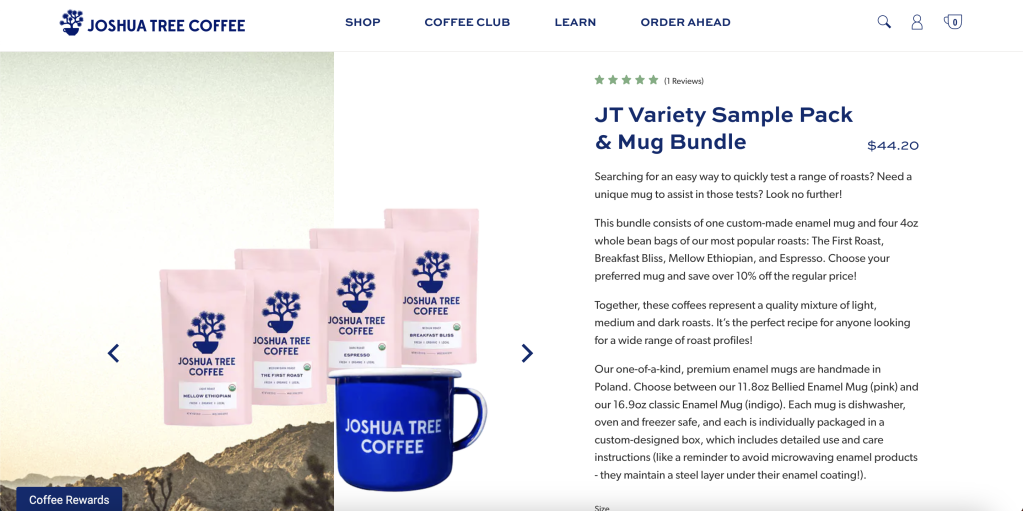 Robert Goddard
If you're not keen on shopping around multiple stores this BFCM, Robert Goddard is your one-stop shop for all your designer fashion needs! With up to 50% off, their Black Friday sale has already begun!
Offering a variety of products, SKUs, and brands, Littledata's Shopify source for Google Analytics plays a crucial role in helping the Robert Goddard team understand which products are their top performers, identify which campaigns lead to the most conversions, and get a complete view of the customer journey.
As winter sets in, many of us are looking for ways to stay warm, one great option is to gift the Barbour Mallory Beanie Hat and Scarf Gift Set. This delicate cream colorway is an excellent choice for any winter wardrobe. Not only will it keep you cozy and warm, but it will also make a great fashion statement. 
When it comes to giving a practical and cozy gift to the fashionable men in your life this winter, why not try a pair of Barbour Navy Porterfield Slippers? Made from a suede and cotton blend, these slippers are sure to keep feet warm and comfortable all season long. Plus, they're stylish with Barbour's classic tartan lining.
Geologie
Whether you're on the lookout for practical gifts or are looking to treat yourself this holiday season, Geologie has got you covered. 
Geologie's Shopify store is running Universal Analytics and Google Analytics 4 (GA4) in parallel, so they can not only understand this year's BFCM performance but also run year-over-year analysis in the years to come. 
A great starter set full of fresh scents including their signature bergamot and juniper scent, the Signature Body & Hair Gift Set is a great way to try out the brand. This set includes a Superclean Body Wash, a Natural Deodorant, and a Hair Co-Wash, all of which are made with highly effective formulas that promote great skin care.
The award-winning Allstars have been put together as the Geologie Bestsellers Gift Set that includes a Hair Co-Wash, 2 Salicylic Acid Face Washes, and a Dark + Puffy Under Eye Cream. This is the perfect gift for anyone who wants to start and finish their day feeling refreshed. 
Living.Fit
For the fitness gurus on your list, Living.Fit offers everything they need to get their at-home gym up and running. With a range of gym equipment and apparel available, you can start your fitness journey at home with ease.
For those that prefer guided workouts, Living.Fit's got you covered there too! Give the gift of Living.Fit's exclusive membership is powered by Recharge Payments subscription service. Living.Fit leverages Littledata's out-of-the-box integration with Recharge to get a complete view of the subscriber journey, differentiate between one-off, first-time, and recurring orders, and optimize the subscriber experience. 
If you've ordered your equipment but aren't quite sure how to use it properly to get the best results, don't worry – Living.Fit has a wide range of workout plans that you can purchase online and follow along with at your own pace. A great way to learn without paying the price of a gym membership. 
Flux Footwear
Flux Footwear is the 'world's most adaptable footwear', with incredible flexibility that allows you to feel as if you are walking barefoot without sacrificing style or comfort. With a simple design and commitment to quality. 
Flux is fine-tuning its Facebook and Instagram campaigns to help shoppers find the perfect pair for their loved ones. With Littledata's Facebook Conversions API integration, Flux built dynamic product ads to retarget abandoned carts and target potential customers. One year after launch, Flux scaled its revenue 600% and powered its growth primarily through paid social.
There is no occasion too big or too small for Flux Footwear. Flux's Adapt Trainers are the perfect gift for anyone on your list. Their limited-edition colorways won't last long, so grab them while you can! 

So you've got your equipment and workout plan sorted with Living.Fit, but you need a trainer that offers durability, increased flexibility, and uncompromising grip. Then look no further than the Adapt High-Top with Graphene. These sneakers are great for any workout and will help you get the most out of your training. A must-have for any fitness enthusiast. 

Happy shopping!
In this holiday season, why not take advantage of these fantastic businesses that make use of Littledata to make their data work harder and treat your loved ones (and yourself!) to something special!