First-party data and server-side tracking is no longer an afterthought for DTC brands and ecommerce managers—rather, it is a centrepiece to their tech stack. But how do you make sure you aren't "reinventing the wheel" when it comes to 1st party tracking?
With the increasing number of "data platform" options it is often challenging to know what is truly needed for accurate attribution. With over 1500+ stores using Littledata's Shopify and BigCommerce tracking app, we've learned a thing or two about the mistakes brands can often make. Allow us to help set the record straight and be a helping hand as you scale up your efforts in 2022.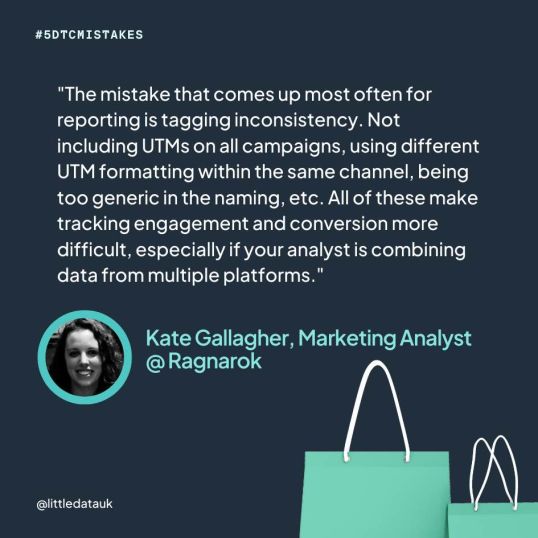 1. Making data a lesser priority when launching
We've talked to entrepreneurs across industries and one thing is certain—all are motivated to grow their business and many are managing multiple efforts across the business. One that often gets skipped in launching and updating a Shopify store is setting up data as an afterthought or using default or native tools that miss the mark.
Some of the common replies we receive from customers that find out they have a data problem is that they planned on getting to it later or we thought we were getting all the information with pixel tracking (client-side) and the classic it just wasn't in the budget. The first two we understand, because until folks know this can be automated with a tool like Littledata, the time for learning APIs, implementation, and maintenance can be overwhelming. However, we've seen brands give Littledata a shot as a temporary solution and report hours of time saved in an increase in their retention efforts like skincare brand Geologie.
When it comes to budget we know the difference between those who do not prioritise data and those who truly can't add this additional line item. That is why our Client Services team launched a new Littledata Startups program specifically for those just getting going. We have already offered a generous 30 day trial for merchants but realised some teams need a longer runway after seeing companies like Flux Footwear soar in the first year of getting started.
2. Thinking that fancy reporting will fix your data issues
There are a lot of nifty reporting and visualization tools out there. But none of them actually fix your tracking.
When reviewing how the platforms work be sure to ask about how the data is tracked and reported. While many reporting of these tools offer merchants a great UI/UX experience or insights they can also miss on the most important step, tracking. We are excited to see Google Analytics 4 offer free reporting tools and improved user experience in explorations. This will allow merchants to get more granular insights in GA4 which many consider their single source of truth.
Littledata isn't the new kid on the block. We got our start helping brands first hand get up and running with their data solutions. Then in 2017 we launched our app on Shopify that solved a big problem merchants were facing—accurate data and attribution. The issue we are hearing from partners and customers is that newly launched data tools are not fixing the tracking and analytics but rather they are pulling the data (which is likely inaccurate) and reporting through visualisation tools. We know this because our customers who use these other tools do so after fixing the tracking and attribution issues they are facing with Littledata. Then they use these reporting tools and dashboards in order to analyse the data or generate reports from the insights and recommendations of these tools.
Or focus on fixing the tracking and conversion data. Nearly 1 of 5 orders is missed using Shopify's native tracking tool. Littledata's engine stitches together client-side and server-side tracking, without server setup and fees needed by merchants, to report end-to-end tracking. This includes important events like add_to_cart, one_time vs. recurring subscriptions, refunds, purchases, and more. We also calculate from these events Lifetime Value (LTV) and Average Order Value (AOV) so that merchants can understand what is really happening in their business—right in Google Analytics.
If that wasn't enough we also work out-of-the-box with many of the SMS, Subscriptions, and post-purchase upsell apps merchants are already using in their store or checkout. Making it easy to find out which channels or tools are working or not.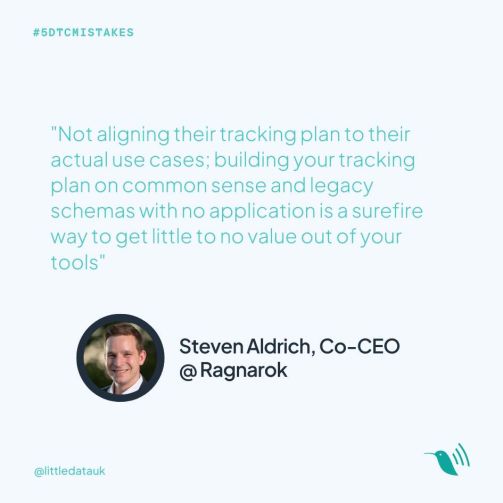 3. Short-term thinking about setup costs and maintenance
This one is self explanatory but often gets missed. Because of our deep integrations with Shopify and BigCommerce our team is always making updates, improving the product, and implementing best practices for the Littledata app. Supercharging your store and functionality without having to outsource which often leads to scope creep.
When you get started with Littledata you know exactly what you will be paying month to month with our tiers based on your order volume and not the revenue you bring in. Meaning you are paying for the data you are using and getting access to the same tools 100M GMV companies are using. This predictability makes it easy for merchants to budget for data tracking without having to account for surprises of outsourcing on your own.
The best part is that Littledata has partnerships with some of the top agencies in the ecosystem like Swanky, Underwater Pistol, and Ragnarok. Recently, Steven Aldrich the Co-CEO of Ragnarok said on this topic:
Merchants not aligning their tracking plan to their actual use cases; building your tracking plan on common sense and legacy schemas with no application is a surefire way to get little to no value out of your tools
We don't think there should be surprises when it comes to pricing. You can learn more on how we structure pricing here or by booking a chat with our Client Services team.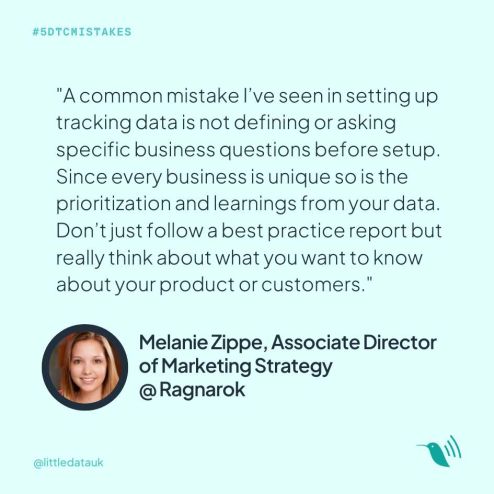 4. Missing the golden opportunity of creating audiences
Creating audiences has to be one of the top priorities of any marketing team for retargeting and creating lookalike audiences. We know when you can understand your audience demographics through reporting and build and target your audience by metrics like LTV and AOV it can do wonders for brands.
We've already seen Google Analytics 4 improve this by tightening up the relationship between Analytics and Ads. Now using event based tracking vs. session based tracking we will be able to understand customer behaviours even more and develop effective strategies to run ads and reduce wasted spend on the wrong audience.
One area we are excited to see expanding within our own customers tracking portfolio is the implementation of Meta Conversions API which enables browser and server side tracking of your events in Facebook Ad Manager. Here you review events and create new campaigns based on this advanced implementation of server-side. The best part is Littledata reports many of the most needed ecommerce events right out of the box that you would have to set up manually through other means of connection.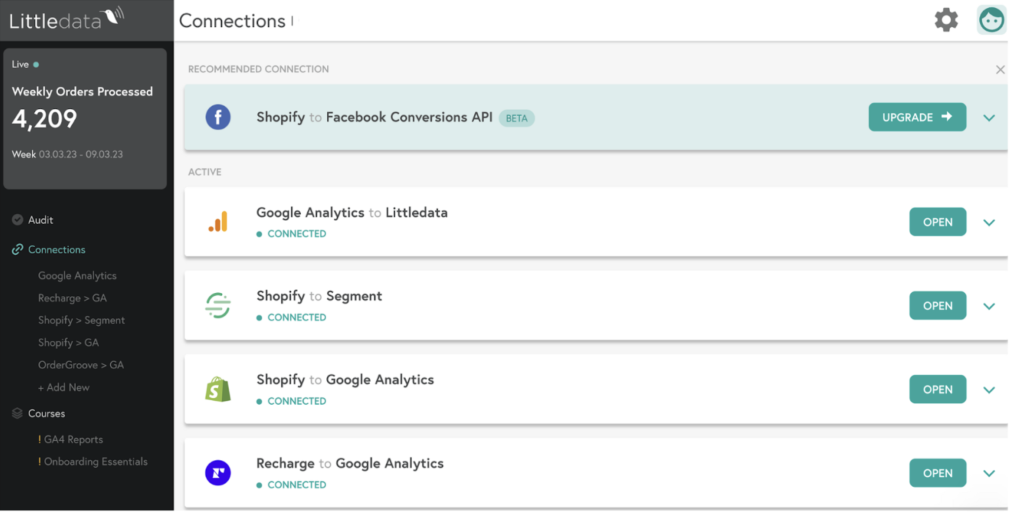 5. Regular data health checks
When maintaining your data stack it is important to know your data is flowing properly from your store to Google Analytics or Segment from your decisions like Shopify or any third party apps you use like Recharge Payments. Manually checking and testing these connections outside of Littledata can be a hassle and time consuming.
With Littledata we show your live processed orders and connection details are active. This can help with any troubleshooting that might occur and as a normal check that the data is flowing properly. Merchants can often overlook this small detail but it can be a good habit to instill for any size organization. Any missed orders or transactions could amount to a lost opportunity for merchants or missed insights in your analysis.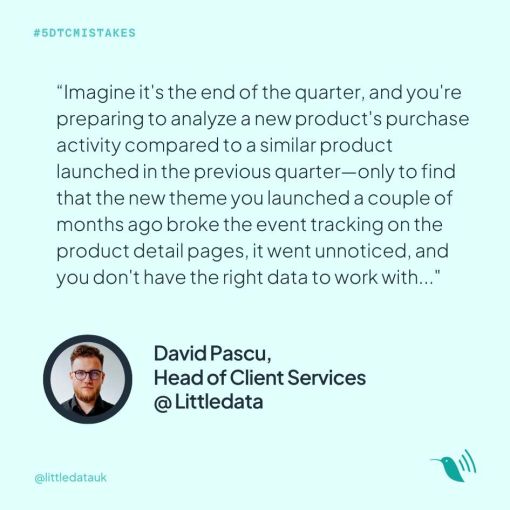 Recently, we caught up with Littledata's Head of Client Services, David Pascu, who shared how this plays out in action for brands:
Imagine it's the end of the quarter, and you're preparing to analyze a new product's purchase activity compared to a similar product launched in the previous quarter—only to find that the new theme you launched a couple of months ago broke the event tracking on the product detail pages, it went unnoticed, and you don't have the right data to work with. Frustrating, right?

I stopped counting how many teams at top DTC brands have voiced their frustration about such situations. This is why tools like Littledata are valuable so that you have complete data without any unpleasant surprises.
Let's be realistic, mistakes can happen within any business but it's our responsibility to limit those mistakes where possible. At Littledata we pride ourselves on building an app that can help your business thrive and grow through accurate data and analytics. Don't make another mistake by missing out on 30 days with no strings attached to try our app with your store.
P.S. Worried your conversions are not tracking well in Google Analytics 4 (GA4)? Use our GA4 conversion checker to see in a few clicks if your property is set up properly.