Meta is pushing all ecommerce brands to implement the Facebook Conversions API. But what is it exactly? And what is the benefit of using an ecommerce data platform to push data back to Facebook?
If you're running a Shopify store and you're not using Meta's Conversions API via Littledata, you're missing out on a lot of benefits that can help you drive more sales, grow your business and most importantly run higher converting Facebook Ad Campaigns. As Meta explains, the Conversions API can get you "closer to your customers" and help you "take advantage of first part data" from your Shopify store.
But what does that all mean? Can't you just add some extra code and be done with it?
In fact, it's not so simple.
As with GA4 implementations, there are a lot of soft apps and integrations for Facebook Ads that work ok for very small merchants (less than $500k GMV). But serious brands need complete data in Meta — whether you're focused on retargeting the checkout funnel, building better audiences, or just improving your overall top-line ad spend.
Littledata has worked with several of the top DTC brands on Shopify and BigCommerce. Here are the top 4 reasons why you should reconsider your tech stack for advertising on Meta. These are the top benefits our most successful brands have seen after installing our Facebook Conversions API connection.
1. Better targeting of potential customers
Meta's machine learning algorithm uses conversion signals to understand what type of people on their platform are likely to purchase products from your shop. By sending conversion event data to Meta, you're helping them understand your audience better and allowing them to target the right people with your ads. This can result in cheaper impressions and conversions for you. Think of this like training the platform to understand your ideal customer profile (ICP). Because Littledata tracks both one-off and repeat purchases (including subscriptions from apps like Recharge, Smarter and Stay Ai), you get complete data for both targeting and audience building (lookalike audiences with a higher LTV).
2. Improved ad performance
Meta uses conversion signals to optimize your ads and find the highest quality potential customers within their user base. By sending Meta conversion complete event data and using it as the optimization event for your ads, Meta can show your ad to the right people at the right time, increasing the chances of them becoming your customer. This will cut down on wasted ad spend and increase overall conversions.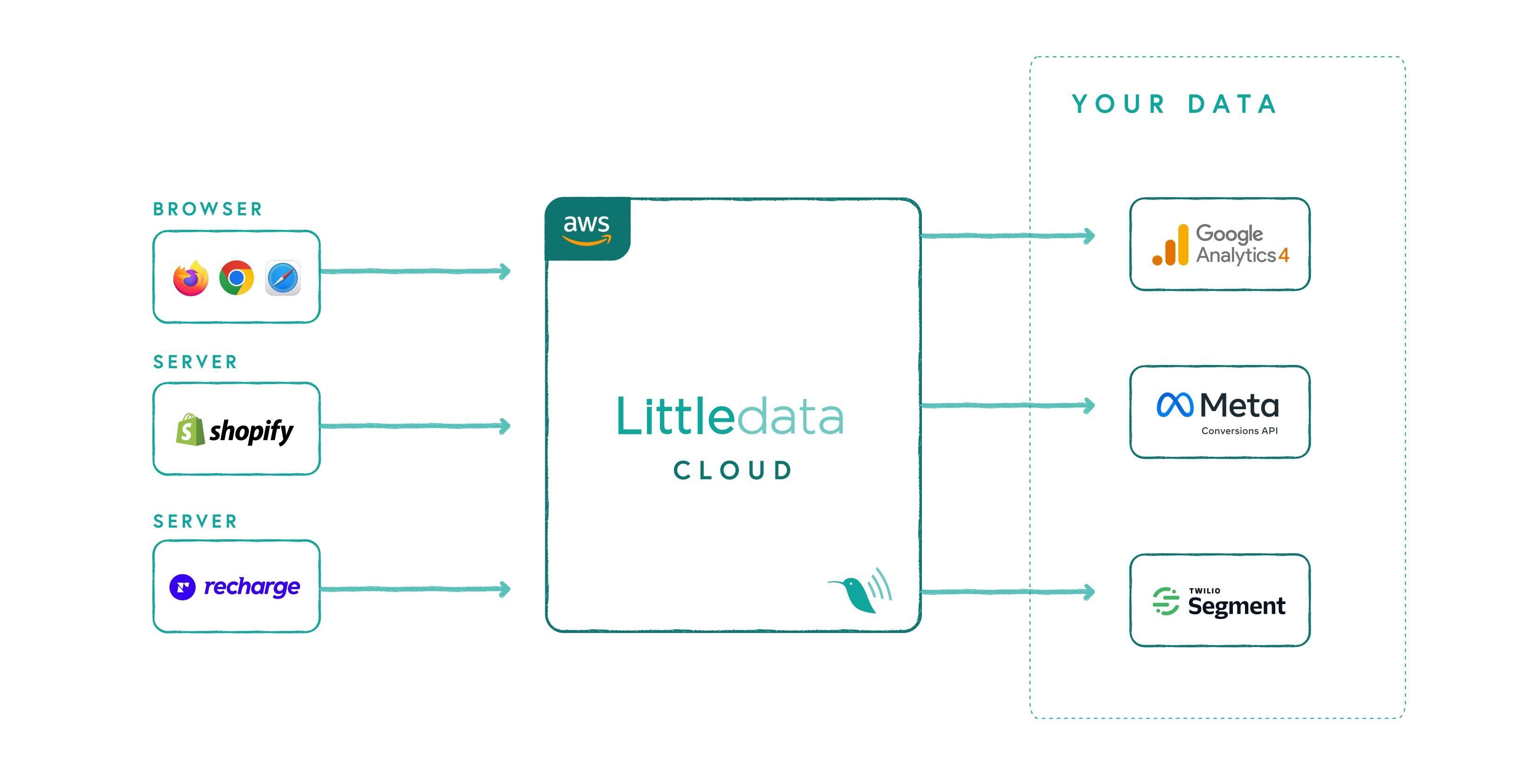 3. Better marketing attribution
Meta's Conversions API allows you to send conversion event data to Meta from your backend systems instead of directly from the browser. This means that even if the user leaves the page quickly or has an ad blocker, the data is still being sent to Meta's event manager. Using the Conversions API can improve the attribution of your conversions to your ads, which can result in better ad spend performance and audience building in the future.
4. More data to work with
When you use the Conversions API, you can send personally identifiable information (PII) like email address, phone numbers back to Meta/Facebook. This allows Meta to match the user with their internal database and get a better understanding of who is converting on your site. It means that shoppers get better, personalized ads that fit their interests. You can also send Meta pseudo-anonymous data like IP address and user agent, as well as Meta's own cookies from the frontend. This gives Meta more data to work with and can help improve their targeting and optimization algorithms.
How it works
Littledata is the most advanced solution for Conversions API, but we didn't get there by accident. Our Google Analytics integration has been the industry leader since 2017 and we used a similar framework to support CAPI so that brands can get complete, accurate data in Facebook Ads and Instagram Ads.
In addition to the server-side tracking that's automatically added by Littledata to capture everything that happens in your online store's "lower conversion funnel", such as checkout funnel activity and purchases, Littledata's integration with the Conversion API is superior to other solutions because of the way it sends the fbp and fbc cookies, which are crucial parameters for the event match quality score. Littledata ensures that an fbp is always available and automatically generates one in the event that the fbp parameter cannot be retrieved due to ad blockers. Additionally, the fbp and fbc parameters are passed with server-side events to ensure the highest event match quality.
Why are the fbc and fbp parameters crucial for Meta CAPI? The event match quality score is an algorithm used by Meta to price impressions, choosing the right users within their user-base to target and provide you with the cheapest impressions and conversions. If the fbp and fbc parameters are not sent, the event match quality score will be negatively impacted, and Meta will not be able to optimize your ads to target the right users effectively.
To overcome this, Littledata's integration with Meta Conversion API ensures that the fbp parameter is always available, even if it cannot be retrieved due to ad blockers. The fbp is automatically generated, and the user is attributed to it to ensure that the event match quality is not negatively affected.
When using Littledata's integration with Meta's Conversion API, Shopfiy and BigCommerce brands can expect to see a boost in the number of conversions that Meta is able to attribute to their ads, resulting in significant ad spend performance and improvements to the overall ad campaign.
Still wondering how these four reasons work out in action? Check out how Flux Footwear used Littledata to support multiple data destinations. A shoe brand that embraced data when they kicked off their business, Flux saw amazing six-figure growth by making data-driven decisions with data they could trust.
On Shopify Plus? Book a Littledata Plus demo today. We're happy to audit your Facebook data for free in advance of the call.