So what does the term (not set) mean in a Google Analytics report? According to Google:
(not set) is a placeholder name that Analytics uses when it hasn't received any information for a dimension. The reasons (not set) appears as a dimension value in a report vary depending on the dimension. While standard reports display a default set of dimensions, you can customize many of them to change the dimensions they display.
Now that you are running on Google Analytics 4 you might be struggling with a reported problem of (not set) displaying in your reporting. Ecommerce managers are diving deep into the new features and experience of GA4 but are finding issues such as (not set) to be adding confusion.
There are some known reasons for (not set) appearing—for example, there may not be a value for a specific event dimension or an event is newly created. A new event can take Google Analytics 24 to 48 hours to begin processing. Check back after 48 hours and if the problem persists you might need to troubleshoot some of the issues below.
Google will continue to make changes and updates which means issues will be solved and new ones may arise—for the time being let's dive into a few we know about—and how you can make sure your (not set) issues are limited.

Landing Page Report
How can a landing page be not set if we clearly see sessions reported?
Firstly, the session might start with an event other than a pageview. For example, if Littledata sends a recurring order to Google Analytics then there is a session with just one event – a purchase – and no page views.
Secondly, the user might have viewed a page but not in the current session. If a user opens a page and does not engage the session can simply timeout after 30 minutes.
When the user returns to the page other user engagement events could fire but not be counted in the same session as the landing page. You can increase the session timeout prevent this experience: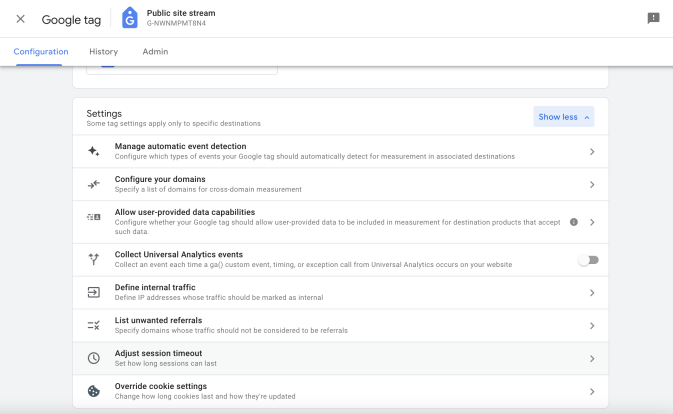 Steps to update adjust session timeout setting in Google Analytics 4:
Go to Admin
Click Property
Click Data Streams
Select the stream you want to update
Click configure tag settings
Click adjust session timeout
Select the duration you want and save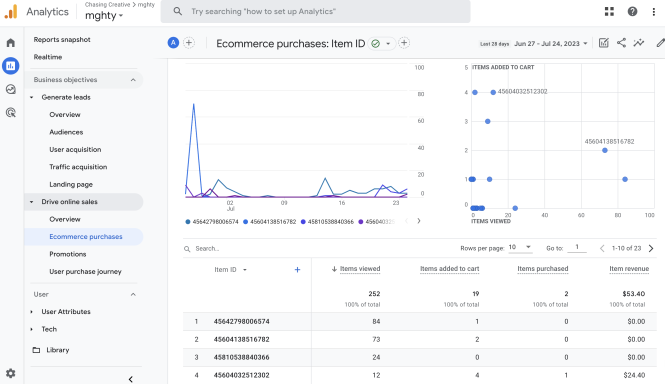 Items (not set) in Ecommerce Reports 
This happens in the monetization reports when the Item Id is not sent together with the ecommerce event. Even if the product name is sent with the purchase data you may be missing the Item Id or other fields when sending the data through your Google Tag Manager or other tracking.
However, if you are using Littledata's complete tracking solution for Shopify to Google Analytics 4 these Item Ids, Item name, Items added to cart, Item category, etc. are all collected and passed to GA4 in every event by our app. This removes any (not set) item properties.
Traffic acquisition: Session Source Medium (not set)
Another common issue is that when going to your traffic acquisition: session source or medium is (not set).
In the traffic acquisition report this will appear in the Unassigned channel – Unassigned is all the traffic Google cannot categorise.
One reason this could happen is you are using Measurement Protocol, which enriches sessions happening on your site. Littledata uses Measurement Protocol for accurate server-side tracking and makes sure to send the user and session identifiers with all those server-side events. If you are seeing (not set) traffic then these identifiers could be missing.
That said, there are sessions where ad blockers or browser limitations prevent the pre-checkout journey being tracked, and sessions that start from the server-side events have (not set) for source. There is no workaround for this currently.
Bear in mind that using a server-side tracking app like Littledata prevents missed events and orders due to direct connection through our tool to your ecommerce store. Even if some of those orders cannot be attributed to a landing page or campaign, you are getting 100% accuracy of revenue. This same technology allows life cycle event reporting into platforms like TikTok, Pinterest, and Meta.
UTM Parameters Missing information can cause (not set)
Another item to check is your UTM parameters. Check to make sure that UTM source and UTM medium are always included in your campaign links so the dimensions have a set value.
Google says, "If you manually tag destination URLs with UTM parameters instead of using auto-tagging, (not set) can appear for URLs with incomplete or incorrect parameters. These URLs can stem not only from Google Ads accounts, but from any other source such as social networks, blogs, or other websites. When Analytics doesn't receive the necessary parameters to identify where traffic from manually tagged URLs comes from, (not set) appears."
You can learn more about UTM parameters here. 
Google Ads
You might be looking at your Advertising reports and noticing (not set) dimensions. In this case the first thing you will want to check is that your Google Ads and Google Analytics 4 property are linked properly. Again, this can take up to 48 hours after enabling.
Another known issue is auto-tagging not being enabled. While Littledata's app offers the best in class tracking for Google Ads for ecommerce brands, you still need auto-tagging to link Ads data back into GA4.
Go to Google Ads Account
Click Account Settings
Check Auto-tagging box
Save
The takeaway
There will always be valid reasons why Google Analytics 4 reports include (not set), but some of them point towards a faulty data setup.. Developing the understanding of when the platform is working fine and when there are setup issues will get easier as folks get more familiar.
If you are selling by way of Shopify or BigCommerce there may be a quick fix for (not set) dimensions – having more complete data and analytics is easy with our app. If you are unsure, grab time with our team who can walk you through how to get started and review your current setup.