On August 1, 2023, Google made a step in the right direction enhancing the analytics experience for DTC brands and marketers with the introduction of the new Audiences report in Google Analytics 4.
🕺🏻 I legit did a happy dance! This update marks a significant development in understanding user behavior, enabling brands to identify their most engaged and profitable audiences.
Now you can review metrics like users, new users, sessions, views per session, and total revenue all in one place. While you could previously build reports to show this data in explorations or pipe out to a third party reporting app — we all know it's a time saver to be able to click, view, and filter dimensions with handy pre-built reports.
Understanding the New Audiences Report
The Audiences report offers a comprehensive view of the audiences engaging with your Shopify or BigCommerce store during a specified time period. This is where first-party data and server-side tracking give you the best possible insights into these reports. Unlike previous reports that often provided a broad overview, this update is tailored to showcase only the audiences with at least one user within the selected timeframe. Brands are honing in on these specific audiences to better identify segments, pages driving traffic, sources, and more that are driving conversions, user engagement, and revenue.
See example: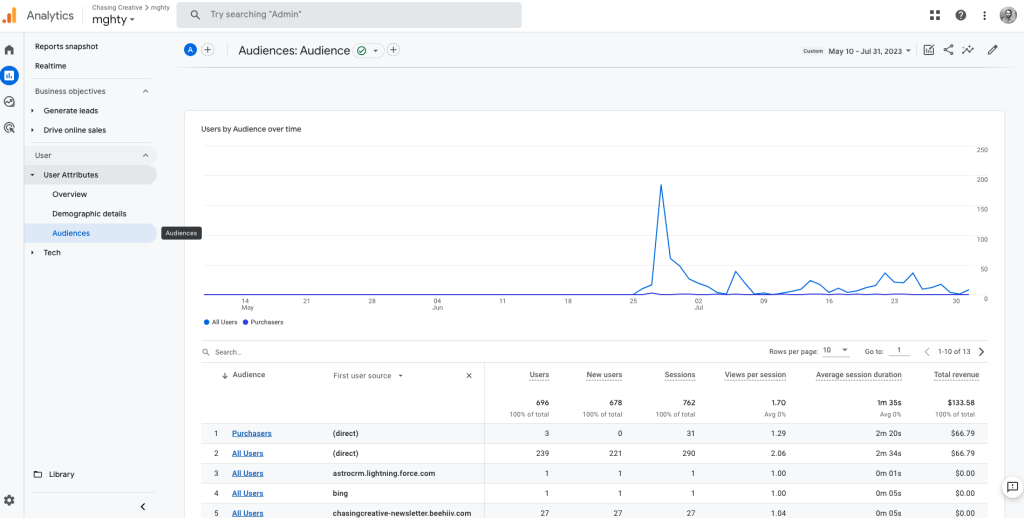 How to Access the Audiences Report
To access the new Audiences report, users can navigate to the User Attributes tab on the left side of the Reports section in Google Analytics 4. Upon clicking on the Audiences report, businesses will be presented with a report that can help uncover or showcase audience insights.
For some users, the Audiences report may not be immediately visible.
In such cases, administrators or editors can easily add the report to the report library, ensuring that everyone within their team can harness the power of this new feature.
How the reports work and why they could be a game changer for your brand
Audience Dimensions in Reports:
The Audiences report facilitates the segmentation of users based on their engagement levels, behavior patterns, and conversion actions that you create via audiences, which then will be automatically added. By grouping users into meaningful segments based on dimension, metric, and event data collected from a property, brands can tailor their marketing efforts to address specific audience needs and preferences.
Metrics and Engagement Insights in Reports:
Understanding how different audience segments interact with your store based on metrics like sessions, views per session, revenue, subscriptions and more brands can optimizie for the best user experiences and journey. The Audiences report provides this data by specified periods in one easy to view report. By using Littledata's GA4 app connection for Shopify and BigCommerce you can be sure that event data is flowing from your store to Google Analytics 4 with confidence.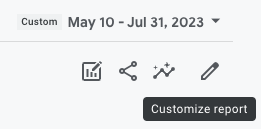 Customization:
One of the pros of GA4 is the ability to customize reports to serve your stores specific needs. By tapping the pencil icon in the right hand corner of the report, under the date filter, you can customize the dimensions, metrics, and style of your report.
This is very handy if your team finds itself trying to solve a specific problem or understand certain aspects of your customer's journey or behaviors. Check out the screenshots below to see a handful of the metrics you can add to your report in a few clicks.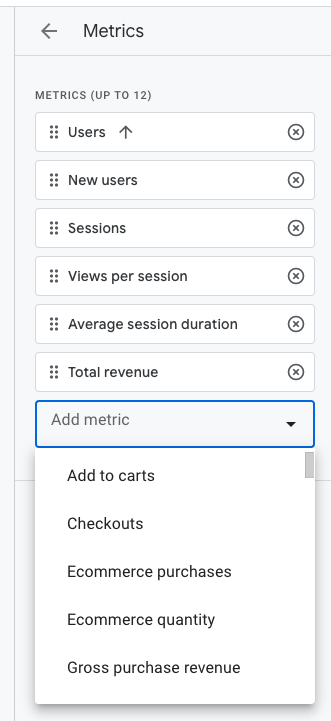 Use key metrics to understand audiences:
One of the best practices for marketers when looking at reporting is starting broad and narrowing your audience. This allows you to make better business decisions and create campaigns that will drive better outcomes based on subsets of audiences.
We see brands focus on key metrics like average order value (AOV), Life Time Value (LTV), and Revenue—when you can create a subset of these audiences by demographics, paid or organic channels, or other pre-built audiences you are giving your brand the best possible insights to optimizing your marketing strategies.
The takeaway
The introduction of the new Audiences report in Google Analytics 4 marks a significant leap in the realm of audience insights and data analytics. Making it a no brainer for brands send their data to GA4 — where these reports are provided freely. It is a good sign for brands to see new reports and features continuing to be added to GA4.
Many who waited until the last minute to migrate from Universal Analytics are still getting used to GA4. With releases like this one brands are able to move faster and make use of the data. Brands can now gain a deeper understanding of their most engaged and profitable audiences, allowing them to optimize marketing efforts, enhance user experiences, build better audiences and segmentation, and drive growth.
As we move forward with new updates from Google Analytics 4, it is evident that data is playing a crucial role in shaping marketing strategies and future proofing top DTC brands. The Audiences report is a signal to Google's commitment to providing better reporting for brands. Serving up the data they need to understand ecommerce analytics in simple reports. We look forward to seeing Littledata customers using their complete data collection and tracking in GA4 to make the best possible decisions for their brand and customers. Happy analyzing!