In addition to Littledata's Carthook connection, merchants can configure advanced tracking options to cover CartHook Upsells, Downsells, Checkout Steps and Thank you pages.
This article is a step by step guide to help you configure the advance tracking options.
Note: If you already have other scripts present in your Global Code fields, then we do not recommend adding the following scripts as that can lead to unexpected behaviors.
To get started, login to your Carthook account, click on your name at the top right corner, then click on Global Code: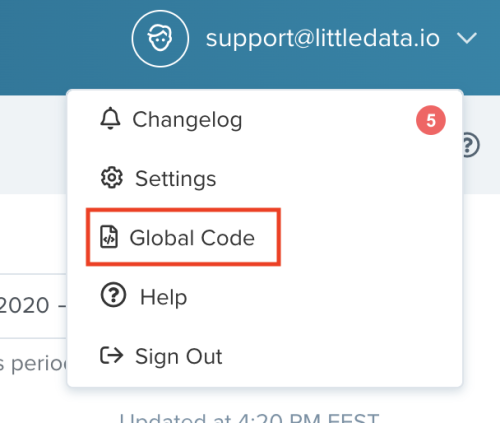 Script 1: Checkout page javascript
Add the following code to the Checkout page javascript field:

					



CH.event(

function (EVENT, data) {

if (EVENT == "INITIATED_PAGE") {

var GTMid = "GTM-XXXX"; // Your GTM id here

let cartData = data.cart_data;

let lineItems = cartData.line_items;

let contents = [];

let content_ids = [];

let item_cnt = 0;

lineItems.forEach(function (el) {

content_ids.push(el.id.toString());

contents.push({

id: el.sku,

quantity: el.quantity,

price: el.line_price,

name: el.title,

});

item_cnt += parseInt(el.quantity);

});


<!– Google Tag Manager –>

(function(w,d,s,l,i){w[l]=w[l]||[];w[l].push({'gtm.start':

new Date().getTime(),event:'gtm.js'});var f=d.getElementsByTagName(s)[0],

j=d.createElement(s),dl=l!='dataLayer'?'&l='+l:";j.async=true;j.src=

'https://www.googletagmanager.com/gtm.js?id='+i+dl;f.parentNode.insertBefore(j,f);

})(window,document,'script','dataLayer',GTMid);

<!– End Google Tag Manager –>




// GA event for Contact info step, triggered at the page load




gtag("event", "begin_checkout", {

event_category: "Shopify (Littledata)",

event_label: "Contact information",

event_action: "Checkout",

currency: cartData.currency,

items: contents,

coupon: cartData.coupon,

});




var contact_info = document.getElementById("customer_email");

var shipping_info = document.getElementById("shipping_zip");




// GA event for Shipping info step, triggered on leaving email field

// we are intentionally removing the event listener to avoid event repetitions




contact_info.addEventListener("blur", listen_contact);

function listen_contact() {

gtag("event", "checkout_progress", {

event_category: "Shopify (Littledata)",

event_label: "Shipping information",

event_action: "Checkout",

currency: cartData.currency,

items: contents,

coupon: cartData.coupon,

checkout_step: 2,

});

contact_info.removeEventListener("blur", listen_contact);

}




// GA event for Payment info step, triggered on leaving ZIP/postal field




shipping_info.addEventListener("blur", listen_shipping);

function listen_shipping() {

gtag("event", "checkout_progress", {

event_category: "Shopify (Littledata)",

event_label: "Payment method",

event_action: "Checkout",

currency: cartData.currency,

items: contents,

coupon: cartData.coupon,

checkout_step: 3,

});

shipping_info.removeEventListener("blur", listen_shipping);

}




}

},

function (EVENT, error) {

console.log(EVENT, error);

}

);




 
Script 2: Upsell page javascript
Add the following code to the Upsell page javascript field:

					



CH.event(

function (EVENT, data) {

if (EVENT == "INITIATED_PAGE") {

var GTMid = "GTM-XXXX"; // Your GTM id here

var acc_button = document.querySelector(".ch-accept-button"); // HTML selector for Accept button

var rej_button = document.querySelector(".ch-decline-button"); // HTML selector for Decline button

var orderId = window.chData.order.carthook_order_id;

var lastChargedLineItems = window.chData.order.last_charged_line_items;

var upsellProduct = window.chData.cart_data.line_items[0];

var lastChargedPage = window.chData.last_charged_page_type;

var totalStep = window.chData.order.total_price;


<!– Google Tag Manager –>

(function(w,d,s,l,i){w[l]=w[l]||[];w[l].push({'gtm.start':

new Date().getTime(),event:'gtm.js'});var f=d.getElementsByTagName(s)[0],

j=d.createElement(s),dl=l!='dataLayer'?'&l='+l:";j.async=true;j.src=

'https://www.googletagmanager.com/gtm.js?id='+i+dl;f.parentNode.insertBefore(j,f);

})(window,document,'script','dataLayer',GTMid);

<!– End Google Tag Manager –>




window.dataLayer = window.dataLayer || [];




// Tracking transaction from the Checkout page, before upsell/downsell




var transactionProducts = [];

var taxPrice = 0;

var subtotalPrice = 0;




for (var i = 0; i < lastChargedLineItems.length; i++) {

var item = lastChargedLineItems[i];

transactionProducts.push({

sku: item.sku,

name: item.title,

price: item.price,

quantity: item.quantity,

});




if (item.tax_amount) {

taxPrice += item.tax_amount;

}




subtotalPrice += item.price * item.quantity;

}




var shippingRates = window.chData.order.last_charged_shipping_rates;

var shippingTotal = 0;




for (var i = 0; i < shippingRates.length; i++) {

shippingTotal += parseFloat(shippingRates[i].price);

}




if (transactionProducts.length > 0) {

window.dataLayer.push({

'event': "transactionStepComplete",

'chTransactionStepId': orderId,

'transactionTotal':totalStep,

'transactionSubTotal': parseFloat(subtotalPrice),

'transactionTax': parseFloat(taxPrice),

'transactionShipping': parseFloat(shippingTotal),

'transactionProducts': transactionProducts,

'stepCharged': lastChargedPage

});

}




// GA event for Upsell step, triggered at the page load




gtag("event", "Upsell Page", {

event_category: "Shopify (Littledata)",

event_label: upsellProduct.title + " (Loaded page)",

});




// GA event for Upsell Accepted step, triggered at the click of Accept button




acc_button.addEventListener("click", function () {

gtag("event", "Upsell Page", {

event_category: "Shopify (Littledata)",

event_label: upsellProduct.title + " (Accepted)",

});

});




// GA event for Upsell Rejected step, triggered at the click of Decline button




rej_button.addEventListener("click", function () {

gtag("event", "Upsell Page", {

event_category: "Shopify (Littledata)",

event_label: upsellProduct.title + " (Rejected)",

});

});

}

},

function (EVENT, error) {

console.log(EVENT, error);

}

);



 
Script 3: Downsell page javascript
Add the following code to your Downsell page javascript field:

					



CH.event(

function (EVENT, data) {

if (EVENT == "INITIATED_PAGE") {

var GTMid = "GTM-xxx"; // Your GTM id here

var acc_button = document.querySelector(".ch-accept-button"); // HTML selector for Accept button

var rej_button = document.querySelector(".ch-decline-button"); // HTML selector for Decline button

var orderId = window.chData.order.carthook_order_id;

var lastChargedLineItems = window.chData.order.last_charged_line_items;

var upsellProduct = window.chData.cart_data.line_items[0];


<!– Google Tag Manager –>

(function(w,d,s,l,i){w[l]=w[l]||[];w[l].push({'gtm.start':

new Date().getTime(),event:'gtm.js'});var f=d.getElementsByTagName(s)[0],

j=d.createElement(s),dl=l!='dataLayer'?'&l='+l:";j.async=true;j.src=

'https://www.googletagmanager.com/gtm.js?id='+i+dl;f.parentNode.insertBefore(j,f);

})(window,document,'script','dataLayer',GTMid);

<!– End Google Tag Manager –>




// GA event for Downsell step, triggered at the page load




gtag("event", "Downsell Page", {

event_category: "Shopify (Littledata)",

event_label: upsellProduct.title + " (Loaded page)",

});




// GA event for Downsell Accepted step, triggered at the click of Accept button




acc_button.addEventListener("click", function () {

gtag("event", "Downsell Page", {

event_category: "Shopify (Littledata)",

event_label: upsellProduct.title + " (Accepted)",

});

});




// GA event for Downsell Rejected step, triggered at the click of Decline button




rej_button.addEventListener("click", function () {

gtag("event", "Downsell Page", {

event_category: "Shopify (Littledata)",

event_label: upsellProduct.title + " (Rejected)",

});

});

}

},

function (EVENT, error) {

console.log(EVENT, error);

}

);




 
Script 4: Thank you page javascript
Add the following code to your Thank you page javascript field

					



CH.event(function (EVENT, data) {

if (EVENT == 'INITIATED_PAGE') {

var GTMid = 'GTM-XXXX'; // Your GTM id here

var chOrderId = window.chData.order.carthook_order_id;

var orderId = window.chData.order.order_number;

var lineItems = window.chData.order.line_items;

var lastChargedLineItems = window.chData.order.last_charged_line_items;

var total = window.chData.order.total_price;

var lastChargedPage = window.chData.last_charged_page_type;


<!– Google Tag Manager –>

(function(w,d,s,l,i){w[l]=w[l]||[];w[l].push({'gtm.start':

new Date().getTime(),event:'gtm.js'});var f=d.getElementsByTagName(s)[0],

j=d.createElement(s),dl=l!='dataLayer'?'&l='+l:";j.async=true;j.src=

'https://www.googletagmanager.com/gtm.js?id='+i+dl;f.parentNode.insertBefore(j,f);

})(window,document,'script','dataLayer',GTMid);

<!– End Google Tag Manager –>




window.dataLayer = window.dataLayer || [];




// Step data




var transactionStepProducts = [];

var taxStepPrice = 0;

var subtotalStepPrice = 0;




for (var i = 0; i < lastChargedLineItems.length; i++) {

var item = lastChargedLineItems[i];

transactionStepProducts.push({

'sku': item.sku,

'name': item.title,

'price': item.price,

'quantity': item.quantity,

});




if (item.tax_amount) {

taxStepPrice += item.tax_amount;

}




subtotalStepPrice += (item.price * item.quantity);

}




var shippingStepRates = window.chData.order.last_charged_shipping_rates;

var shippingStepTotal = 0;




for (var i = 0; i < shippingStepRates.length; i++) {

shippingStepTotal += parseFloat(shippingStepRates[i].price);

}




var stepTotal = parseFloat(subtotalStepPrice) + parseFloat(taxStepPrice) + parseFloat(shippingStepTotal);




if (transactionStepProducts.length > 0) {

window.dataLayer.push({

'event': 'transactionStepComplete',

'chTransactionId': chOrderId,

'transactionStepSubTotal': parseFloat(subtotalStepPrice),

'transactionStepTotal': stepTotal,

'transactionStepTax': parseFloat(taxStepPrice),

'transactionStepShipping': parseFloat(shippingStepTotal),

'transactionStepProducts': transactionStepProducts,

'stepCharged': lastChargedPage

});

}




// Total data




var transactionProducts = [];

var taxPrice = 0;

var subtotalPrice = 0;




for (var i = 0; i < lineItems.length; i++) {

var item = lineItems[i];

transactionProducts.push({

'sku': item.sku,

'name': item.title,

'price': item.line_price,

'quantity': item.quantity,

});




if (item.tax_amount) {

taxPrice += item.tax_amount;

}




subtotalPrice += (item.price * item.quantity);

}




var shippingRates = window.chData.order.selected_shipping_rates;

var shippingTotal = 0;




for (var i = 0; i < shippingRates.length; i++) {

shippingTotal += parseFloat(shippingRates[i].price);

}




if (transactionProducts.length > 0) {

window.dataLayer.push({

'event': 'transactionComplete',

'transactionId': orderId,

'transactionSubTotal': parseFloat(subtotalPrice),

'transactionTotal' : total,

'transactionTax': parseFloat(taxPrice),

'transactionShipping': parseFloat(shippingTotal),

'transactionProducts': transactionProducts

});

}

}

}, function (EVENT, error) {

console.log(EVENT, error);

});