Littedata's Shopify to Google Analytics connection is an advanced Google Analytics integration for tracking ecommerce events, including marketing channels and sales data. Here are Frequently Asked Questions about the connection.
Is the connection available in the Shopify app store?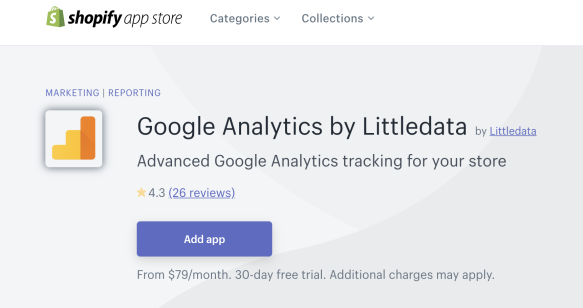 Yes, you can install Littledata's Shopify to Google Analytics connection directly from the Shopify app store.
What do I get with the connection?
End-to-end Google Analytics tracking for the shopper journey
Accurate sales tracking, including sales and refunds
Accurate marketing attribution (say goodbye to large amounts of mysteriously "Direct" traffic)
Complete Enhanced Ecommerce data
Meaningful checkout funnels
Custom dimensions to calculate customer lifetime value and create custom audiences for retargeting
Ability to segment performance in Google Analytics by payment source, subscription plan type, and product category
Extensible data layer, plus additional connections for tracking ReCharge and CartHook checkouts
See the connection overview for more details.
How is this different from Shopify's default tracking?
In short, Shopify's native analytics are inaccurate and incomplete, and their basic Google Analytics integration is hardly any better. Littledata uses a combination of client-side and server-side tracking to stitch sessions together and capture everything that happens in your Shopify store, from marketing channels through browsing behavior, repeat purchases, subscriber behavior and refunds. Initial case studies have found a 10x savings on development time and upkeep, not to mention that the data is far more accurate!
Will you make Shopify match GA?
Yes! 88% of Shopify stores have inaccurate data in Google Analytics. There are several possible reasons for this, but Littledata fixes most issues automatically.
Do I need to disable Shopify's default Google Analytics tracking?
Yes. During the install flow, you will be prompted to disable Shopify's native Google Analytics tracking setup. This is an important step to ensure that you don't have double tracking in Google Analytics, and that Littledata's tracking works correctly. Disabling the default tracking will not mess with your historic data, only help to improve your tracking going forward. See how to disable Shopify's default GA tracking. 
How does the manual install work?
There are several reasons you might need to do a manual installation of Littledata's Shopify to Google Analytics connection. You might have a very custom theme or be under source control. Follow these steps to install or update Littledata's Shopify tracker via the custom/manual route.
Note: If you are using a headless setup, follow the headless setup guide instead.
Can I set up cross-domain tracking for my Shopify store?
Yes. Littledata automatically includes adds common preset domains for cross- domain tracking, but you can add additional domains manually. Follow this guide to check if you need to set up additional cross-domain tracking.
Do you support multi-currency?
Yes. If you are selling in multiple currencies with different Shopify stores, Littledata's Shopify to Google Analytics connection makes it easy to track this and convert sales into your shop currency. Read more about multi-currency tracking and supported payment gateways.
Do you support headless Shopify setups?
Does the connection work with GTM?
Littledata's tracking script for Shopify stores adds detailed events which you can use to build funnels or trigger other marketing tags in Google Tag Manager (GTM). You can use Littledata to replace GTM, or use Littledata with GTM. Our script uses the naming conventions set by Google for gtag. Here is an overview of Littledata's GTM and Google Analytics data layer.
Do you track by Product ID or SKU?
How does the connection fix marketing attribution?
Google Analytics loses the link between a customer choosing a product, checkout, and payment. Littledata fixes this by linking together the session that the customer had browsing products on your Shopify store with the actual checkout steps and payment. Learn more about marketing attribution.
Can I get this data into my data warehouse?
Can you help track Amazon referrals?
Yes! Orders from Amazon are now displayed in GA reports as coming from "amazon.com/referral" instead of "direct". This eliminates confusion about an increase in direct traffic share (% of transactions coming from direct) without any increase in direct traffic volume.
Why do I have to delete Google Property ID from Shopify Admin?
Once you complete this connection, Littledata will add client-side and server-side tracking to ensure complete tracking in Google Analytics. Deleting the Google Property ID from Shopify Admin simply replaces Shopify's default tracking with Littledata's more advanced tracking. This ensures accurate data and protects against duplicate tracking.
Will I lose any data?
No. The moment you complete this connection, Littledata will add client-side and server-side tracking to your store. You will not lose any data, and you will continue to have access to all of your data in Google Analytics, even if you ever choose to uninstall Littledata.
Do all stores have to complete this step?
Yes. All stores that use Littledata's Google Analytics must disable Shopify's native tracker by deleting the Google property ID from Shopify admin.