In this quick setup guide, we'll show you how to find and install Google Analytics by Littledata, the most popular Shopify app for ecommerce tracking and marketing attribution.
Benefits of the app include:
Analytics audit and ecommerce benchmarks
Server-side tracking to capture all sales and checkout steps
Custom dimensions for better marketing analysis
Option to activate seamless connections with apps including ReCharge and Facebook Ads, for a complete picture of your ecommerce business in Google Analytics
Note: Littledata's Shopify connection does not affect historic data. It only fixes tracking from the time of install onwards.
Quick install guide
Step 1. On your Shopify store page, select apps on the left-hand side. There you will see the Apps button. On the right-hand side, select Visit Shopify App Store.
Step 2. Type in Littledata into the search bar.
Step 3. Once you've typed it in click 'Add app'  to begin the installation process: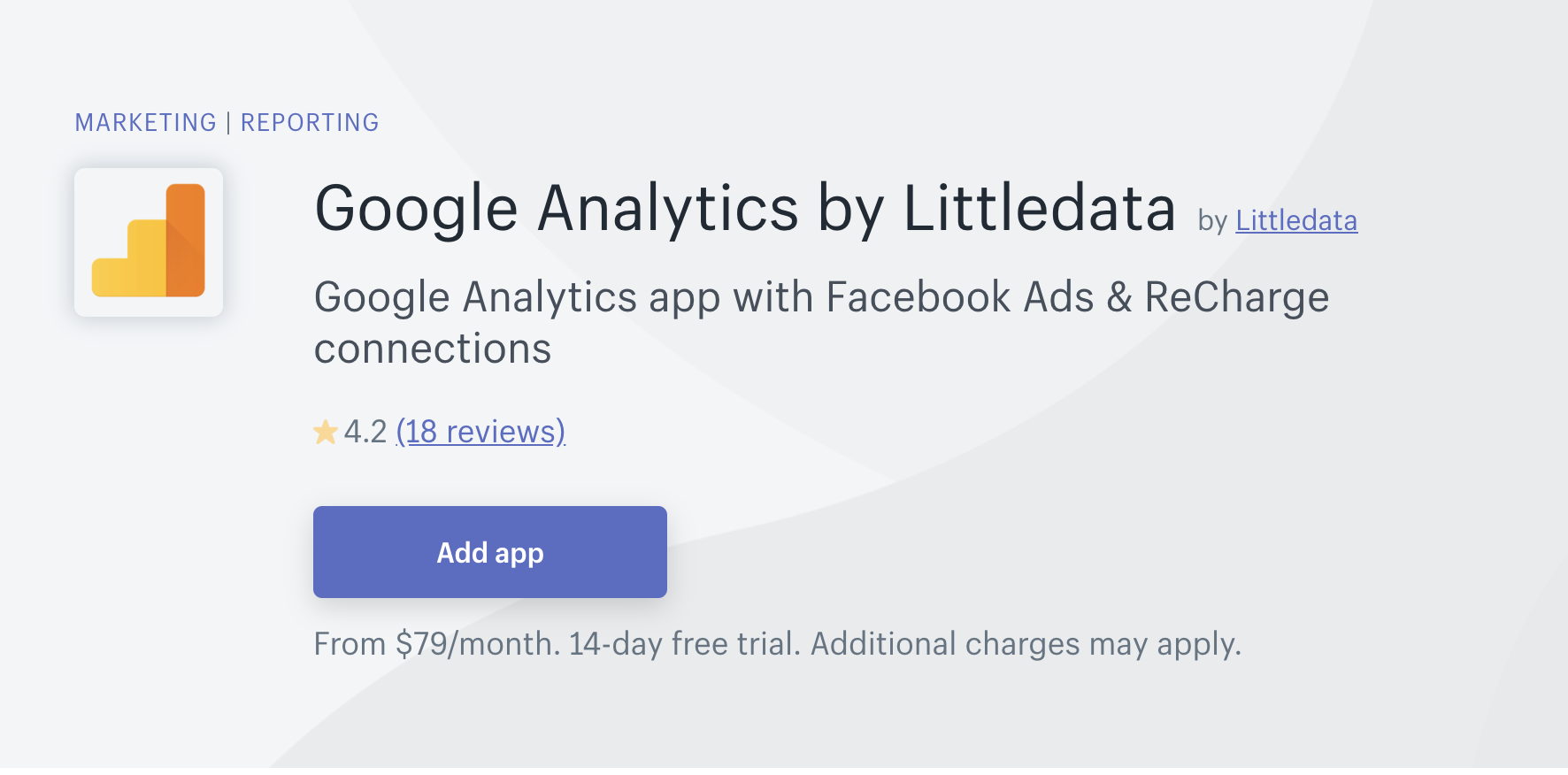 Step 4. Install the app.
Note:  there is no login required. We use Shopify's store admin email to create the subscription. This allows you to log into Littledata directly from the Shopify store apps tab.
Step 5. Choose the installation type you wish to follow; if you choose the Standard route, please continue reading below. For the Manual route, follow the instructions listed in this article:
Step 6. Add your Google Analytics web property ID by following the on-screen instructions:
Note:  your Google Analytics field in Shopify Admin looks like this:
Step 7. After completing this step, you will have to disable the Shopify tracker:
Step 8. Your set up is now complete!
Note:   to enhance Shopify tracking, we suggest you use our Google Analytics connection after completing the Shopify set up. The instructions for connecting Google Analytics can be found in this guide.