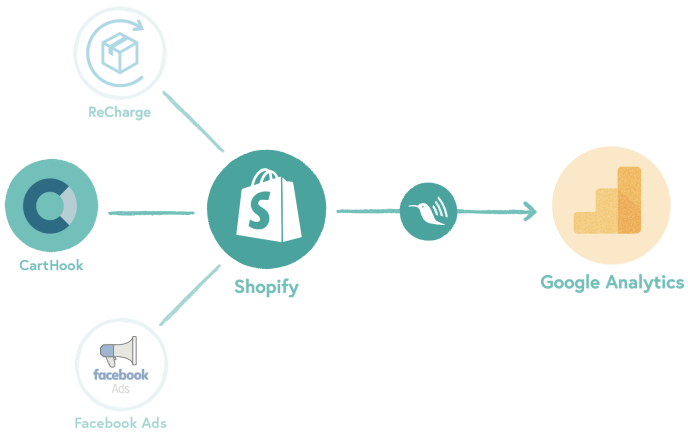 In addition to Littledata's core connections for Shopify to Google Analytics and Shopify to Segment, we offer several connections and integrations to complete your tracking setup.
Littledata's Carthook connection is an advanced Google Analytics integration that tracks sales, refunds, checkout steps, and marketing attribution for payments made via CartHook in your Shopify store. Our app sends the improved data directly to Google Analytics or Segment, as needed. Once activated, it works automatically in the data layer (LittledataLayer).
Connection benefits
Accurate sales data and marketing attribution all CartHook transactions
Custom dimensions for calculating LTV and more
Minimal, super-fast script and GTM/data layer
Works with headless Shopify setups
Note: The CartHook connection is compatible with Littledata's Google Analytics and Segment destinations. If you're using Segment, please send events from CartHook to Segment using this connection first, then from Segment to Google Analytics.
Connection details
Works with Littledata's Shopify connections
The CartHook connection works in tandem with Littledata's main Shopify connections for Segment or Google Analytics. We use a combination of server-side and client-side tracking for complete data, and our script uses the naming conventions set by Google for gtag.
Cross-domain tracking for accurate attribution
Cross-domain tracking ensures that when your customers are redirected to CartHook checkout domains, the original subscriber ID is not lost and a unified customer journey can be traced in Segment or Google Analytics. This works automatically with the CartHook connection, but you can also add additional cross-domain tracking as needed.
Custom dimensions
Littledata adds custom dimensions for building cohorts and reporting in Google Analytics and connected data tools. These include:
– Shopify Customer ID
– Date of the last transaction
– Order count
– Customer lifetime value (LTV)
– Payment Gateway
Learn more
You can install the CartHook connection directly in the Littledata app, or from your CartHook admin.