Pixel Perfect is a Shopify app which automatically configures a Facebook Pixel on your Shopify store. Facebook Pixel allows you to measure the impact of Facebook Ads on revenue, and calculate Cost Per Acquisition (CPA). It also allows you to build website custom audiences based on what users have seen or added to cart.
Together with a matching product catalog feed (included with this app), this allows stores to serve Dynamic Ads for products which your customers have shown interest in.
Why Pixel Perfect?
Pixel Perfect is the longest established Facebook Pixel app for Shopify, and based on extensive customer feedback it has the following features:
Send data to up to three Pixels (e.g. to use a backup pixel)
Tag products and use this 'niche' tag Facebook to build audiences
Set how much revenue is attributed to Facebook Ads
Check which orders are being tracked in Facebook
Setup steps
Add the Pixel Perfect app to your store
Go to your Shopify Admin, and under Online Store .. Preferences, copy the Facebook Pixel ID that the store currently uses. If you don't have a Pixel setup already you will need to create a new Pixel.
Paste this Pixel ID into Pixel Perfect, under Pixel Settings.
REMOVE the Pixel from Shopify Admin (if it was set up).
Check the page views and View Content events are triggered from your pages, by using the Facebook Pixel Helper plugin for Chrome.
Frequently Asked Questions
What's the difference between Shopify's built-in Pixel and Pixel Perfect?
Pixel Perfect was designed to remove some key limitations of Shopify's built-in Pixel. The major issues fixed are:
Not being able to add more than one Facebook Pixel
Missing shipping and tax from order revenue in Facebook
Missing product IDs and product category on ViewContent and AddToCart events
Mis-match between Shopify Pixel and product catalog
There's only one area Pixel Perfect is lacking: tracking page views and events on the Shopify checkout. We aim to address this in the next major version.
Why am I seeing duplicate / double counted events in Facebook?
Using Shopify's Pixel (or any other Pixel app) alongside Pixel Perfect leads double tracking of events and purchases. You need to disable the built-in Pixel when you install Pixel Perfect.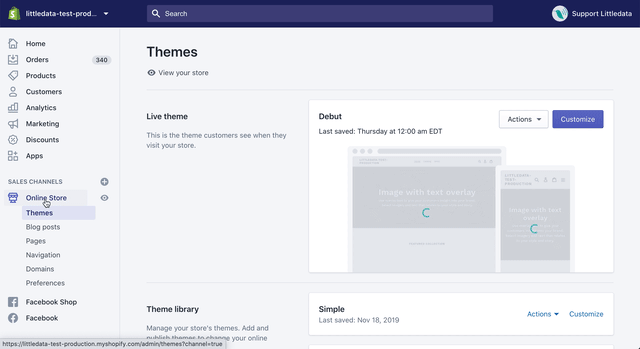 You may also need to unlink the Ad Account used in the Facebook Channel. WARNING: this may stop ads running.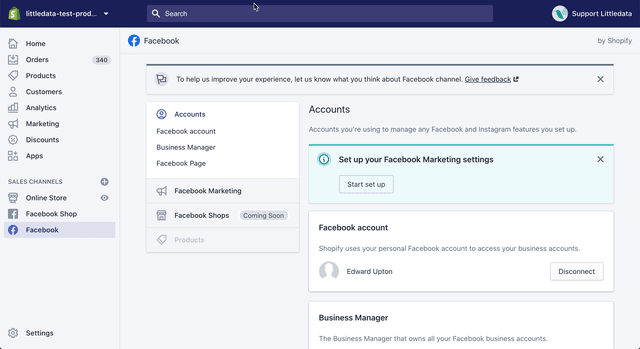 What events does Pixel Perfect send to Facebook?
Our tracking script automatically adds these events:
ViewContent - on the product details pages
ViewNiche - also on the product details pages
AddToCart - when the add to cart button is clicked
InitiateCheckout - when the checkout button is clicked
Purchase - on the thank you page
How do I fix the 'Products are missing from your catalog' error?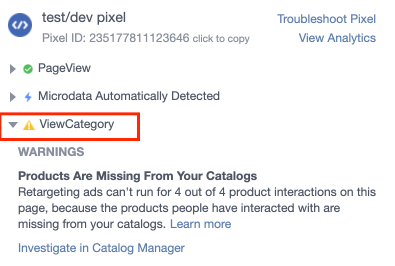 If you see a warning message like this in the Pixel Helper extension for Chrome, it could be a result of the Pixel (event data) not being linked to the product catalog. You can associate them in the catalog manager on Facebook.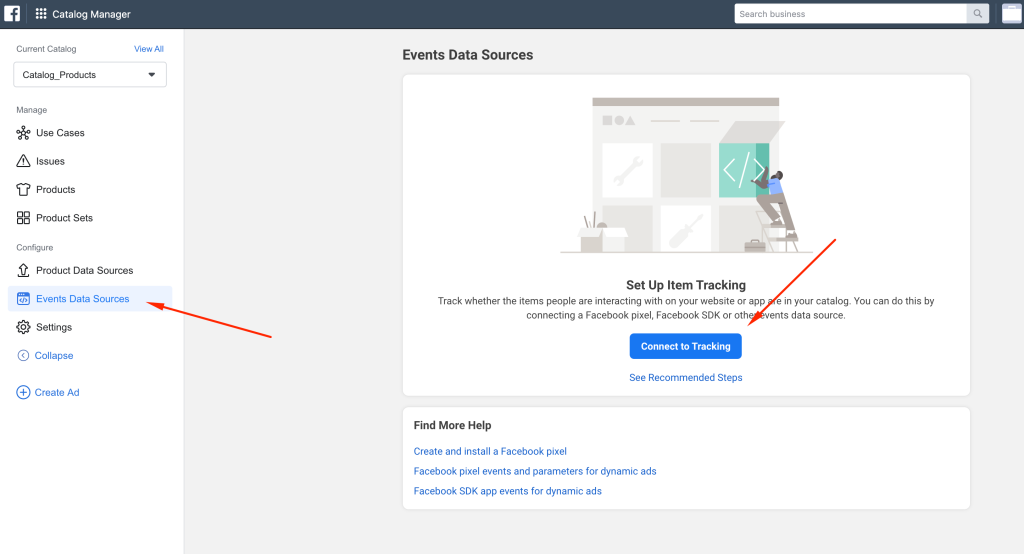 How do I tag products to build a 'niche' audience?
You can add a special kind of product tag (starting with pp_) which Pixel Perfect adds to ViewContent events. This allow you to build audiences or retarget users who see particular products. The tag name cannot include any other special characters (e.g. an extra _ ).
Enable Niche Custom Event Pixel in the app settings
Edit the product in Shopify admin, and add a tag like pp_special

See that the ViewContent event contains a custom field called niche with the value special.

In Facebook Ads, build a custom audience where niche matches special
How do I use the product feed included with Pixel Perfect?
Pixel Perfect includes a product feed URL which can be pasted into Facebook to sync a product catalog. This feed is compatible with the Pixel events, but can also be configured to work with Shopify's built-in Pixel.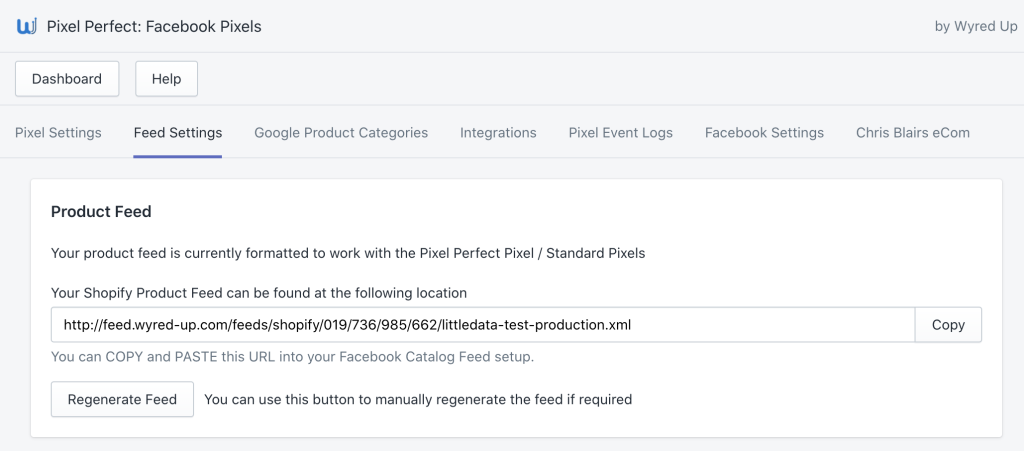 The product IDs used in the feed should exactly match the product IDs sent with Facebook Pixel events as the product_group.
This feed is identical to that in the stand-alone Facebook Feed app, so you can read more details there.
I've just updated the settings in Pixel Perfect - why don't they update on my store?
The settings are cached locally in your browser cookies for up to an hour. To test the changes immediately you will need to wipe all your cookies starting with 'pp'.
Is Pixel Perfect included with Littledata's other connections?
No, currently Pixel Perfect is priced as a stand-alone app. It can be installed alongside our connections for Google Analytics, Segment, Google Ads and others, but since the data collection happens in a different way you should expect some differences in the event volumes.
In the next major release we will include the enhanced Pixel connection in our standard plans.
How many Pixels can I add?
You can add up to 3 Facebook Pixels, and choose which events to send to the 2nd and 3rd Pixel.
Common situations where you need more than one Pixel include:
Storing a backup Pixel just in case Facebook suspends one Ad Account
Working with marketing agencies who require their own tracking
We do not recommend using different Pixels for different product collections. Facebook's intelligent Ads will work better if you keep your store data unified, but use the product tags (see above) or product type to build custom audiences for retargeting.
How does Pixel Perfect work with Littledata's Facebook Ad Costs to Google Analytics connection?
Once you have accurate event data in Facebook, you may also want to see how those campaigns interact with other non-Facebook campaigns and get a true picture of return on investment using Littledata's Facebook Ads cost import. That connection will work with or without Pixel Perfect.
Do you offer customer support for Pixel Perfect?
Yes, Littledata now supports Pixel Perfect customers with a dedicated customer success team. Please reach out to our support team via email if you have any questions.
What about Data Processing Options and CCPA compliance?
Pixel Perfect complies with the California Consumer Privacy Act (CCPA)  by instructing Facebook to geolocate the visitor and decide if they are within the scope of CCPA. Our script sets the Limited Data Use option as zero for country and zero for state.