On June 11, 2020, we moved to a new naming scheme for Littledata's ReCharge connection views and filters. If you installed the connection prior to this date then it is likely that you have the old view names and filters as described below. No changes were made to the events that we send to Google Analytics.
Note: If you are happy with the current view names and filters on your Google Analytics account, then there is no need to migrate to the new naming scheme. This change is primarily for new customers to easily find the data in their setup.
The 'LittleData: Recurring payments' view in Google Analytics
There are times when you want to look at just the revenue from new subscriptions and times when you want to look at the full history of payments from subscribers.
When you activate the ReCharge to Google Analytics connection, Littledata creates a new view in your connected Google Analytics property to track only recurring payments. This new view is called LittleData: Recurring payments.
You can group those payments by subscriber (Shopify customer ID) and, for all subscriptions that started after you installed the Littledata app, by the marketing channel or campaign which caused them to start subscribing.
All the other views in the property you connected to Littledata will have those recurring transactions excluded, using a view filter. This filter is called LittleData: Recurring orders.
Note: Don't delete that 'LittleData: Recurring orders' filter from the reporting view you connected to Littledata, otherwise your ecommerce conversion rate and bounce rate will be affected!
Subscription lifecycle events
Littledata sends complete subscription lifecycle events to Google Analytics (or Segment). This helps you understand subscriber growth and customer behavior in more detail.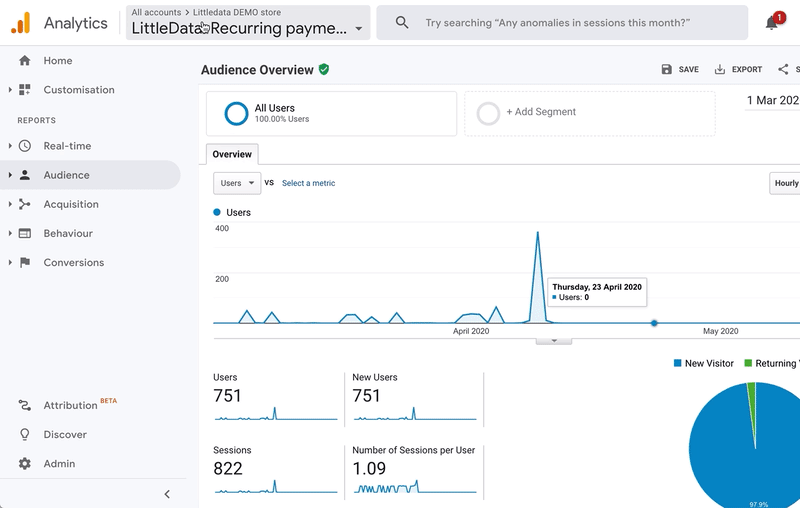 The connection automatically adds tracking for the following events:
Subscription Created
Subscription Cancelled
Subscription Updated
Order Processed
Customer Updated
Charge Failed
Payment Method Updated
Max Retries Reached
Read the full guide to tracking subscription lifecycle events in Google Analytics with Littledata. The guide includes details about event naming conventions in Segment and Google Analytics.
Where to find subscriptions in Google Analytics
With the ReCharge connection, you can distinguish between three types of order:
Shopify orders: standard one-off orders through your Shopify checkout
Subscription, Subscription First Order: first-time subscription orders made via ReCharge
Subscription, Subscription Recurring Order: recurring subscription orders made via ReCharge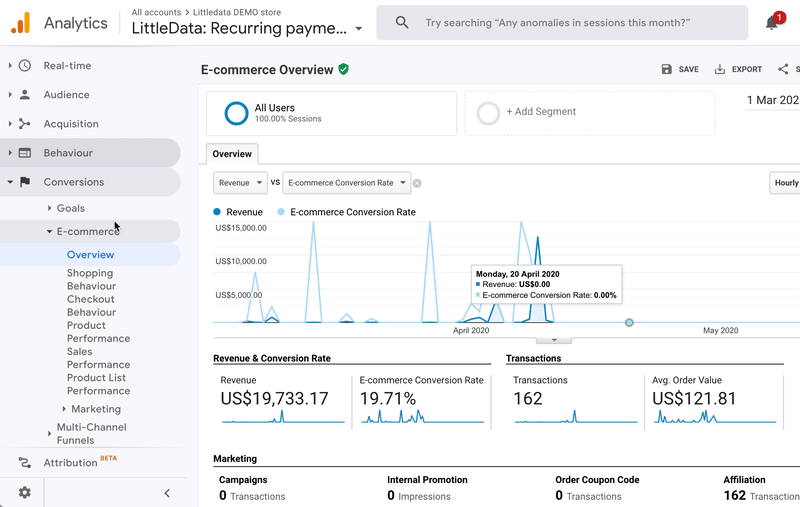 Learn more about how to segment orders using the 'Affiliation' dimension in Google Analytics.
How the ReCharge connection works behind the scenes
Littledata makes a server-side integration between Shopify and Google Analytics. Every time an order is processed on Shopify we link that revenue to the customer session on Google Analytics (as measured by the GA user ID stored in a cookie). To link those two we need to add the customer's cart token to the notes field; that means notes should not be published to customers, but you can still use it for internal notes.
If our app cannot find a user session associated with the order -- for example, when the subscriber signed up before our app started tracking -- we add a default client ID. You can still link all these 'orphan' user sessions together via the Shopify customer ID dimension.
Learn more