Note: We recommend this is done by someone in your team who is familiar with code/scripts. As part of the install you will need to add the tracking code manually to your Shopify store layout.
**Please follow steps 1-4 from our install guide first**
Step 1.  Select the Manual route.
Step 2. Add your Google Analytics web property ID, as found in Shopify store preferences: 
Step 3. Next you will be instructed to add the script to your Shopify theme. Click theCOPY link, which will copy the script to clipboard.
Step 4. Then go to your Shopify admin > Online Store > Themes > Actions > Edit code and create a new snippet named LittledataLayer.liquid ; then paste the script in and click on save.
Step 5.  Copy the 3 line code and paste in every one of your store's layouts to include the snippet, just above the </head> tag. In the example below, we'll paste the snippet in row 75.
Note: You need to add the three-line code to your layouts when you are installing our app, but also when you create another layout for a new campaign. Anytime you create a new layout, just follow these steps to add the code snippet.
Step 6. After adding the code, you will be prompted to disable the current Shopify tracker in order to prevent duplicate tracking.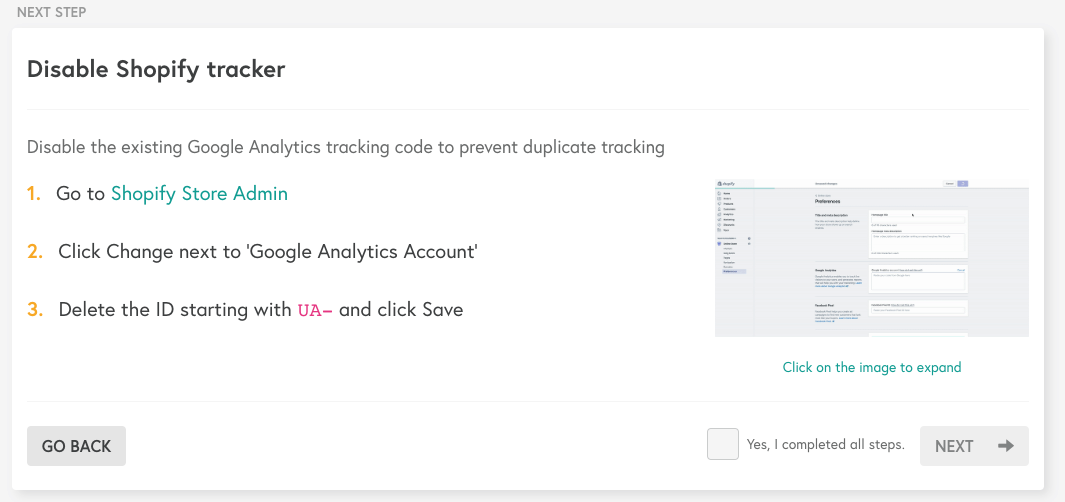 All done:
Tip: to enhance Shopify tracking, we recommend you use our Google Analytics connection after completing the Shopify set up. The instructions for connecting Google Analytics can be found in this guide.